In January, Australia, China, and Malaysia announced that they were suspending the search for downed airliner MH370.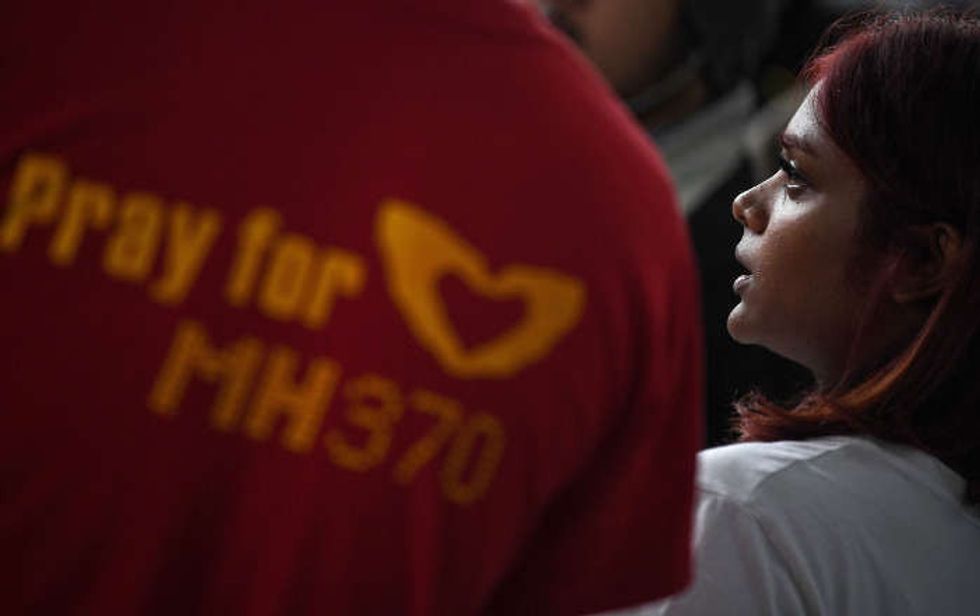 Photo by Manan Vatsyayana/Getty Images.
After nearly three years of scouring the deep ocean, the tri-national team failed to find the majority of the aircraft from Malaysia Airlines Flight 370, though pieces from the plane eventually washed up on beaches in Madagascar, Mozambique, Tanzania, and elsewhere.
<p>What the team did find in the search, however, could help scientists for decades to come.</p><h2>Instead of the remains of the plane, investigators returned with some of the most detailed data of the ocean floor in existence. </h2><p class="shortcode-media shortcode-media-rebelmouse-image"><img type="lazy-image" data-runner-src="https://assets.rebelmouse.io/eyJhbGciOiJIUzI1NiIsInR5cCI6IkpXVCJ9.eyJpbWFnZSI6Imh0dHBzOi8vYXNzZXRzLnJibC5tcy8xOTUyODAyOS9vcmlnaW4uanBnIiwiZXhwaXJlc19hdCI6MTYzMzIyMDY4OX0.ErW16bh9ITVUOWMFk6yiyPV8YqzrVpFhRD09hlLpgAE/img.jpg?width=980" id="e6b81" class="rm-shortcode" data-rm-shortcode-id="4286666d0651a4f649e949ae4f924364" data-rm-shortcode-name="rebelmouse-image"><small class="image-media media-caption" placeholder="add caption...">Image via <a href="https://www.youtube.com/watch?v=PAJdHx6QT5I">Geoscience Australia/YouTube</a>.</small></p><p><a href="https://www.theguardian.com/world/2017/jul/19/mh370-search-maps-remote-depths-indian-ocean" target="_blank">According to Stuart Minchin</a>, environmental geoscience chief for Geoscience Australia, the technology used by the search team on the southern Indian Ocean has only been deployed in 10-15% of the world's waterways, making the region "among the most thoroughly mapped regions of the deep ocean on the planet.".</p><h2>The first set of data was released by the Australian government on July 19, and includes stunning visualizations of the topography that are 15 times higher resolution than previously available.  </h2><p class="shortcode-media shortcode-media-rebelmouse-image"><img type="lazy-image" data-runner-src="https://assets.rebelmouse.io/eyJhbGciOiJIUzI1NiIsInR5cCI6IkpXVCJ9.eyJpbWFnZSI6Imh0dHBzOi8vYXNzZXRzLnJibC5tcy8xOTUyODAzMC9vcmlnaW4uanBnIiwiZXhwaXJlc19hdCI6MTYzMDkwODk5N30._b8N2oanHzNFXwOSZd3i1ZObhE3ZA84b2dNNudKyfTw/img.jpg?width=980" id="9af54" class="rm-shortcode" data-rm-shortcode-id="38bcb0c1c079f4c9f8bb2a133eac4f6d" data-rm-shortcode-name="rebelmouse-image"><small class="image-media media-caption" placeholder="add caption...">Image via Geoscience Australia/YouTube.</small></p><p>The team's discoveries include volcanoes, massive underwater ridges, and valleys, many of which were previously unknown to researchers.  </p><h2>Scientists hope the new data will help them model sea life habitats, forecast climate change, and better understand the impact of tsunamis.</h2><p>Much of the search was focused along a geological "breakup zone," formed by the separation of tectonic plates approximately 40 million years ago. </p><p class="shortcode-media shortcode-media-rebelmouse-image"><img type="lazy-image" data-runner-src="https://assets.rebelmouse.io/eyJhbGciOiJIUzI1NiIsInR5cCI6IkpXVCJ9.eyJpbWFnZSI6Imh0dHBzOi8vYXNzZXRzLnJibC5tcy8xOTUyODAzMS9vcmlnaW4uanBnIiwiZXhwaXJlc19hdCI6MTYyNjQzMTc4Nn0.rNH2zdvQY3F42crt0UxYb6JfP7K5JagbcndXsPR-Dow/img.jpg?width=980" id="59244" class="rm-shortcode" data-rm-shortcode-id="e3d8fc9596120bf8001a80be346b550c" data-rm-shortcode-name="rebelmouse-image"><small class="image-media media-caption" placeholder="add caption...">An anchor and debris from a shipwreck found by the search team. Photo by Australian Transport Safety Bureah via Getty Images.</small></p><p>The <a href="http://www.ibtimes.com/missing-flight-mh370-search-reveals-mysteries-deep-ocean-2568440?utm_content=buffer9b631&amp;utm_medium=social&amp;utm_source=twitter.com&amp;utm_campaign=buffer" target="_blank">investigation also turned up two shipwrecks</a>, in addition to the vast trove of ocean floor data.</p><h2>A second set of data is scheduled to be released next year. </h2><p>In the meantime, the Australian government has made the entire collection available for <a href="http://marine.projects.ga.gov.au/mh370-phase-one-data-release.html" target="_blank">public review and analysis</a>. </p><p>Researchers hope that continued study will yield more insights about a still-little-understood portion of our world.</p><p>While the recovery efforts failed to provide answers for the dozens of families affected by the tragedy, the three-year effort could yield a win for humanity in the long run.</p>