The fires engulfing Napa and Sonoma counties are rapidly becoming some of the worst in California's history.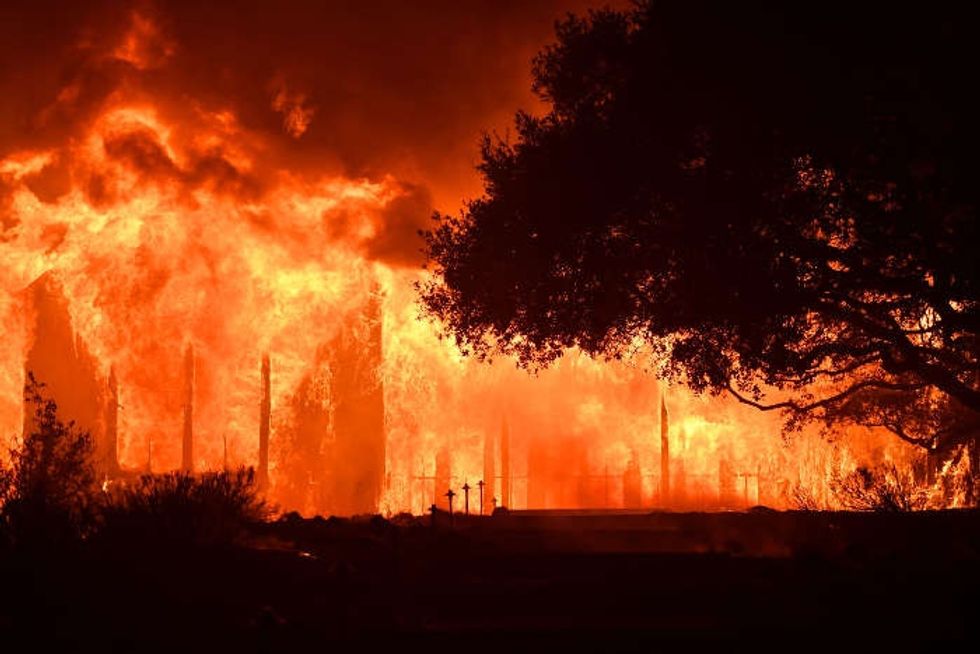 Photo by Josh Edelson/Getty Images.
On Sunday night, flames swept into Santa Rosa and other cities across the region with little warning. At least 24 people have been confirmed dead, with hundreds displaced and nearly 300 still reported missing.
<p>Meanwhile, hundreds of residents from hotel owners to teachers and students to local government officials to relief workers are marshalling help those to affected. Here's what they've been up to in the days since the devastation began.</p><h2>1. Farms are taking in displaced animals, and high school volunteers are working around the clock to care for them.</h2><p>Local students learning animal care and agriculture at Vintage Farm have been rescuing dogs, goats, horses, and other pets and farm animals and <a href="http://napavalleyregister.com/news/local/vintage-farm-takes-in-animals-rescued-from-napa-valley-fires/article_997d6eba-f7e4-5442-a5c2-5cde1c62864e.html" target="_blank">housing and feeding them in the teaching farm's facilities</a>. </p><p>"I've actually been having to make the kids go home," teacher Emmalee Casillas told the Napa Valley Register. "They're probably pulling eight to 10 hours each on average."</p><p>The Sonoma Valley High School farm is <a href="http://www.sonomanews.com/news/7509147-181/resources-for-emergency-information-in" target="_blank">also accepting large animals</a>. </p><h2>2. Hotels are offering rooms to evacuees at steep discounts or for free. </h2><p>The Napa Valley Register reports that the county's Meritage Resort and Spa, a luxury hotel whose rooms <a href="http://meritagecollection.com/meritageresort/" target="_blank">typical sell for upward of $300 per night</a>, is providing accommodations to displaced locals at $99 a night.</p><p class="shortcode-media shortcode-media-rebelmouse-image"><img type="lazy-image" data-runner-src="https://assets.rebelmouse.io/eyJhbGciOiJIUzI1NiIsInR5cCI6IkpXVCJ9.eyJpbWFnZSI6Imh0dHBzOi8vYXNzZXRzLnJibC5tcy8xOTUzMDA0NC9vcmlnaW4uanBnIiwiZXhwaXJlc19hdCI6MTYyMjMzOTE4OH0.pEgs10TUYla0idK2IdtMA56_VPxXdmgWavZBmst4QDo/img.jpg?width=980" id="754a7" class="rm-shortcode" data-rm-shortcode-id="3b7a68df489889a755453cd393e15e7c" data-rm-shortcode-name="rebelmouse-image"><small class="image-media media-caption" placeholder="add caption...">The room-sharing service Airbnb is connecting evacuees with hosts offering their space for free. Photo by Lionel Bonaventure/Getty Images.</small></p><p>Meanwhile, individuals are <a href="https://www.airbnb.com/welcome/evacuees/northerncaliforniafireevacuees" target="_blank">opening their homes to evacuees</a>. Airbnb hosts in the area are offering free stays to people displaced by the fires, and residents are <a href="https://docs.google.com/spreadsheets/d/1yeWV1dRiKFo8M1yX64--V6HLQZBSQSSenfqdoUnsiOI/edit#gid=0" target="_blank">circulating a public Google document with a list of donated housing</a>. </p><h2>3. Two local Boys and Girls Clubs sites are opening to all children during the day in the wake of widespread school closures. </h2><p>Children whose classes have been cancelled can visit the Napa Clubhouse and the community gym at American Canyon. </p><p>"The Club is sensitive to the fact that a disaster of this nature puts pressure on families and will provide a diversion for school age children in a safe location where kids can just be kids," a spokesperson for the organization relayed in a <a href="http://napavalleyregister.com/news/local/boys-girls-clubs-of-napa-valley-open-during-school-closures/article_14de0078-3ba1-56b3-9d61-5ef7573c5701.html" target="_blank">news release sent to the Napa Valley Register</a>.</p><h2>4. Dozens of facilities across the affected area are currently operating as shelters.</h2><p>These facilities include public spaces like <a href="http://www.sonomanews.com/news/7508782-181/safe-harbors-open-for-valley?artslide=0" target="_blank">high schools</a> and <a href="http://www.sacbee.com/news/local/article177893206.html" target="_blank">community centers</a>, places of worship, and private venues, like the <a href="http://www.sonomanews.com/news/7512356-181/sonoma-raceway-opens-for-fire" target="_blank">Sonoma Raceway campground</a>. </p><h2>5. The U.S. postal service is still delivering mail.</h2><p>On Wednesday, a drone operator captured striking footage of a postal truck making deliveries in a burned out neighborhood in Santa Rosa.</p><div><div data-card="youtube" data-reactroot=""><div><span style="display:block;position:relative;padding-top:56.25%;" class="rm-shortcode" data-rm-shortcode-id="13aafd99f86d3735e244cf0cff4c6835"><iframe type="lazy-iframe" data-runner-src="https://www.youtube.com/embed/3wsegE01zUE?rel=0" width="100%" height="auto" frameborder="0" scrolling="no" style="position:absolute;top:0;left:0;width:100%;height:100%;"></iframe></span></div></div></div><p>In a statement issued to The Mercury News in San Jose, <a href="http://www.mercurynews.com/2017/10/11/mail-carrier-delivers-to-devastated-santa-rosa-coffey-park/" target="_blank">postal service district manager Noemi Luna revealed</a>, "A few customers asked the carrier to leave their mail if the mailbox was still standing," a request the carrier decided to honor.</p><h2>There's also many ways for you to pitch in. Here's how:</h2><p>The Sacramento Bee has compiled a list of <a href="http://www.sacbee.com/news/local/article177964926.html" target="_blank">requests and opportunities to help on their website, located here</a>. </p><p>Unlike many disaster relief scenarios, local government and agencies are requesting supplies. The Sacramento Bee compiled a list of shelters, <a href="http://www.sacbee.com/news/local/article177893206.html" target="_blank">many of which are in need of bedding</a>. The City of Sonoma and the staff of the local school district were <a href="http://www.sonomanews.com/news/7508871-181/supplies-needed-to-aid-sonoma" target="_blank">requesting following items for their shelters</a> as of Oct. 9: non-latex gloves, heavy duty garbage bags, adult diapers, baby wipes, prepared lunch foods, coffee creamer, to-go coffee cups, and ground coffee. </p><p>Many organizations, including the Red Cross, are <a href="https://www.redcross.org/sso/vc0?resume=%2Fidp%2Fw0wjq%2FresumeSAML20%2Fidp%2FSSO.ping&amp;spentity=http%3A%2F%2Fpingone.com%2Fd5b109be-ce0e-4a23-b2ea-171a180ac2a5&amp;arcPartnerId=VC0&amp;forgotPwdResume=https%3A%2F%2Fvolunteerconnection.redcross.org%2F%3Fnd%3Dlogin%26sso_save_state%3D653424364%26t%3DY8f1ADGRdWAJHb53VRi37GimMycu1wgzxhP0H8GD&amp;_requestid=615942" target="_blank">looking for volunteers</a>, including those with medical training, to assist evacuees. </p><p>Those too far away to deliver supplies or volunteer can donate to <a href="https://www.redwoodcu.org/northbayfirerelief" target="_blank">Redwood Credit Union's relief fund</a>, <a href="https://uwwc.upicsolutions.org/ecommunity/comm/SinglePageRegPledge.jsp" target="_blank">United Way of Wine Country</a>, or one of <a href="https://www.gofundme.com/raise-funds/CAfirerelief" target="_blank">dozens of GoFundMe drives raising money for relief</a>. </p>