More
No matter your opinion on this Wikileaks source, it matters how she's treated.
It's been more than three years since former Army intelligence analyst Chelsea Manning was convicted of leaking government documents.
In 2013, Manning was found guilty of stealing and disseminating 750,000 pages of documents and videos to WikiLeaks. As a result of her crimes, Manning was sentenced to 35 years in prison.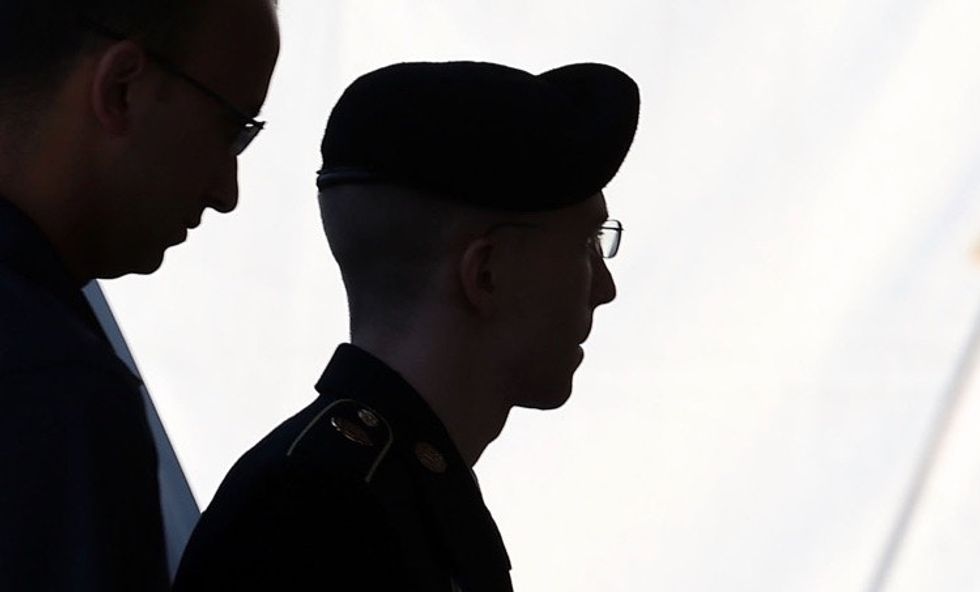 </div></div></div><p>Depending on your point of view, Manning is either a hero or heretic. On one hand, <a href="http://www.huffingtonpost.com/2013/08/21/bradley-manning-leaks_n_3788126.html" target="_blank">she helped expose torture</a>, abuse, and other abhorrent actions by the U.S. military; on the other, it's entirely possible that releasing classified documents to the public put American lives at risk. While few could argue her innocence — she pretty clearly broke the law — the moral judgment remained far more nebulous, not neatly fitting into boxes of "good" or "bad."</p><p>At the time of her conviction, <a href="http://www.rasmussenreports.com/public_content/politics/general_politics/june_2013/52_view_wikileaks_suspect_bradley_manning_as_a_traitor" target="_blank">52% of Americans</a> viewed Manning as a traitor.</p><h2>Being transgender has complicated things for Manning.</h2><p>Part of her struggle is directly related to the fact that she is a transgender woman; in prison, she has been forced to comply with male grooming standards regarding the length of her hair. Additionally, she's had to fight for access to medically necessary hormone replacement therapy treatment.</p><div><div class="push-wrapper--mobile" data-card="image" data-reactroot=""><img type="lazy-image" data-runner-src="https://assets.rebelmouse.io/eyJhbGciOiJIUzI1NiIsInR5cCI6IkpXVCJ9.eyJpbWFnZSI6Imh0dHBzOi8vYXNzZXRzLnJibC5tcy8xOTUyMDg2MS9vcmlnaW4uanBnIiwiZXhwaXJlc19hdCI6MTYxNTkzNDA4OH0.Q7_FQxNjbt66zMPKsu7wRXaS7raAJssue-160i8XcuY/img.jpg?width=980" id="9239d" class="rm-shortcode" data-rm-shortcode-id="8c2ba0131cd88603653bca092fa6c474" data-rm-shortcode-name="rebelmouse-image"><div class="image-caption"><p>How Chelsea Manning sees herself. By Alicia Neal, in cooperation with Chelsea herself, commissioned by the Chelsea Manning Support Network.</p></div></div></div><p>At every turn, it seems like Manning's jailers are looking for reasons to further punish her. In July, Manning attempted to kill herself by hanging in her cell. Later that month, Army officials announced that as a result of her suicide attempt, <a href="http://www.nbcnews.com/news/us-news/attorneys-chelsea-manning-faces-charges-after-suicide-attempt-n619986" target="_blank">Manning would face additional charges</a> that could result in indefinite solitary confinement and an additional nine years in prison without the chance of parole.</p><h2>According to her attorney, Chase Strangio, Manning's living conditions constitute "cruel and unusual punishment."</h2><p>"This is not about accommodations or 'special rights,' but about recognized legal standards for equal treatment and the provision of medically necessary care," Strangio wrote in an email. Courts have routinely recognized that medically necessary treatment for gender dysphoria cannot be withheld solely because the treatment is stigmatized or less understood.</p><p>"When we incarcerate people against their will, we, as a society, have an obligation to see to it that their medical needs are met," Strangio explained.</p><div><div class="push-wrapper--mobile" data-card="image" data-reactroot=""><img type="lazy-image" data-runner-src="https://assets.rebelmouse.io/eyJhbGciOiJIUzI1NiIsInR5cCI6IkpXVCJ9.eyJpbWFnZSI6Imh0dHBzOi8vYXNzZXRzLnJibC5tcy8xOTUyMDg2Mi9vcmlnaW4uanBnIiwiZXhwaXJlc19hdCI6MTYwNTc4ODc5Mn0.ZzYr3sKT9IQO4Jm8Jl4LFyl402hP8zn3k_tOcS3bLx4/img.jpg?width=980" id="b3534" class="rm-shortcode" data-rm-shortcode-id="1f9d2eef70758ace182b3cc03d7cb227" data-rm-shortcode-name="rebelmouse-image"><div class="image-caption"><p>Soldiers outside the U.S. Disciplinary Barracks in Fort Leavenworth, Kansas, where Manning is being held. Photo by the U.S. Army.</p></div></div></div><h2>On August 9, Manning announced that she would be going on a hunger strike to protest her living conditions.</h2><p>"Today, I have decided that I am no longer going to be bullied by this prison — or by anyone within the U.S. government," <a href="http://tumblr.fightforthefuture.org/post/150179552133/chelsea-manning-begins-hunger-strike-to-protest" target="_blank">she wrote</a>. "I have asked for nothing but the dignity and respect — that I once actually believed would be provided for — afforded to any living human being."</p><blockquote class="pull">"We must care for those whose freedom we restrict." — Chase Strangio</blockquote><p>She pledged to refuse all food and drink with the exception of water and her currently prescribed medications until she is given "minimum standards of dignity, respect, and humanity." Adding that she has submitted a "do not resuscitate" letter, Manning acknowledged that her protest may very well lead to her death.</p><h2>When asked what meeting Manning's demands of dignity and respect would look like, Strangio highlighted two key things that need to change about her treatment in prison. </h2><p>First is the matter of receiving medically necessary care to treat her gender dysphoria, including permission for her to adhere to the hair length and grooming standards of female inmates.</p><div><div class="push-wrapper--mobile" data-card="image" data-reactroot=""><img type="lazy-image" data-runner-src="https://assets.rebelmouse.io/eyJhbGciOiJIUzI1NiIsInR5cCI6IkpXVCJ9.eyJpbWFnZSI6Imh0dHBzOi8vYXNzZXRzLnJibC5tcy8xOTUyMDg2My9vcmlnaW4uanBnIiwiZXhwaXJlc19hdCI6MTYzNDk5ODAzOX0.bbTun5_BVIo7I5Ji3RqdMcyfINBhZ_RFFHYXeYD9pow/img.jpg?width=980" id="707fb" class="rm-shortcode" data-rm-shortcode-id="77d7f30f4b2aa70539223f2659cee863" data-rm-shortcode-name="rebelmouse-image"><div class="image-caption"><p>The U.S. Disciplinary Barracks in Fort Leavenworth, Kansas. Photo by the U.S. Army.</p></div></div></div><p>Second is the matter of being allegedly held to different standards than other prisoners when it comes to punishment. Strangio listed a number of things, ranging from possession of expired toothpaste to improper labeling of reading materials to the aforementioned suicide attempt.</p><p>Manning <a href="http://abcnews.go.com/US/chelsea-manning-hunger-strike-citing-lack-medical-treatment/story?id=41987150" target="_blank">wants a written confirmation</a> from the military that they're able to meet these requests. On Sep. 13th, <a href="https://www.buzzfeed.com/chrisgeidner/chelsea-manning-told-she-will-receive-gender-transition-surg?utm_term=.xhE1rxBb1G#.ovYR79AmRx" target="_blank">Manning ended her hunger strike</a> after receiving assurance from the military that she will be given access to transition-related health care.</p><h2>Manning's hunger strike is a bold move, and it's drawing attention not just to her plight, but to that of prisoners around the world.</h2><p>Manning's hunger strike should matter to all of us who believe in a true system of justice. Arbitrarily withholding medical treatment from prisoners — whether stemming from misunderstanding or malice or "because that's just the way it is" — erodes the Constitutional protections we've developed as a society.</p><p>"Chelsea is in pain and she is under our care because we have decided as a society to detain her," Strangio adds. "We must care for those whose freedom we restrict."</p><h2>Poor, and possibly unconstitutional, treatment of prisoners affects more than just those in military prisons like Manning.</h2><p>Inmates in at least four states recently <a href="https://www.theguardian.com/us-news/2016/sep/09/us-nationwide-prison-strike-alabama-south-carolina-texas" target="_blank">went on strike</a> to protest what they say amounts to forced labor, making just cents an hour for their work behind bars.</p><div><div class="push-wrapper--mobile" data-card="image" data-reactroot=""><img type="lazy-image" data-runner-src="https://assets.rebelmouse.io/eyJhbGciOiJIUzI1NiIsInR5cCI6IkpXVCJ9.eyJpbWFnZSI6Imh0dHBzOi8vYXNzZXRzLnJibC5tcy8xOTUyMDg2NC9vcmlnaW4uanBnIiwiZXhwaXJlc19hdCI6MTYxNDQ3MDU1Mn0.Xwi9UuIZ1my8TAZvY95d1qFvPwrdLEzJVOz54YOCDJI/img.jpg?width=980" id="ab22d" class="rm-shortcode" data-rm-shortcode-id="e907b8f21b5e3944b53bfccdc97427ee" data-rm-shortcode-name="rebelmouse-image"><div class="image-caption"><p>Photo by Michal Czerwonka/Getty Images.</p></div></div></div><h2>No matter how you feel about Manning's actions, there are good reasons to support her in this struggle.</h2><p>It may be easy to brush off the needs of people who've been convicted of a crime. It may be easy to justify inhumane treatment with lines like, "If they didn't want to be treated like that, they shouldn't have committed a crime," but that's not who we are — or at least it's not who we aspire to be.</p><div><div class="push-wrapper--mobile" data-card="image" data-reactroot=""><img type="lazy-image" data-runner-src="https://assets.rebelmouse.io/eyJhbGciOiJIUzI1NiIsInR5cCI6IkpXVCJ9.eyJpbWFnZSI6Imh0dHBzOi8vYXNzZXRzLnJibC5tcy8xOTUyMDg2NS9vcmlnaW4uanBnIiwiZXhwaXJlc19hdCI6MTYzMjg0NDI3OX0.GGdcAoGnBWWUQf98BGMRKLDcI7kqHnQcRXXMot8cCiI/img.jpg?width=980" id="8ac13" class="rm-shortcode" data-rm-shortcode-id="426fabe582fe4a325e8d0d13d9334251" data-rm-shortcode-name="rebelmouse-image"><div class="image-caption"><p>Photo by Mario Tama/Getty Images.</p></div></div></div><p>When Chelsea Manning was sentenced to 35 years in prison, she was sentenced to just that: 35 years in prison. She wasn't sentenced to 35 years in prison <em>and </em>denial of medically necessary health care. She wasn't sentenced to 35 years in prison <em>and </em>humiliation. She wasn't sentenced to 35 years in prison <em>and </em>the loss of her gender.</p><p>The same goes for prisoners around the country being subjected to substandard conditions. Our justice system, while imperfect, is meant to set the limits of punishment; it's unfair to arbitrarily add onto it. Doing so, justifying negative treatment, sets a very dangerous precedent that can undermine our very existence as a country and as a society.</p><p>It starts with caring. It starts with empathy. It starts with you.</p>