More
A new Starbucks in Malaysia is like no other.
Mohammad Aizad Bin Ariffin just got a promotion, and it means he's "well on his way to achieving [his] dream."
He wants to become the first deaf Starbucks store manager in Malaysia, and now — as the new shift manager at a location in Kuala Lumpur — that goal is in sight.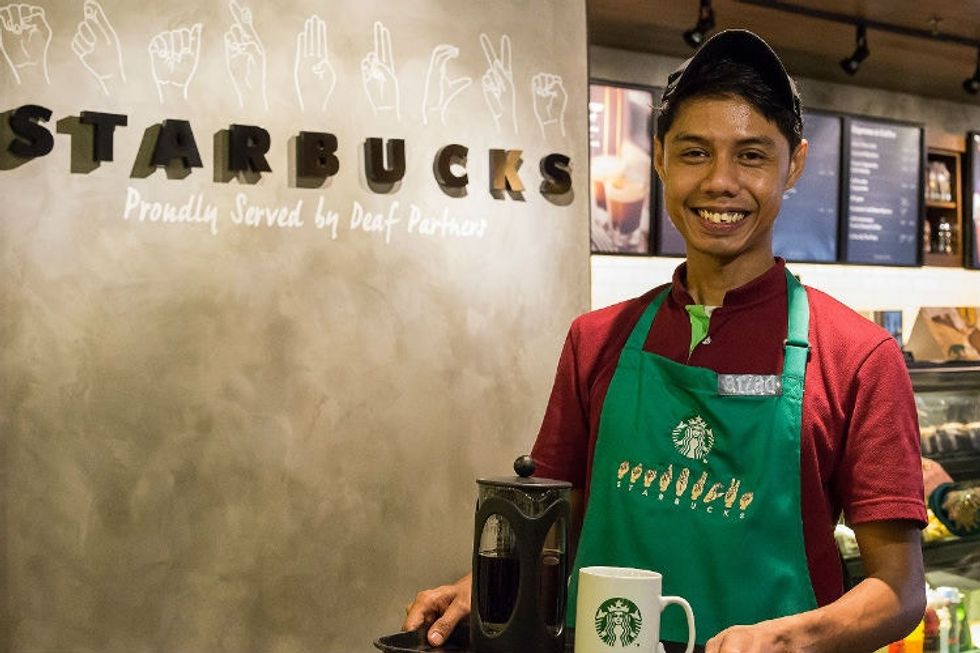 <p class="image-caption">Photo courtesy of Starbucks.</p><p>Although Ariffin — who's worked for the coffee chain for three years — certainly deserves a pat on the back for movin' on up, his deafness isn't all that unique at the Starbucks location. It's actually the norm.</p><h2>10 of the 13 employees at Ariffin's store are deaf. And that's a big first for Starbucks.</h2><p>The store, which just recently opened in a shopping center, is the first Starbucks in the <em>world</em> dedicated to hiring deaf employees.</p><p><img type="lazy-image" data-runner-src="https://assets.rebelmouse.io/eyJhbGciOiJIUzI1NiIsInR5cCI6IkpXVCJ9.eyJpbWFnZSI6Imh0dHBzOi8vYXNzZXRzLnJibC5tcy8xOTUyMzUyMC9vcmlnaW4uanBnIiwiZXhwaXJlc19hdCI6MTYyMzkyNDA1MX0.TVwqdd2FJYYO4yZOSBIVieMp-U3GzeY9Tm_XzpvOxNo/img.jpg?width=980" id="96ddc" class="rm-shortcode" data-rm-shortcode-id="9181521c56547b02ed1145fcd53ae4d7" data-rm-shortcode-name="rebelmouse-image"></p><p class="image-caption">Photo courtesy of Starbucks.</p><p>The coffee chain partnered with <a href="http://www.sid.org.my/">the Society of Interpreters for the Deaf (SID)</a> to hire, train, and coach new workers, as well as teach sign language to employees who are not deaf or hard of hearing, according to Starbucks.</p><h2>So is this Starbucks only for customers who are deaf?</h2><p>Certainly not. Anyone who is deaf or hard of hearing will find the store especially accessible, but <strong>a customer who doesn't know sign language can <a href="http://mashable.com/2016/07/20/starbucks-deaf-malaysia/#Umao02rX2gql" target="_blank">write their order on a menu card</a></strong>.</p><p>Each customer is given an order number, which will flash on a screen to let them know their drinks or food is ready.</p><p><img type="lazy-image" data-runner-src="https://assets.rebelmouse.io/eyJhbGciOiJIUzI1NiIsInR5cCI6IkpXVCJ9.eyJpbWFnZSI6Imh0dHBzOi8vYXNzZXRzLnJibC5tcy8xOTUyMzUyMS9vcmlnaW4uanBnIiwiZXhwaXJlc19hdCI6MTYxNjk0NTcyNH0.7hq8J_LVFIaa7joW3O4xGQumjGGQzsi4-HAw4o-1ACY/img.jpg?width=980" id="59b96" class="rm-shortcode" data-rm-shortcode-id="d01d958629f0979a39be420f239e4f12" data-rm-shortcode-name="rebelmouse-image"></p><p class="image-caption">Photo by Ben Pruchnie/Getty Images.</p><p>The biggest difference between this Starbucks and others might just be the fact that <strong>you won't hear workers yelling drink orders at one another — <a href="https://news.starbucks.com/news/deaf-partners-build-careers-at-starbucks" target="_blank">they'll be signing instead</a>.</strong></p><h2>The new store is part of Starbucks' mission to expand opportunities for marginalized groups. </h2><p>For the deaf community — a population that faces <a href="http://www.huffingtonpost.com/lydia-l-callis/deaf-protestors-in-dc-dem_b_8132302.html" target="_blank">high rates of job discrimination and unemployment</a> — it's a cause worth fighting for.</p><p><strong>Three out of four people living with hearing loss reported having more limited employment opportunities than their hearing peers</strong>, according to a 2014 study by U.K.-based group <a href="https://www.actiononhearingloss.org.uk/news-and-events/all-regions/news/80-per-cent-of-people-who-are-deaf-cite-employers-as-major-barrier-to-work.aspx" target="_blank">Action on Hearing Loss</a>.</p><p>Figures like that show why we need far more companies following in Starbucks' footsteps.</p><h2>To Ariffin, his promotion isn't just about himself, either — now, he's able to help other workers in his shoes aim higher. </h2><p>"It's an incredible feeling to <a href="https://news.starbucks.com/news/deaf-partners-build-careers-at-starbucks" target="_blank">share my journey</a> and help develop other deaf [workers]," he notes.</p><p>Incredible, indeed.</p><p><strong><em>Cheers</em> on taking a big step forward toward your dream, Mohammad Aizad BinAriffin.</strong></p><p><img type="lazy-image" data-runner-src="https://assets.rebelmouse.io/eyJhbGciOiJIUzI1NiIsInR5cCI6IkpXVCJ9.eyJpbWFnZSI6Imh0dHBzOi8vYXNzZXRzLnJibC5tcy8xOTUyMzUyMi9vcmlnaW4uanBnIiwiZXhwaXJlc19hdCI6MTYwODk4Nzg1Mn0.-r5KSiexMeLijXORtpfROqTbqKf9VOMzuIxcMHJiTyQ/img.jpg?width=980" id="3c565" class="rm-shortcode" data-rm-shortcode-id="1b3d15d6dbfd09549aaa818390dd67ba" data-rm-shortcode-name="rebelmouse-image"></p><p class="image-caption">Photo by Ben Pruchnie/Getty Images.</p><br>