Most Shared
To many players, 1600 Pennsylvania Avenue isn't what it used to be.
After his big win, Philadelphia's Malcolm Jenkins was asked if he plans on visiting the White House — an invite traditionally offered to the players of every Super Bowl-winning team.
Jenkins is part of the Players Coalition — an effort by NFL athletes to take action on systemic issues and injustices facing Americans of color. With a White House occupant who's railed against athletes protesting police brutality and urged fans to boycott the NFL, is Jenkins on board visiting 1600 Pennsylvania Avenue?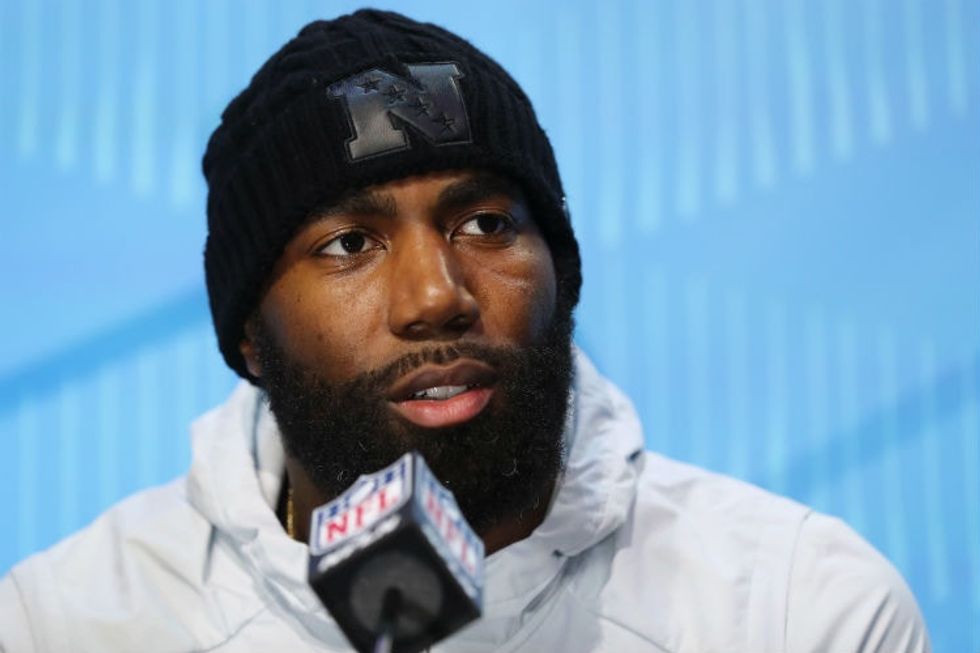 Malcolm Jenkins. Photo by Elsa/Getty Images.
<h2>"No, I personally do not anticipate [going to the White House]," Jenkins answered on CNN's New Day on Feb. 5, which you can watch below.</h2><div id="59fa3" class="rm-shortcode" data-rm-shortcode-id="U4VT581559346980"><blockquote class="twitter-tweet twitter-custom-tweet" data-twitter-tweet-id="960496411593801733" data-partner="rebelmouse"><div style="margin:1em 0">Philadelphia Eagles safety and Super Bowl champion Malcolm Jenkins says, "I personally do not anticipate attending… https://t.co/vjYu037tzY</div> — New Day (@New Day)<a href="https://twitter.com/NewDay/statuses/960496411593801733">1517835164.0</a></blockquote></div><p>"What message would you like to send to the president?" CNN's John Berman pressed the 30-year-old Eagles safety. "I don't have a message for the president," Jenkins responded. </p><p>He continued (emphasis added):</p><blockquote>"My message has been clear all year. <strong>I'm about creating positive change in the communities that I come from — whether it be Philadelphia, New Jersey, Ohio, Louisiana</strong> … I want to see changes in our criminal justice system, I want to see us pushing for economic and educational advancement in communities of color and low-income communities, and I want to see our relationships between our communities and our law enforcement be advanced. That's what myself and my peers have been pushing for for the last two years, and that's what I'll continue to do."</blockquote><h2>Jenkins has joined a growing list of Eagles refusing to visit the White House with its current occupant in office.</h2><p>Wide receiver Torrey Smith told reporters last week that, should the Eagles be fortunate enough to win the Super Bowl, <a href="http://www.nj.com/eagles/index.ssf/2018/01/torrey_smith_wont_visit_white_house_president_dona.html" target="_blank">he would not be going</a>.</p><p><strong>"We read the news just like everyone else,"</strong> said Smith, noting that, while he understands some people may take offense to players protesting social injustice, their assumptions about the protests are flawed. "They call it the anthem protest — we're not protesting the anthem. It's a protest <em>during</em> the anthem."</p><p class="shortcode-media shortcode-media-rebelmouse-image"><img type="lazy-image" data-runner-src="https://assets.rebelmouse.io/eyJhbGciOiJIUzI1NiIsInR5cCI6IkpXVCJ9.eyJpbWFnZSI6Imh0dHBzOi8vYXNzZXRzLnJibC5tcy8xOTQ3NTc5MC9vcmlnaW4uanBnIiwiZXhwaXJlc19hdCI6MTY0Nzc2MzE5NH0.MZoRhNeyLahevmrLK-eKeW002xv__khQ4JcVDdTyevk/img.jpg?width=980" id="3d9fa" class="rm-shortcode" data-rm-shortcode-id="2949bcc419922af7dbd4fbd109a30a3f" data-rm-shortcode-name="rebelmouse-image"><small class="image-media media-caption" placeholder="add caption...">Torrey Smith. Photo by Hannah Foslien/Getty Images.</small></p><p>Eagles defensive end Chris Long also <a href="https://www.cnn.com/2018/02/05/politics/philadelphia-eagles-super-bowl-white-house-visit/index.html?sr=twCNN020518philadelphia-eagles-super-bowl-white-house-visit1035AMStoryGal" target="_blank">dismissed</a> a possible White House invitation last week on the podcast <a href="https://www.podcastone.com/pardon-my-take" target="_blank">Pardon My Take</a>. A vocal critic of Trump who <a href="https://www.washingtonpost.com/news/early-lead/wp/2017/02/10/at-least-six-patriots-now-say-theyll-skip-white-house-visit/?utm_term=.3b232fa9ef9f" target="_blank">refused</a> to visit the White House last year when he played for the Super Bowl-winning New England Patriots, Long made it clear that his opinion of the president hasn't budged much since last February.</p><p><strong>"No, I'm not going to the White House," he said. "Are you kidding me?" </strong></p><p class="shortcode-media shortcode-media-rebelmouse-image"><img type="lazy-image" data-runner-src="https://assets.rebelmouse.io/eyJhbGciOiJIUzI1NiIsInR5cCI6IkpXVCJ9.eyJpbWFnZSI6Imh0dHBzOi8vYXNzZXRzLnJibC5tcy8xOTQ3NTc5MS9vcmlnaW4uanBnIiwiZXhwaXJlc19hdCI6MTU5NjMzMDkwMX0.PL3QWlQNNI_eY4VFOG7ytUmvhcZKcq5-8W7DJy1IzLs/img.jpg?width=980" id="67135" class="rm-shortcode" data-rm-shortcode-id="2ac2e32521e296dd72d191fa004e22a7" data-rm-shortcode-name="rebelmouse-image"><small class="image-media media-caption" placeholder="add caption...">Chris Long. Photo by Kevin C. Cox/Getty Images.</small></p><p>While Long hasn't protested the anthem personally, he has publicly supported the players who've done so.</p><p>"I play in a league that's 70% black, and my peers — guys I come to work with, guys I respect who are very socially aware and are intellectual guys," he told <a href="http://www.espn.com/blog/new-england-patriots/post/_/id/4795724/patriots-de-chris-long-shares-perspective-on-colin-kaepernicks-protest" target="_blank">ESPN</a> in 2016. "If they identify something that they think is worth putting their reputations on the line, creating controversy, I'm going to listen to those guys."</p><p>Maybe calling protesting players "<a href="http://money.cnn.com/2017/09/23/media/donald-trump-nfl-protest-backlash/index.html" target="_blank">sons of bitches</a>" wasn't the best way to move the country forward on this issue after all, Mr. Trump.</p><h2>So far, these Eagles players have said they're not going to the White House.</h2><ul class="ee-ul"><li>Chris Long</li><li>Torrey Smith</li><li>Malcolm Jenkins</li></ul><p><em>This article may be updated.</em></p>