More
"You have to make what you want to see in the world. That is basically your obligation if you're an artist."
When photographer Carrie Ann Weems didn't see herself represented in the art world, she took it upon herself to create that representation.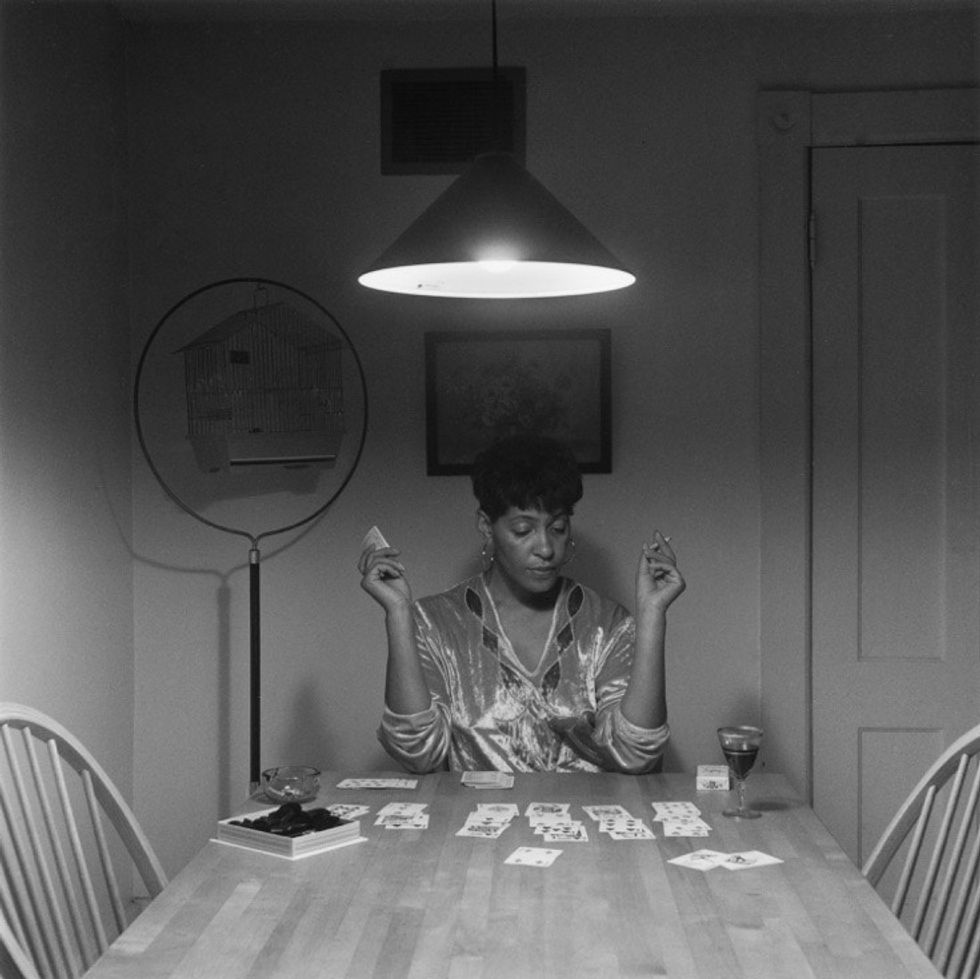 The 63-year-old artist opened up about her important career in a recent Lenny interview, explaining that her black-and-white photos — especially her simple yet incredibly powerful "Kitchen Table Series," completed in 1990 — portrayed her as she wants to be seen, not how others wanted her to be seen.
<h2>In her photos, Weems is in charge, representing her life as she sees fit. It's a beautiful example of self-expression.</h2><p>She explains in the interview:</p><blockquote>"I realized at a certain moment that <strong>I could not count on white men to construct images of myself that I would find appealing or useful or meaningful or complex. I can't count on anybody else but me to deliver on my own promise to myself. </strong>I love Fellini. I love Woody Allen. I love the Coen brothers, but they're not interested in my black ass."</blockquote><div><div class="push-wrapper--mobile" data-card="image" data-reactroot=""><img type="lazy-image" data-runner-src="https://assets.rebelmouse.io/eyJhbGciOiJIUzI1NiIsInR5cCI6IkpXVCJ9.eyJpbWFnZSI6Imh0dHBzOi8vYXNzZXRzLnJibC5tcy8xOTUyMzU3My9vcmlnaW4uanBnIiwiZXhwaXJlc19hdCI6MTY0NDI1MzM2MH0.sSGQytX9LY_g_O28nxjyX7GSGdZXnNpxW5nVbR7DsMY/img.jpg?width=980" id="97cd1" class="rm-shortcode" data-rm-shortcode-id="65431621e1ab52426ed7936d298fee53" data-rm-shortcode-name="rebelmouse-image"><div class="image-caption"><p>​Image by <a href="http://carriemaeweems.net/galleries/kitchen-table.html">Carrie Mae Weems</a>, courtesy of the artist and Jack Shainman Gallery, New York.</p></div></div></div><blockquote>"I needed to speak to and across the ways in which women had been discussed in film, theater, and photography. I needed to speak of representation and systems."</blockquote><h2>Weems is most famous for challenging the dreaded male gaze with her photos.</h2><p>She noticed that men took photos of themselves that were "deeply frontal," while women were often turned to the side in photographs, or had some of their face obscured. <strong>So she made the choice to represent herself in her work face-on, something that had rarely been done before by a woman. </strong>She tediously set up a camera, processed and printed the film, figured out what she had done wrong, and did it all over again the next day. </p><p>In her work, especially the "Kitchen Table" series, you can see her vulnerably revealing itself — in her kitchen and beyond. Weems makes a powerful statement about being present, fearless, and in control in her art. </p><p>Eventually, her work set a new standard for visual storytelling by exploring subjectivity in both domestic spaces and public spaces. </p><h2>Weems isn't alone in her struggle to find herself represented as a woman in the world, especially in art and especially as a woman of color.</h2><p>Other renowned female artists have joined Weems in this fight throughout the years, famously taking control of representation by making themselves the subjects of their work, too. </p><p><a href="http://www.moma.org/interactives/exhibitions/2012/cindysherman/#/0/" target="_blank">Cindy Sherman</a>, for example, famously transforms herself into people from all walks of life — male or female. She relies solely on herself to create these images that challenge us to think about class, race, and gender. Marina Abramović, often referred to as the "grandmother of performance art," is also known for her gutsy risks in the art world, like her project "<a href="http://moma.org/calendar/exhibitions/964?locale=en" target="_blank">The Artist Is Present</a>" where she sat across from strangers for hours at a time, sharing silence with them. </p><p>These women continually push the boundaries of what it means to be a female artist today. They are meticulous and deliberate, while constructing images of their reality as a woman in the world. There's no hiding behind their work because most of the time, they <em>are</em> their work. </p><div><div class="push-wrapper--mobile" data-card="image" data-reactroot=""><img type="lazy-image" data-runner-src="https://assets.rebelmouse.io/eyJhbGciOiJIUzI1NiIsInR5cCI6IkpXVCJ9.eyJpbWFnZSI6Imh0dHBzOi8vYXNzZXRzLnJibC5tcy8xOTUyMzU3NC9vcmlnaW4uanBnIiwiZXhwaXJlc19hdCI6MTY1NTA0OTI3OX0.rbMemAmA-xWlzHFgu4QaJPmcH7nxQPF2KxB2ZPg0u0A/img.jpg?width=980" id="7adf1" class="rm-shortcode" data-rm-shortcode-id="ca8eb7983f184c1320da2ad1f147f0b4" data-rm-shortcode-name="rebelmouse-image"><div class="image-caption"><p>​Image by <a href="http://carriemaeweems.net/galleries/kitchen-table.html">Carrie Mae Weems</a>, courtesy of the artist and Jack Shainman Gallery, New York.</p></div></div></div><h2>Carrie Mae Weems boldly laid the groundwork for female artists today.</h2><p>"I always thought about the pictures of myself as not necessarily of myself but as an entity, a form that could express something that needed to be expressed," she told Lenny.</p><p><strong>She created a platform for unapologetic honesty and empowerment, and we can never have too much of that.</strong></p><p>I often take for granted how easily I can take a selfie and send a depiction of myself out into the world. But that hasn't always been the case. When Weems started working, she was intentional and precise. She wanted women everywhere to be seen for who they really were. She was a bold risk-taker. And she changed things in a big way.</p><p><strong>This is what happens when you stand up for yourself in a world that doesn't seem to have room for you.</strong> It's risky. It's terrifying. But it's worth it. Thank you for your boldness, Carrie!</p>