Most Shared
At the Cannes Film Festival, Chastain got candid about the need for more female directors.
Actor Jessica Chastain didn't pull any punches at the Cannes Film Festival closing press conference on May 28.
Chastain, who was a jury member at this year's event, was not happy about how women were portrayed in many of the stories she saw on screen, and she explained why.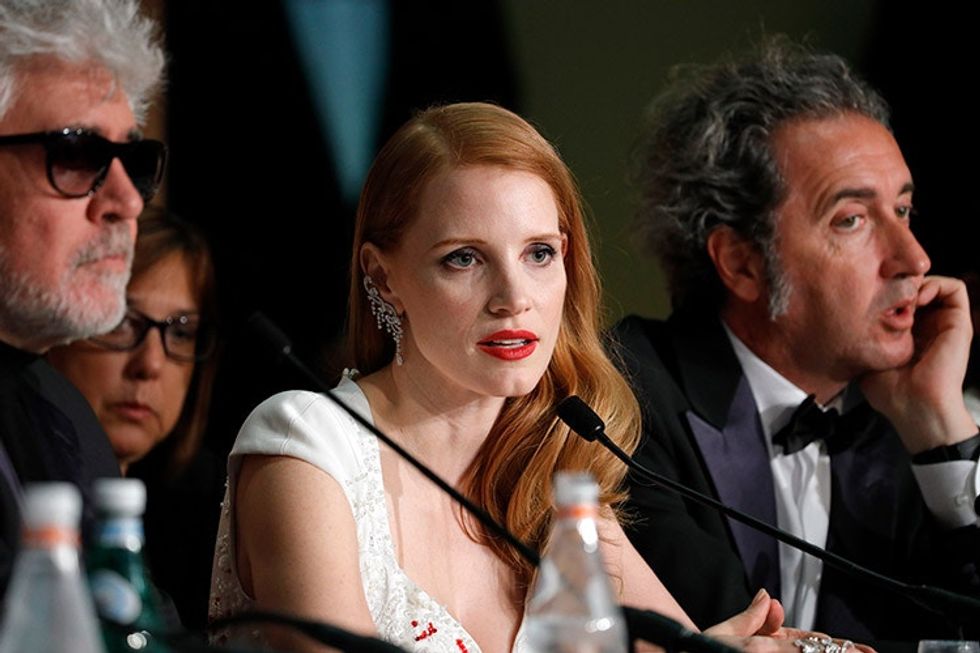 </div></div></div><p>Her two cents, captured in a minute-long clip below, has been met with several <em>hell yeahs</em> from other <a href="http://www.huffingtonpost.com/entry/jessica-chastain-calls-out-cannes-films-for-dismal-portrayal-of-women-characters_us_592cd132e4b053f2d2adb901" target="_blank">women across the internet</a>, including celebrated director Ava DuVernay, who shared it on Twitter:</p><div id="83da4" class="rm-shortcode" data-rm-shortcode-id="79RQYB1559349890"><blockquote class="twitter-tweet twitter-custom-tweet" data-twitter-tweet-id="869334438680829952" data-partner="rebelmouse"><div style="margin:1em 0">Say that, @jes_chastain. https://t.co/H7QHnEE5JA</div> — Ava DuVernay (@Ava DuVernay)<a href="https://twitter.com/ava/statuses/869334438680829952">1496100456.0</a></blockquote></div><h2>Chastain told reporters that after watching 20 films in 10 days, she found the way women were represented in many of them to be "quite disturbing."</h2><p>Changing the way women are represented on screen begins with giving women more consequential roles behind the camera, she argued. </p><p>"I do believe that if you have female storytelling, you also have more authentic female characters," Chastain began. "The one thing I really took away from this experience is how the world views women from the female characters that I saw represented. And it was quite disturbing to me, to be honest." </p><div><div class="push-wrapper--mobile" data-card="image" data-reactroot=""><img type="lazy-image" data-runner-src="https://assets.rebelmouse.io/eyJhbGciOiJIUzI1NiIsInR5cCI6IkpXVCJ9.eyJpbWFnZSI6Imh0dHBzOi8vYXNzZXRzLnJibC5tcy8xOTUyNjk1MC9vcmlnaW4uanBnIiwiZXhwaXJlc19hdCI6MTY2MDMxNTMwOX0.knYvtX9smlbs0PFDKvSU4-zgyUkzefmFeS1yCpYCFGA/img.jpg?width=980" id="1389c" class="rm-shortcode" data-rm-shortcode-id="f96618e9c5a9e6db4cb8606561c3430e" data-rm-shortcode-name="rebelmouse-image"><div class="image-caption"><p>Photo by Matthias Nareyek/Getty Images.</p></div></div></div><h2>When it comes to women's roles in Hollywood — in front of <em>and</em> behind the camera — the data backs up Chastain's point.</h2><p>A <a href="http://annenberg.usc.edu/pages/~/media/MDSCI/Inclusion%20in%20the%20Directors%20Chair%202117%20Final.ashx" target="_blank">study</a> published in February 2017 by the University of Southern California's Annenberg School for Communication and Journalism found that of the 1,000 top-grossing films since 2007, <strong>just 1 in 24 were directed by women</strong>. That figure <a href="http://www.vanityfair.com/hollywood/2017/02/hollywood-female-directors-study" target="_blank">drops sharply</a> for female directors of color.</p><p>What's more, the <a href="http://annenberg.usc.edu/pages/~/media/MDSCI/Inclusion%20in%20the%20Directors%20Chair%202117%20Final.ashx" target="_blank">study</a> found <strong>the span of a female director's career is shorter</strong> — men in their 20s or 80s can find directing success, while ageism appears to restrict younger and older women's opportunities. Certain types of films are far more inaccessible to female directors, too; <strong>women are less likely to get directing opportunities in action and thriller genres</strong>, for instance.</p><p>These gender imbalances are <a href="https://variety.com/2015/film/news/women-lead-roles-in-movies-study-hunger-games-gone-girl-1201429016/" target="_blank">largely responsible</a> for the discrepancy in opportunities for female actors. Speaking roles in Hollywood tend to go to men, and even when they don't, the characters women play are too often minimized to "the girlfriend, the mother, or the wife," <a href="https://variety.com/2015/film/news/women-lead-roles-in-movies-study-hunger-games-gone-girl-1201429016/" target="_blank">Variety</a> pointed out.</p><h2>To Chastain, those numbers are unacceptable, but the solution is both obvious and possible.</h2><div><div class="push-wrapper--mobile" data-card="image" data-reactroot=""><img type="lazy-image" data-runner-src="https://assets.rebelmouse.io/eyJhbGciOiJIUzI1NiIsInR5cCI6IkpXVCJ9.eyJpbWFnZSI6Imh0dHBzOi8vYXNzZXRzLnJibC5tcy8xOTUyNjk1MS9vcmlnaW4uanBnIiwiZXhwaXJlc19hdCI6MTY1MzIwMTg1OH0.aGs6pa5LjAw-2B4NUsFGfDKjQZikV-WKnajEg7nOBuY/img.jpg?width=980" id="ecd8f" class="rm-shortcode" data-rm-shortcode-id="8ab05c8d937b32cc00f7d260b2f43999" data-rm-shortcode-name="rebelmouse-image"><div class="image-caption"><p>Photo by Pascal Le Segretain/Getty Images.</p></div></div></div><p>"I do hope that when we include more female storytellers, we will have more of the women that I recognize in my day-to-day life," Chastain concluded at Cannes, "ones that are proactive, have their own agencies, just don't react to the men around them. They have their own point of view."</p>