Most Shared
Tesco's partnership with FareShare is a big step in the right direction.
Six months ago, U.K. grocery chain Tesco launched a test program, saving 50,000 meals worth of food in the process.

They partnered with FareShare, an anti-hunger organization that helps connect groups wanting to donate food with soup kitchens and food banks, and it's been a hit.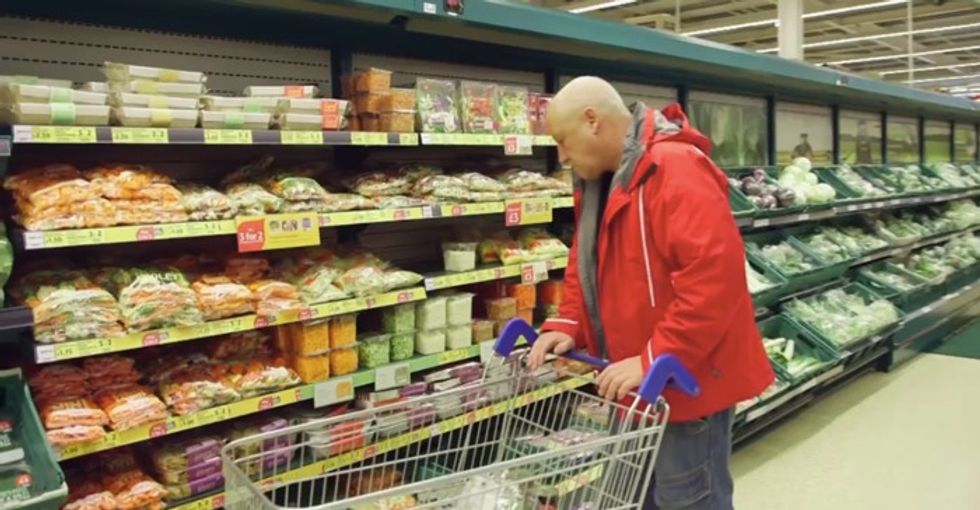 <p class="image-caption">Photo via Tesco PLC/YouTube.</p><h2>Here's how it works: </h2><p><strong>1. Stores set aside food that would ordinarily be thrown out.</strong></p><p>This includes foods that have reached their "sell by" date, as well as misshapen fruit and vegetables. Instead of tossing the food out, they keep it in a bin in the back, ready for someone from a local charity to come pick it up.</p><p><strong>2. Someone from a local charity stops by the store to pick up the food.</strong></p><p>This is where FareShare comes in, helping pair charities with Tesco locations. The charity will get a text message from FareShare telling them there's food available. From there, they can send someone to pick up the food.</p><p><strong></strong><img type="lazy-image" data-runner-src="https://assets.rebelmouse.io/eyJhbGciOiJIUzI1NiIsInR5cCI6IkpXVCJ9.eyJpbWFnZSI6Imh0dHBzOi8vYXNzZXRzLnJibC5tcy8xOTUxOTM5NC9vcmlnaW4uanBnIiwiZXhwaXJlc19hdCI6MTY1NTAzODk0MX0.qGNsw_jrHnHxyMDWq6Ux6HDbK2YsKFA2gPBLkwnAyU4/img.jpg?width=980" id="11e8b" class="rm-shortcode" data-rm-shortcode-id="f1ad80d38348e36765dcb58c17b36224" data-rm-shortcode-name="rebelmouse-image"></p><p class="image-caption">Photo via Tesco PLC/YouTube.<br></p><p><strong>3. They drop the food off at their shelter, charity, food bank, or soup kitchen.</strong></p><p>From here, the food is prepared and distributed to people in need. So simple, right?</p><h2>The simplicity of that process is nothing compared to the real life impact this program is having.</h2><p><img type="lazy-image" data-runner-src="https://assets.rebelmouse.io/eyJhbGciOiJIUzI1NiIsInR5cCI6IkpXVCJ9.eyJpbWFnZSI6Imh0dHBzOi8vYXNzZXRzLnJibC5tcy8xOTUxOTM5NS9vcmlnaW4uanBnIiwiZXhwaXJlc19hdCI6MTY1OTUzOTM3OH0.kkNhnDp2RxoQXskIoG5Qx5SrradR2MntOfsompxXuec/img.jpg?width=980" id="138df" class="rm-shortcode" data-rm-shortcode-id="6978678784b0bdcfe0a3bd0e7ab1ab0c" data-rm-shortcode-name="rebelmouse-image"></p><p class="image-caption">Photo via Tesco PLC/YouTube.<br></p><h2>At the Anfield Breckside Community Council, free meals are served three days a week using food from Tesco and FareShare.</h2><p>It's part of a program called <a href="http://www.anfieldcommunitycorner.co.uk/?page_id=2744" target="_blank">Food U Need</a>, and it's helping people struggling with hunger fill their stomachs. As bills mount, even retirees and people with a full-time job find themselves unable to afford food. <strong>That's what makes Food U Need so essential: It provides food to people with no questions asked. You can just come in, sit down, and have a meal.</strong></p><p>They accept all kinds of food and make sure nothing goes to waste.<br></p><p><img type="lazy-image" data-runner-src="https://assets.rebelmouse.io/eyJhbGciOiJIUzI1NiIsInR5cCI6IkpXVCJ9.eyJpbWFnZSI6Imh0dHBzOi8vYXNzZXRzLnJibC5tcy8xOTUxOTM5Ni9vcmlnaW4uanBnIiwiZXhwaXJlc19hdCI6MTYzNzg1MjczOH0.UKGS4USlNUP915-EENFqP-8krXN7U6JqzZkzeOGJPdI/img.jpg?width=980" id="24ead" class="rm-shortcode" data-rm-shortcode-id="67092841d62f209ee417ed0e1a992fab" data-rm-shortcode-name="rebelmouse-image"></p><p class="image-caption">Volunteer Peter O'Hanlon offers helps out at a recent Food U Need service. Photo via Tesco PLC/YouTube.</p><h2>How's the food? You won't hear any complaints from this crowd.</h2><p>Without the Liverpool-based meal program, these people would likely go hungry.</p><p><img type="lazy-image" data-runner-src="https://assets.rebelmouse.io/eyJhbGciOiJIUzI1NiIsInR5cCI6IkpXVCJ9.eyJpbWFnZSI6Imh0dHBzOi8vYXNzZXRzLnJibC5tcy8xOTUxOTM5Ny9vcmlnaW4uZ2lmIiwiZXhwaXJlc19hdCI6MTY1MzI3MzA3Mn0.WXXDv_y9oYMUNdvcSsi_Ke4OgWzgVyXLDoRo85ImtSE/img.gif?width=980" id="3db19" class="rm-shortcode" data-rm-shortcode-id="66ea63cc51085b15ab0d47a284b865bf" data-rm-shortcode-name="rebelmouse-image"></p><p><img type="lazy-image" data-runner-src="https://assets.rebelmouse.io/eyJhbGciOiJIUzI1NiIsInR5cCI6IkpXVCJ9.eyJpbWFnZSI6Imh0dHBzOi8vYXNzZXRzLnJibC5tcy8xOTUxOTM5OC9vcmlnaW4uZ2lmIiwiZXhwaXJlc19hdCI6MTYyNzcxODUyOX0.sw1EBJOtE_39F1HAmQusgg83KMECIKcWfsBkl6IiqZ0/img.gif?width=980" id="ca945" class="rm-shortcode" data-rm-shortcode-id="53bbebe9a526ffe0d70e05ae56a060f9" data-rm-shortcode-name="rebelmouse-image"></p><p class="image-caption">GIFs via Tesco PLC/YouTube.<br></p><h2>The best part? The program has been so successful that Tesco is expanding the program to all 800 of their stores across the U.K. </h2><p>Roughly <a href="https://www.wfp.org/hunger/stats" target="_blank">795 million people on earth are undernourished</a>. While there are some big things that need to happen to solve that, one of the easiest steps we can take is to stop letting food go to waste. </p><p>Whether you're in the <a href="http://www.lovefoodhatewaste.com/node/2163" target="_blank">United Kingdom</a>, <a href="https://www.nrdc.org/food/files/wasted-food-ip.pdf" target="_blank">United States</a>, or anywhere else on Earth, there are people going hungry. The very least we can do is not waste perfectly good food, right?</p><p>Last year, <a href="http://www.upworthy.com/france-figured-out-how-to-make-its-grocery-stores-feed-even-more-people" target="_blank">France passed a law banning grocery stores from throwing away food</a>. Instead, chains are now required to donate to charity, process into animal feed, or compost their unsold food. In the U.S., a number of organizations are testing creative solutions for hunger, including the <a href="http://www.campuskitchens.org/" target="_blank">Campus Kitchens Project</a>, <a href="http://donatedontdump.net/" target="_blank">Donate Don't Dump</a>, and <a href="http://www.rescuingleftovercuisine.org/" target="_blank">Rescuing Leftover Cuisine</a>.</p><p><strong>It's good to see a large chain like Tesco take up this project in the U.K. Maybe it'll inspire chains around the globe to try out similar programs.</strong></p><h2>You can learn more about Tesco, FareShare, and the Anfield Breckside Community Council in the video below.</h2><span style="display:block;position:relative;padding-top:56.25%;" class="rm-shortcode" data-rm-shortcode-id="7815d20df4b1b8562d7ef73dc8e6d394"><iframe type="lazy-iframe" data-runner-src="https://www.youtube.com/embed/oHQQ5965izQ?rel=0" width="100%" height="auto" frameborder="0" scrolling="no" style="position:absolute;top:0;left:0;width:100%;height:100%;"></iframe></span>