On July 10, 2017, the Juno space probe buzzed over the greatest storm in the solar system — Jupiter's Great Red Spot.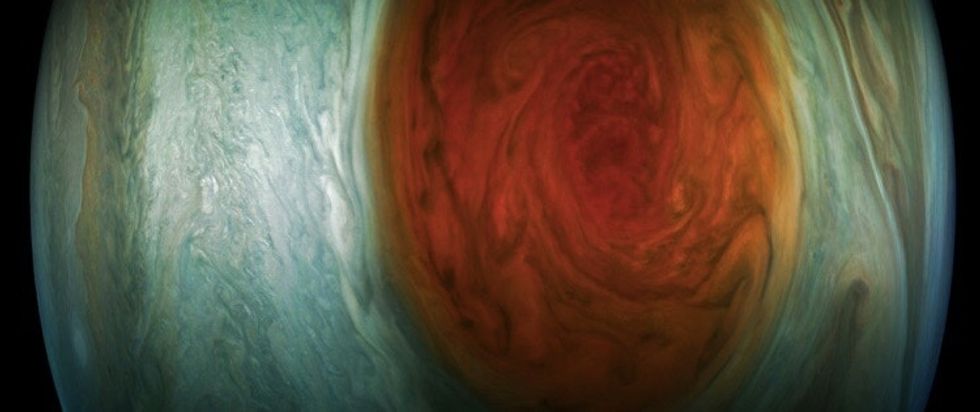 Image from NASA/JPL-Caltech/SwRI/MSSS/Gerald Eichstädt​​.
The probe, moving at hundreds of miles per hour, flew over the massive raging hurricane — a storm so large that it could swallow the Earth — delivering back to us some of the most amazing images of the planet ever seen.
<p>"For hundreds of years scientists have been observing, wondering and theorizing about Jupiter's Great Red Spot," said Scott Bolton, Juno's principal investigator, <a href="https://www.jpl.nasa.gov/news/news.php?release=2017-190" target="_blank">in a press release</a>. </p><p>That's not an exaggeration. The storm is so old that astronomers back in the 1600s <a href="https://www.nasa.gov/feature/goddard/jupiter-s-great-red-spot-a-swirling-mystery" target="_blank">might have glimpsed it through their early telescopes</a>. Imagine their awe at what we've been able to see today.</p><p>"Now we have the best pictures ever of this iconic storm," Bolton said.</p><p class="shortcode-media shortcode-media-rebelmouse-image"><img type="lazy-image" data-runner-src="https://assets.rebelmouse.io/eyJhbGciOiJIUzI1NiIsInR5cCI6IkpXVCJ9.eyJpbWFnZSI6Imh0dHBzOi8vYXNzZXRzLnJibC5tcy8xOTUyNzc0NC9vcmlnaW4uanBnIiwiZXhwaXJlc19hdCI6MTY1MDIzMzE1MX0.Dx5v-SoBsCOmt3GrR0-a7uQwBnb4L0r6oQ618SSaM44/img.jpg?width=980" id="ac1c6" class="rm-shortcode" data-rm-shortcode-id="9722547f035ab7bfbdbb37c834f76883" data-rm-shortcode-name="rebelmouse-image"><small class="image-media media-caption" placeholder="add caption...">Image from <a href="https://www.jpl.nasa.gov/spaceimages/details.php?id=PIA21772">NASA/JPL-Caltech/SwRI/MSSS/Jason Major</a>.</small></p><h2>The raw images of the flyby were released on July 12, and both scientists and artists immediately got to work. </h2><p>NASA's been dumping the raw images of the entire mission on their <a href="https://www.missionjuno.swri.edu/junocam" target="_blank">JunoCam site</a>, where citizen scientists and professionals have been enhancing and remixing them, turning the raw data into amazing works of art.</p><p class="shortcode-media shortcode-media-rebelmouse-image"><img type="lazy-image" data-runner-src="https://assets.rebelmouse.io/eyJhbGciOiJIUzI1NiIsInR5cCI6IkpXVCJ9.eyJpbWFnZSI6Imh0dHBzOi8vYXNzZXRzLnJibC5tcy8xOTUyNzc0NS9vcmlnaW4uanBnIiwiZXhwaXJlc19hdCI6MTU5OTk2NDI0MH0.R0SI0x-g-UA0hTNcVmpWSipx2kjDiTD6HUiE-0gKX0Q/img.jpg?width=980" id="02713" class="rm-shortcode" data-rm-shortcode-id="528b2a1ec3444dba51c9c9a646e2b14d" data-rm-shortcode-name="rebelmouse-image"><small class="image-media media-caption" placeholder="add caption...">Image by <a href="https://www.missionjuno.swri.edu/junocam/processing?id=1891">JunoCam/danielcorttez</a>.</small></p><p>The probe was launched in August 2011 and will run until February 2018. During its mission, Juno has been <a href="https://www.nasa.gov/mission_pages/juno/overview/index.html" target="_blank">measuring Jupiter's gravity, magnetic field, and atmosphere</a>, revealing a world of turbulent storms, high-voltage auroras, and polar cyclones unlike anything on Earth.</p><h2>The data from this mission will help scientists figure out what truly lies beneath Jupiter's clouds and how the Jovian giant, and our solar system, came to be.</h2><p class="shortcode-media shortcode-media-rebelmouse-image"><img type="lazy-image" data-runner-src="https://assets.rebelmouse.io/eyJhbGciOiJIUzI1NiIsInR5cCI6IkpXVCJ9.eyJpbWFnZSI6Imh0dHBzOi8vYXNzZXRzLnJibC5tcy8xOTUyNzc0Ni9vcmlnaW4uanBnIiwiZXhwaXJlc19hdCI6MTYwNzgxMjI1Nn0.h1SGogqld9sc_Iw3KKMCdixMWfynqJz5-yeUl3mAnNo/img.jpg?width=980" id="b9476" class="rm-shortcode" data-rm-shortcode-id="10d6380529fbf5e973a0c2b2a8c02ce3" data-rm-shortcode-name="rebelmouse-image"><small class="image-media media-caption" placeholder="add caption...">Image from <a href="https://www.missionjuno.swri.edu/junocam/processing?id=1892">JunoCam/KenWong</a>.</small></p><p>If nothing else, Juno once again proves how stunning the universe is and how lucky we are to be able to explore it.</p>