More
The Hall of Famer flaunts some off-court heroics with his latest donation.
It's been nearly 18 years since basketball legend Michael Jordan called it quits, but this week, he proved he's still a champion.
According to the Associated Press, the former Chicago Bulls star and current Charlotte Hornets owner pledged to donate $7 million to local health centers in Charlotte, North Carolina.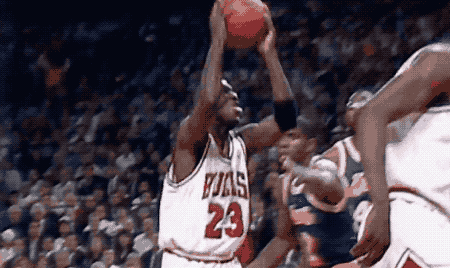 Jordan played the role of on-court hero so often that it just makes sense that he'd do the same off the court. GIF from NBA/YouTube.
<p>According to his spokesperson, Jordan was inspired to make the donation after coming across a study that revealed <a href="https://www.theatlantic.com/education/archive/2016/03/poor-children-rarely-escape-poverty-here/472002/" target="_blank">Charlotte was dead last in a survey</a> of the 50 largest cities in the U.S. when it comes to economic mobility for children in poverty. According to the study's findings, Charlotte children born into the bottom 20% of local income levels <a href="https://www.brookings.edu/blog/brookings-now/2015/06/02/these-maps-from-raj-chetty-show-that-where-children-grow-up-has-a-major-impact-on-their-lifetime-earnings/" target="_blank">had just a 4.4% chance of ever rising to the top 20% in their lifetimes</a>.</p><h2>The two new Novant Health Michael Jordan Family Clinics funded by Jordan's donation are slated to open in 2020.</h2><p>"It is my hope that these clinics will help provide a brighter and healthier future for the children and families they serve," said Jordan in a press release.</p><p>On its website, <a href="https://www.novanthealth.org/home/about-us/newsroom/press-releases/newsid33987/1740/novant-health-receives-7-million-gift-from-michael-jordan.aspx" target="_blank">Novant outlines how and why Jordan's donation will be so valuable</a>, especially to low-income communities, writing that more than 100,000 Charlotte residents don't currently have health insurance, making access to basic health services extremely difficult. One of the goals of the new clinics will be to reduce the amount of emergency room usage, providing a more affordable option for low-income families.</p><p>"This gift will transform the lives of thousands of families and children living in poverty-stricken communities," said Novant Health president and CEO Carl Armato in the release. "We are thankful to Michael for his generosity. The gift will remove barriers to high-quality health care in some of the most vulnerable communities."</p><p class="shortcode-media shortcode-media-rebelmouse-image"><img type="lazy-image" data-runner-src="https://assets.rebelmouse.io/eyJhbGciOiJIUzI1NiIsInR5cCI6IkpXVCJ9.eyJpbWFnZSI6Imh0dHBzOi8vYXNzZXRzLnJibC5tcy8xOTQ3NDMzNC9vcmlnaW4uanBnIiwiZXhwaXJlc19hdCI6MTYzNTYyODYyNH0.gZL0AZkaIG0RcJfQeGzYV163IXNCblAYzdQGUpLMs04/img.jpg?width=980" id="176df" class="rm-shortcode" data-rm-shortcode-id="363021935d216f98837b8b9a1e60b050" data-rm-shortcode-name="rebelmouse-image"><small class="image-media media-caption" placeholder="add caption...">Jordan at the NBA All-Star Game in 2016. Photo by Elsa/Getty Images.</small></p><h2>It's tragic that it takes a massive act of generosity from a blockbuster star like Jordan for at-risk communities to get the care they need.</h2><p>The U.S. is among the most prosperous countries in the history of civilization, and yet it apparently cannot manage to take care of its citizens, with millions still without access to health care. Those numbers <a href="http://www.commonwealthfund.org/publications/issue-briefs/2017/may/effect-aca-health-care-access" target="_blank"><em>have</em> improved</a> in recent years, as a result of the Affordable Care Act, but the message is that there is a long way to go before we live up to our often self-bestowed reputation as the "greatest country on Earth." So long as generations of families find poverty inescapable and so long as <a href="https://www.ucsf.edu/news/2016/01/401251/poor-health" target="_blank">economic status can determine your ability to survive illness</a>, there's work to be done.</p><p>We can't forget the wins, though — whether small or large. This donation is absolutely  worth celebrating for the families who will now be able to access care.</p><p class="shortcode-media shortcode-media-rebelmouse-image"><img type="lazy-image" data-runner-src="https://assets.rebelmouse.io/eyJhbGciOiJIUzI1NiIsInR5cCI6IkpXVCJ9.eyJpbWFnZSI6Imh0dHBzOi8vYXNzZXRzLnJibC5tcy8xOTQ3NDMzNS9vcmlnaW4uZ2lmIiwiZXhwaXJlc19hdCI6MTY0OTc5ODYyNn0.gO4fDEwxS34gCvDUQySpHDycAxX-jn3ek49CXdn63YU/img.gif?width=980" id="ec1a2" class="rm-shortcode" data-rm-shortcode-id="37fd27ae2d75de56a3b38a38b19d925c" data-rm-shortcode-name="rebelmouse-image"><small class="image-media media-caption" placeholder="add caption...">Like he did so many times during his Hall of Fame basketball career, Jordan came through when it really mattered. GIF from NBA/YouTube.</small></p>