Heroes
Islands don't have to be underwater to become uninhabitable.
True
Natural Resources Defense Council
The only country with parts in all four hemispheres, Kiribati, sits in the middle of the Pacific, straddling the Earth's equator.
It seems nice — the beaches are white-sand-and-palm-trees scenes right out of a travel guide. Just over 100,000 people live on its 33 atolls and islands.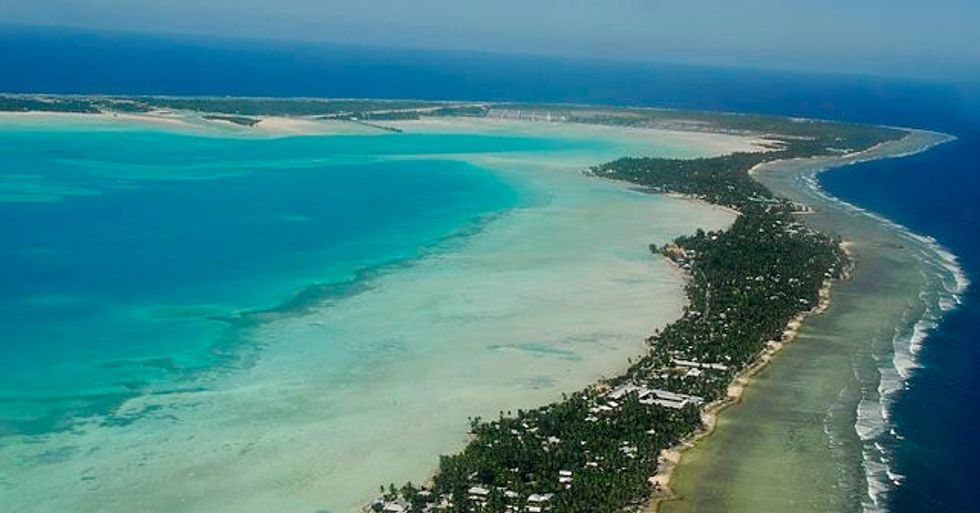 <p class="image-caption"> South Tarawa, Kiribati's capital and most populous area. Image from <a href="https://en.wikipedia.org/wiki/File:South_Tarawa_from_the_air.jpg" target="_blank">Government of Kiribati/Wikimedia Commons</a>.</p><h2>But its president just thanked Fiji for helping them be able to <i>leave</i> this paradise.</h2><p> "It's so heartening to hear that <strong>Fiji has undertaken to accommodate our people of Kiribati in the event that climate change renders our homes uninhabitable</strong>," said Kiribati President Anote Tong during a speech at the COP21 climate talks in Paris, as reported by <a href="http://www.theguardian.com/environment/blog/live/2015/nov/30/paris-climate-summit-world-leaders-meet-for-opening-day-live#block-565c5dd4e4b0cf03a46244b2"><u>Adam Vaughn from The Guardian</u></a>.</p><p> Fiji is nearly 2,000 miles away from Kiribati. Traveling that far is like moving from Los Angeles to Chicago.</p><p> <strong>So </strong><strong>why would 100,000 people need to abandon their homes and travel across the ocean to an entirely new country?</strong></p><h2>Because for them, the climate talks have come way too late.</h2><p> Kiribati, though beautiful, is pretty poor, and local diets are often supplemented by crops grown in the atolls' thin, sandy soils. Of course, you can't grow plants in seawater, so <strong>much of the water for drinking and irrigation has to come out of a thin underground reservoir of rainwater</strong>.</p><p> <strong>But Kiribati's average elevation is less than 6.5 feet above sea level</strong>, so it doesn't take much for a large wave or storm surge to flood one of its islands.</p><p class="image-caption"> <img type="lazy-image" data-runner-src="https://assets.rebelmouse.io/eyJhbGciOiJIUzI1NiIsInR5cCI6IkpXVCJ9.eyJpbWFnZSI6Imh0dHBzOi8vYXNzZXRzLnJibC5tcy8xOTUxMTkzMC9vcmlnaW4uanBnIiwiZXhwaXJlc19hdCI6MTYxNjQ3ODEwNH0.s_CcYiDoBVl9G9hJ8BAICMpfnEH3fy2iWestb8-Lxw8/img.jpg?width=980" id="e393a" class="rm-shortcode" data-rm-shortcode-id="83b2636a5e983fab77c3de693f5cea17" data-rm-shortcode-name="rebelmouse-image"></p><p class="image-caption"> Image from <a href="https://www.flickr.com/photos/dfataustralianaid/12426392094/" target="_blank">Erin Magee/DFAT/Flickr</a>.</p><p> And when the sea rises over the land, <em>that layer of freshwater can become polluted with salt</em>. <strong>People can't drink it. Plants can't grow in it.</strong></p><p> <img type="lazy-image" data-runner-src="https://assets.rebelmouse.io/eyJhbGciOiJIUzI1NiIsInR5cCI6IkpXVCJ9.eyJpbWFnZSI6Imh0dHBzOi8vYXNzZXRzLnJibC5tcy8xOTUxMTkzMS9vcmlnaW4uanBnIiwiZXhwaXJlc19hdCI6MTYzMjkzNDkwM30.8rmU7zRLMmK-GRuxB9HAW5TO76aLMSRNuSZ_ylQl3MI/img.jpg?width=980" id="37de2" class="rm-shortcode" data-rm-shortcode-id="7eb034c4a0826b56af28971587b37d24" data-rm-shortcode-name="rebelmouse-image"></p><p class="image-caption"> These palm trees, starved of fresh water, have turned into a forest of ghosts. Image by <a href="https://en.wikipedia.org/wiki/File:Impacts_of_coastal_erosion_and_drought_on_coconut_palms_in_Eita,_Tarawa,_Kiribati.JPG" target="_blank">Government of Kiribati/Wikimedia Commons</a>.</p><h2>People can't thrive in a place with no food and clean water. </h2><p> Malnutrition is becoming a serious problem in Kiribati. And it hits kids especially hard. A <a href="http://www.unicef.org/pacificislands/1852_23268.html" target="_blank">UNICEF report</a> stated that 15% of children under 5 on Kiribati are underweight. This can stunt growth and make it harder for them to fight off illnesses.</p><p> This is just one effect of climate change. I'm not even getting into the other problems flooding and sea level rise can cause, like the destruction of houses or drowning risks.</p><blockquote class="pull"> Islands don't have to be underwater to become uninhabitable.</blockquote><p>This is one of the things about sea level rise: A little bit doesn't <em>look</em> that serious. After all, the islands are still above sea level, aren't they? But <strong>islands don't have to be underwater to become uninhabitable</strong>.</p><h2>Hence the evacuation plans.</h2><p> President Tong has been outspoken about this existential threat for years. He's been building seawalls, protecting marine environments, and giving speech after speech. Even so, he's accepted the fact that Kiribati may soon be gone.</p><p> "We have to relocate people because the landmass is going to decline. That's common sense. Simple common sense. ... <strong>I can say that I refuse to move, but that's being stupid isn't it? Because it will not be me that will be affected. It will be my grandchildren</strong>," a March 2015 report from <a href="http://www.theguardian.com/environment/2015/mar/09/losing-paradise-the-people-displaced-by-atomic-bombs-and-now-climate-change"><u>The Guardian</u></a> quoted Tong as saying.</p><p> <img type="lazy-image" data-runner-src="https://assets.rebelmouse.io/eyJhbGciOiJIUzI1NiIsInR5cCI6IkpXVCJ9.eyJpbWFnZSI6Imh0dHBzOi8vYXNzZXRzLnJibC5tcy8xOTUxMTkzMi9vcmlnaW4uanBnIiwiZXhwaXJlc19hdCI6MTY1MTczOTY1NX0.pQCAWIW9YnW8skRRlm9IkorrEcvJMm5wQSzndfGQpSU/img.jpg?width=980" id="33360" class="rm-shortcode" data-rm-shortcode-id="3bea109a8bb6120dc72be96f1f25eec8" data-rm-shortcode-name="rebelmouse-image"></p><p class="image-caption"> President Anote Tong meets with U.S. Navy Capt. Wallace Lovely in 2013. Image by <a class="owner-name truncate" data-rapid_p="69" data-track="attributionNameClick" href="https://www.flickr.com/photos/us7thfleet/9335382887/in/photolist-brvDjC-hkmCS1-hknDuw-oQHK8N-feaNoA-bEquYk-hkmBaS-brvBKs-bEqxEM-bEqwBV-bEqw8r-g92mg7-bEqvAn-fdWrGg-fdWfV4-fbBs7Y-fbBrxh-fdWp5P-fdWh6n-fbnbuH-fdVx72-fbnaUk-fbBp8o-fbBp5b-febBy7-fbnb5n/" target="_blank" title="Go to Commander, U.S. 7th Fleet's photostream">Commander, U.S. 7th Fleet/Flickr</a>.</p><p> In 2012, he said he was in talks with <a href="http://www.smh.com.au/environment/climate-change/sea-levels-force-kiribati-to-ask-fijians-for-new-home-20120308-1unan.html"><u>Fiji to buy land for resettlement</u></a>. This latest speech in Paris seems to confirm some sort of deal has come through. He also has a program to help the people of Kiribati leave and get job training in other countries such as New Zealand.</p><h2>Climate change is going to end up forcing a lot of people out of their homes.</h2><p> This wouldn't be the first time islanders have had to move because of the sea, <strong>but it would be the first time an entire nation was evacuated</strong>.</p><p> Some of the people of Kiribati are worried about whether their national culture will survive or be absorbed by Fiji's.</p><blockquote class="pull"> "Let us not pay lip service to an urgent and pressing issue."</blockquote><p> Of course, <a href="http://wwf.panda.org/about_our_earth/aboutcc/problems/rising_temperatures/hotspot_map/fiji.cfm"><u>Fiji may have its own climate change problems</u></a> to deal with. Other island nations such as the <a href="http://america.aljazeera.com/articles/2015/5/18/disaster-after-disaster-in-low-lying-marshall-islands.html"><u>Marshall Islands</u></a> and <a href="http://www.huffingtonpost.com/news/maldives-climate-change/"><u>the Maldives</u></a> may also be under threat.</p><p> "For those of us whose very survival is at stake," President Tong said Monday, "our plea is very simple: Let us give substance to the pledges that have been made. ... <strong>L</strong><strong>et us not pay lip service to an urgent and pressing issue</strong>."<br></p><h2>That's why Paris is so important: These aren't hypotheticals anymore.</h2><p>President Tong has had to make some incredibly tough decisions, and his message deserves to be heard by more people. Listen to his urgent address here:</p><span style="display:block;position:relative;padding-top:56.25%;" class="rm-shortcode" data-rm-shortcode-id="d5d09045dd4680f432bac12bbbc551a5"><iframe type="lazy-iframe" data-runner-src="https://www.youtube.com/embed/pTRfaUnb4uY?rel=0" width="100%" height="auto" frameborder="0" scrolling="no" style="position:absolute;top:0;left:0;width:100%;height:100%;"></iframe></span><p>If you're looking for something more concrete to do, sign <a href="https://secure.nrdconline.org/site/Advocacy?cmd=display&amp;page=UserAction&amp;id=3887&amp;s_src=FDOSHLPETNON0715WDY?utm_source=upworthy&amp;utm_medium=link&amp;utm_campaign=upworthy" target="_blank">this petition from the NRDC</a> to demand climate action from our world leaders and make sure voices like President Tong's are heard. <br></p>