Education
Powerful poem explores how kids debate the answer to, 'What's the opposite of a gun?'
Their discussion is both beautiful and haunting.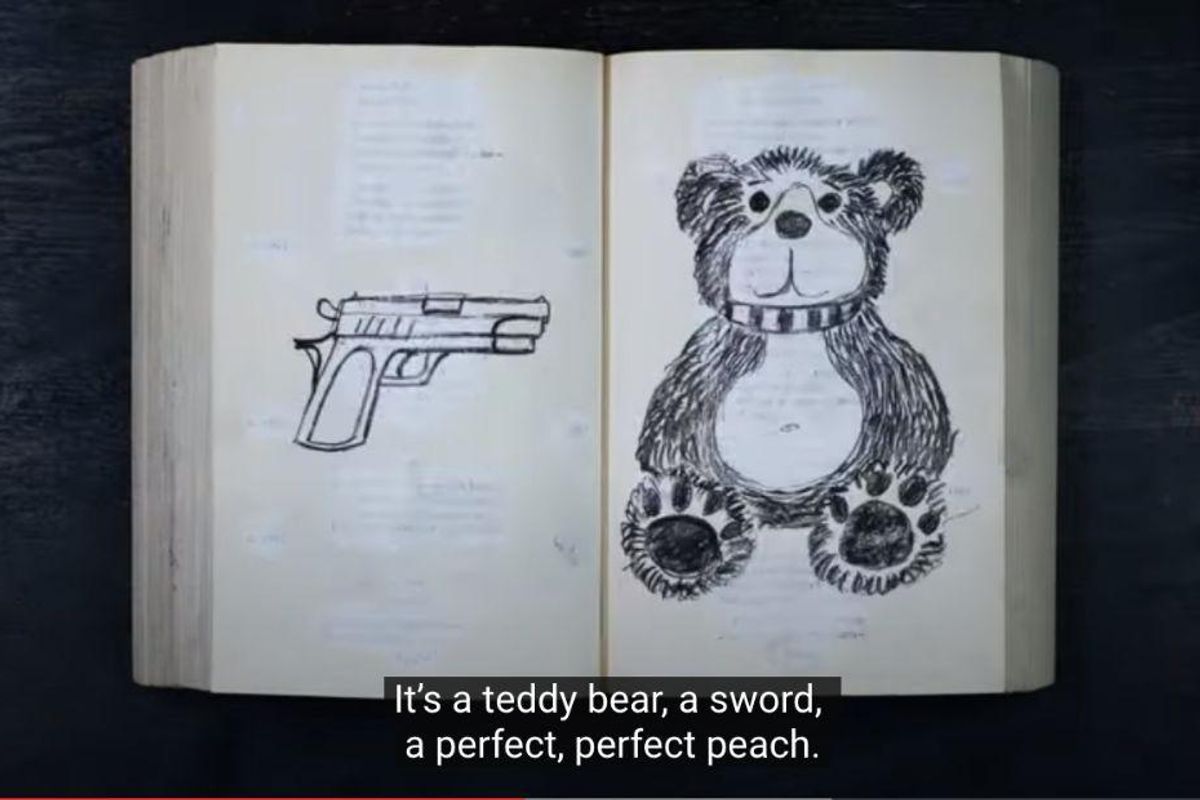 "What's the opposite of a gun?"
That's the question at the heart of a powerful—and perpetually timely—poem by Brendan Constantine, based on his own teaching experience. It begins with him describing how he led his students through a poetry exercise called The Opposites Game, in which the students were asked to come up with the antonym of each word in a line of a poem by the famously reclusive 19th-century poet, Emily Dickinson.
"My Life had stood - a Loaded Gun," was the line, and students easily came up with the opposites for the first six words. But when they got to "gun," the students paused.
For a moment, very much like the one between
lightning and its sound, the children just stare at me,
and then it comes, a flurry, a hail storm of answers –
---
And then came the heated debate among the kids about the nature of a gun through an exploration of what it isn't:
A flower.
A pillow.
A book.
A song.
A prayer.
A baby.
Or what's that person who delivers babies? A midwife? Yes, a midwife.
Their discussion is beautiful and haunting, interweaving the profound innocence of children and the absurdity of the way we fight over guns in this country. The arguing. The shouting. The clubs forming.
Nothing's decided, she says. We're not done here.
Ha. Indeed.
Poetry has a way of getting to the heart of an issue in a way that rhetoric simply cannot. Constantine's words go beyond the tired tropes trotted out by Americans on barstools, social media and the floor of Congress, laying out hard truths about American gun culture through the eyes of children.
"The Opposites Game" was made into a TED-Ed short film by Anna Samo and Lisa LaBracio, with Brendan Constantine reciting the poem aloud while it is illustrated in stop-motion. Watch:
Nothing's decided…We're not done here. That's the truth of the matter, isn't it?
We can't even agree on what a gun is, much less what it isn't. For some people a gun equals terror. For others, a gun equals freedom. Some see guns as weapons of war, some as tools for hunting, some as methods of intimidation, some as toys for target practice. Some look at a gun and see the faces of the kids killed in school shooting after school shooting. Some look at a gun and see safety and security.
Round and round we go, never deciding, never done. This poem was written years ago, with tens of thousands of gun violence deaths occurring in the U.S. since then, but feels like it could have been written this week.
And the enigmatic last line:
Your death will sit through many empty poems.
As one of the filmmakers said in an interview, "The whole poem is building up to this last sentence, and emotionally you understand exactly what it means, but you can't put it into words."
And that's OK. We've heard more than enough words about guns in this country anyway.