Culture
The 'how it started, how it's going' meme is exactly the uplifting message we needed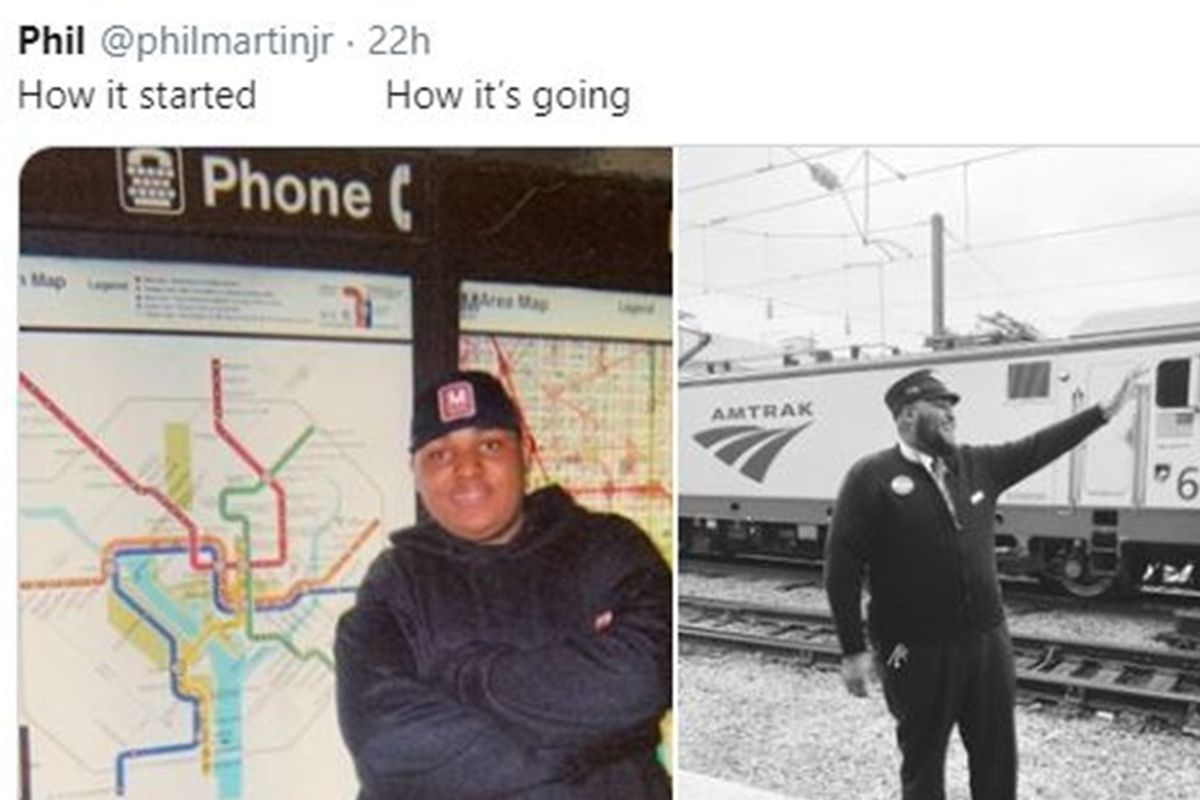 Via Phil Martin Jr.
Every goal that's ever been achieved has started with a dream. Whether it's a career, an artistic endeavor or relationship, it all starts with a glimmer of hope, then with some hard work, determination and a little bit luck, we may just find ourselves at the destination.

While it's common for people to attribute mastery of a skill to a gift or natural genius, for most, it's not natural. Their skills are developed through regular practice. In his book, "Outliers," Malcom Gladwell shows that some of the greatest artists and entrepreneurs of our time, including BIll Gates and The Beatles, all honed their craft over 10,000 hours before reaching the top.
---
Successful people are also known to use visualization techniques to help them reach their goals. By visualizing the end result, such as making a clutch shot or seeing yourself on the front page of a magazine, we can provide ourselves with the determination it takes to get through the struggles along the path to success.
People who've reached their goals on Twitter have been sharing what they looked like starting out versus their current selves to encourage other people to strive for their goals.
The great thing is that the people all have different goals and definitions of success. Success for some may be a happy, fulfilling relationship. For others it may be an athletic achievement or success in business.
Regardless, we all have goals we'd like to reach so it's nice to see how most people who achieve something great started at the bottom.
Phil Martin, Jr. has learned to navigate life with autism spectrum disorder to land his dream job as an Amtrak Conductor. He's also an accomplished photographer.
Mwema dreamed of becoming a pilot as a child. Now, he sits in the cockpit.
Naomi Osaka once dreamed of being a tennis professional. Now, she's been ranked number one the Women's Tennis Association, and is the first Asian player to hold the top ranking in singles.
They were once innocent teenagers, now they've reached ultimate 2020 relationship goals.
Every business starts with one customer.
Lil Nas X started with a dream to be a rapper then followed the Old Town Road to unimaginable success.
Getting the body you want starts with making the decision to change and never letting up.
Simone Biles started gymnastics when she was six. Sixteen years later, she's won a combined total of 30 Olympic and World Championship medals.
In 2017, Gina Martin was assaulted by a man who put a camera up her skirt and took a picture. After learning there was no law against it, she started a campaign to make it illegal. Two years later, upskirting is now illegal in the UK.
In 2016, Katie Taylor dreamed about turning professional as a boxer. Four years later, she is a two-weight world champion and the current undisputed lightweight champion, having held the WBA title since 2017; the IBF title since 2018; and the WBC, WBO, and "Ring" magazine titles since 2019.