Pop Culture
Mister Rogers' crew once pranked him during his opening song. His reaction was so very him.
He really was such a delightful human.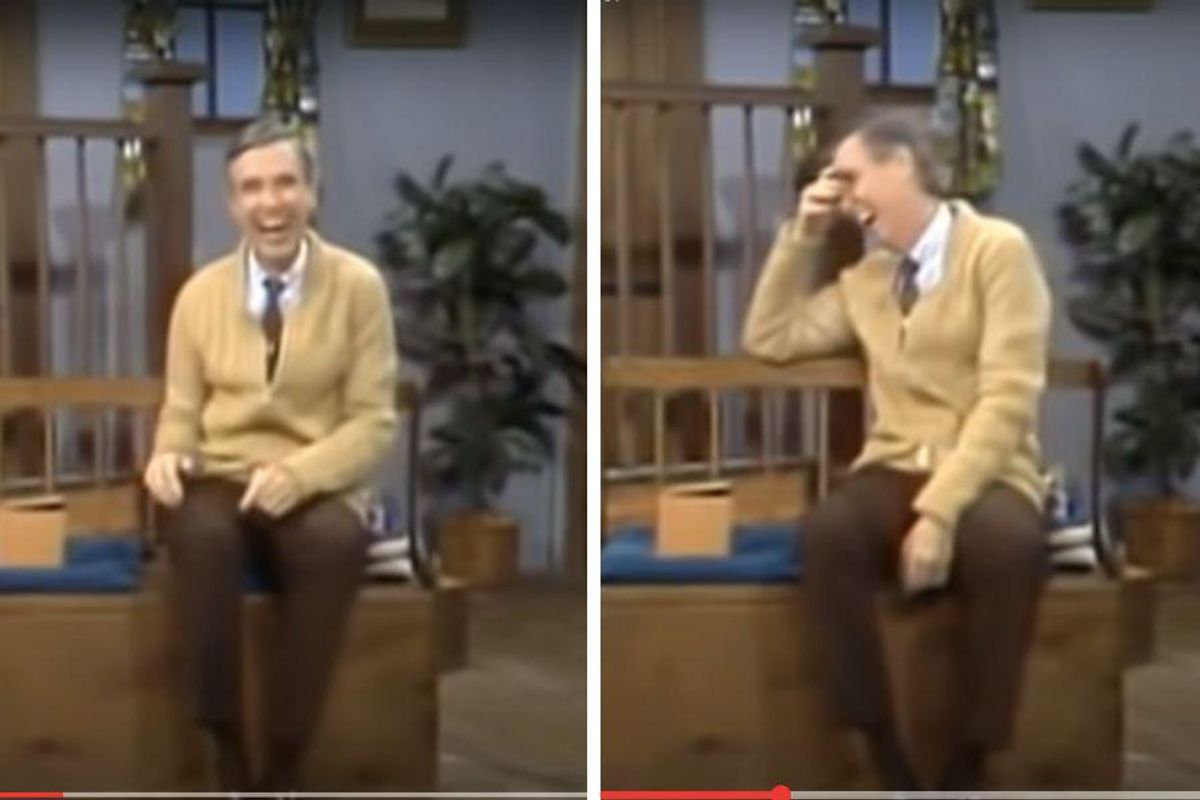 Fred Rogers was truly one of humanity's greats, in every sense that counts most. He wasn't a titan of industry or a builder of empires. He wasn't a man of great means or a wielder of political power. He was humble, gentle and kind. He was a teacher, a learner and a leader in his own way.
For generations of children, he was a consistent voice of compassion, curiosity and caring. He was a calm haven in our television set, a safe space where we always knew we were loved just the way we are.
And yet he was strong, too, just not in the way we often think of strength. He was a fierce defender of children and a champion of justice. His testimony before Congress about public television totally turned around the sentiments of a judge who was extremely skeptical before Rogers started speaking. He wasn't forceful, he didn't yell or cry, he just shared his feelings, indicated his trust in the judge's conscience and explained the value of quality children's television programming in a way that was impossible to disregard.
---
No one could deny the wholesome awesomeness of Rogers. No one. He was the real thing, tried and true, through and through and the world misses him greatly.
It's quite well known that Rogers was the same man off-screen as he was on his show, and a video of his cast and crew pranking him once during his opening song offers a bit of delightful proof.
Check this out:
Seriously, he was the most delightful human. His laugh when he sticks his foot in the second shoe—priceless. His "Thanks ever so much"—epic.
People have responded to the video on Reddit with gushing praise.
"Mr. Rogers thanking that man for a delightful practical joke just changed something in me for the better," wrote one commenter. "Off to go thank my husband for some stuff."
"What a magical person that just a clip of him having a laugh is making me well up," wrote another.
"My childhood was a scary place but when I turned on Mr. Roger's, it all disappeared for awhile," shared another. "Thank you for being a light to so many children. May you Rest In Peace."
"An amazing human being and an utterly sweet person," wrote another. "We should all aspire to be the person Mr. Rogers knew we could be."
Indeed, we should.
There may be many wonderful people who walk this earth, but there will never be another Fred Rogers. What a precious gift that we have so many hours of him on film to enjoy and share with generations to come.