popular
Mark Cuban revealed the Dallas Mavericks haven't played the national anthem this season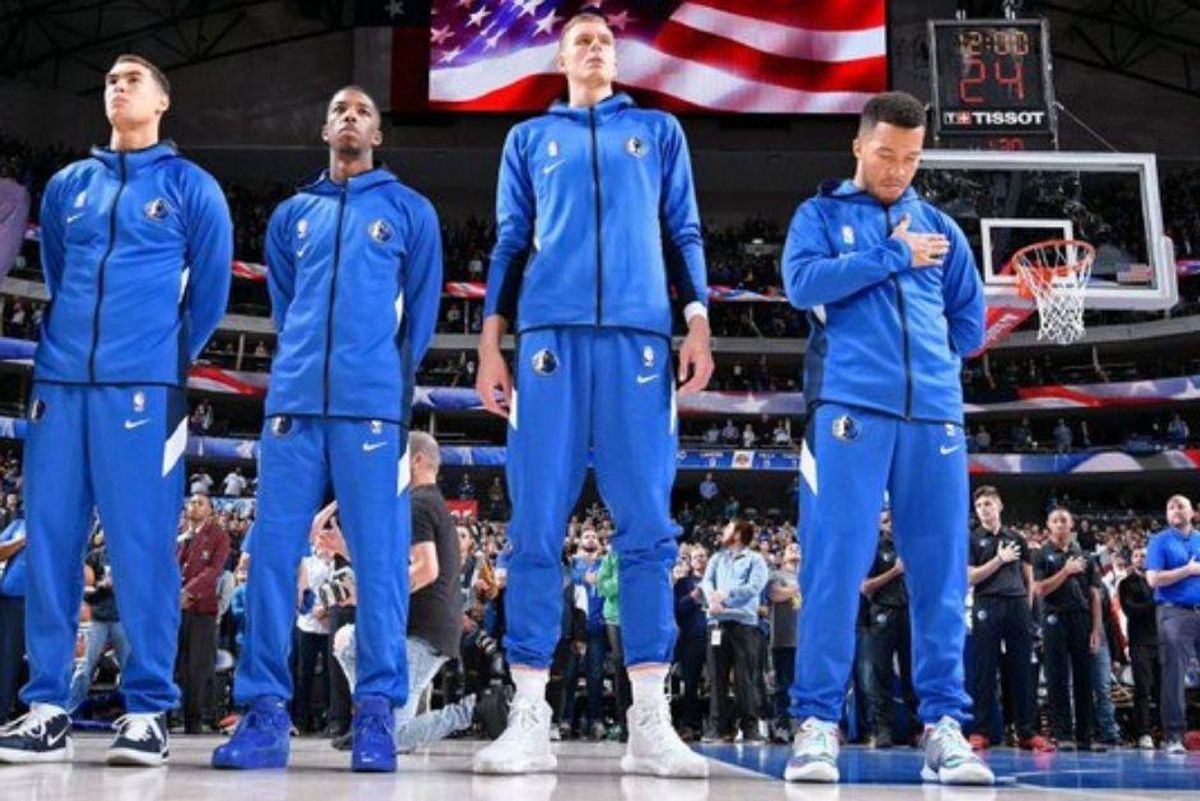 After years of controversy over players kneeling during the national anthem before sporting events, an NBA team has done something unique. They simply stopped playing the anthem altogether.
They didn't make an announcement. No one on the team or in management or ownership mentioned it. The 13 games that the Dallas Mavericks have played at home this preseason and regular season did not start with the national anthem, and pretty much no one even noticed.
Mavericks owner Mark Cuban confirmed today that he had nixed playing the anthem at the American Airlines Center games and had no plans to play it in the future. He told ESPN that he had made the decision after consulting NBA commissioner Adam Silver.

Cuban has expressed support for and solidarity with players who knelt during the anthem to protest racial injustice and police brutality in recent years, after saying in 2017 that he hoped players would stand.
After news broke about Cuban not playing the anthem at games, the NBA issued the following statement:
---
"With NBA teams now in the process of welcoming fans back into their arenas, all teams will play the national anthem in keeping with longstanding league policy."
Welp, that puts Mark Cuban in a bit of a pickle. Cuban has reportedly said they will abide by the NBA's rule and begin playing the anthem tonight. He also responded issued a statement of his own:
"We respect and have always respected the passion people have for the anthem and our county. But we also loudly hear the voices of those who feel that the anthem does not represent them. We feel that their voices need to be respected and heard, because they have not been.
Going forward, our hope is that people will take the same passion they have for this issue and apply the same amount of energy to listen to those who feel differently from them. Only then can we move forward and have courageous conversations that move this county forward and find what unites us."
So here we are in another debate about the anthem, this time about whether or not teams should be forced to play it if they don't want to. But the question remains: Why do we even play it at sporting events in the first place?
Playing the national anthem makes sense in international competitions because nationality is inherent in the matchup. But when an American team is playing an American team, playing the anthem feels like nationalism for the sake of nationalism. And when people playing those sports share that conditions in the country make them feel like the anthem doesn't fully represent them, forcing a display of patriotism starts to feel gross.
The fact that the Mavericks didn't play the anthem before 13 games and no one cared until it was pointed out is a sign that the controversy isn't really about the anthem at all. People are welcome to sing the national anthem any time they want. What exactly is the point of doing it before every professional sporting event? What do sports have to do with patriotism in the first place?

Some will say the anthem is played to bring people together, to share a sense of national unity. But if that's really what the purpose is, it's obviously not working. Until we make the country what we're supposed to be and what we claim to be—one in which liberty and justice truly exist for all—forcing the anthem at every game feels wrong.
As Shannon Sharpe pointed out, the national anthem is not the law of the land. There's no law that stipulates that the anthem be played at sporting events—it's a choice. And the anthem means different things to different people. "We have to stop with this notion that gestures and symbols are a sign of patriotism," he said. "Actions and deeds make you a patriot...Sporting events will be just fine."
If the anthem means a lot to you, you have every right to sing it whenever and wherever your heart desires. But the idea that playing it ahead of every sporting event is some kind of sacrosanct thing that can't be changed is simply wrong, and denying a team the right to choose for themselves whether or not they play it feels awfully unAmerican.
American freedom means we don't do forced patriotic displays. And the fact that the Mavericks haven't played the anthem for 13 games and the world hasn't come to a crashing halt means that we'd surely survive not playing it before every sporting event. Save the anthem for international competitions when it serves a clearer purpose, and let teams decide for themselves if they want it played on their home turf.