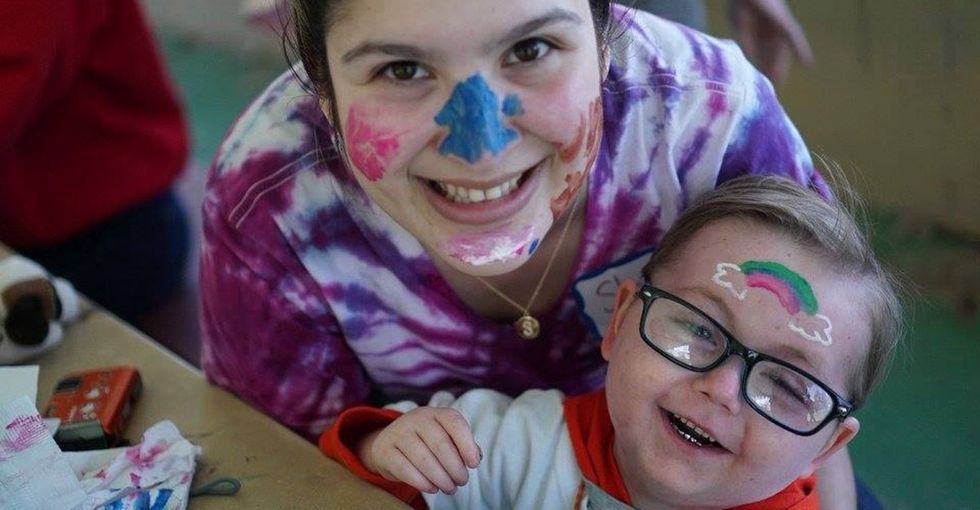 True
Northwestern Mutual
It was "Camplympics" and Chris was a finalist in the pool-noodle javelin toss.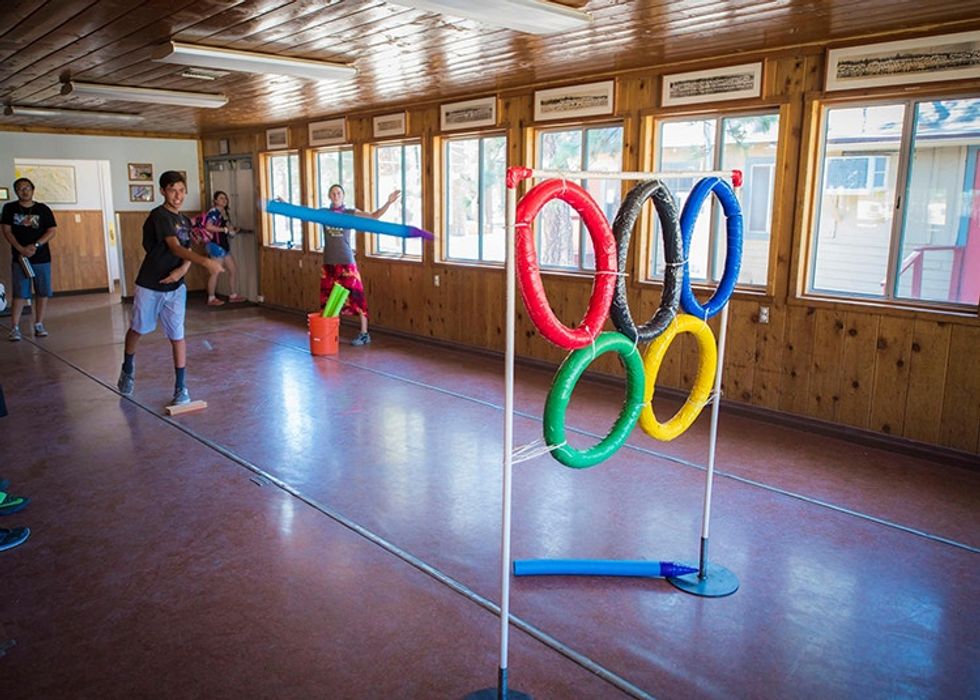 A camper participates in the javelin event during Camp Ronald McDonald for Good Times' "Camplympics." Photo via Dean Reyes/Camp Ronald McDonald for Good Times/Facebook.
Chris is blind, the result of eye cancer, but that wasn't stopping him from participating in this fun event at Camp Ronald McDonald for Good Times.
---
His camp counselor, Bear, was standing behind the rings, snapping his fingers so that Chris could hear the distance and area where he was to toss the javelin.
"The whole dining hall was quiet," says Fatima Djelmane, development director of the camp. "It was close to 200 people there, between the campers and the counselors, and it was just completely silent."
Everyone was waiting with bated breath. Chris threw the javelin three times through the hoops.
The crowd roared. Chris had just won the bronze medal.
"It was a huge moment, where everyone was shouting and so excited and crying because they had witnessed something amazing," Djelmane says. "It just shows the partnership between [him] and his counselor and the support that he received from the whole community."
That's what makes this camp so great. We might take "just being a kid" for granted, but they don't.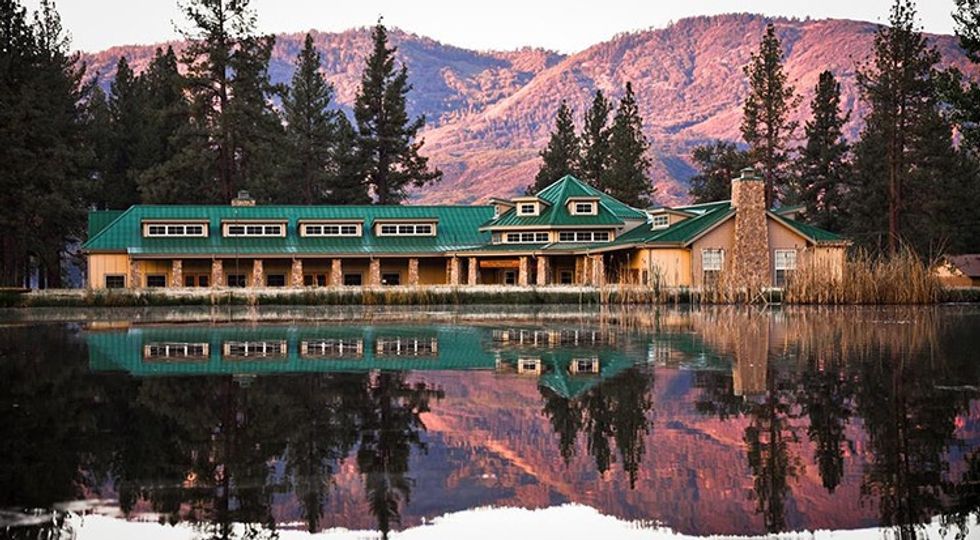 The Camp Ronald McDonald for Good Times in Mountain Center, California. Photo via Dean Reyes/Camp Ronald McDonald for Good Times/Facebook.
Located in Mountain Center, California, the camp opens its doors, free of cost, to any child who has or has had cancer in their lifetime. Campers can bring a sibling along too, and the camp also offers a Family Camp program for first-time campers so they can bring their whole families.
Because families and siblings come to the camp together, counselors often don't know which children have cancer and which don't.
Their illnesses are not the focus and that, says Jessica Henke, a volunteer camp counselor, is a great thing for both children with cancer and their entire families.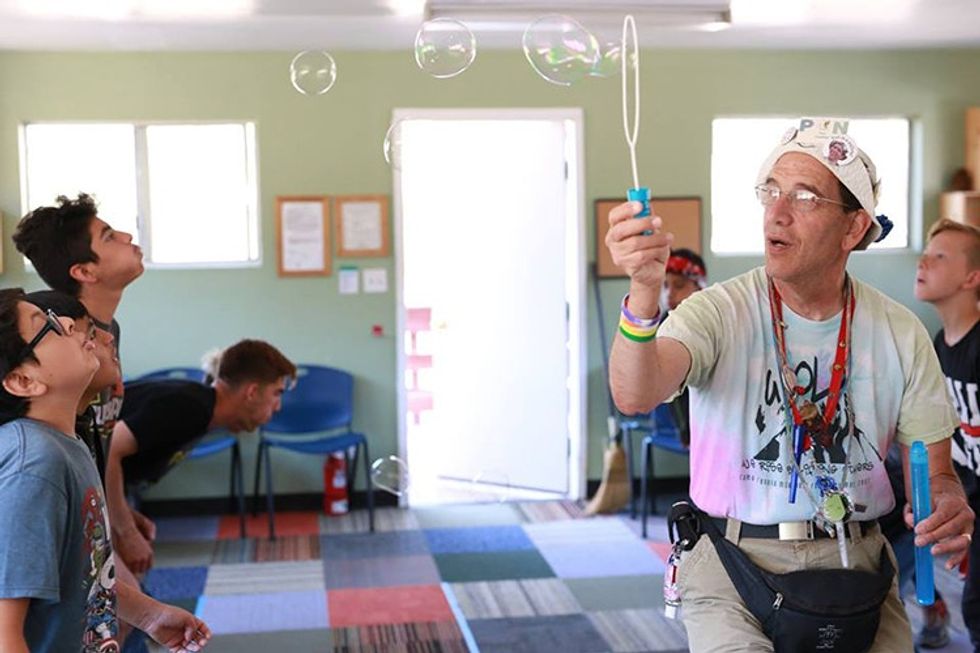 Photo via Josh Pham/Camp Ronald McDonald for Good Times/Facebook.
Kids are encouraged to explore who they are and what they love beyond medical limitations and the dreaded "c-word."
Activities at the camp include everything any other summer camp might have: archery, horseback riding, rock climbing, swimming, arts and crafts, and more.
Nights are filled with campfires, dances, and special cabin activities planned by the counselors.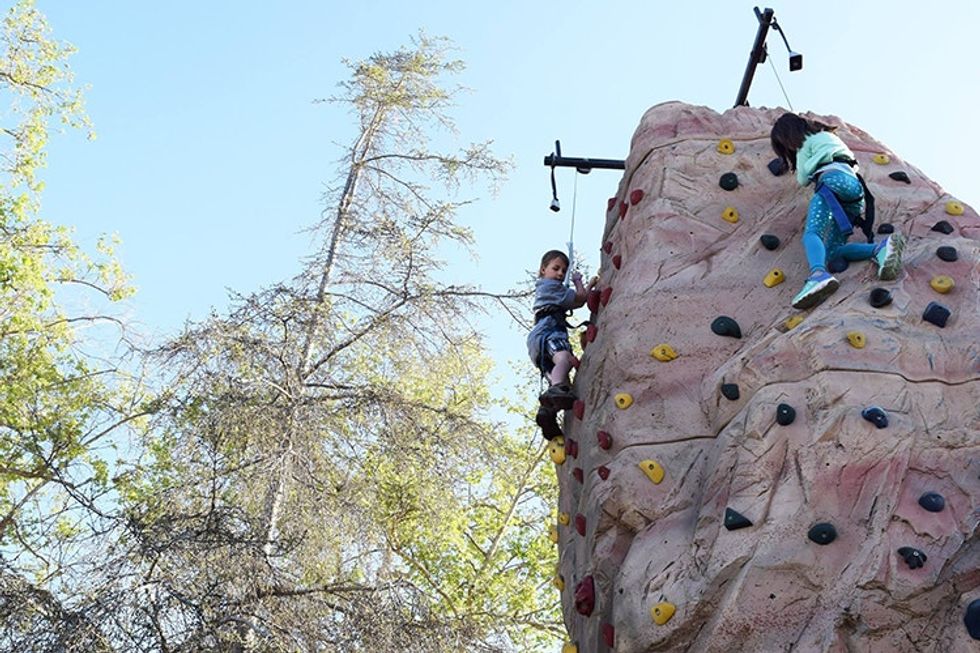 One of the most popular activities at Camp Ronald McDonald for Good Times is the 50-foot rock wall. Photo via Ashok Padinjatiyaduth/Camp Ronald McDonald for Good Times/Facebook.
And, while the counselors may be made aware of some campers' limitations, campers are still encouraged to try every activity offered at Camp Ronald McDonald for Good Times.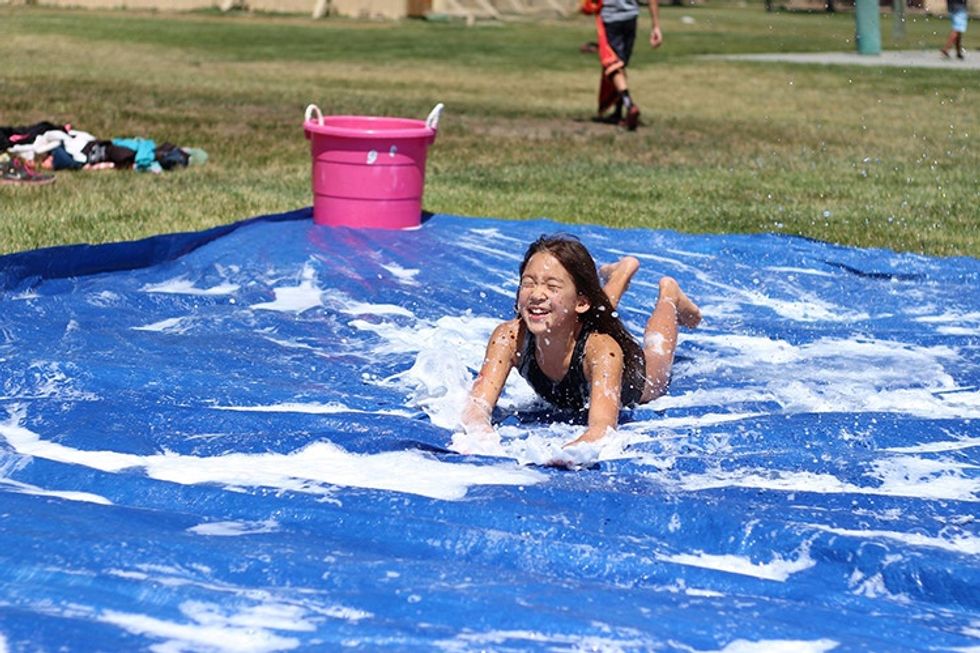 Photo via Camp Ronald McDonald for Good Times/Facebook.
"No matter anyone's physical limitations, the staff and the volunteers are trained so that they can help everyone participate in everything," Henke explains. "These kids are given a lot of chances at camp that they may not be given down the mountain."
Getting lost in play and forgetting that they are sick, even if it's just for a little while, means everything.
"There's no 'oh, you're the kid with cancer.' It's not part of their identity anymore, and then they're able to discover who they are outside of that label of cancer," Djelmane says.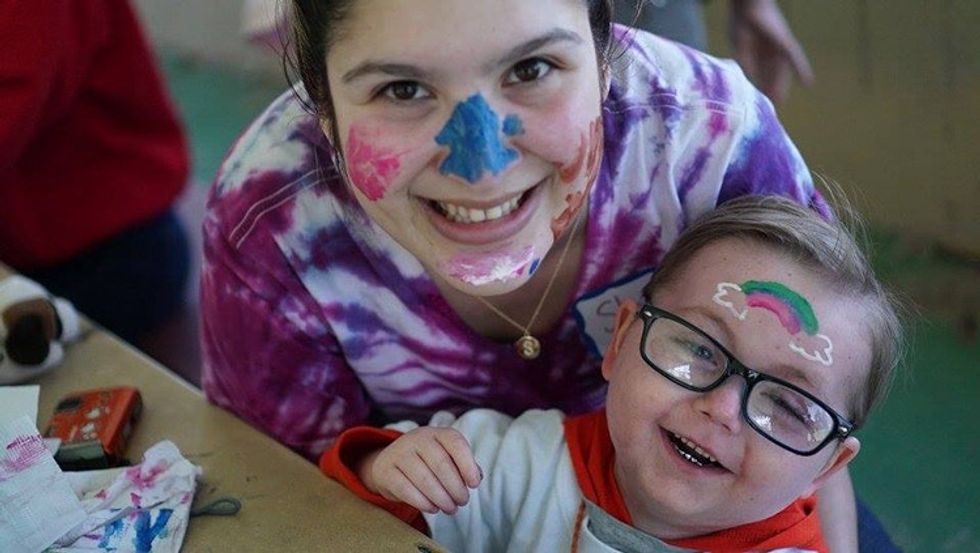 Campers enjoying some face-painting. Photo via Camp Ronald McDonald for Good Times/Facebook.
Life can also be tough for siblings, who sometimes don't get as much attention. Fortunately, they are also encouraged to join in on the fun.
"Cancer lives in the body of one child, but it affects the entire family," Djelmane says.
Illness changes family dynamics, creates new responsibilities, and forces kids to grow up way too quickly. Cancer treatment is also a long process. It often takes years — years where the parents are not able to be fully present for the sibling who isn't diagnosed with cancer.
As a result, siblings of children with cancer often experience fear, anxiety, anger, jealousy, guilt, and grief. And both the patient and the sibling may miss out on normal childhood experiences, like sports and socializing with other children.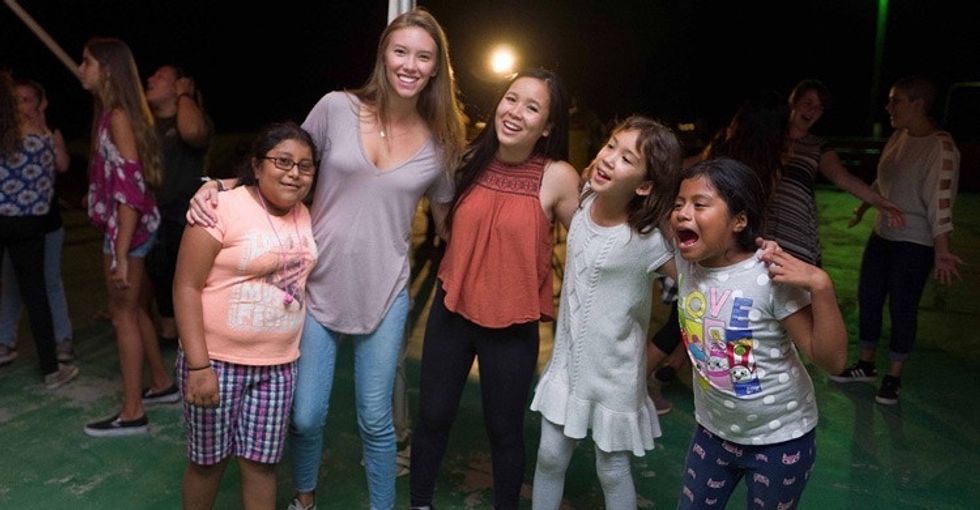 Henke and some of the campers. Image via Josh Pham.
Getting siblings and family members out of the house and letting them know that it's OK to step out of the role of caretaker can go a long way.
"This is camp. You can be yourself. We will accept you for any way you are. If you want to be loud, be loud! Be crazy!" Henke told one of her campers.
Counselors are trained to treat all kids the same — and this can make a big difference.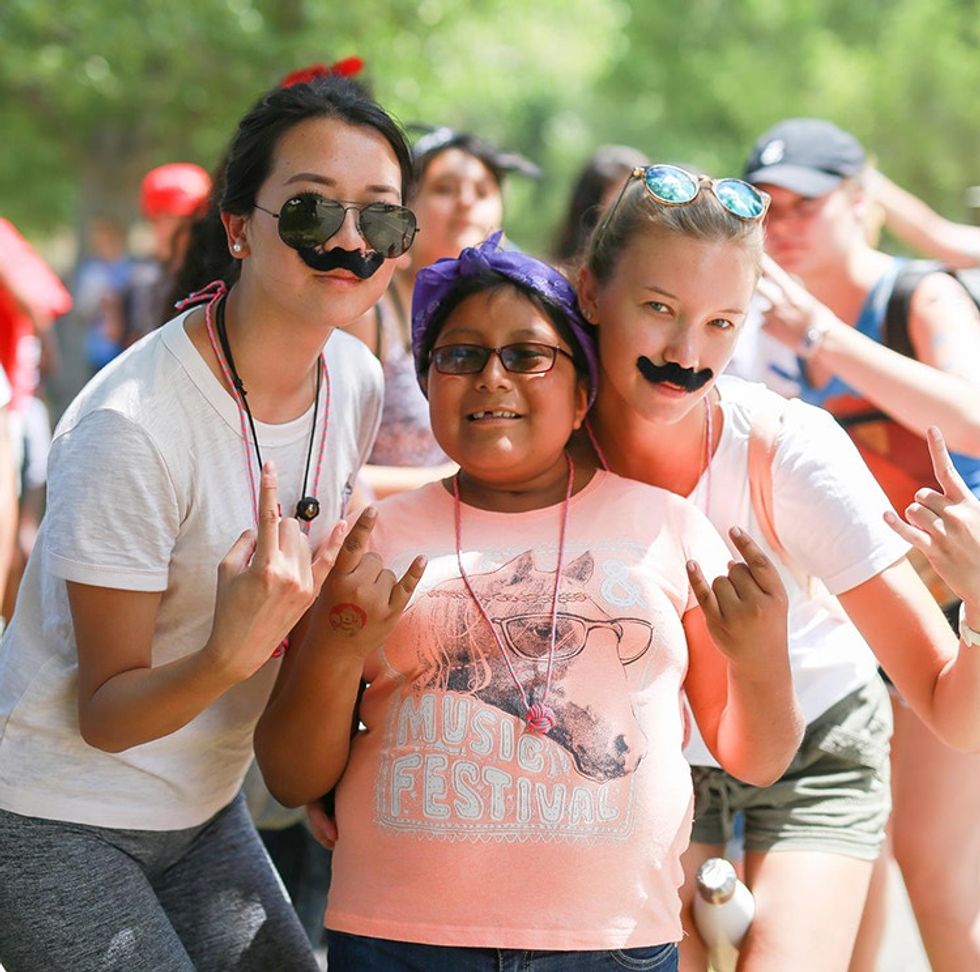 Jessica Henke shows off her silly side with a camper and a fellow counselor. Photo via Josh Pham.
"It really boosts their self-esteem, their sense of self-identity, and their sense of independence, especially for the patient, who is often coddled because the parents are trying to do everything for them," Djelmane said.
"When they're at camp, they're really pushed to develop leadership skills and to take on a lot of responsibility not only for themselves, but for the entire group."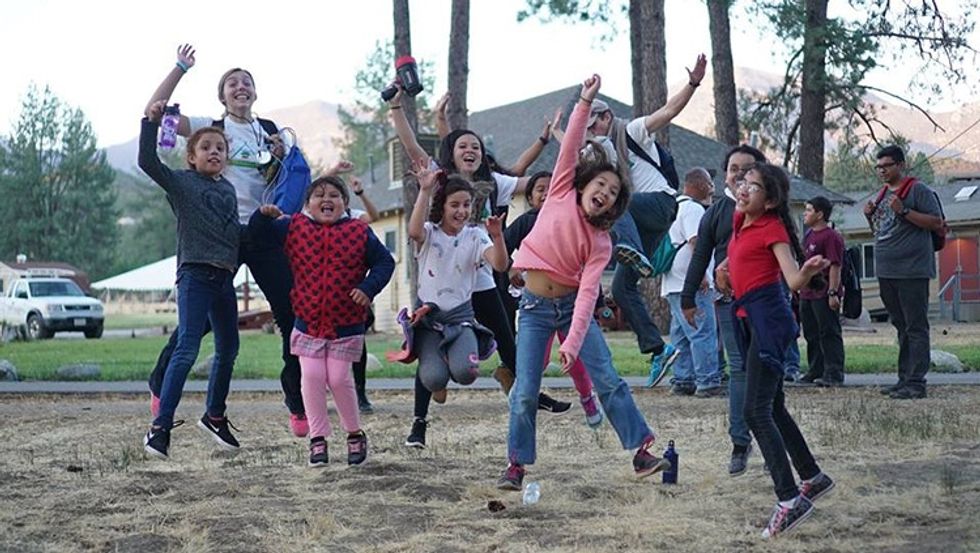 Photo via Josh Pham/Camp Ronald McDonald for Good Times/Facebook.
"A lot of people that I meet, when I tell them about my job, they say, 'Oh, it must be so sad,'" says Djelmane.
"But actually, it's one of the most inspiring and beautiful places I've ever been to. There's a culture of passion and love that's really palpable at camp."
"We have volunteers who have been coming for 35 years," she continues. "It's really an amazing community. The counselors are so connected to each other and to the campers."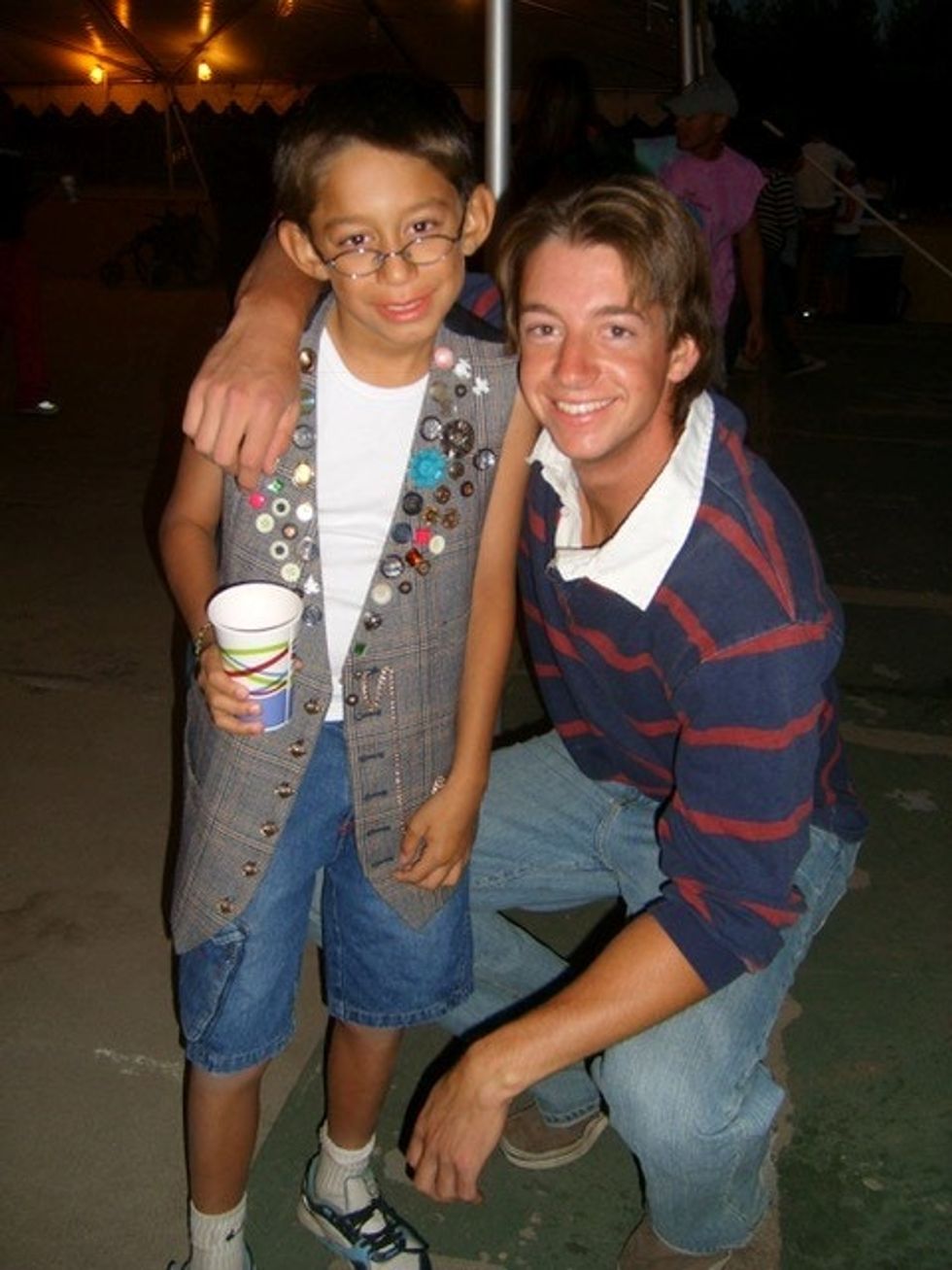 Volunteer Scott Cohen and a camper. Image courtesy of Scott Cohen.
One of those repeat volunteers is Scott Cohen, an employee of Northwestern Mutual and active supporter of the company's Childhood Cancer Program that has contributed over $15 million to the cause. He's used his vacation time to volunteer at the camp for the last 11 years.
"I come back more refreshed from camp than if I were to go on a real vacation," he says. "There's something about being with these kids. I just feel so good about the time we spend together."
And volunteers often recruit others to the camp because they find the experience so rewarding. Henke, for example, first learned about the camp when her boyfriend told her what an amazing time he had as a camp counselor, so she decided to become a counselor herself.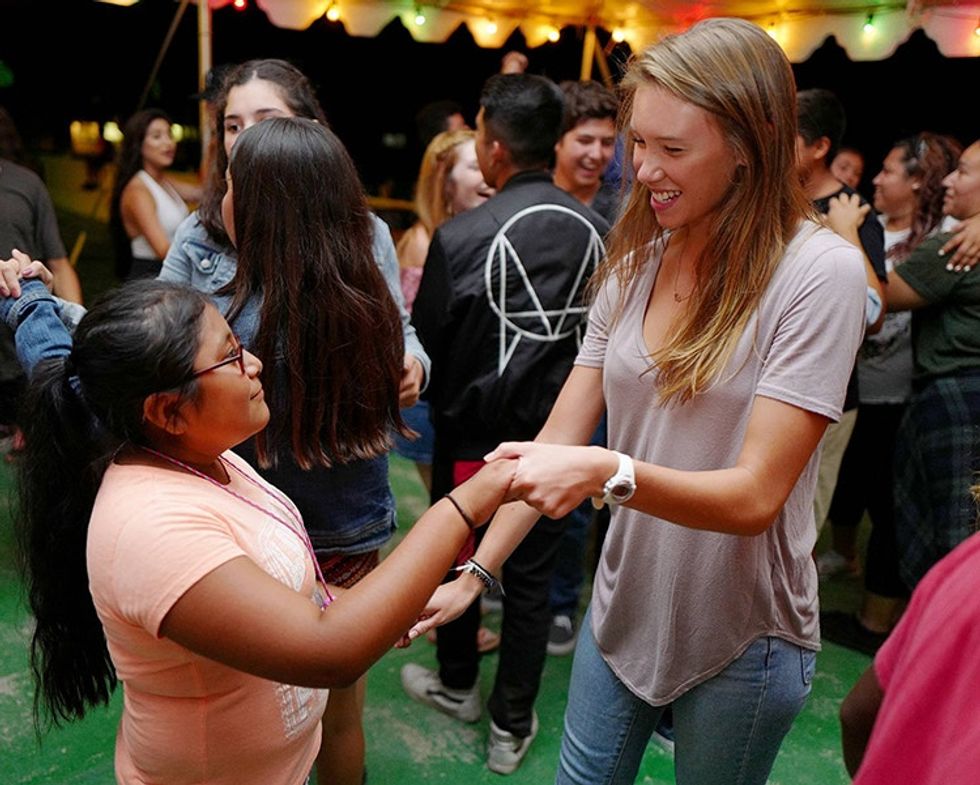 Jessica Henke dances with one of her campers at a camp dance. Photo via Josh Pham.
"I learned to be intentional and to be present in the moment," Henke says of her experience. "You can become super close with people in the matter of a few days or hours. I made some really good friends there."
It just goes to show that giving back to the community can do just as much good for the giver as it does for the receiver.