Democracy
​People tying Capitol rioter John Sullivan to BLM and Antifa are missing some key facts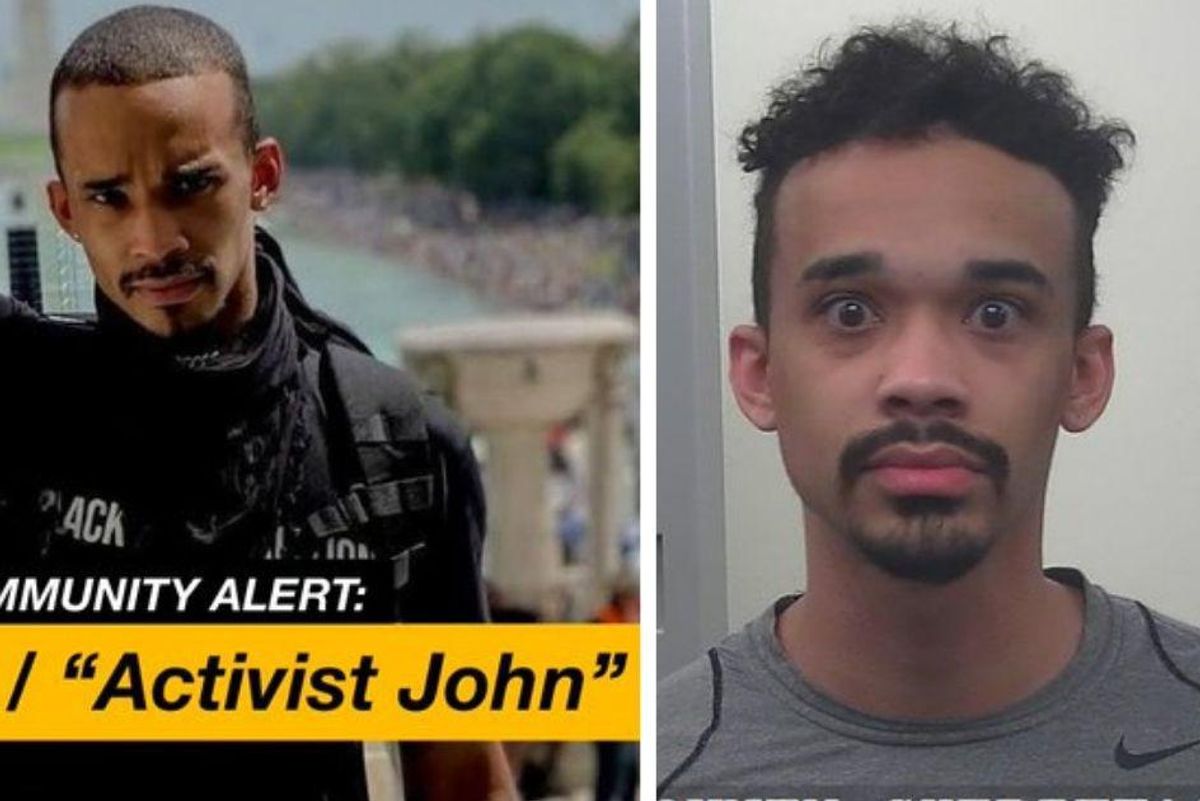 Ever since pro-Trump insurrectionists stormed the U.S. Capitol last week, some people have tried to blame the attack on other groups—namely, Antifa and BLM.
A false Washington Times report—which spread like wildfire—claimed Antifa members had been identified at the riot by a facial recognition software company. As it turned out, the men identified by the software company were actually neo-Nazis, not Antifa, and the story was corrected. But not before Congressman Matt Gaetz cited the original, false story on the House floor. In fact, some people are still talking about the false story as fact. Despite being corrected, the damage has been done.
Now there's another story spreading like wildfire, which is also false. A man named John Sullivan was arrested for taking part in the Capitol riot, and he is being paraded as the poster boy for BLM involvement in planning and carrying out the insurrection. The New York Post, Fox News, Politico, and other outlets initially referred to him as a "left-wing activist" in their headlines.
---
The problem is, Sullivan was kicked out of BLM protest movements in multiple cities months ago.

In a long Twitter thread, a group called Rebellion Baby detailed the various protest groups around the country that had cut ties with Sullivan, characterizing him as a possible "agent provocateur" or "infiltrator" with ties to the right-wing. (Note that the date of this thread is November of 2020, and that the thread was put out as a warning to Seattle protest groups to keep him away.)
"John has been kicked from the #SaltLakeCity and #Portland protest scenes due to alarming behaviors including grifting/profiteering, self-promotion/clout chasing, sabotage of community actions, threats of violence, and — maybe most disturbingly — ties to the far-right," Rebellion Baby wrote. "In short — John's brother, James, is the co-founder of a pro-Trump org called 'Civilized Awakening,' and has strong ties to Proud Boys — even having spoken at a Proud Boy rally. The brothers' polarized political stances conveniently bolster the other's public personas. Activists in these cities recommend that he be barred from community actions and totally avoided."
Sullivan has multiple social media accounts under multiple names, and frequently adds new ones as he gets called out. For example, he used to be known as "Activist John" but started going by "Jayden X" as different protest groups started warning one another about him.
In addition, the website for the organization he founded, called Insurgence USA, describes itself as "started in 2020 in response to the Gorge Floyd tragedy"—the misspelling of "George" included.
It sounds like John Sullivan may be more interested in sowing chaos for funsies and making money off of activism-minded people than actually standing for anything in particular. In any protest movement, the majority of people are sincere in what they are protesting, but are some people who join in just to cause a ruckus, make a buck, or watch the world burn.

In a new and even longer thread shared since Sullivan's arrest, Rebellion Baby wrote, "While it's still unclear if John's end goal is chaos and confusion or if this is simply a side effect of shameless grifting — it's clear that he continues to be a threat to protester safety whether he's on the ground or online."
"John's top priorities are centering himself and making a buck — even if people are harmed in the process," they added.
More reports are coming out with similar information about Sullivan's involvement in protests this summer and how he was banished from various protest movements.
Sullivan's actions in the Capitol were odd at best. He told the Salt Lake Tribune that he was at the Capitol to "watch history" as a "journalist," but he doesn't have any press credentials. He entered the building through a broken window. He filmed the shooting of Ashli Babbitt, who later died. He can be heard in his own videos yelling "We accomplished this sh--. We did this together," and, "We are all a part of this history. ... Let's burn this s--- down," among other inciting language.

He claims he had to act like he fit in to avoid being attacked himself. "I have to blend into the f------ crowd because, you know, there's a lot of people who wanted to hurt me," he said.
Sullivan is from Utah but is not affiliated with Black Lives Matter Utah, and the group told the Tribune he has never been a member.
Investigations into the Black Lives Matter protests and the riots that stemmed from them found that some instances of violence, (which took place in a very small percentage of the protests overall) were instigated by white supremacists. The killer of two police officers in Oakland during the protests was found to be part of the right-wing "Boogaloo Bois" movement. So the idea of opposing groups infiltrating a protest movement is not uncommon and totally possible.
However, both the F.B.I. and the Department of Justice have said that they have seen no evidence in their investigations so far that there was Antifa involvement in the Capitol riot. And there have been no credible reports of BLM involvement, either.
Besides, it takes a pretty pretzel-like stretch of the imagination to think that people who are well-known in the QAnon and pro-Trump world, who posted on social media before the riot talking about doing storming the Capitol, who are on video shouting about how they were storming the Capitol as they were doing it, and then also on video bragging about storming the Capitol after they did it, were not actually the ones doing it.
If John Sullivan's participation is the only piece of evidence that BLM or Antifa caused the destruction and violence at the U.S. Capitol—and not insurrectionists trying to keep Trump in power—that's proof in and of itself that the idea is total fantasy.