Pets
Every letter submitted donates a pound of food to pets in need.
via Chewy
True
Every holiday season, millions of kids send letters asking for everything from a new bike to a pony. Some even make altruistic requests such as peace on Earth or helping struggling families around the holidays.

But wouldn't the holiday season be even more magical if our pets had their wishes granted, too? That's why Chewy Claus is stepping up to spread holiday cheer to America's pets.
Does your dog dream of a month's supply of treats or chew toys? Would your cat love a new tree complete with a stylish condo? How about giving your betta fish some fresh decor that'll really tie its tank together?

Or do your pets need something more than mere creature comforts such as life-saving surgery?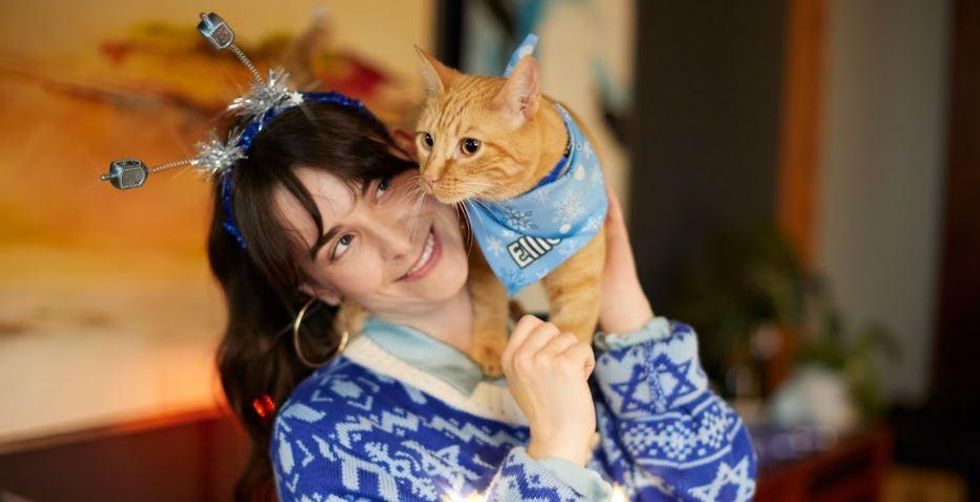 via Chewy
"At Chewy, we know pets are a part of the family and we wanted to give them a way to truly participate in the holiday season this year," said Orlena Yeung, VP of Brand Marketing at Chewy. "Through Chewy Claus, we are hoping to spread joy while recognizing the most important gift that keeps on giving—the love and companionship of our pets."
To submit your letter to Chewy Claus, just go to be.chewy.com/chewy-claus.
Not only could your pet's letter make their holidays even merrier, it will give back, too. For every letter submitted to Chewy Claus, Chewy will donate one pound of food to Greater Good Charities (up to 15,000 pounds). Further, for every product purchased during the Season of Giving, Chewy will match up to $1 million per week in a pet food and supply donation to Greater Good Charities, for a potential total of $10 million.
I've got a new dog this year, a one-year-old boxer mix named Archie and I know what he wants this holiday season.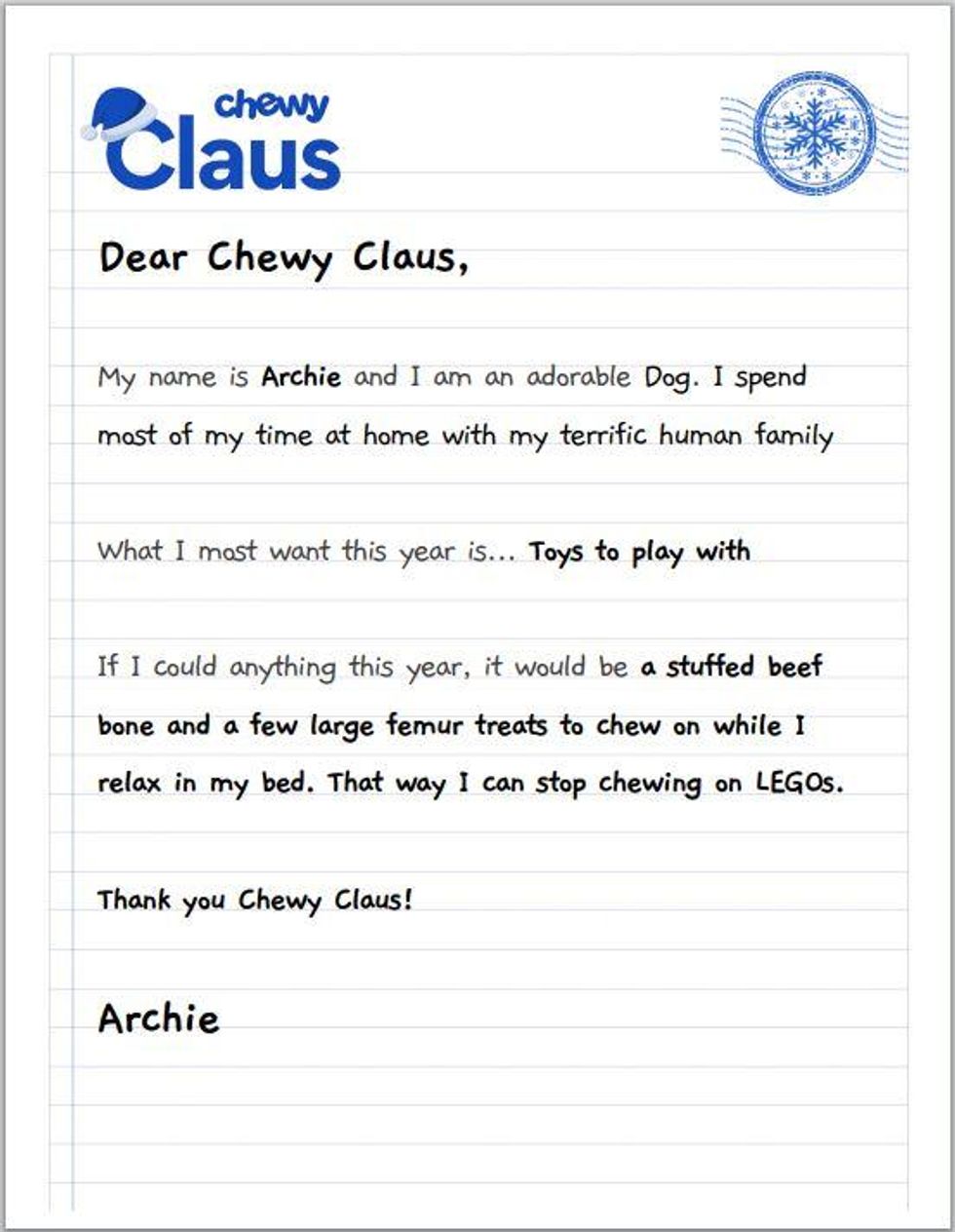 via Chewy
The first letter sent to Chewy Claus came from True & Faithful Pet Rescue in Venice, FL. The rescue, which focuses on saving senior dogs, was one of the many victims of Hurricane Ian. Their wish was simple; they asked for food for themselves and those in their community.
Chewy Claus delivered by providing a 20-thousand-pound truckload of food to True & Faithful and other shelter and rescue partners in the community. Chewy also assembled a team of volunteers to hold a clean-up day and donated the necessary funds to rebuild their beloved dog beach.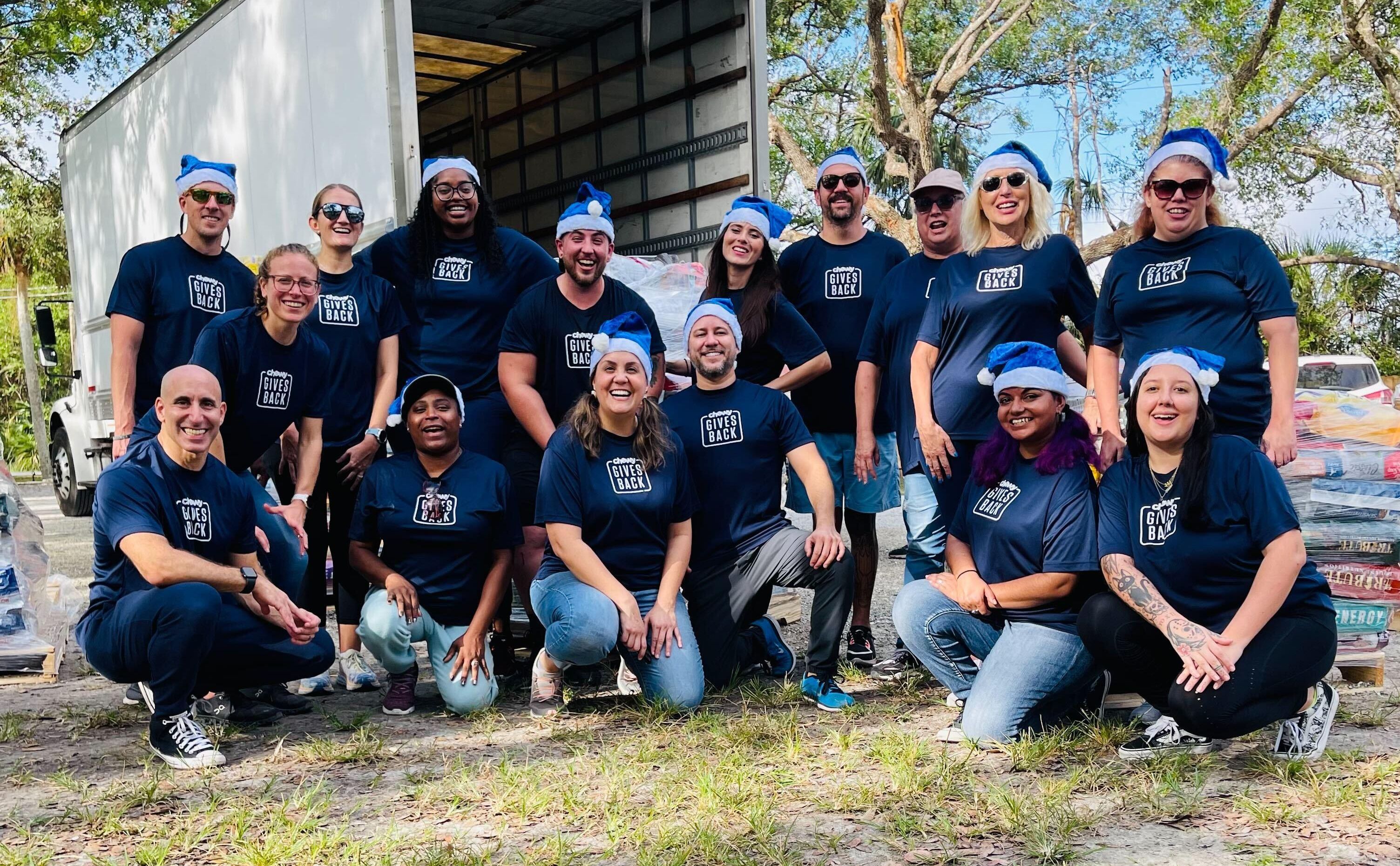 via Chewy
"We are so grateful for Chewy's support in rehabilitating our space and not only donating thousands of pounds of food to our community, but also providing the help and funds necessary to rebuild our beach," Lisa Letson, Founder of True & Faithful Pet Rescue told Upworthy. "The beach is our senior dogs' happy place, where they can live their best lives for the time they have left. It really is a dream come true for us."
Chewy is the best place to shop for pets this holiday season because it's the gift that keeps on giving. It's simple: when you shop, they donate. Chewy will also match customer purchases in the form of a product donation up to $1M per week for a potential total of $10M throughout the season of giving. That means pets living in shelters and rescues will receive toys, treats, food and other essential items this holiday season. Plus, if you write a letter to Chewy Claus, your pet may get their holiday wish and pets in need will get theirs, too—a win win win. Isn't that what the season is all about?
popular
Haley Morris-Cafiero's photos might make you rethink how you look at people.
Credit: Haley Morris-Cafiero
Artist Haley Morris-Cafiero describes herself on her website as "part performer, part artist, part provocateur, part spectator." Her recent project, titled "Wait Watchers" has elements of all her self-descriptors.
In an email to us, Morris-Cafiero explained that she set up a camera in the street and stood in front of it, doing mundane activities like looking at a map or eating gelato. While she's standing there she sets off her camera, taking hundreds of photos.
Later, she looks through them and sees what is happening around her. Morris-Cafiero finds that people are often looking at her body, or commenting on it with their gaze or body language, at times even appearing to mock her.
"I then examine the images to see if any of the passersby had a critical or questioning element in their face or body language."
"I consider my photographs a social experiment and I reverse the gaze back on to the stranger and place the viewer in the position of being a witness to a moment in time. The project is a performative form of street photography," she writes.
Her work has been exhibited across the U.S. and abroad.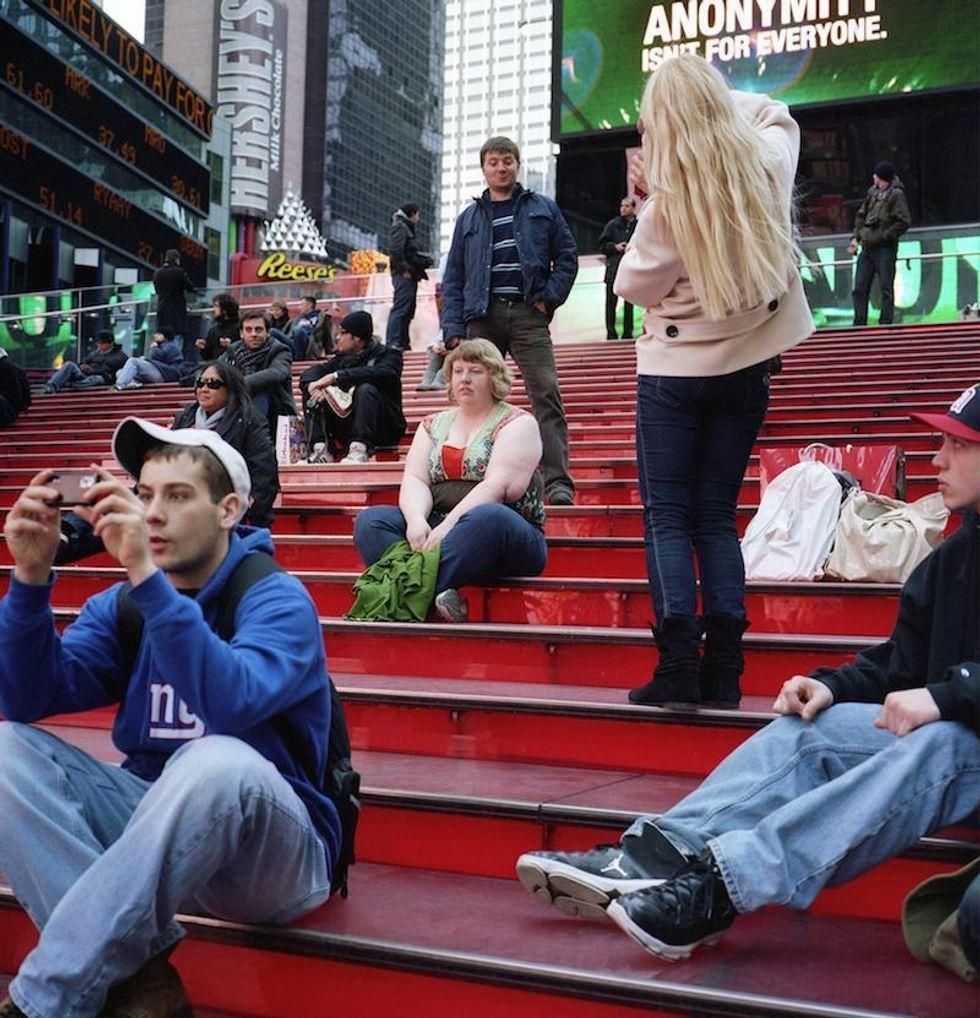 Artist Haley Morris-Cafiero filmed people's reactions to her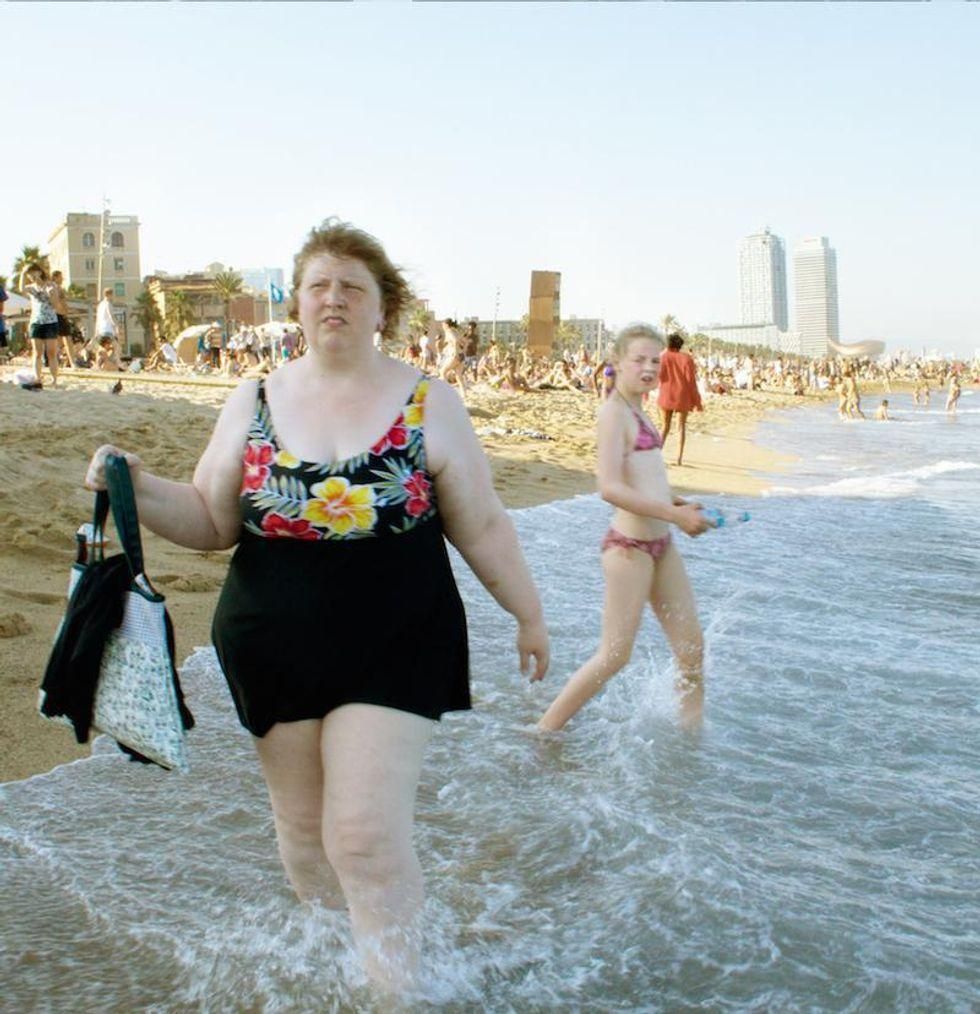 She also published her book, The Watchers, which shows her photo collection and includes comments made to her about her body from passerby.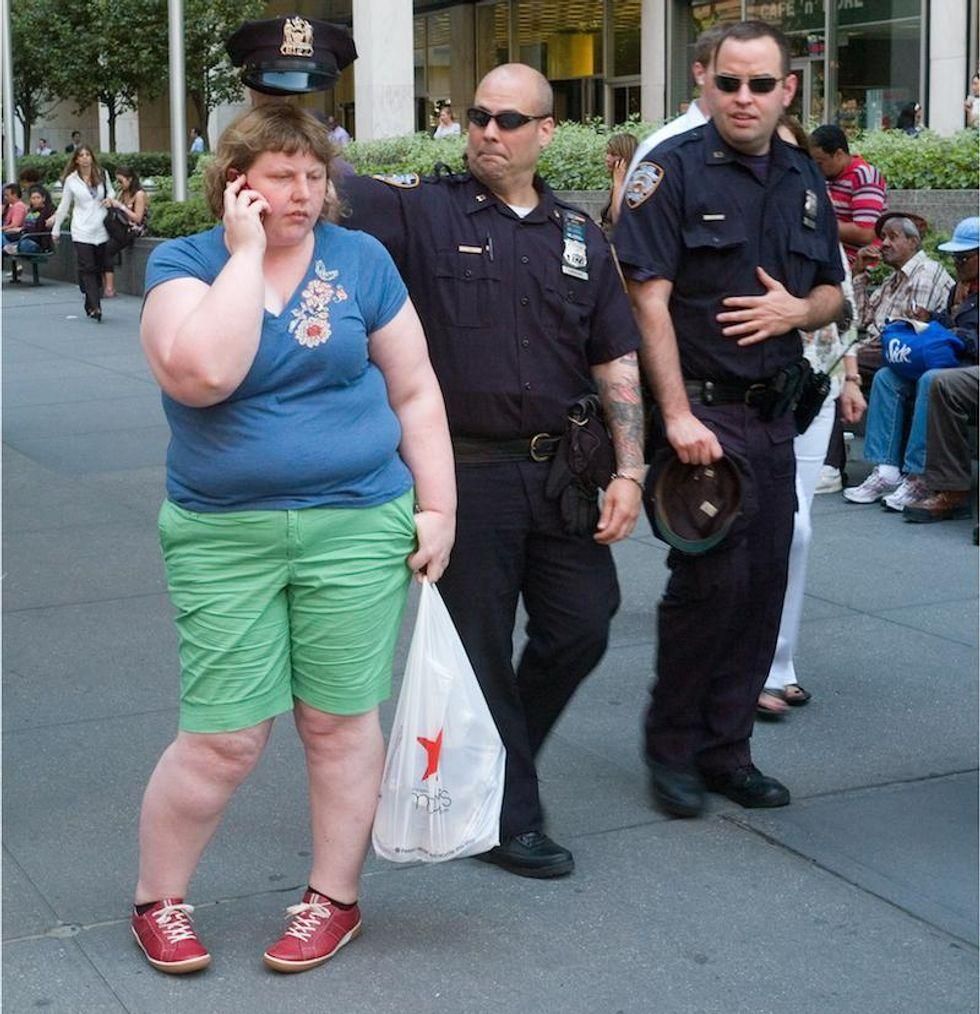 You can see that even people in positions of authority, like this police officer, feel comfortable mocking her just for being out in public.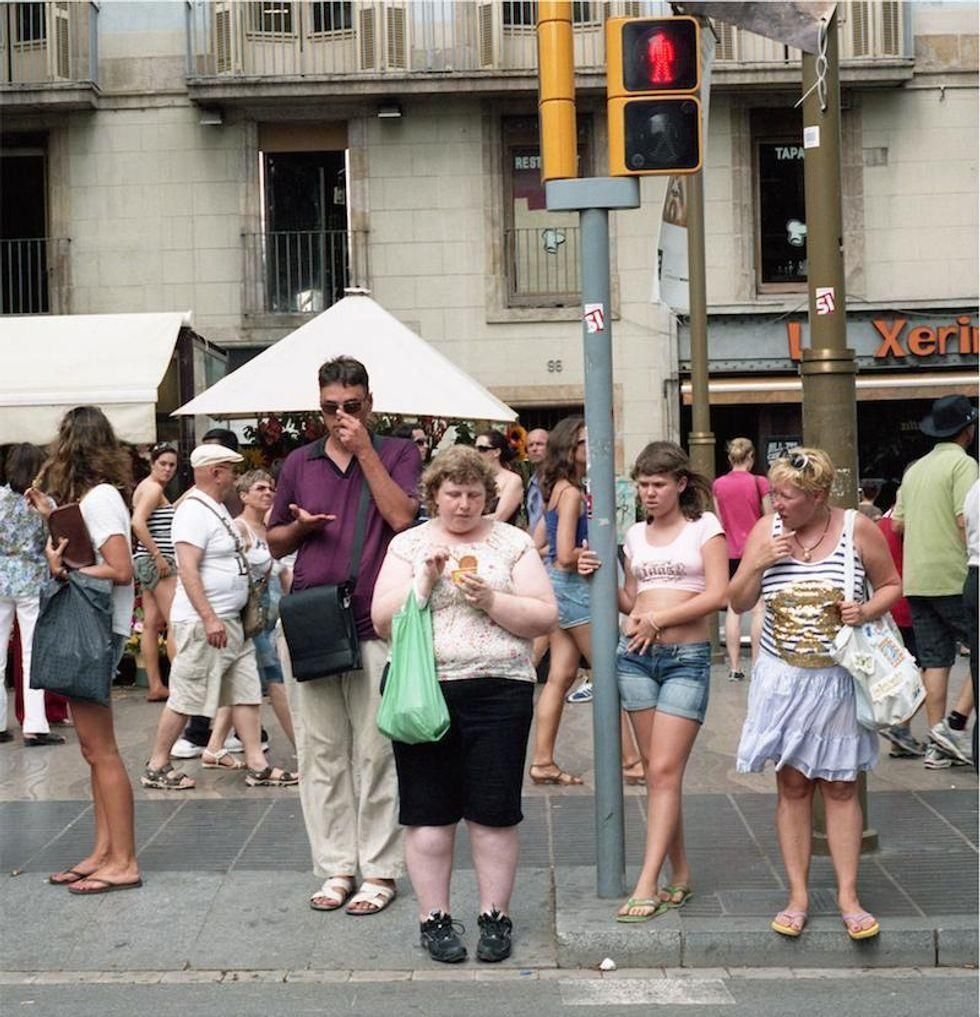 Though she's not looking at the people around her, Morris-Cafiero's photographs capture a split second in time that really crystalizes how people relate to one another on the street and the judgment she receives from strangers.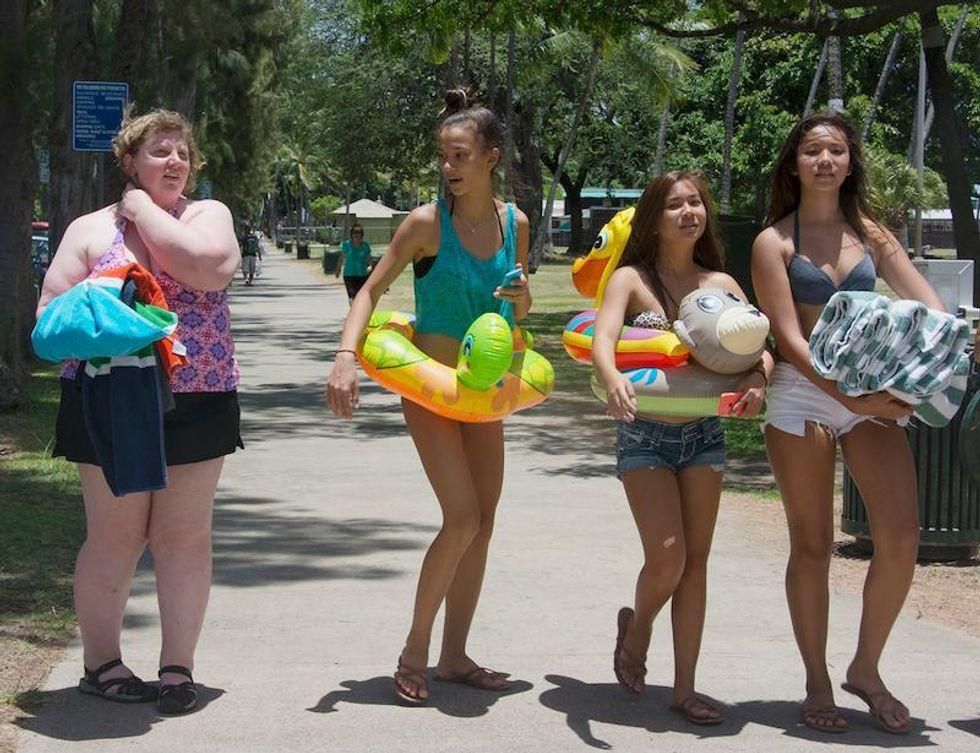 In galleries, with the words beside them, the photos are even more pointed. She also includes the positive words she receives from people who have experienced discrimination for their size or any other aspect to their body that is consistently bothered by the dominant culture.
Though we all theoretically know that people, women in particular, are discriminated against for their size, seeing it captured in photographs is gut-wrenching:
The project has gone viral as people identify with Morris-Cafiero's experience, which means a lot of people relate to being stared at and commented on by folks who should mind their own business. Does that include you? You can check out more of her incredible work here.
Pop Culture
Some wonderful gifts to show off your great taste.
Whether they're being baked for your loved ones (or just yourself), the one thing we should all be able to agree on is that holiday treats go better with a warm beverage sipped straight from a steaming mug. And while this list will certainly up your stocking game, we won't blame you if you give these gifts a little early (or stick them in your own stocking). Plus, each of our top picks are from ethical, sustainable, incredibly unique brands who have all agreed to donate 10% of sales made through this gift guide to Feeding America, to help alleviate hunger for people in need this holiday season.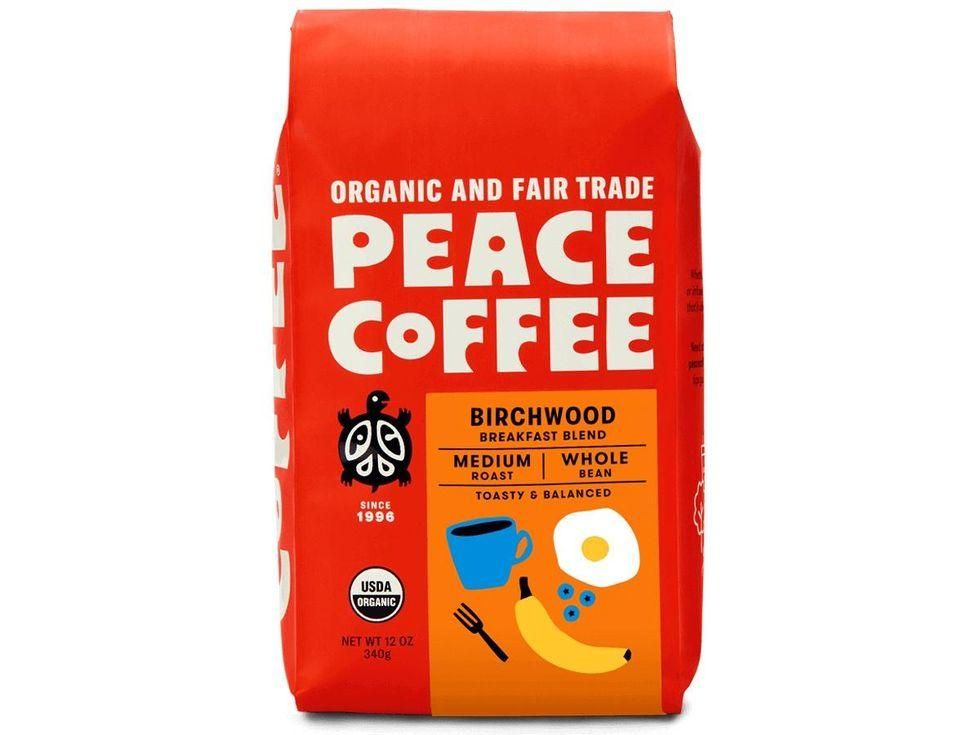 Peace Coffee - Organic and fair trade, in addition to being women and LGBTQ+ led, Peace Coffee brings freshly roasted small-batch coffees straight to your door. Gift their Decaf French Roast to serve after the holiday dinner, or a Seasonal Coffee Subscription so dashing, beans will be brewed as soon as they're pulled from the stocking. And if you feel like you need to give yourself a little boost to get through this holiday season, check out their signature blends like Birchwood Breakfast Blend or Black Squirrel Espresso.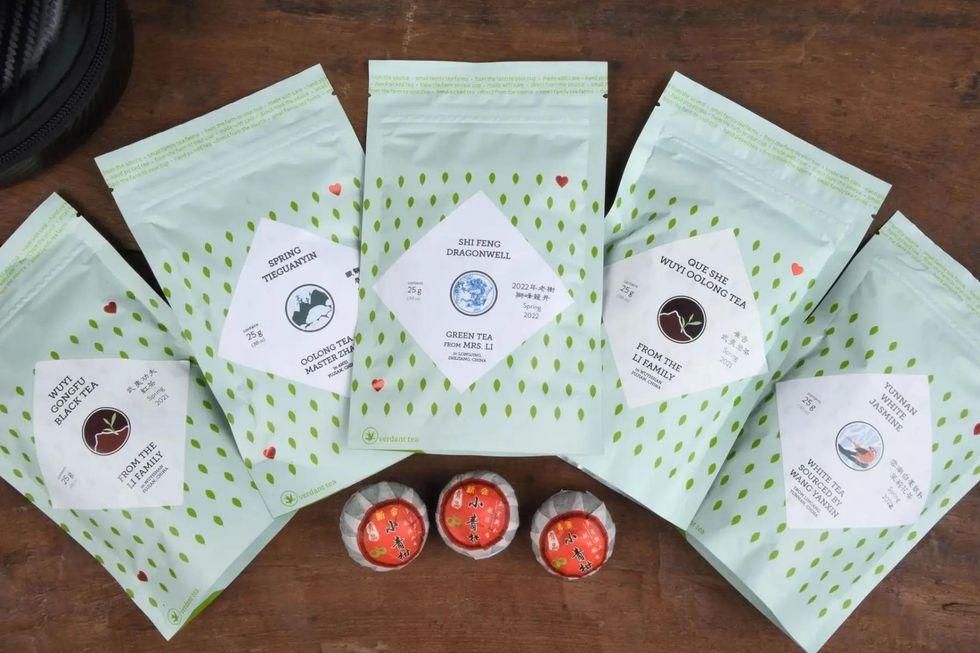 Verdant Tea - Sustainable, small family, farm-to-table Verdant Teas are unmatched in quality and taste. Perfect for the foodie or travel bug, these teas bring the very best of China's tea country straight to your door. Gift something unique like a tea tasting kit featuring six individual farmers, or a 2018 white tea aged with mandarin peel from the Wu Family. And for those bigger stockings, consider adding a Golden Ginko Glass Brew Mug or Long-Handle Contemporary Glass Teapot.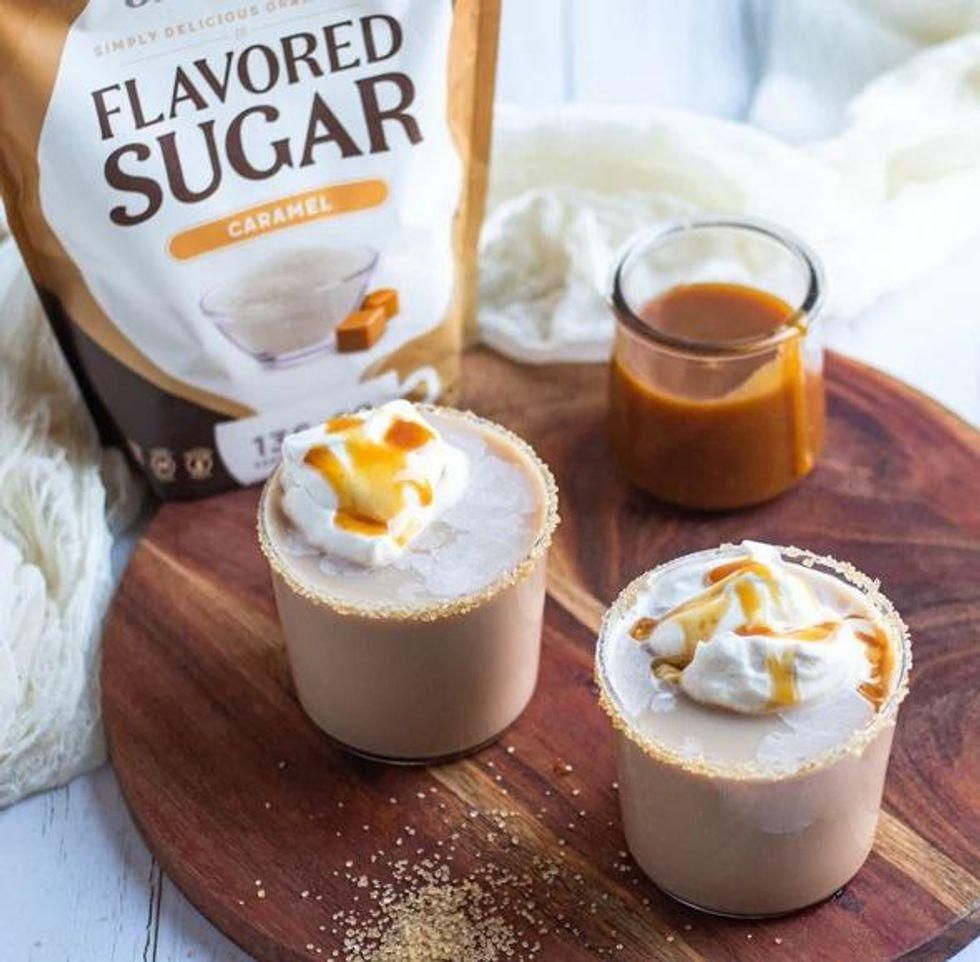 Javamelts - Enjoy gifting these naturally-flavored sugars that bring your morning cup of joe or holiday baking to that gourmet level. The French Vanilla and Mocha sugar packets are ideal for traveling, and if it's your S.O.'s first time meeting your family, the least you can do is sweeten up their morning coffee after a restless night sleeping on your mother's lumpy couch. Or, if you're hosting the holidays, make this show-stopping caramel chai martini, because isn't it more fun to drink your desserts?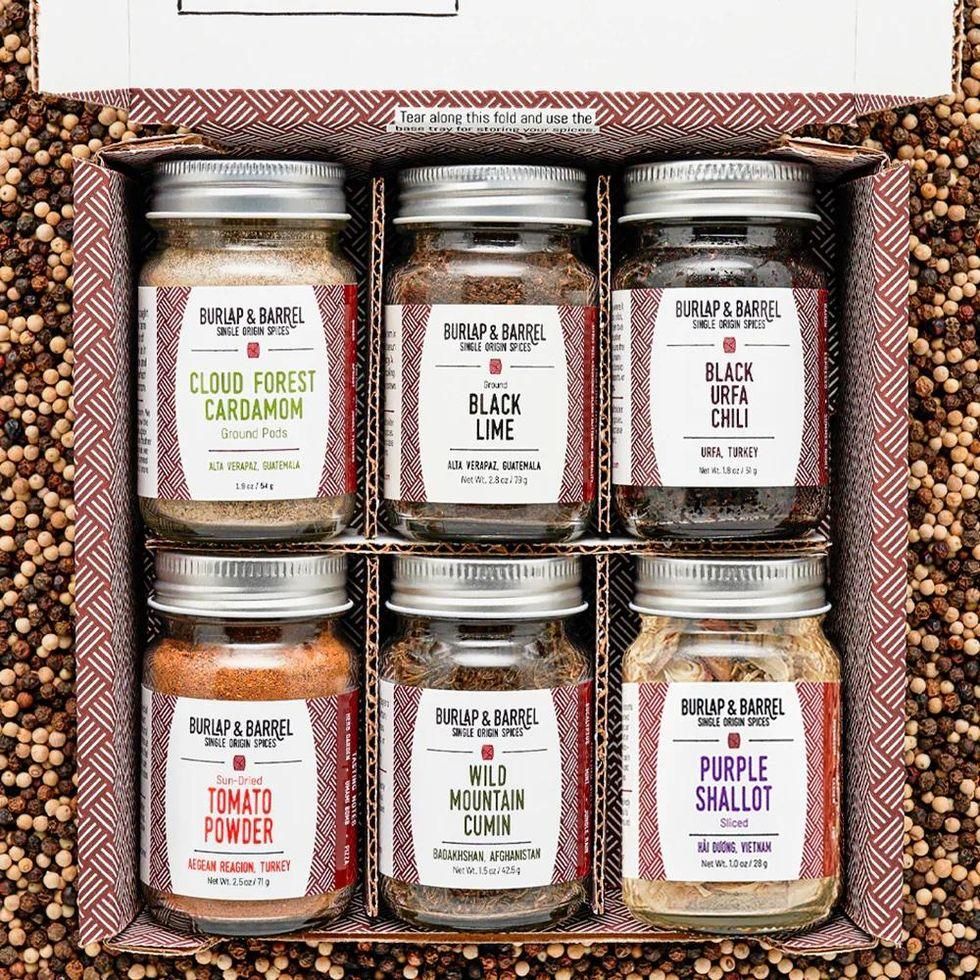 Burlap & Barrel - These premium, ethically-sourced spices have never been available in the US before Burlap & Barrel partnered with farmers from different regions around the world. Give the foodie in your life the Chef's Collection, which includes spices like Black Urfa Chili and Tomato Powder. For the home cook, give the Salt and Pepper Collection, with blends like Black Lime and Chili Salt. Feel like giving a bit of both? Build your own set of spices and move this present from the stocking to the box under the tree.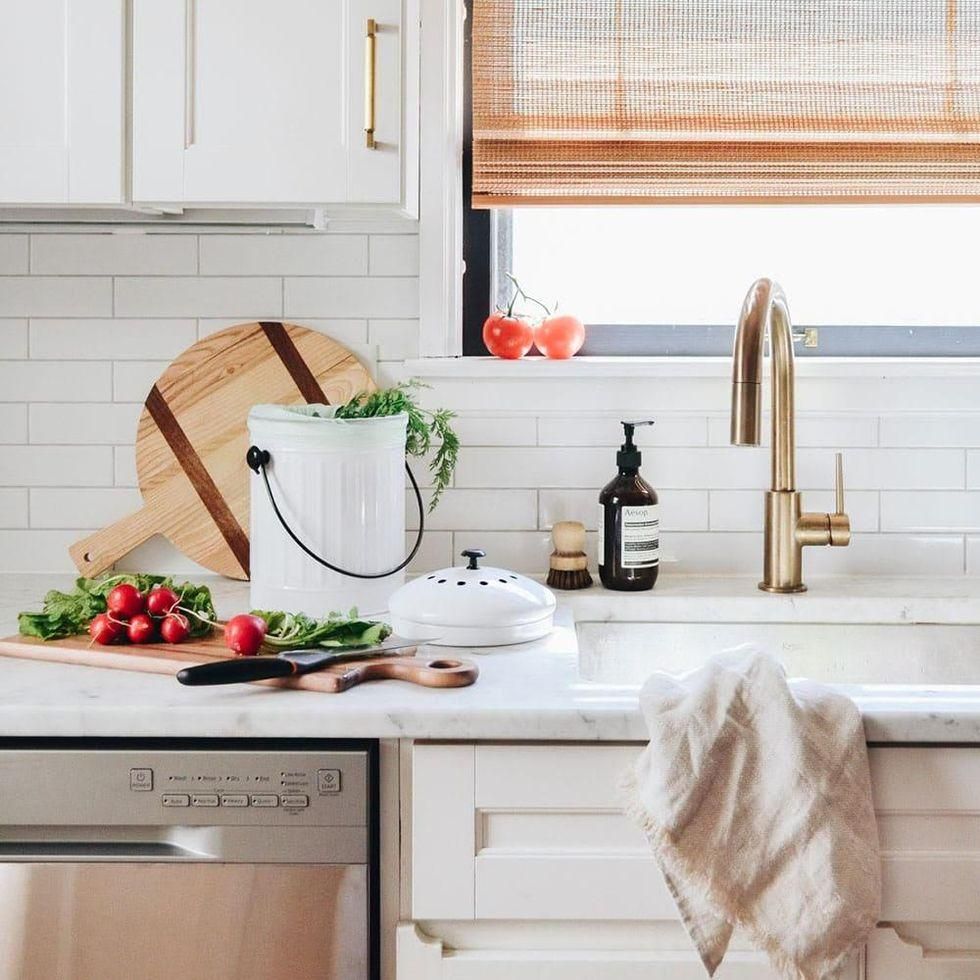 Behrens - You may need a real heavy-duty stocking, but if you have a sustainable-loving chef on your list, you can always gift them Behrens' indoor kitchen composting pail. Not only does it compost any food scraps quickly and effectively, but it looks great on your kitchen counter doing it. And if your chef is lucky enough to enjoy a warm, outdoor holiday season, consider giving them some of Behrens fantastic gardening and party products to throw an outdoor holiday get-together that'll make all their snow-dwelling friends jealous.
roar-assets-auto.rbl.ms
Gem Joy - While the baker on your list is waiting for their next treat to come out of the oven, why not gift them the fun of a Gem Joy augmented reality bracelet? These beautiful gems allow you to feel like a sorceress and have enchanting encounters like flying with dragons and riding with unicorns. Play games, learn, and explore new worlds any time you want a little break from the holiday commotion.

Upworthy has earned revenue through a partnership and/or may earn a portion of sales revenue from purchases made through links on our site.

Get stories worth sharing delivered to your inbox