True
When Sue Hoppin was in college, she met the man she was going to marry. "I was attending the University of Denver, and he was at the Air Force Academy," she says. "My dad had also attended the University of Denver and warned me not to date those flyboys from the Springs."
"He didn't say anything about marrying one of them," she says. And so began her life as a military spouse.
The life brings some real advantages, like opportunities to live abroad — her family got to live all around the US, Japan, and Germany — but it also comes with some downsides, like having to put your spouse's career over your own goals.
"Though we choose to marry someone in the military, we had career goals before we got married, and those didn't just disappear."
Career aspirations become more difficult to achieve, and progress comes with lots of starts and stops. After experiencing these unique challenges firsthand, Sue founded an organization to help other military spouses in similar situations.
Sue had gotten a degree in international relations because she wanted to pursue a career in diplomacy, but for fourteen years she wasn't able to make any headway — not until they moved back to the DC area. "Eighteen months later, many rejections later, it became apparent that this was going to be more challenging than I could ever imagine," she says.
Eighteen months is halfway through a typical assignment, and by then, most spouses are looking for their next assignment. "If I couldn't find a job in my own 'hometown' with multiple degrees and a great network, this didn't bode well for other military spouses," she says.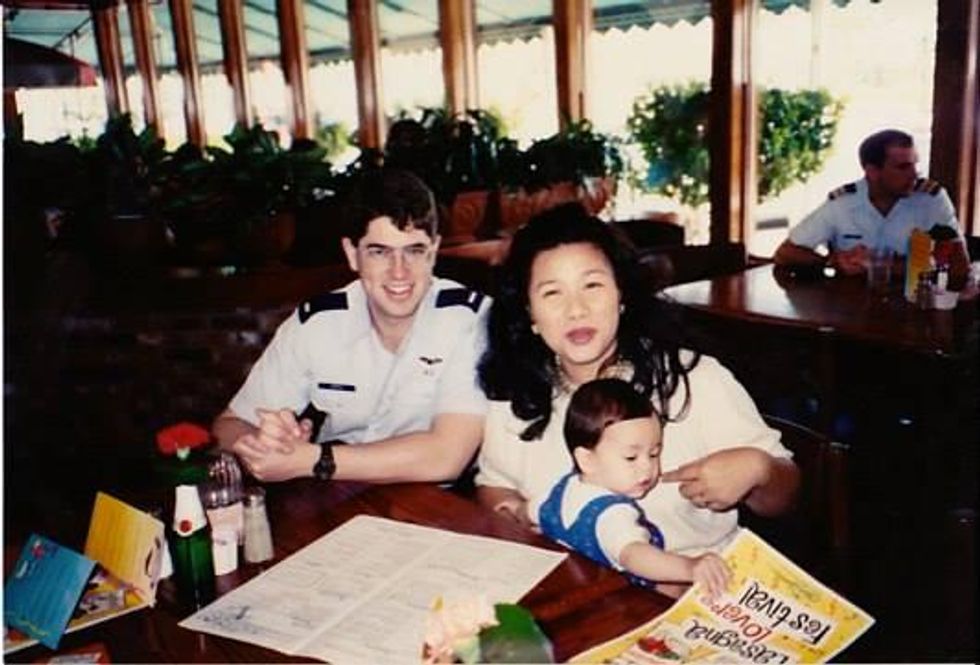 She's not wrong. Military spouses spend most of their lives moving with their partners, which means they're often far from family and other support networks. When they do find a job, they often make less than their civilian counterparts — and they're more likely to experience underemployment or unemployment. In fact, on some deployments, spouses are not even allowed to work.

Before the pandemic, military spouse unemployment was 22%. Since the pandemic, it's expected to rise to 35%.
Sue eventually found a job working at a military-focused nonprofit, and it helped her get the experience she needed to create her own dedicated military spouse program. She wrote a book and started saving up enough money to start the National Military Spouse Network (NMSN), which she founded in 2010 as the first organization of its kind.
"I founded the NMSN to help professional military spouses develop flexible careers they could perform from any location."
"Over the years, the program has expanded to include a free digital magazine, professional development events, drafting annual White Papers and organizing national and local advocacy to address the issues of most concern to the professional military spouse community," she says.
Not only was NMSN's mission important to Sue on a personal level she also saw it as part of something bigger than herself.
"Gone are the days when families can thrive on one salary. Like everyone else, most military families rely on two salaries to make ends meet. If a military spouse wants or needs to work, they should be able to," she says.
"When less than one percent of our population serves in the military," she continues, "we need to be able to not only recruit the best and the brightest but also retain them."
"We lose out as a nation when service members leave the force because their spouse is unable to find employment. We see it as a national security issue."
"The NMSN team has worked tirelessly to jumpstart the discussion and keep the challenges affecting military spouses top of mind. We have elevated the conversation to Congress and the White House," she continues. "I'm so proud of the fact that corporations, the government, and the general public are increasingly interested in the issues affecting military spouses and recognizing the employment roadblocks they unfairly have faced."
"We have collectively made other people care, and in doing so, we elevated the issues of military spouse unemployment to a national and global level," she adds. "In the process, we've also empowered military spouses to advocate for themselves and our community so that military spouse employment issues can continue to remain at the forefront."
Not only has NMSN become a sought-after leader in the military spouse employment space, but Sue has also seen the career she dreamed of materializing for herself. She was recently invited to participate in the public re-launch of Joining Forces, a White House initiative supporting military and veteran families, with First Lady Dr. Jill Biden.
She has also had two of her recommendations for practical solutions introduced into legislation just this year. She was the first in the Air Force community to show leadership the power of social media to reach both their airmen and their military families.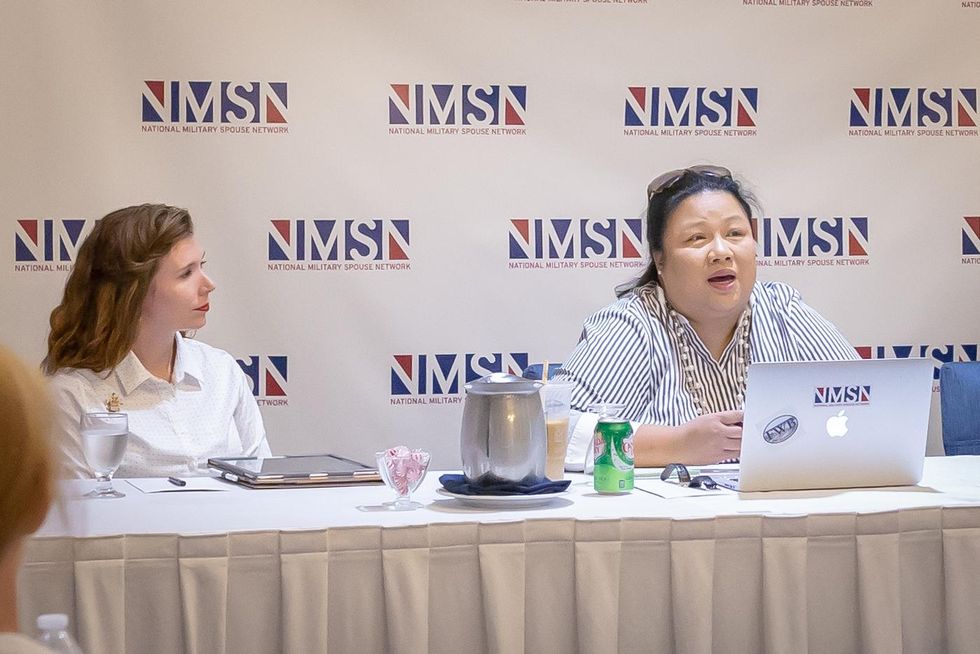 That is why Sue is one of Tory Burch's "Empowered Women" this year. The $5,000 donation will be going to The Madeira School, a school that Sue herself attended when she was in high school because, she says, "the lessons I learned there as a student pretty much set the tone for my personal and professional life. It's so meaningful to know that the donation will go towards making a Madeira education more accessible to those who may not otherwise be able to afford it and providing them with a life-changing opportunity."

Most military children will move one to three times during high school so having a continuous four-year experience at one high school can be an important gift. After traveling for much of her formative years, Sue attended Madeira and found herself "in an environment that fostered confidence and empowerment. As young women, we were expected to have a voice and advocate not just for ourselves, but for those around us."

To learn more about Tory Burch and Upworthy's Empowered Women program visit https://www.toryburch.com/empoweredwomen/. Nominate an inspiring woman in your community today!
via Pixabay
Over the past six years, it feels like race relations have been on the decline in the U.S. We've lived through Donald Trump's appeals to America's racist underbelly. The nation has endured countless murders of unarmed Black people by police. We've also been bombarded with viral videos of people calling the police on people of color for simply going about their daily lives.

Earlier this year there was a series of incidents in which Asian-Americans were the targets of racist attacks inspired by the COVID-19 pandemic.
Given all that we've seen in the past half-decade, it makes sense for many to believe that race relations in the U.S. are on the decline.
A Gallup poll taken over the summer found that 42% of adults in the U.S. say relations between white and Black Americans are "very" or "somewhat" good, while 57% say the relations are "somewhat" or "very" bad.
This is a sharp decline from 2004 when 72% of American adults said that race relations were "very" or "somewhat" good.
However, a recent poll by Gallup has found that more Americans support interracial marriage between white and Black people than at any time in the country's history.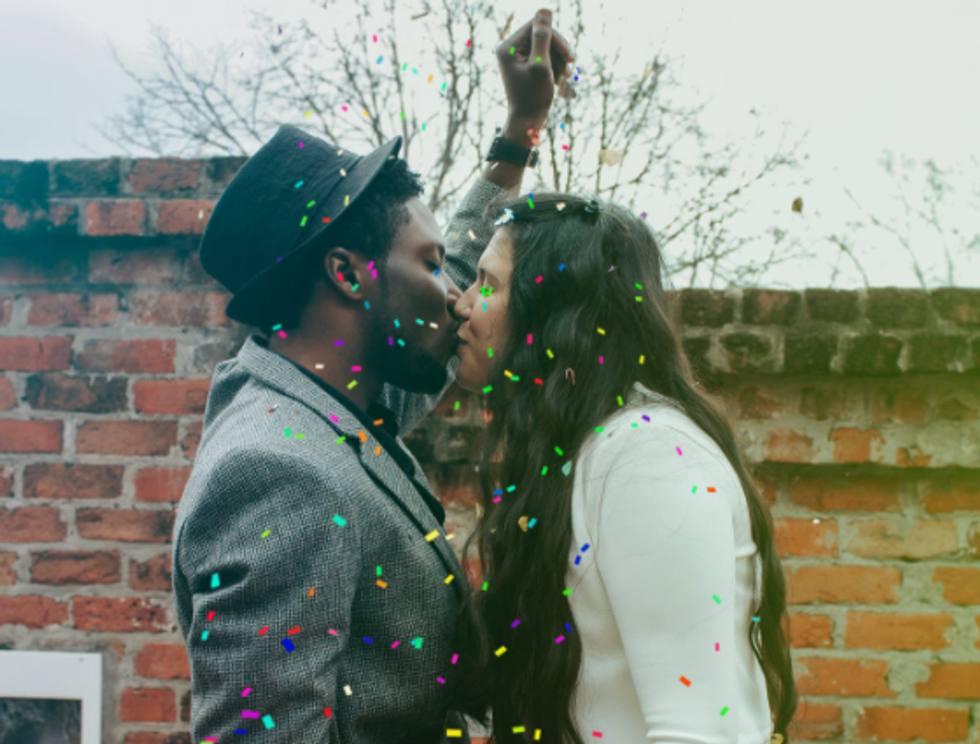 Pixabay
"Ninety-four percent of U.S. adults now approve of marriages between Black people and White people, up from 87% in the prior reading from 2013," Gallup said. "The current figure marks a new high in Gallup's trend, which spans more than six decades."
When Gallup asked the same question in 1958, just 4% of Americans approved of marriage between white and Black people.
"Shifts in the 63-year-old trend represent one of the largest transformations in public opinion in Gallup's history -- beginning at a time when interracial marriage was nearly universally opposed and continuing to its nearly universal approval today," Gallup wrote.
To show how far we've come, consider the 1967 Loving v. Virginia case in which the U.S. Supreme Court legalized interracial marriage. Before that decision, marriage between white and Black people was still illegal throughout the south. At the time, the decision was extremely unpopular because only 20% of Americans approved of interracial marriage.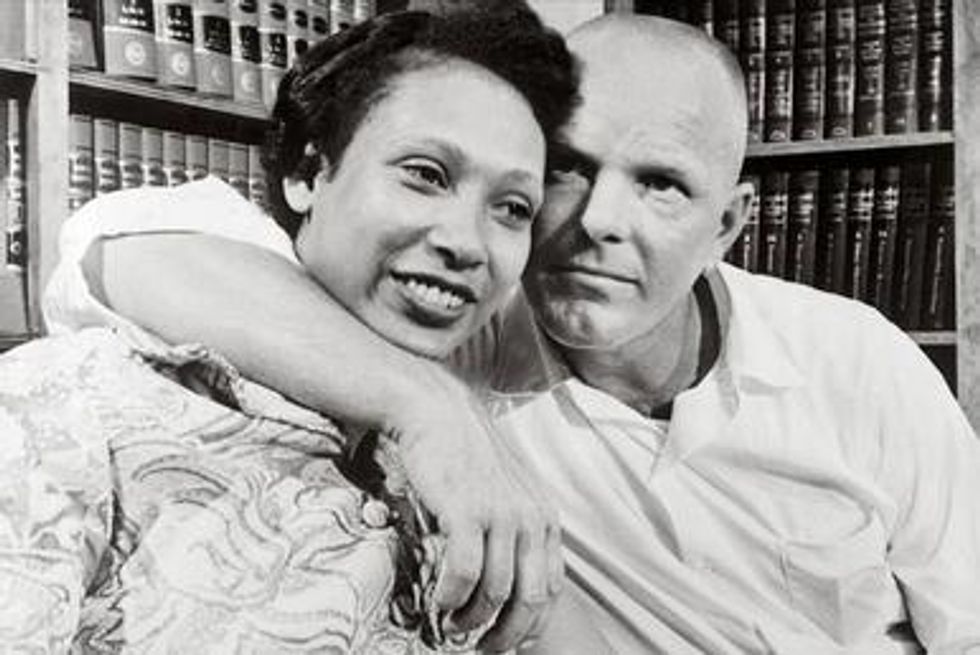 via Wikimedia Commons
The big change in attitude towards interracial marriage has come from white Americans. Majorities of non-whites have approved of interracial marriage since 1968. The majority of white people didn't come to this opinion until 1997.
Geographically, the western United States is the most accepting of interracial marriage with 97% approving and the south is the least tolerant with 93% of people supporting interracial marriage.
How do we make sense of the fact that support for interracial marriage is at an all-time high in American while, at the same time, so many believe race relations are on the decline? I think the lesson here is that when it comes to race relations anything is possible. If you were alive in 1958 it probably seemed impossible that one day just about everyone would be fine with white and Black people getting married.
That should give us all hope that if we keep fighting the good fight, eventually we'll live in a world that is a lot less racist and a lot more loving.
Photo courtesy of Macy's
True
Did you know that girls who are encouraged to discover and develop their strengths tend to be more likely to achieve their goals? It's true. The question, however, is how to encourage girls to develop self-confidence and grow up healthy, educated, and independent.
The answer lies in Girls Inc., a national nonprofit serving girls ages 5-18 in more than 350 cities across North America. Since first forming in 1864 to serve girls and young women who were experiencing upheaval in the aftermath of the Civil War, they've been on a mission to inspire girls to kick butt and step into leadership roles — today and in the future.
This is why Macy's has committed to partnering with Girls Inc. and making it easy to support their mission. In a national campaign running throughout September 2021, customers can round up their in-store purchases to the nearest dollar or donate online to support Girls Inc. and empower girls throughout the country.

Kaylin St. Victor, a senior at Brentwood High School in New York, is one of those girls. She became involved in the Long Island affiliate of Girls Inc. when she was in 9th grade, quickly becoming a role model for her peers.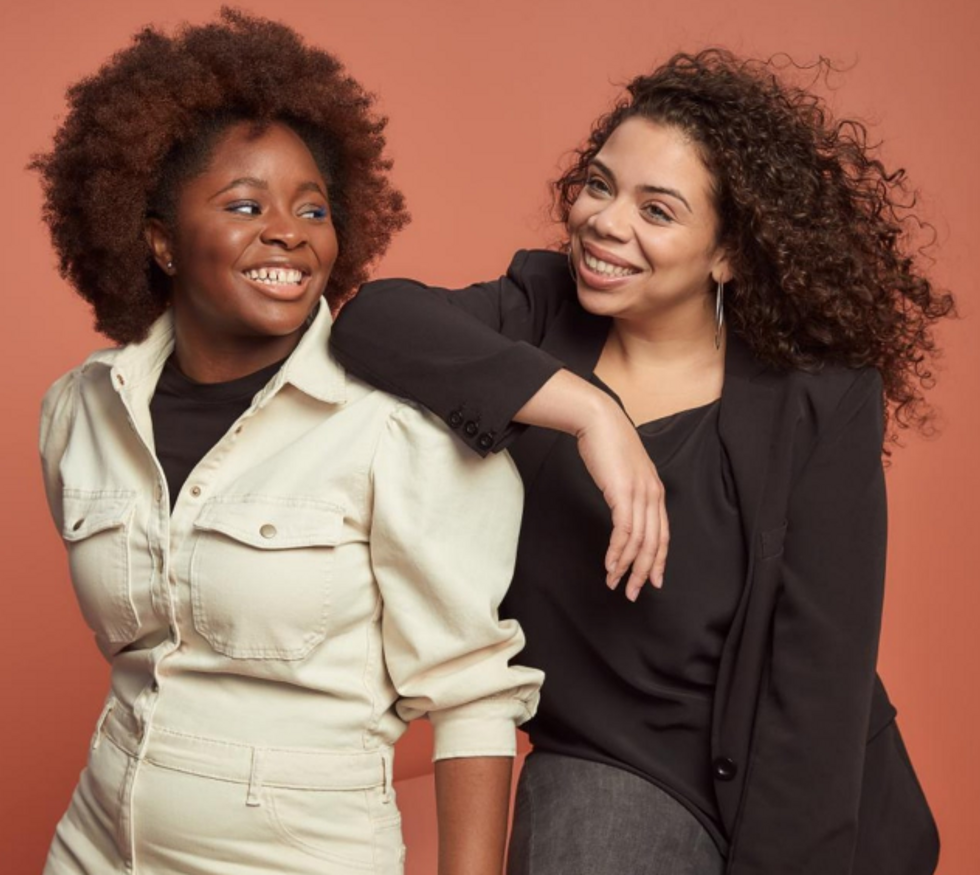 Photo courtesy of Macy's
Within her first year in the organization, she bravely took on speaking opportunities and participated in several summer programs focused on advocacy, leadership, and STEM (science, technology, engineering and math). "The women that I met each have a story that inspires me to become a better person than I was yesterday," said St. Victor. She credits her time at Girls Inc. with making her stronger and more comfortable in her own skin — confidence that directly translates to high achievement in education and the workforce.
In 2020, Macy's helped raise $1.3 million in support of their STEM and college and career readiness programming for more than 26,000 girls. In fact, according to a recent study, Girls Inc. girls are significantly more likely than their peers to enjoy math and science, to be interested in STEM careers, and to perform better on standardized math tests.
That's huge.
The benefit to girls like Kaylin causes a positive ripple effect through communities because often, once girls finish the program with Girls Inc., they continue to give back through mentorship. Just this past fall, for example, Kaylin was awarded the 2020 Girls Inc. of Long Island Scholarship and honored at their annual gala for exemplifying the mission of the organization. Kaylin is a natural leader with goals to advance her education and to continue inspiring and empowering girls in her community, and by shopping at Macy's, you can help other young women follow in her footsteps.
"Their Bold Future Leader meetings have prepared me for my future and taught me not to be afraid to put myself out there...I have had amazing opportunities to make new friends and have established relationships with such incredible women," said St. Victor.
The future really is female.
Now through September 30th, 2021, as you shop at Macy's, be sure to round up your in-store purchase to the nearest dollar and donate your extra change to support Girls Inc. — making it easier than ever before to help inspire today's generation of girls to become tomorrow's leaders.
Get stories worth sharing delivered to your inbox