popular
Balance out heavy holiday eating with some lighter—but still delicious—fare.
Albertson's
True
The holiday season has arrived with its cozy vibe, joyous celebrations and inevitable indulgences. From Thanksgiving feasts to Christmas cookie exchanges to Aunt Eva's irresistible jelly donuts—not to mention leftover Halloween candy still lingering—fall and winter can feel like a non-stop gorge fest.
Total resistance is fairly futile—let's be real—so it's helpful to arm yourself with ways to mitigate the effects of eating-all-the-things around the holidays. Serving smaller amounts of rich, celebratory foods and focusing on slowly savoring the taste is one way. Another is to counteract those holiday calorie-bomb meals with some lighter fare in between.
Contrary to popular belief, eating "light" doesn't have to be tasteless, boring or unsatisfying. And contrary to common practice, meals don't have to fill an entire plate—especially when we're trying to balance out heavy holiday eating.
It is possible to enjoy the bounties of the season while maintaining a healthy balance. Whether you prefer to eat low-carb or plant-based or gluten-free or everything under the sun, we've got you covered with these 10 easy, low-calorie meals from across the dietary spectrum.
Each of these recipes has less than 600 calories (most a lot less) per serving and can be made in less than 30 minutes. And Albertsons has made it easy to find O Organics® ingredients you can put right in your shopping cart to make prepping these meals even simpler.
Enjoy!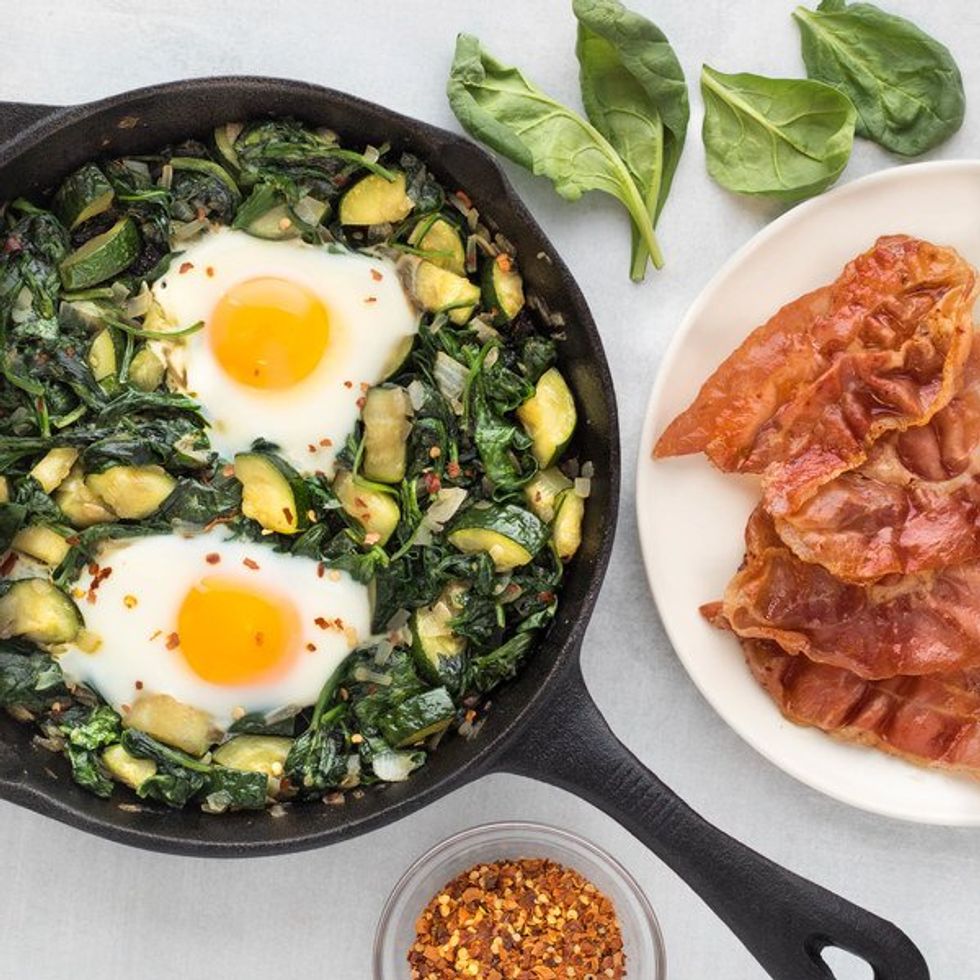 Not quite green eggs and ham, but closeAlbertsons
Breakfast Skillet of Greens, Eggs & Ham
273 calories | 20 minutes
Ingredients:
1 (5 oz) pkg baby spinach
2 eggs
1 clove garlic
4 slices prosciutto
1/2 medium yellow onion
1 medium zucchini squash
1/8 cup butter, unsalted
1 pinch crushed red pepper
Find full instructions and shopping list here.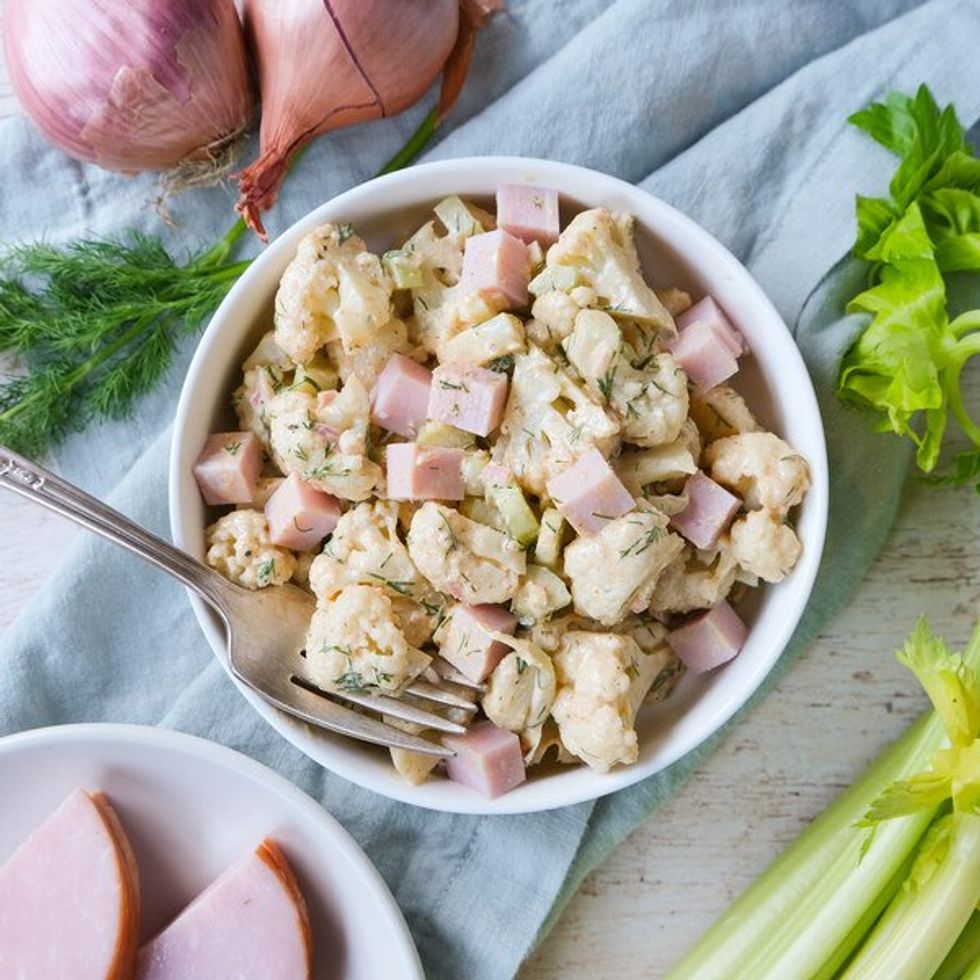 Get your cauliflower power on.Albertsons
Creamy Cauliflower Salad with Ham, Celery & Dill
345 calories | 20 minutes
1/2 medium head cauliflower
1 stick celery
1/4 small bunch fresh dill
8 oz. ham steak, boneless
1/2 shallot
1/4 tspblack pepper
1/4 tsp curry powder
2 tsp Dijon mustard
1/4 tsp garlic powder
3 Tbsp mayonnaise
1/8 tsp paprika
2 tsp red wine vinegar
1/2 tsp salt
Find full instructions and shopping list here.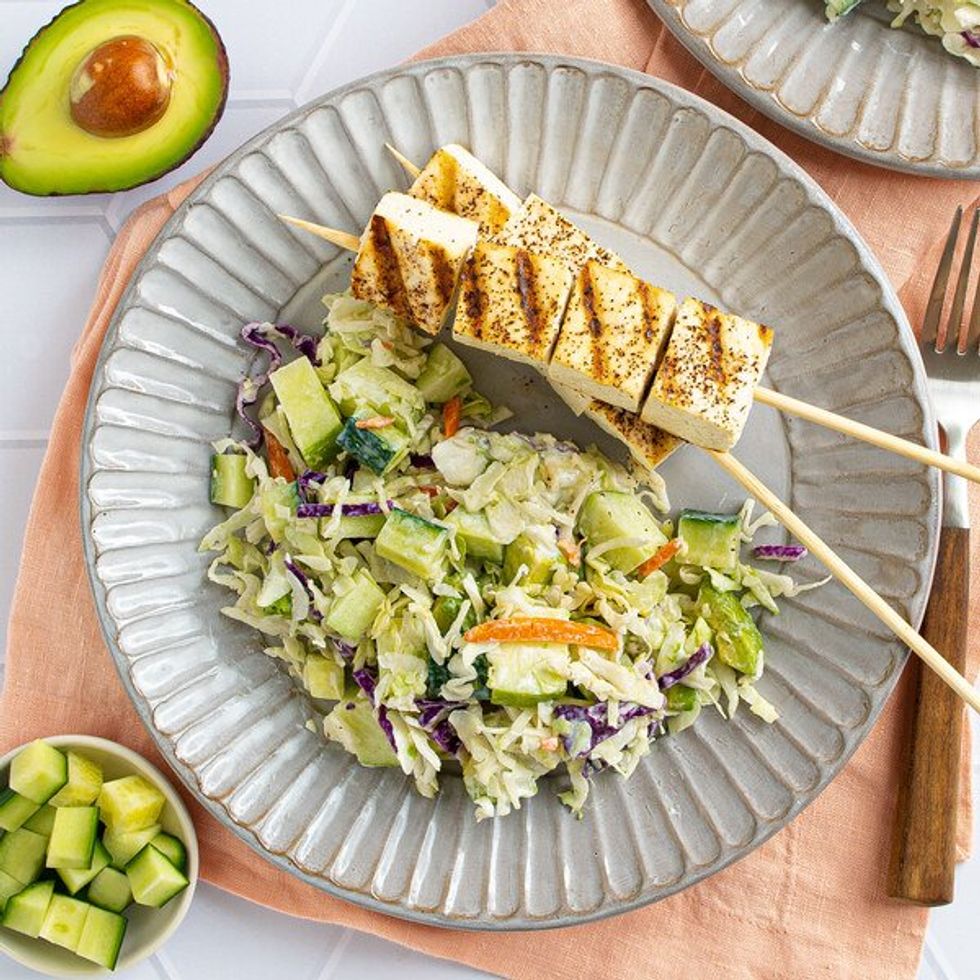 Plant-based food fan? This combo looks yums. Albertsons
Grilled Chili Tofu Skewers with Ranch Cabbage, Apple & Cucumber Slaw
568 calories | 20 minutes
1 avocado
1/2 English cucumber
1 (12 oz.) package extra firm tofu
1 Granny Smith apple
3 Tbsp (45 ml) Ranch dressing
1/2 (14 oz bag) shredded cabbage (coleslaw mix)
2 tsp chili powder
1 Tbsp extra virgin olive oil
1/2 tsp garlic powder
1/2 tsp salt
Find full instructions and shopping list here.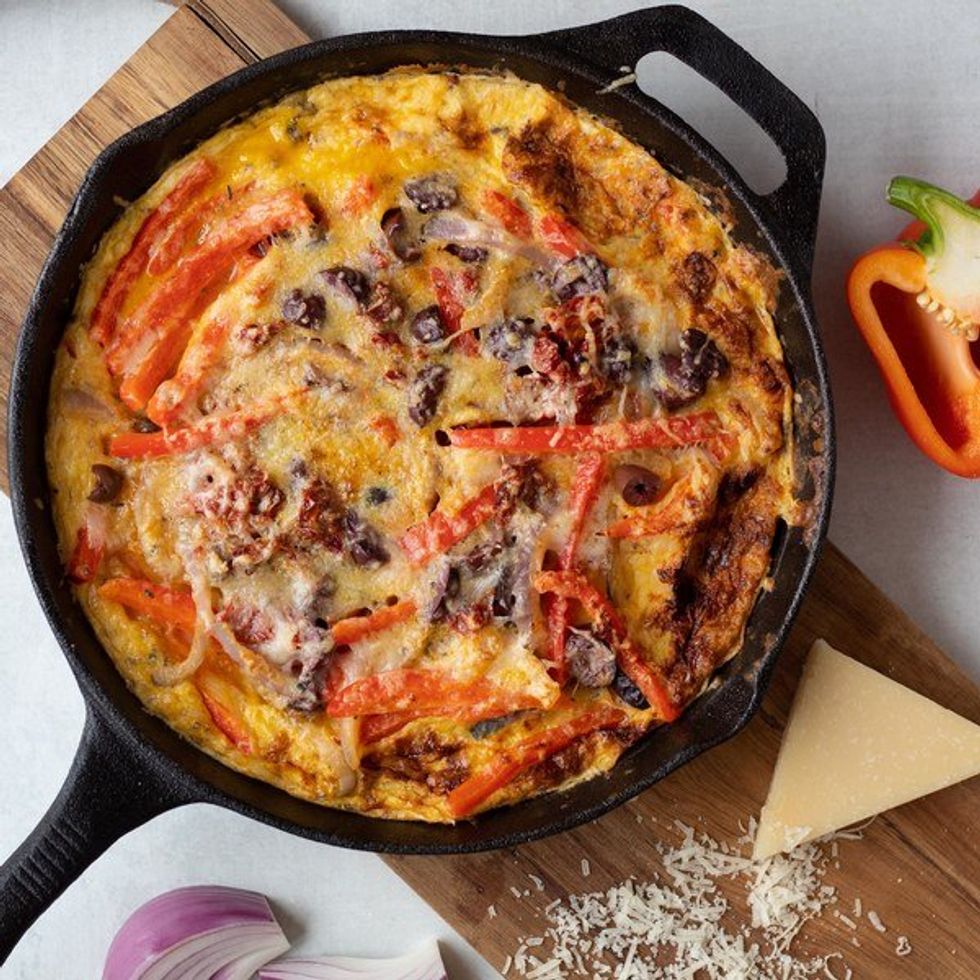 Sometimes you just gotta frittata.Albertsons
Bell Pepper, Olive & Sun-Dried Tomato Frittata with Parmesan
513 calories | 25 minutes
6 eggs
1/2 cup Kalamata olives, pitted
2 oz Parmesan cheese
1 red bell pepper
1/2 medium red onion
8 sundried tomatoes, oil-packed
1/4 tsp black pepper
1 Tbsp extra virgin olive oil
1/2 tsp Italian seasoning
1/4 tsp salt
Find full instructions and shopping list here.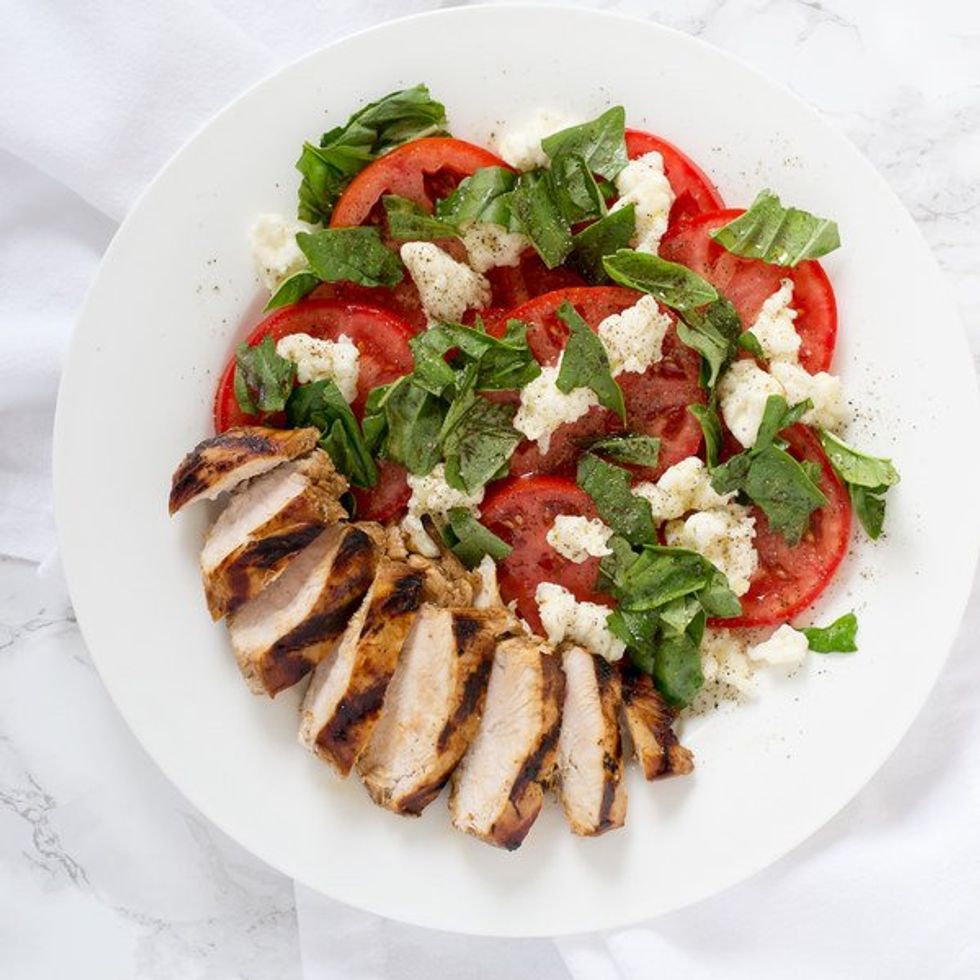 Caprese, if you please.Albertsons
Balsamic Grilled Chicken with Classic Caprese Salad
509 calories | 25 minutes
3/4 lb chicken breasts, boneless skinless
1/2 small pkg fresh basil
1/2 (8 oz pkg) fresh mozzarella cheese
1 clove garlic
3 tomatoes
1 Tbsp balsamic vinegar
4 3/4 pinches black pepper
1 1/2 tsp extra virgin olive oil
3/4 tsp salt
Find full instructions and shopping list here.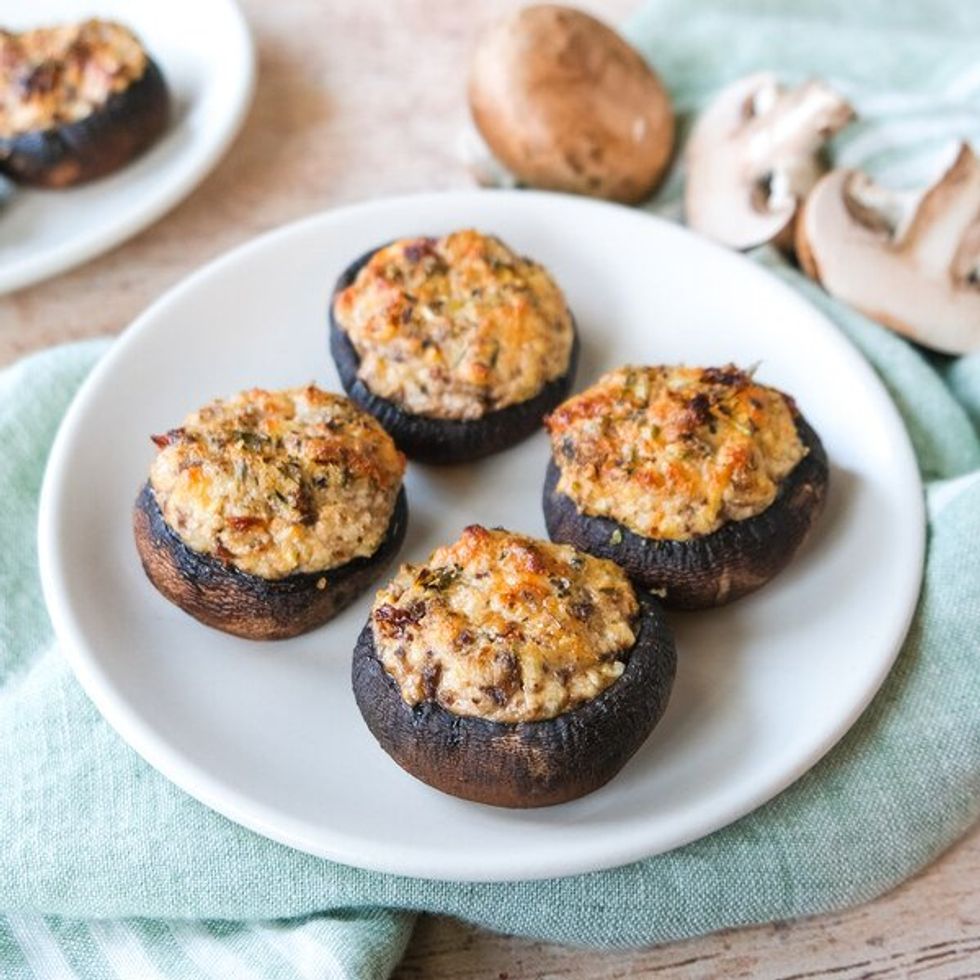 These mushrooms look positively poppable.Albertsons
Warm Goat Cheese, Parmesan & Sun-Dried Tomato Stuffed Mushrooms
187 calories | 35 minutes
1/2 lb cremini mushrooms
1 clove garlic
1/2 (4 oz) log goat cheese
1/4 cup Parmesan cheese, shredded
2 sundried tomatoes, oil-packed
1 1/4 pinches crushed red pepper
1 tsp extra virgin olive oil
1/4 tsp Italian seasoning
2 pinches salt
Find full instructions and shopping list here.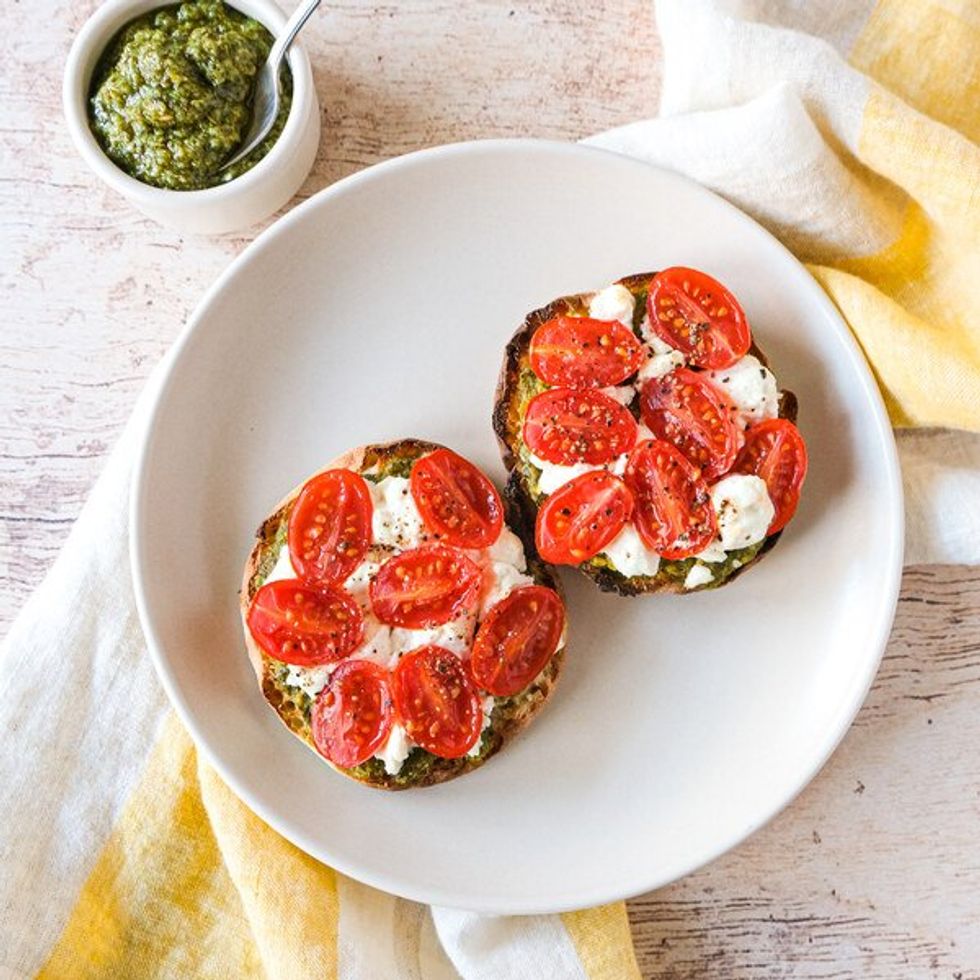 Move over, avocado toast. English muffin pizzas have arrived.Albertsons
English Muffin Pizzas with Basil Pesto, Goat Cheese & Tomatoes
327 calories | 10 minutes
3 Tbsp (45 ml) basil pesto
2 English muffins
1/2 (4 oz) log goat cheese
1/2 pint grape tomatoes
3/4 pinch black pepper
2 pinches salt
Find full instructions and shopping list here.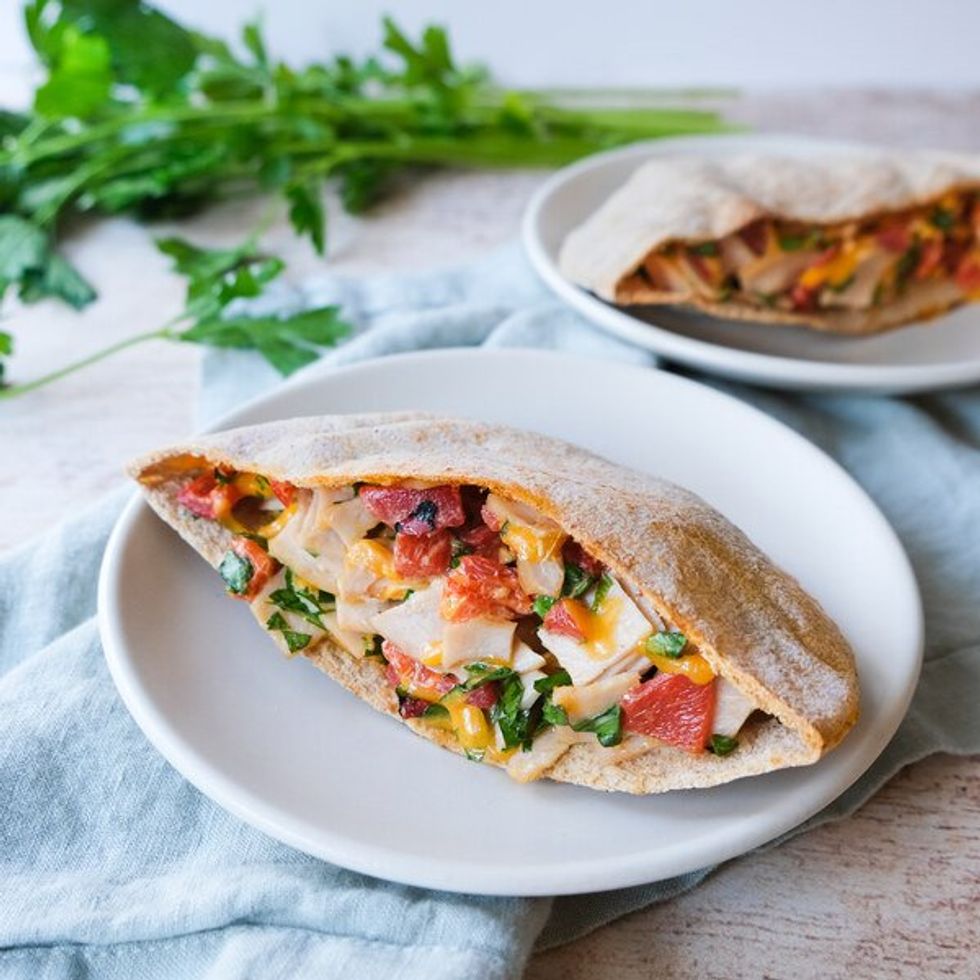 This pita pocket packs a colorful punch.Albertsons
Warm Pita Pocket with Turkey, Cheddar, Roasted Red Peppers & Parsley
313 calories | 20 minutes
1/4 (8 oz) block cheddar cheese
1/2 bunch Italian (flat-leaf) parsley
4 oz oven roasted turkey breast, sliced
1/2 (12 oz) jar roasted red bell peppers
1 whole grain pita
3/4 pinch black pepper
1/2 tsp Dijon mustard
2 tsp mayonnaise
Find full instructions and shopping list here.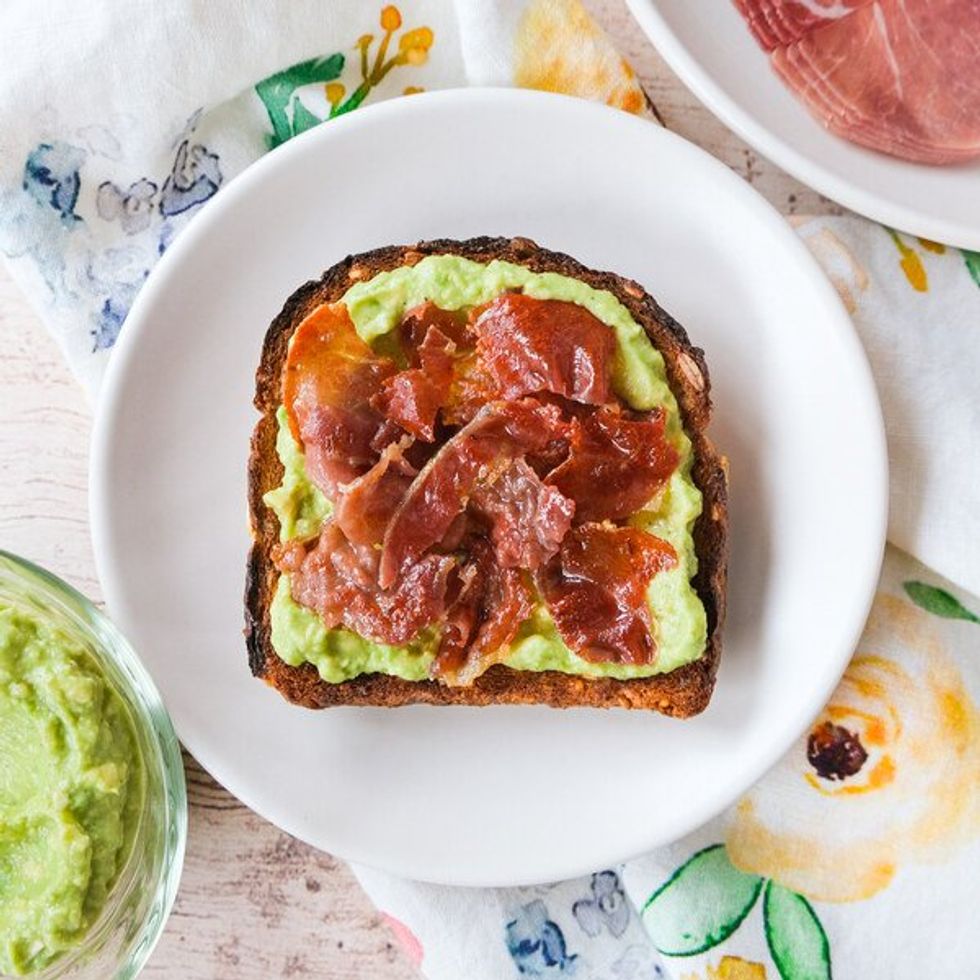 Did we say, "Move over, avocado toast?" What we meant was "Throw some prosciutto on it!" Albertsons
Avocado Toast with Crispy Prosciutto
283 calories | 10 minutes
1 avocado
2 slices prosciutto
2 slices whole grain bread
1 5/8 tsp black pepper
1/2 tsp extra virgin olive oil
1/8 tsp garlic powder
1/8 tsp onion powder
Find full instructions and shopping list here.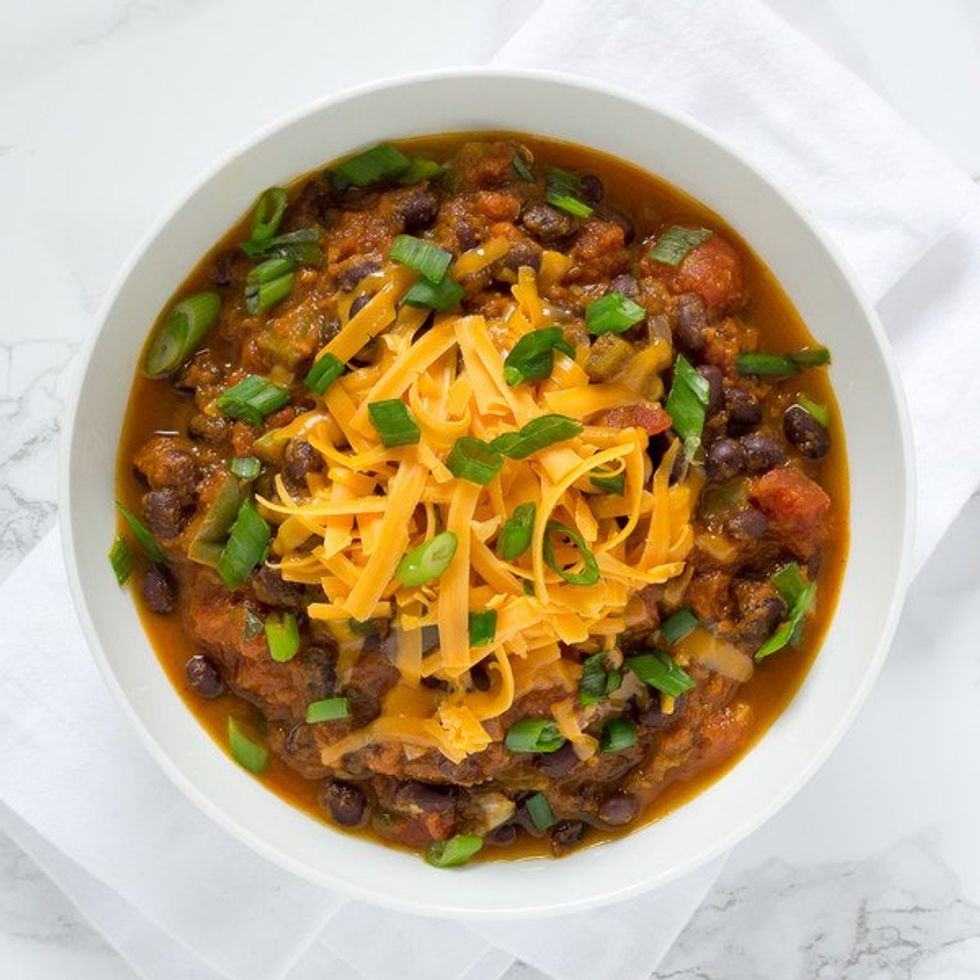 Vegetarian chili with a fall twistAlbertsons
Black Bean & Pumpkin Chili with Cheddar
444 calories | 30 minutes
2 (15 oz can) black beans
1/2 (8 oz ) block cheddar cheese
2 (14.5 oz) cans diced tomatoes
2 cloves garlic
2 green bell peppers
1 small bunch green onions (scallions)
1 (15 oz) can pure pumpkin purée
1 medium yellow onion
1/2 tsp black pepper
5 7/8 tsp chili powder
1/2 tsp cinnamon
2 tsp cumin, ground
1 tsp salt
1 Tbsp virgin coconut oil
Find full instructions and shopping list here.
For more delicious and nutritious recipes, visit albertsons.com/recipes.
Health
This is what leadership should look like. 💯
Image shared by Madalyn Parker
Madalyn Parker wanted to take a couple days off work. She didn't have the flu, nor did she have plans to be on a beach somewhere, sipping mojitos under a palm tree.
Parker, a web developer from Michigan, wanted a few days away from work to focus on her mental health.
Parker lives with depression. And, she says, staying on top of her mental health is absolutely crucial.
"The bottom line is that mental health is health," she says over email. "My depression stops me from being productive at my job the same way a broken hand would slow me down since I wouldn't be able to type very well."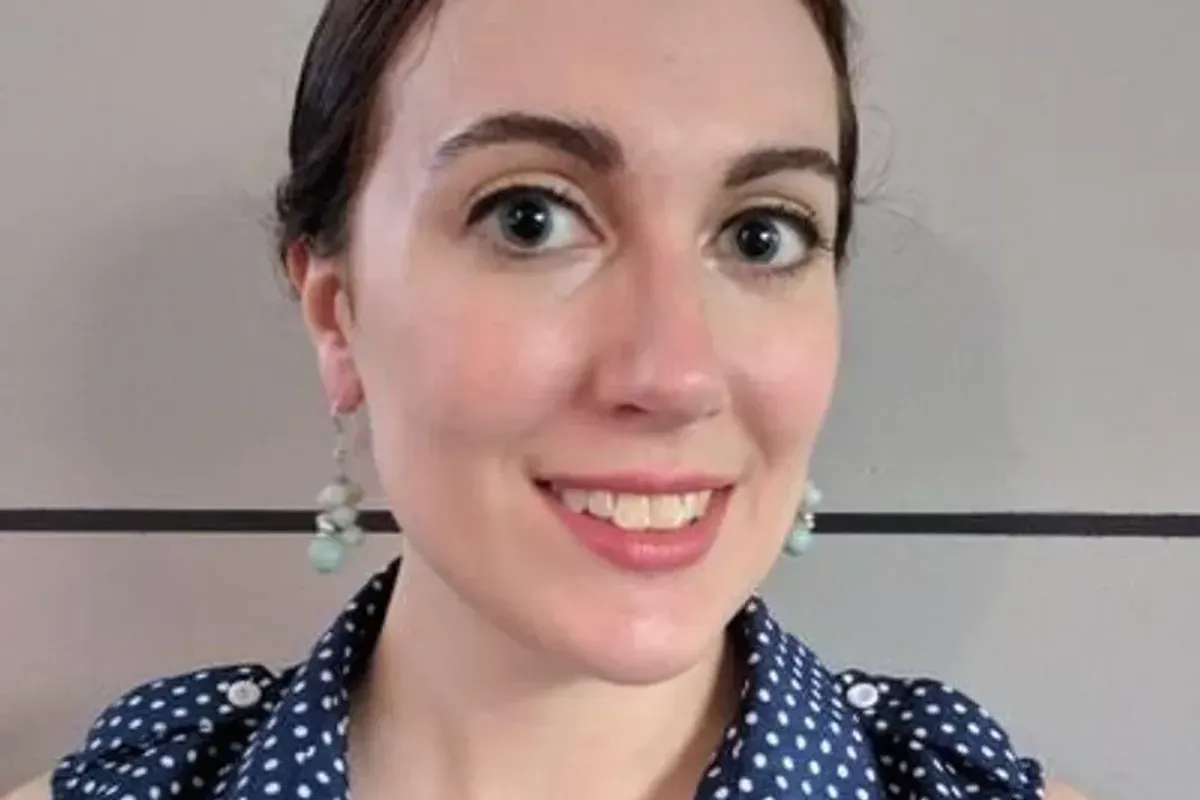 Madalyn Parker was honest with her colleagues about her situation.
Photo courtesy Madalyn Parker.
She sent an email to her colleagues, telling them the honest reason why she was taking the time off.
"Hopefully," she wrote to them, "I'll be back next week refreshed and back to 100%."
Soon after the message was sent, the CEO of Parker's company wrote back:
"Hey Madalyn,

I just wanted to personally thank you for sending emails like this. Every time you do, I use it as a reminder of the importance of using sick days for mental health — I can't believe this is not standard practice at all organizations. You are an example to us all, and help cut through the stigma so we can all bring our whole selves to work."
\u201cWhen the CEO responds to your out of the office email about taking sick leave for mental health and reaffirms your decision. \ud83d\udcaf\u201d

— madalyn (@madalyn) 1498854569
Moved by her CEO's response, Parker posted the email exchange to Twitter.
The tweet, published on June 30, 2017, has since gone viral, amassing 45,000 likes and 16,000 retweets.
"It's nice to see some warm, fuzzy feelings pass around the internet for once," Parker says of the response to her tweet. "I've been absolutely blown away by the magnitude though. I didn't expect so much attention!"
Even more impressive than the tweet's reach, however, were the heartfelt responses it got.
"Thanks for giving me hope that I can find a job as I am," wrote one person, who opened up about living with panic attacks. "That is bloody incredible," chimed in another. "What a fantastic CEO you have."
Some users, however, questioned why there needs to be a difference between vacation time and sick days; after all, one asked, aren't vacations intended to improve our mental well-being?
That ignores an important distinction, Parker said — both in how we perceive sick days and vacation days and in how that time away from work is actually being spent.
"I took an entire month off to do partial hospitalization last summer and that was sick leave," she wrote back. "I still felt like I could use vacation time because I didn't use it and it's a separate concept."
Many users were astounded that a CEO would be that understanding of an employee's mental health needs.
They were even more surprised that the CEO thanked her for sharing her personal experience with caring for her mental health.
After all, there's still a great amount of stigma associated with mental illness in the workplace, which keeps many of us from speaking up to our colleagues when we need help or need a break to focus on ourselves. We fear being seen as "weak" or less committed to our work. We might even fear losing our job.
Ben Congleton, the CEO of Parker's company, Olark, even joined the conversation himself.

In a blog post on Medium, Congleton wrote about the need for more business leaders to prioritize paid sick leave, fight to curb the stigma surrounding mental illness in the workplace, and see their employees as people first.
"It's 2017. We are in a knowledge economy. Our jobs require us to execute at peak mental performance," Congleton wrote. "When an athlete is injured, they sit on the bench and recover. Let's get rid of the idea that somehow the brain is different."
This article originally appeared on 07.11.17
Community
"We have become a culture who watches for faults, instead of opportunities to help."
Canva
Years ago, Megan Burnside saw a mother physically struggling with her son. The boy was screaming ... so she called the cops.

The mother, it seemed, was trying to get her 10-year-old son back in the car, and it looked like things were getting physical. Concerned for the kid, Burnside decided to call the police. Then she and her husband left.
When the police called her later to update her on the situation, she was horrified: The boy had autism, they told her, and was known to sometimes lash out physically. The mother was just doing her best to calm him down, as she had many times before.
Sadly, stories like this aren't rare. Well-meaning strangers are frequently quick to intervene by calling authorities, which can cause undue stress and trauma for both the child and parent when that person has read the situation wrong. It can even be extraordinarily dangerous for people with disabilities and families of color.
When she realized the situation hadn't been at all what it had seemed, Burnside was racked with guilt. In fact, she still is.
When a similar thing happened to a friend of hers, Burnside decided to share her shameful story on Facebook — and explain how she'd do it all over differently, given the chance.
"This has come up for me today because someone called DCFS (Department of Child and Family Services) on my dear friend," she wrote.
I have something weighing on my heart this morning. A few years ago I was in Tennessee with my husband at a training...
Posted by Megan Orr Burnside on Thursday, December 7, 2017
Burnside's friend, whom she called "the kind of mother I want to be like," was bedridden with a respiratory infection, when a person who probably thought they were "helping" called the authorities.
"I don't know what this person observed that they thought was a problem," she wrote. "Maybe her kids were running around without parental supervision? Maybe a parent wasn't feeding them so they were foraging for themselves?"
But there's a better way of doing things, Burnside says: actually offering to assist the struggling parent.
"I am sad that the person who called her in didn't ask how they could HELP HER," she wrote.
The post went viral and touched thousands and thousands of people who agree with her message.
Concern for the well-being of others is a good thing. But concern without empathy hurts everyone.

She wants to encourage people to reach out and help each other whenever possible, and not to assume the worst of our fellow parents and human beings.
"I really believe that the root of all judgement comes from self-judgement," she says in a Facebook message, noting that she developed more compassion for others by learning to have more compassion for herself and stop worrying about "messing up parenting."
"I think people want to live in a world where we help more and judge less, and all it takes is compassion," she says. "A lot of people have shared how this post will change the way they respond to struggling moms in the future, and I am really encouraged by that."
To be sure, at some point, you may actually witness abuse or neglect, and in those situations it's smart to get the right authorities involved. Burnside just wants to encourage all of us to think — and feel — before we act.
This article originally appeared on 12.14.17
Health
"Our moral compass is skewed if we think things like this are acceptable."
Photo courtesy of CC BY-ND, Immo Klink and Marco Godoy
These are called "anti-homeless spikes." They're about as friendly as they sound.
As you may have guessed, they're intended to deter people who are homeless from sitting or sleeping on that concrete step. And yeah, they're pretty awful.
The spikes are a prime example of how cities design spaces to keep homeless people away.
Not all concrete steps have spikes on them, but outdoor seating in cities like Montreal and Tokyo have been sneakily designed to prevent people from resting too comfortably for too long.
This guy sawing through a bench was part of a 2006 protest in Toulouse, France, where public seating intentionally included armrests to prevent people from lying down.
Of course, these designs do nothing to fight the cause or problem of homelessness. They're just a way of saying to homeless people, "Go somewhere else. We don't want to look at you,"basically.
One particular set of spikes was outside a former night club in London. And a local group got sick of staring at them.
Leah Borromeo is part of the art collective "Space, Not Spikes" — a group that's fed up with what she describes as "hostile architecture."
"Spikes do nothing more than shoo the realities of poverty and inequality away from your backyard — so you don't have to see it or confront what you can do to make things more equal," Borromeo told Upworthy. "And that is really selfish."

"Our moral compass is skewed if we think things like this are acceptable."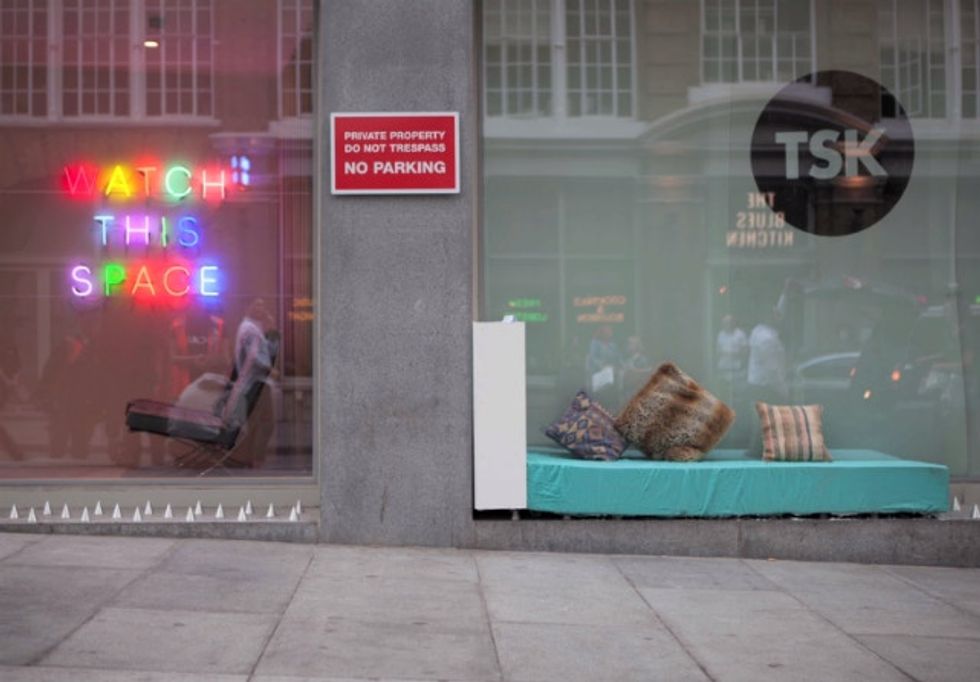 A bed covers up spikes on the concrete.
The move by Space, Not Spikes has caused quite a stir in London and around the world. The simple but impactful idea even garnered support from music artist Ellie Goulding.
"That was amazing, wasn't it?" Borromeo said of Goulding's shout-out on Instagram.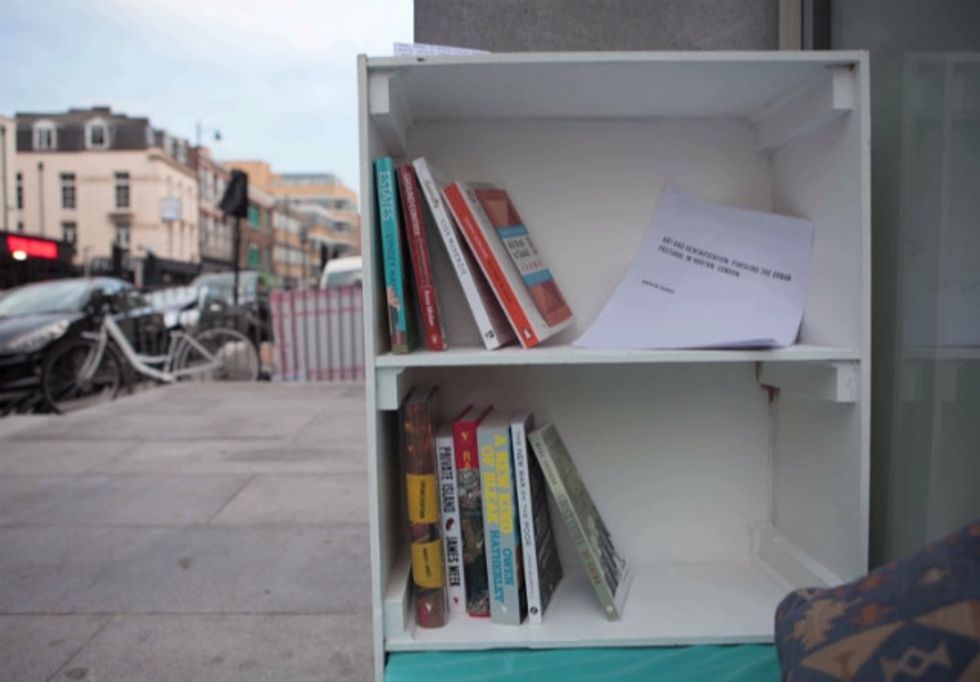 Artist's puppy books and home comforts.
"[The project has] definitely touched a nerve and I think it is because, as a whole, humans will still look out for each other," Borromeo told Upworthy. "Capitalism and greed conditions us to look out for ourselves and negate the welfare of others, but ultimately, I think we're actually really kind."

"We need to call out injustice and hypocrisy when we see it."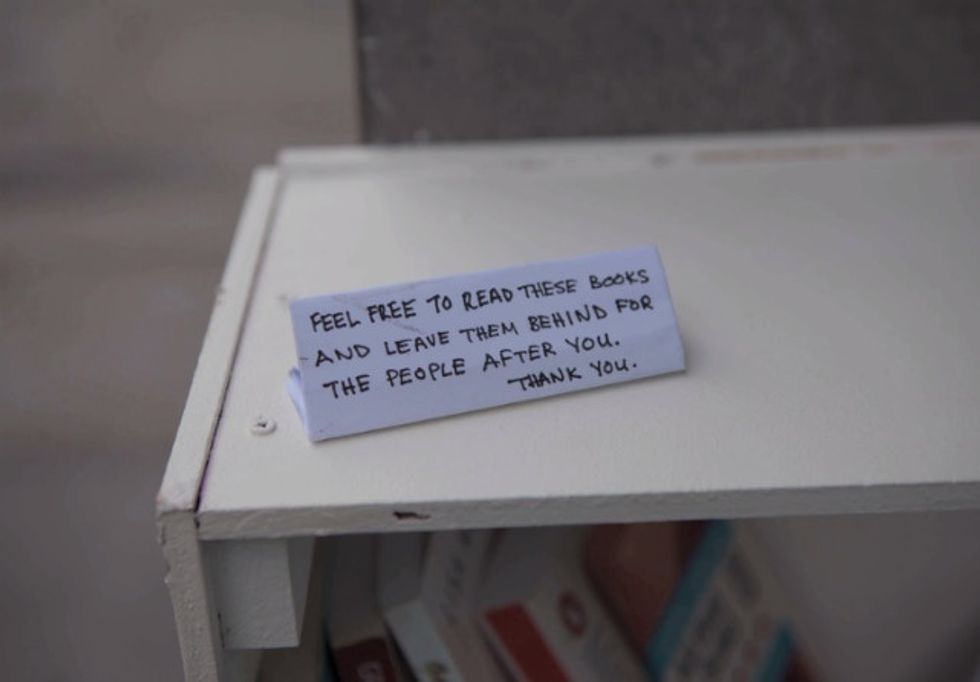 A message to offer support in contrast with current anti-homeless laws.
These spikes may be in London, but the U.S. definitely has its fair share of anti-homeless sentiment, too.

Spikes are pretty obvious — they're a visual reminder of a problem many cities are trying to ignore. But what we can't see on the street is the rise of anti-homeless laws that have cropped up from sea to shining sea.
Legislation that targets homeless people — like bans on panhandling and prohibiting people from sleeping in cars — has increased significantly in recent years.
For instance, a report by the National Law Center on Homelessness & Poverty that analyzed 187 American cities found that there's been a 43% hike in citywide bans on sitting or lying down in certain spaces since 2011.
Thankfully, groups like "Space, Not Spikes" are out there changing hearts and minds. But they need our help.
The group created a video to complement its work and Borromeo's hoping its positive underlying message will motivate people to do better.
"[The world] won't always be happy-clappy because positive social change needs constructive conflict and debate," she explained. "But we need to call out injustice and hypocrisy when we see it."
Check out their video below:
This article originally appeared on 07.24.15
Get stories worth sharing delivered to your inbox
Identity
The mother handled it fabulously.
Meet Mason Brian Barclay, a teen and self-described "very homosexual male." He recently wanted to attend a sleepover at his "new best friend" Houston's house, because teens are gonna teen. But he's a boy, and everyone knows boys aren't allowed to attend girls' sleepovers, because of cooties/patriarchal norms.

So he behaved more maturely than most adults, and crafted a long text message to Houston's mom, Mrs. Shelton, in which he politely asked for permission to attend Houston's sleepover.
"I think the common meaning behind only allowing the same sex to share sleepovers is due to the typical interest in the opposite sex, when, in this case, I do not like the opposite sex," he explained in the text.
\u201cShe hates this picture but idc. I'm in love with your soul. You pretty cute too.\u201d

— May (Taylor\u2019s Version) (@May (Taylor\u2019s Version)) 1500425804
Mrs. Shelton's response was so good that Mason tweeted it out and it went viral:

I TEXTED HOUSTONS MOM TO ASK IF I CAN STAY THE NIGHT FRIDAY HAHAHAHAHApic.twitter.com/Ovr74V869W

— May (Taylor\u2019s Version) (@May (Taylor\u2019s Version)) 1505775519
"Hmm. Well my husband is hot. Should I worry?" she responded.
Evidently Mason found Mrs. Shelton's text hilarious. So does Twitter.
That took guts, and this mom acknowledged it *fabulously*! I wish you a fun night with your friends! Stay away from Houston's dad, now. 🤣💖

— Julie Martineau (@JulieBonjour) September 22, 2017
And others are just wondering if the sleepover is on, or not??
Others need to know if Houston's dad lives up to the hype:
Wait, so how hot is her dad?

— Milton Knowles (@TheGreatMiltini) September 21, 2017
This article originally appeared on 11.26.18
Health
Do any of these speak to you?
Most people imagine depression equals "really sad," and unless you've experienced depression yourself, you might not know it goes so much deeper than that. Depression expresses itself in many different ways, some more obvious than others. While some people have a hard time getting out of bed, others might get to work just fine — it's different for everyone.
To find out how depression shows itself in ways other people can't see, we asked The Mighty mental health community to share one thing people don't realize they're doing because they have depression.
Here's what they had to say:
1. "In social situations, some people don't realize I withdraw or don't speak much because of depression. Instead, they think I'm being rude or purposefully antisocial." — Laura B.
2. "I struggle to get out of bed, sometimes for hours. Then just the thought of taking a shower is exhausting. If I manage to do that, I am ready for a nap. People don't understand, but anxiety and depression is exhausting, much like an actual physical fight with a professional boxer." — Juli J.
3. "Agreeing to social plans but canceling last minute. Using an excuse but really you just chickened out. It makes you think your friends don't actually want to see you, they just feel bad. Obligation." — Brynne L.
4. "Hiding in my phone. Yes, I am addicted to it, but not like other people. I don't socialize, I play games or browse online stores to distract myself from my negative thoughts. It's my safe bubble." — Eveline L.
5. "Going to bed at 9 p.m. and sleeping throughout the night until 10 or 11 a.m." — Karissa D.
6. "Isolating myself, not living up to my potential at work due to lack of interest in anything, making self-deprecating jokes. I've said many times before, 'I laugh, so that I don't cry.' Unfortunately, it's all too true." — Kelly K.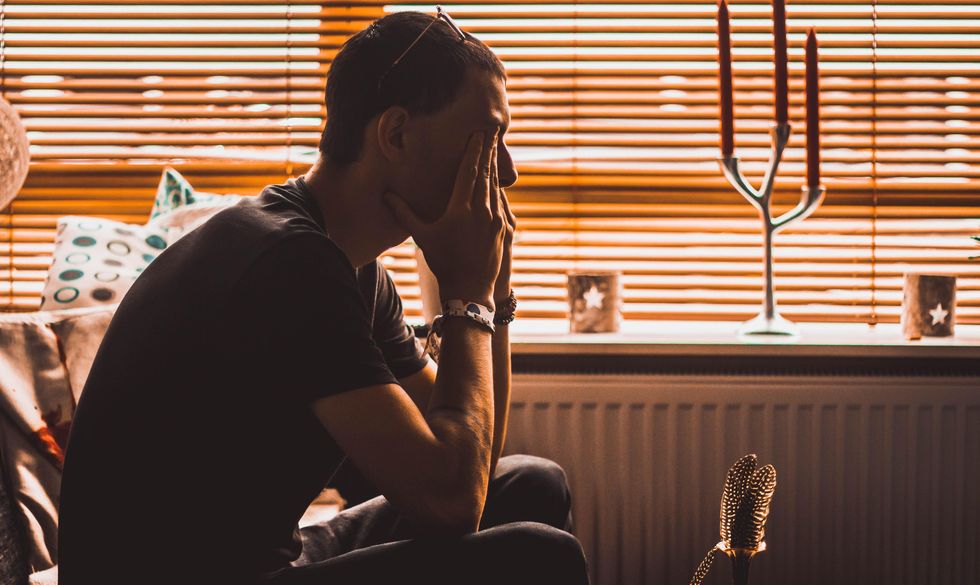 man sitting on chair covering his eyesPhoto by
christopher lemercier
on
Unsplash
7. "When I reach out when I'm depressed it's 'cause I am wanting to have someone to tell me I'm not alone. Not because I want attention." — Tina B.
8. "I don't like talking on the phone. I prefer to text. Less pressure there. Also being anti-social. Not because I don't like being around people, but because I'm pretty sure everyone can't stand me." — Meghan B.
9. "I overcompensate in my work environment… and I work front line at a Fitness Centre, so I feel the need to portray an 'extra happy, bubbly personality.' As soon as I walk out the doors at the end of the day, I feel myself 'fall.' It's exhausting… I am a professional at hiding it." — Lynda H.
10. "The excessive drinking. Most people assume I'm trying to be the 'life of the party' or just like drinking in general. I often get praised for it. But my issues are much deeper than that." — Teresa A.
11. "Hiding out in my room for hours at a time watching Netflix or Hulu to distract my mind or taking frequent trips to the bathroom or into another room at social gatherings because social situations sometimes get to me." — Kelci F.
12. "Saying I'm tired or don't feel good… they don't realize how much depression can affect you physically as well as emotionally." — Lauren G.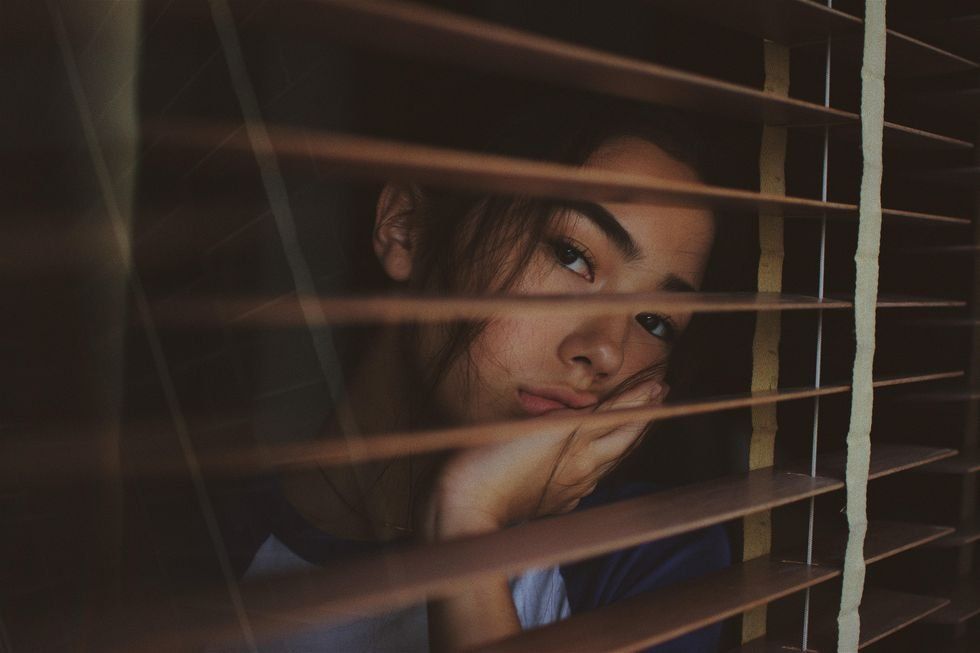 more at instagram @joshrh19
Photo by Joshua Rawson-Harris on Unsplash
13. "Answering slowly. It makes my brain run slower, and I can't think of the answers to the questions as quickly. Especially when someone is asking what I want to do — I don't really want anything. I isolate myself so I don't have to be forced into a situation where I have to respond because it's exhausting." — Erin W.
14. "Sometimes I'll forget to eat all day. I can feel my stomach growling but don't have the willpower to get up and make something to eat." — Kenzi I.
15. "I don't talk much in large groups of people, especially when I first meet them. I withdraw because of my anxiety and depression. People think I'm 'stuck up.' I'm actually scared out of my mind worrying they don't like me, or that they think I'm 'crazy' by just looking at me…" — Hanni W.
16. "Not keeping in touch with anyone, bad personal hygiene and extremely bad reactions to seemingly trivial things." — Jenny B.
17. "Being angry, mean or rude to people I love without realizing it in the moment. I realize my actions and words later and feel awful I had taken out my anger on people who don't deserve it." — Christie C.
18. "Purposely working on the holidays so I can avoid spending time with family. It's overwhelming to be around them and to talk about the future and life so I avoid it." — Aislinn G.
19. "My house is a huge mess." — Cynthia H.
20. "I volunteer for everything, from going to PTO meetings to babysitting to cleaning someone else's house for them. I surround myself with situations and obligations that force me to get out of bed and get out of the house because if I'm not needed, I won't be wanted." — Carleigh W.
This story was originally published on The Mighty and originally appeared here on 07.21.17
Health
This could save the life of you or someone you love.
Most abusers don't start their relationships by hitting their partners. That's why early warning signs are vital to recognize.

I know two women who recently left abusive partners. Both men seemed sweet and likable—even gentle—each time I saw them. Both had some lovely qualities as people and even as partners. And both turned out to be controlling, increasingly abusive partners behind closed doors.
The thing about domestic violence is that most people don't enter into relationships with someone who abuses them from the get go. It's often like the analogy of the frog in boiling water. If you place a frog into a pot of boiling water, it'll jump right out. But if you put it in a cool pot and gradually increase the temperature, the frog won't recognize that it's being slowly cooked until it's too late.
Abuse usually comes on gradually, with plenty of opportunity to manipulate and forgive and justify the water getting warmer. That's why many stay in abusive relationships far longer than they should.
A domestic violence counselor suggests a simple test to help identify potential abusers early in a relationship.
Rob Andrews is a domestic violence counselor in Australia. He told ABC News that he advises people to use what he calls the "No Test" to identify potential red flags early on in a relationship.
"The No Test is basically to watch out for the way your partner responds the first time you change your mind or say no," Andrews said.
"While expressing disappointment is OK, it's not the same as annoyed. Annoyed is 'how dare you,' a sign of ownership or entitlement."
Ownership, entitlement, control—these are red flags that often lead to increasingly abusive behavior. And though women can definitely be abusers, the reality is that women are much more likely to be the victims of domestic violence and male abusers tend to be more dangerous to their partners.
"A lot of the women who will present to services will see themselves as part of the problem," Andrews said. "They'll ask themselves why they're always attracted to abusive men, blame themselves for not being assertive enough, blame themselves for pushing their partner's buttons, causing their anger."
"With the No Test, we're not trying to give women knowledge that they didn't already know," he said, "but when they see it in black and white in front of them like that, they realize they of course have the right to say no, that they aren't to blame."
Andrews describes our patriarchal history as "the nut of the problem."
Andrews said that some people erroneously tell women that they should just be more assertive with their partners, letting them know they won't stand for controlling or abusive behavior, but that's not always the best tack to take.
"Being assertive with a man who's threatening to bash you is not a very good idea," he said. "It almost comes from what I'd call 'deficit thinking,' that somehow these women need to be trained up so that the people won't abuse them. The only person who can stop the abuse is the person who is doing the abusing."
Andrews works with men who are struggling with their own behavior and want to change. He has them think about what kind of man they really want to be and work with them to align their behavior with that vision.
"I hear a lot of people saying how it's so hard for men now, it's all so confusing," he said. "It's very easy to be a man. Just be polite and respectful to people, it's not that difficult really."
"But in saying that," he added, "we are to some extent dealing with 2,000 years of history of women being a second-class citizen. That's the nut of the problem and we've got to keep chipping away at it."
This article originally appeared on 02.11.19
Get stories worth sharing delivered to your inbox