More
Frat boys made a racist video that went viral. Many think they're getting off too easily.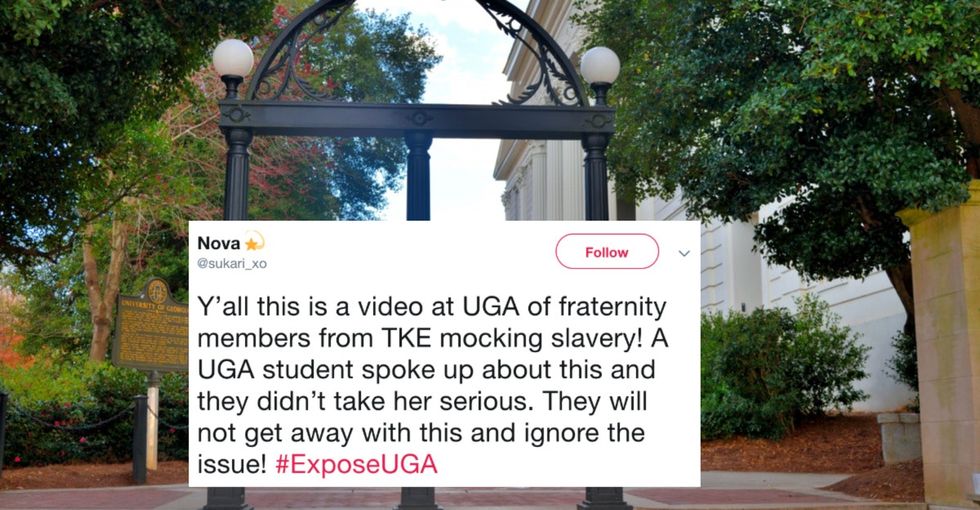 *trigger warning: this post alludes to sensitive, racist content.
A disturbing video starring University of Georgia fraternity members went viral last week, reopening an important discussion about racism and inclusivity.
"Pick my cotton, b****!" a seemingly intoxicated University of Georgia college coed jeers, while hitting one of his pals laying under the covers in a bed. The group laughs hysterically as the phrase is repeated more than once. "You aren't using the right words," chides one of the boys, to which the ring leader excitedly responds "Pick my cotton, nig***!"
---
This blatantly racist, 30-second encounter was recorded by four members of the southern university's Tau Kappa Epsilon fraternity and started going viral on social media on March 22. Sadly, it's just the latest example of flagrant racism caught on camera involving members of a national fraternal organization.
Hours after the release of the video, both the fraternity's national headquarters and UGA's StudentGovernment Association responded appropriately to the situation.
They revealed that the Xi-Lambda chapter of Tau Kappa Epsilon had been suspended effective immediately, and also confirmed an investigation was underway regarding the boys in the video.  
The fraternity's national headquarters noted they were "disgusted, appalled and angered by the remarks shown in the video. TKE will not tolerate any actions such as these that would bedefined as racist, discriminatory and/or offensive." They specified that while the incident did not take place on the chapter's premises, the four boys in the video were promptly expelled from the organization.
The University itself did respond to the student government, also confirming that it "condemns racism in the strongest terms." They continued, "Racism has no place on our campus. We will continue our efforts to promote a welcoming and supportive learning environment for our students, faculty and staff."
In order to take the first step in opening up the conversation about racism between students and administrators, the school announced on Monday morning they would be hosting a discussion about racism on campus dubbed "In Solidarity."
But is that response enough? Some students don't think so.
It's possible the University needs some more time to formally investigate the incident before taking more severe action against the individuals depicted in the viral video, for legal purposes. But in general, are fraternity and university officials really doing enough in response to such heinous and despicable act of racism, considering that these types of instances seem to be a reoccurring theme in colleges and universities across the country?
"It is just unfathomable that stuff like this is going on at the school I go to, learn at and attend. We are extremely outraged and offended by the ignorance on a modern-day college campus," Obinna Ibebunjo, a senior and member of the historically black fraternity Omega Psi Phi at UGA, told the NewYork Times.
"They were suspended from the fraternity but they were not reprimanded by the school, so it was a slap on the wrist. We think colleges are moving to a more liberal state and being more progressive, but just the fact that you would record it and post it is extremely ridiculous."
The university's NAACP chapter also formally responded to the "inappropriate and derogatory" video, blaming the educational institute. "This video only touches the surface of the long history of racism that has existed on this campus and within the state of Georgia. We hope that the university will take action," they wrote in a statement released Saturday.
We will not tolerate this behavior on our campus. Now is the time for the university to live up to its words. https://t.co/Jpns90cDOr

— UGA NAACP (@UGA NAACP) 1553355044.0
This is far from the first incidence of racism in the Greek system.
While it's likely racism has been prevalent in the Greek system dating back to its origin, it has become more publicized in recent years. With the advent of media and the fact that almost everything gets caught on camera, it's nearly impossible to sweep these instances under the rug these days.
In 2015, Sigma Alpha Epsilon's University of Oklahoma chapter was shut down and two students were expelled when a shocking video of fist-pumping students chanting, "There will never be a ni**** at SAE. You can hang him from a tree, but he can never sign with me," made the rounds.
Additionally, just last year 15 members of Syracuse University's Theta Tau engineering fraternity were suspended and the fraternity was expelled after the release of a video in which they used racial and anti-Semitic slurs and mocked people with physical and intellectual disabilities. The students went on to appeal the suspension, however, the decision was upheld in January of this year.
So how can we prevent blatant racism in our youth? It's starts with having perhaps uncomfortable, but necessary conversations about discrimination.
It's clear that we aren't doing enough as a society to educate our children that any racist, discriminatory and blatant hate acts are not okay. While it might seem that we have made great strides in regard to inclusivity, we still have a long way to go.
While taking an aggressive and unapologetically strict approach to disciplining any students who engage in such acts is a step in the right direction, they would no doubt happen less if kids learned they were wrong long before leaving home for college. Taking preventative measures — possibly by opening up the conversation about inclusivity when kids are younger and more impressionable — is crucial in order to keep situations like this from happening again and again.