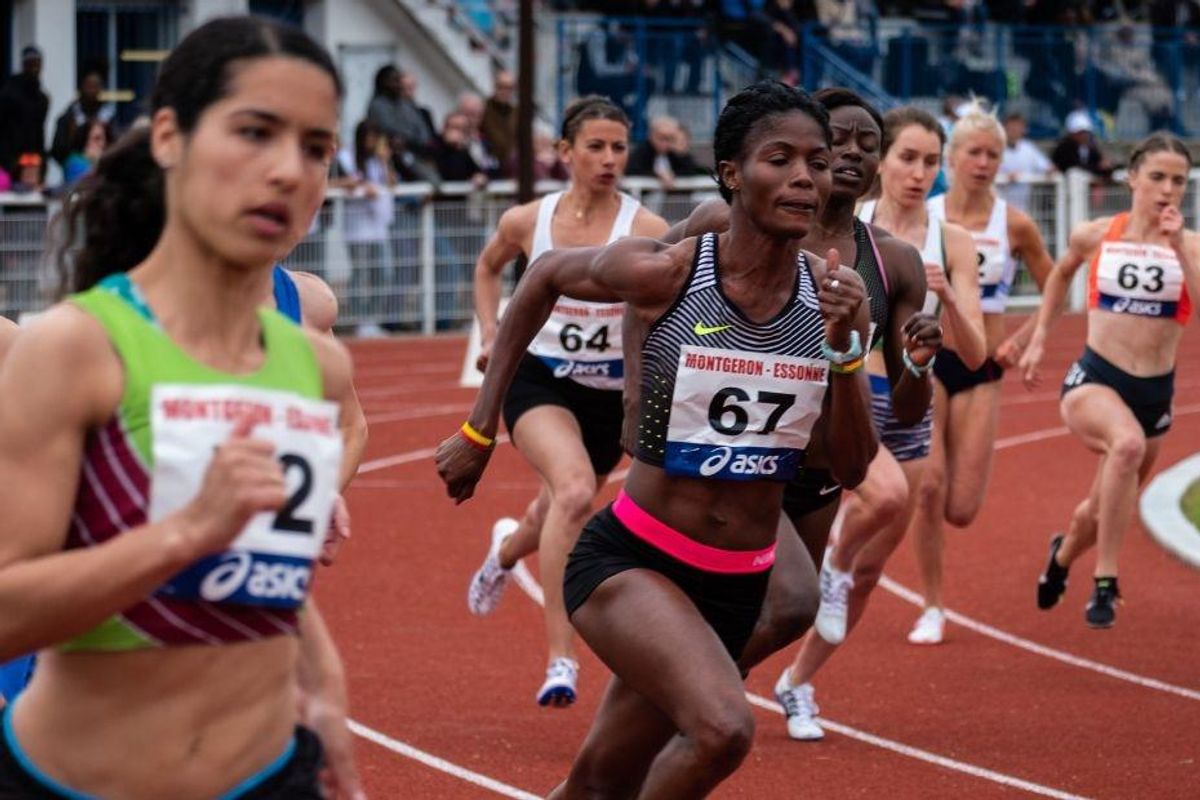 Pregnancy is, without a doubt, one of the most amazing physical feats on Earth. A body that builds a baby practically from scratch is badass no matter how you look at it, but unfortunately, it's not always treated that way.
That can be particularly true in fields that focus on peak body performance, such as elite sports.
Professional female athletes are often put in the position of having to choose between their athletic career and starting a family, not merely due to the inherent reality of having kids, but due to unnecessary roadblocks imposed upon them by the powers that be.
Elite track and field star Allyson Felix famously beat Usain Bolt's gold medal count record a mere 10 months after having a baby—prematurely, via emergency c-section after experiencing pre-eclampsia, no less. She also famously took Nike to task for trying to cut her pay by 70% during her pregnancy. Her critique, along with a push from other female athletes and outcry from the public, resulted in Nike creating a new maternity policy for sponsored athletes guaranteeing an athlete's pay and bonuses for 18 months around pregnancy.
---
But it's not just corporate sponsors that create obstacles for mom athletes. There is also a lack of supportive maternity policies for elite athletes who get pregnant that create a great deal of fear and uncertainty about their careers.
One issue is that pregnancy often isn't viewed as a normal part of life for an athlete. Canada's Athlete Assistance Program, for example, puts pregnancy in the same category as injury or illness, when it is neither. As Bill Moreau, managing director of sports medicine for the U.S. Olympic Committee in 2012 told NBC, "Pregnancy isn't a disability."
Female athletes are often afraid to share that they are pregnant.
Researchers at the University of Alberta conducted a study of what pregnant athletes go through and to determine what kind of policies might best support elite athletes going through the process of having a child. The study authors recruited 20 athletes who had trained or competed at the elite level just before becoming pregnant and talked with them about their experiences.
"They described the complexities related to planning for pregnancy when training," the authors shared in The Conversation. "They told us heartbreaking stories about how they were scared to disclose that they were pregnant over fear they would lose their position on the team, lose funding or even be viewed as less committed to their sport."
"This needs to change," they added.
One athlete in the study shared that there is a very narrow window in which athletes can get pregnant in an Olympic cycle to be successful. Another shared, "I feel like I can't have open communication [with coaches] because I'm so afraid of what will be taken from me."
"There's so little support and there's so little value given to pregnant athletes and to women who want to be able to be mothers and compete," study author and professor of kinesiology Tara-Leigh McHugh told the CBC. "We need to start to normalize and value pregnancy … to demonstrate that it is possible and women can actually succeed and thrive as mother athletes."
Plenty of athletes have had record-breaking performances during or after pregnancy. 
Elite athletes shouldn't have to choose between their sport and pregnancy https://theconversation.com/elite-athletes-shouldnt-have-to-choose-between-their-sport-and-pregnancy-177428?utm_source=twitter&utm_medium=bylinetwitterbutton\u00a0\u2026 via @ConversationCA

— Mandy Bujold (@Mandy Bujold) 1647376478
Pregnancy does change a woman's body, but the limitations it may impose are temporary.
Kenyan middle-distance runner Faith Kipyegon won the 1500 m gold medal in the 2017 London Olympics, then came back to the Olympics in Tokyo in 2021 and took the gold again—while also breaking the Olympic record for the event. In the four years between those Olympic wins, she had a baby. While she said returning to top athletic form was not easy after pregnancy and childbirth, the physical feat of building a baby clearly did not diminish her athletic abilities.
There have actually been athletes who have won Olympic medals while they were pregnant. And let's not forget Serena Williams winning her record-breaking 23rd grand slam while pregnant. Each sport has different physical demands that may or may not be affected by various stages of pregnancy, but an athlete shouldn't have to fear that having a baby will diminish their opportunities at best or cost them their career at worst.
Athletes face challenges in their field after having a baby as well, especially when rules are imposed without reasonable maternity exceptions. Canadian basketball player Kim Gaucher nearly had to forgo the Toyko Olympics because she was breastfeeding her 3-month-old and family members were not allowed to accompany athletes due to pandemic restrictions. She had to petition for an exception, which took until shortly before the games began to be approved.
Elite athletes need more supportive policies for maternity while training and competing.
The University of Alberta researchers shared recommendations that they said can be implemented immediately. "The development of maternity leave policies and funding structures for parental leave should be a priority for sporting organizations," they wrote. "Providing education to athletes, coaches and organizations about reproductive health should also occur in an effort to normalize pregnancy in sport, and work towards a more inclusive environment for female athletes."
One element of such policy is getting a better understanding, through research, of the impact of athletic training on pregnancy and vice versa.
"We don't have a lot of information about what is safe and beneficial for athletes who are regularly exceeding current recommendations," study co-author Maggie Davenport shared on CBC's Radio Active.
The researchers also pointed out that such policies are vital for young female athletes as they rise in their sports.
"Policies to support pregnant athletes will have a direct impact on all women and girls across all levels of sport," the study authors wrote. "Role models are essential to girls' continued participation in sport. Young girls need to know that they belong in sport, and that there is a space for them in sport even when they enter their reproductive years."
Indeed, normalizing maternity in sports—and in every field—will open up more opportunities for women, letting them know they won't have to choose between creating a family and pursuing their professions.