popular
Balance out heavy holiday eating with some lighter—but still delicious—fare.
Albertson's
True
The holiday season has arrived with its cozy vibe, joyous celebrations and inevitable indulgences. From Thanksgiving feasts to Christmas cookie exchanges to Aunt Eva's irresistible jelly donuts—not to mention leftover Halloween candy still lingering—fall and winter can feel like a non-stop gorge fest.
Total resistance is fairly futile—let's be real—so it's helpful to arm yourself with ways to mitigate the effects of eating-all-the-things around the holidays. Serving smaller amounts of rich, celebratory foods and focusing on slowly savoring the taste is one way. Another is to counteract those holiday calorie-bomb meals with some lighter fare in between.
Contrary to popular belief, eating "light" doesn't have to be tasteless, boring or unsatisfying. And contrary to common practice, meals don't have to fill an entire plate—especially when we're trying to balance out heavy holiday eating.
It is possible to enjoy the bounties of the season while maintaining a healthy balance. Whether you prefer to eat low-carb or plant-based or gluten-free or everything under the sun, we've got you covered with these 10 easy, low-calorie meals from across the dietary spectrum.
Each of these recipes has less than 600 calories (most a lot less) per serving and can be made in less than 30 minutes. And Albertsons has made it easy to find O Organics® ingredients you can put right in your shopping cart to make prepping these meals even simpler.
Enjoy!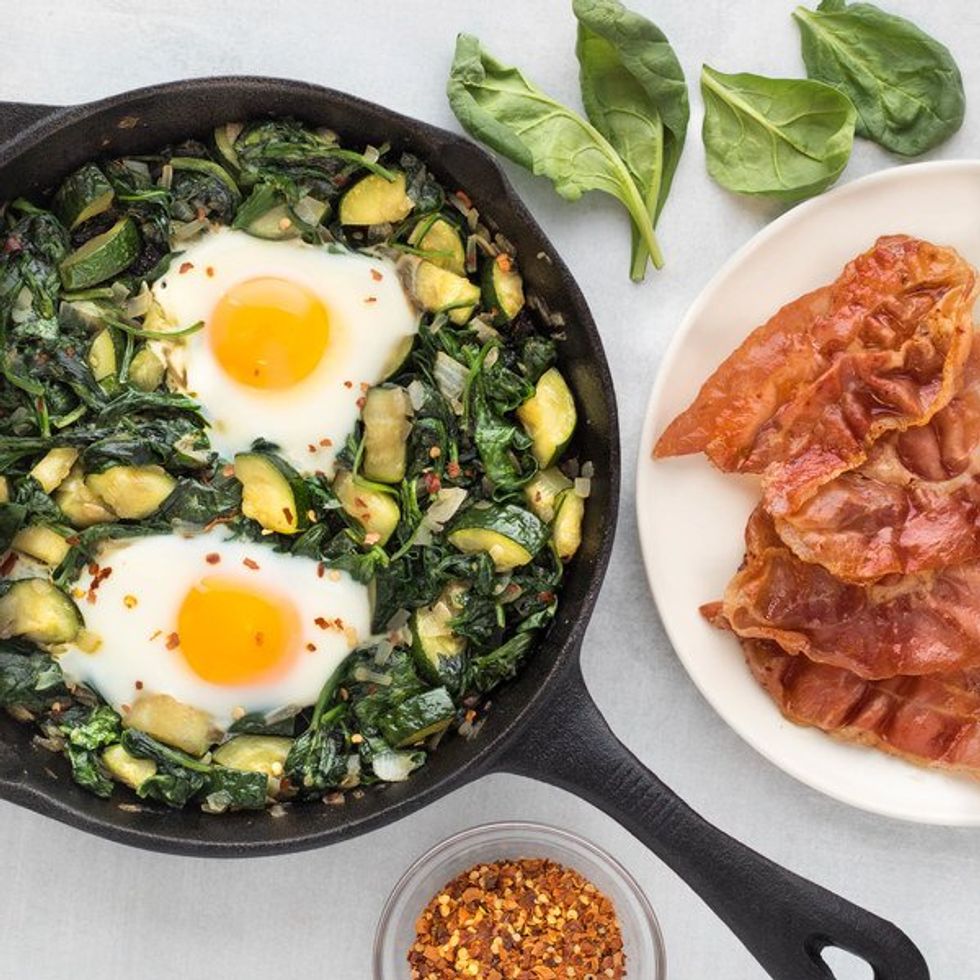 Not quite green eggs and ham, but closeAlbertsons
Breakfast Skillet of Greens, Eggs & Ham
273 calories | 20 minutes
Ingredients:
1 (5 oz) pkg baby spinach
2 eggs
1 clove garlic
4 slices prosciutto
1/2 medium yellow onion
1 medium zucchini squash
1/8 cup butter, unsalted
1 pinch crushed red pepper
Find full instructions and shopping list here.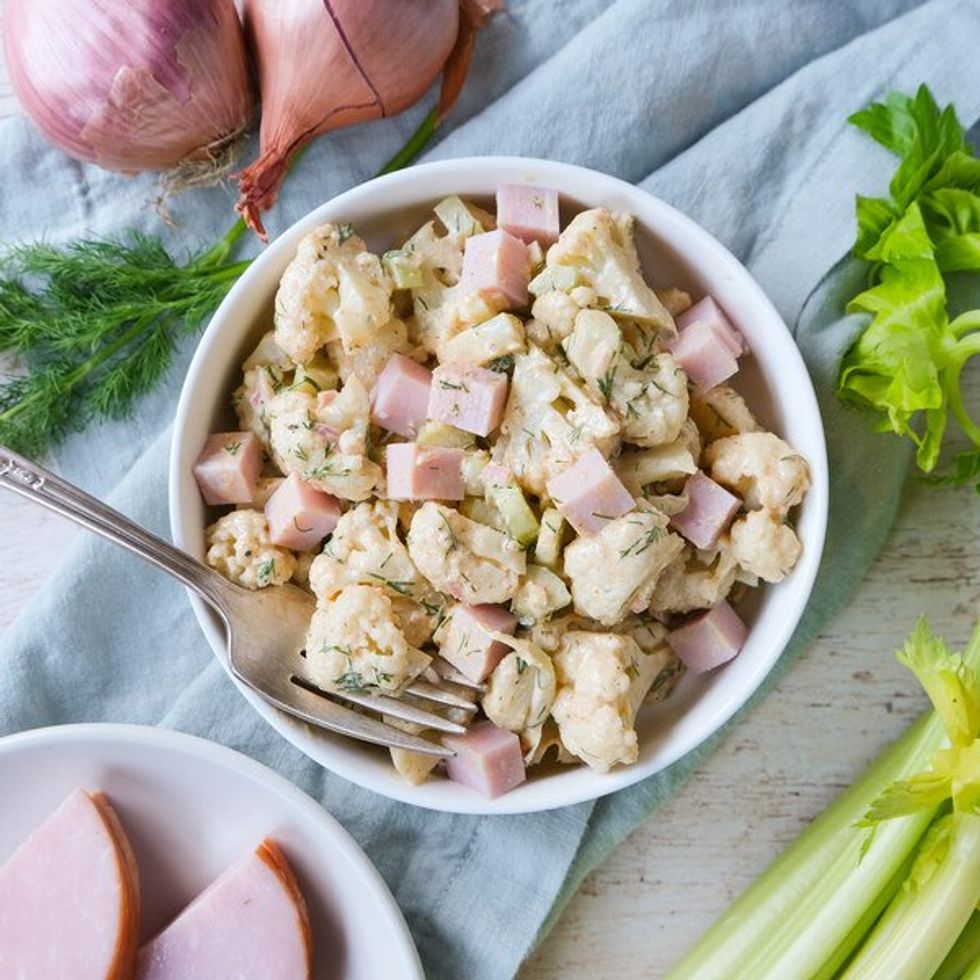 Get your cauliflower power on.Albertsons
Creamy Cauliflower Salad with Ham, Celery & Dill
345 calories | 20 minutes
1/2 medium head cauliflower
1 stick celery
1/4 small bunch fresh dill
8 oz. ham steak, boneless
1/2 shallot
1/4 tspblack pepper
1/4 tsp curry powder
2 tsp Dijon mustard
1/4 tsp garlic powder
3 Tbsp mayonnaise
1/8 tsp paprika
2 tsp red wine vinegar
1/2 tsp salt
Find full instructions and shopping list here.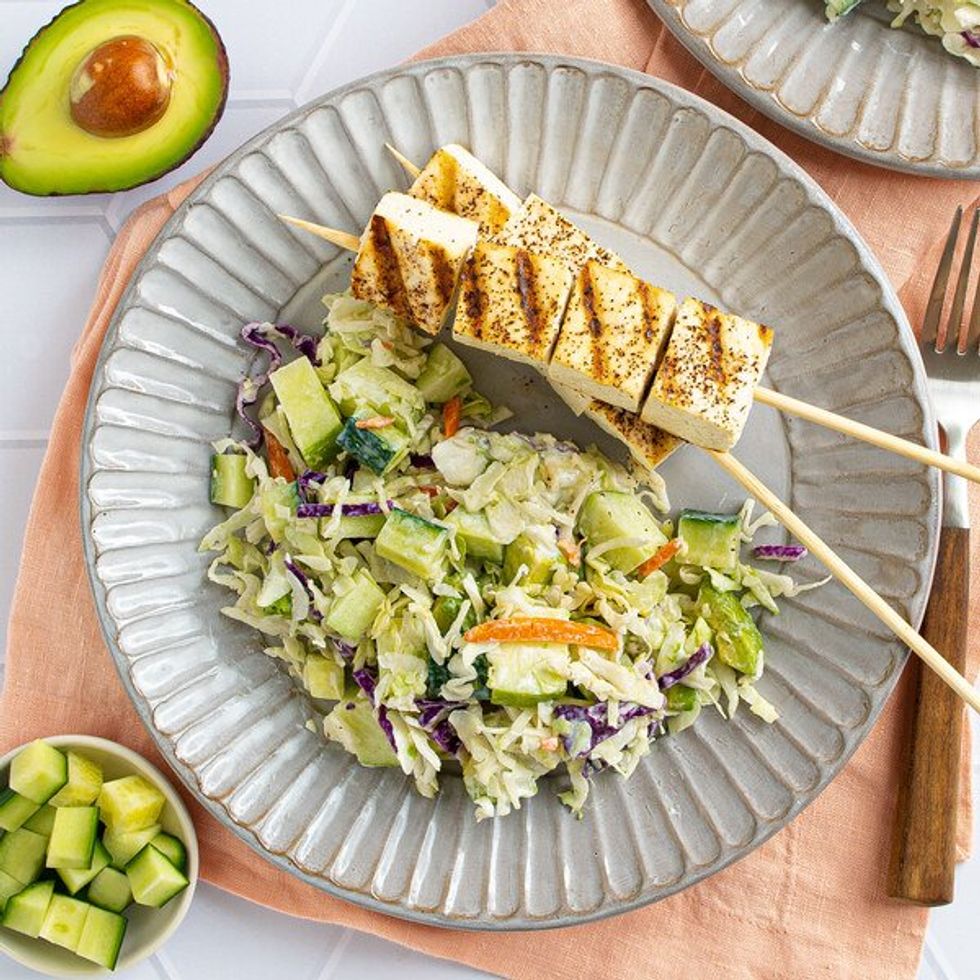 Plant-based food fan? This combo looks yums. Albertsons
Grilled Chili Tofu Skewers with Ranch Cabbage, Apple & Cucumber Slaw
568 calories | 20 minutes
1 avocado
1/2 English cucumber
1 (12 oz.) package extra firm tofu
1 Granny Smith apple
3 Tbsp (45 ml) Ranch dressing
1/2 (14 oz bag) shredded cabbage (coleslaw mix)
2 tsp chili powder
1 Tbsp extra virgin olive oil
1/2 tsp garlic powder
1/2 tsp salt
Find full instructions and shopping list here.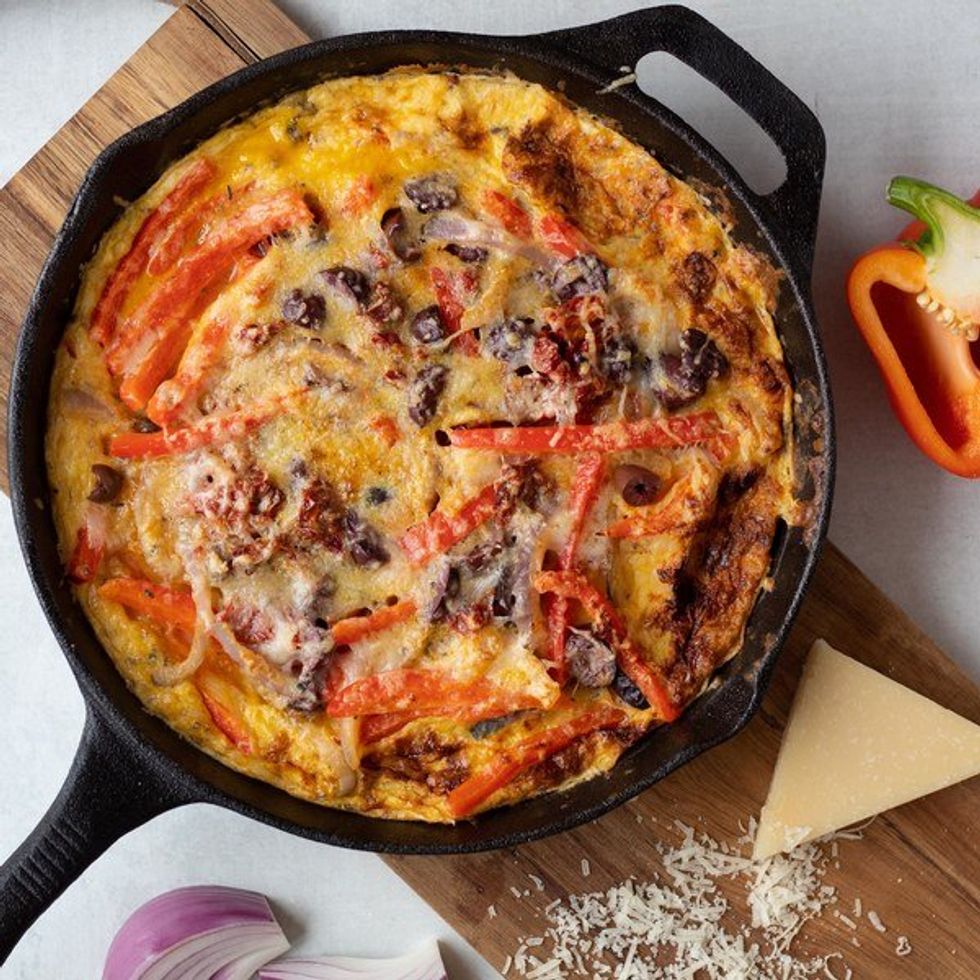 Sometimes you just gotta frittata.Albertsons
Bell Pepper, Olive & Sun-Dried Tomato Frittata with Parmesan
513 calories | 25 minutes
6 eggs
1/2 cup Kalamata olives, pitted
2 oz Parmesan cheese
1 red bell pepper
1/2 medium red onion
8 sundried tomatoes, oil-packed
1/4 tsp black pepper
1 Tbsp extra virgin olive oil
1/2 tsp Italian seasoning
1/4 tsp salt
Find full instructions and shopping list here.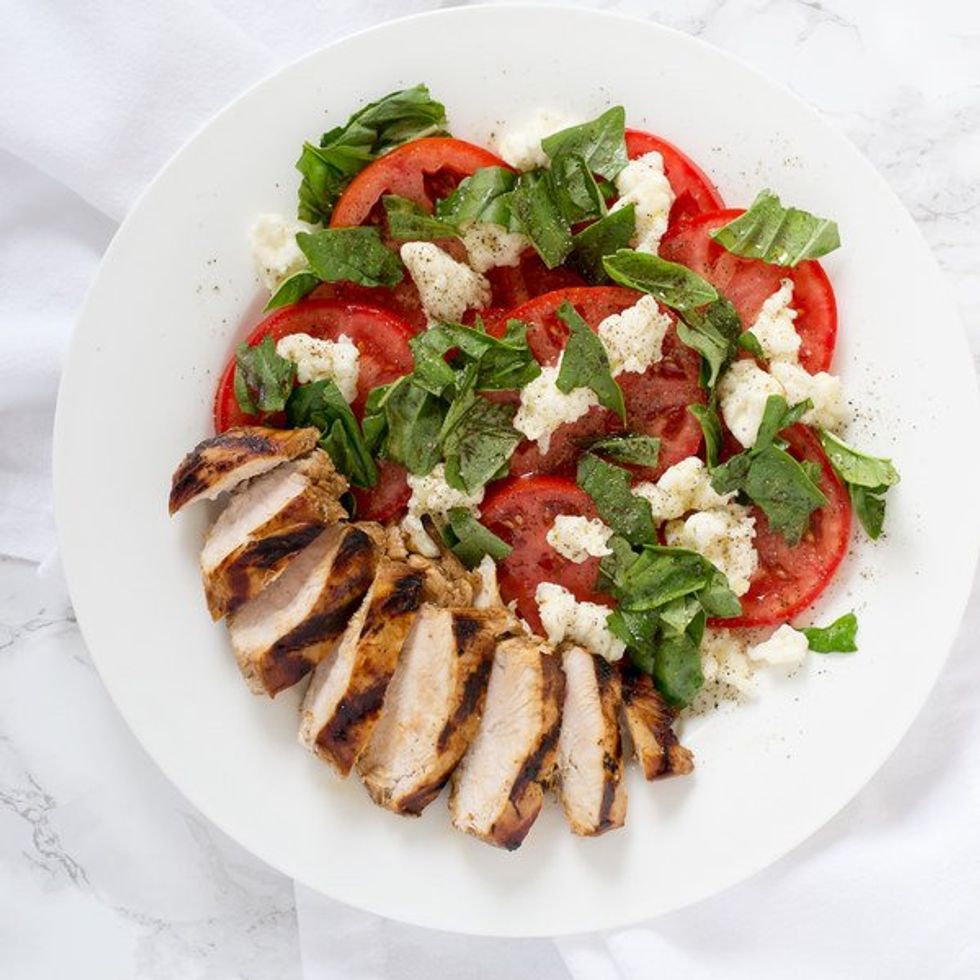 Caprese, if you please.Albertsons
Balsamic Grilled Chicken with Classic Caprese Salad
509 calories | 25 minutes
3/4 lb chicken breasts, boneless skinless
1/2 small pkg fresh basil
1/2 (8 oz pkg) fresh mozzarella cheese
1 clove garlic
3 tomatoes
1 Tbsp balsamic vinegar
4 3/4 pinches black pepper
1 1/2 tsp extra virgin olive oil
3/4 tsp salt
Find full instructions and shopping list here.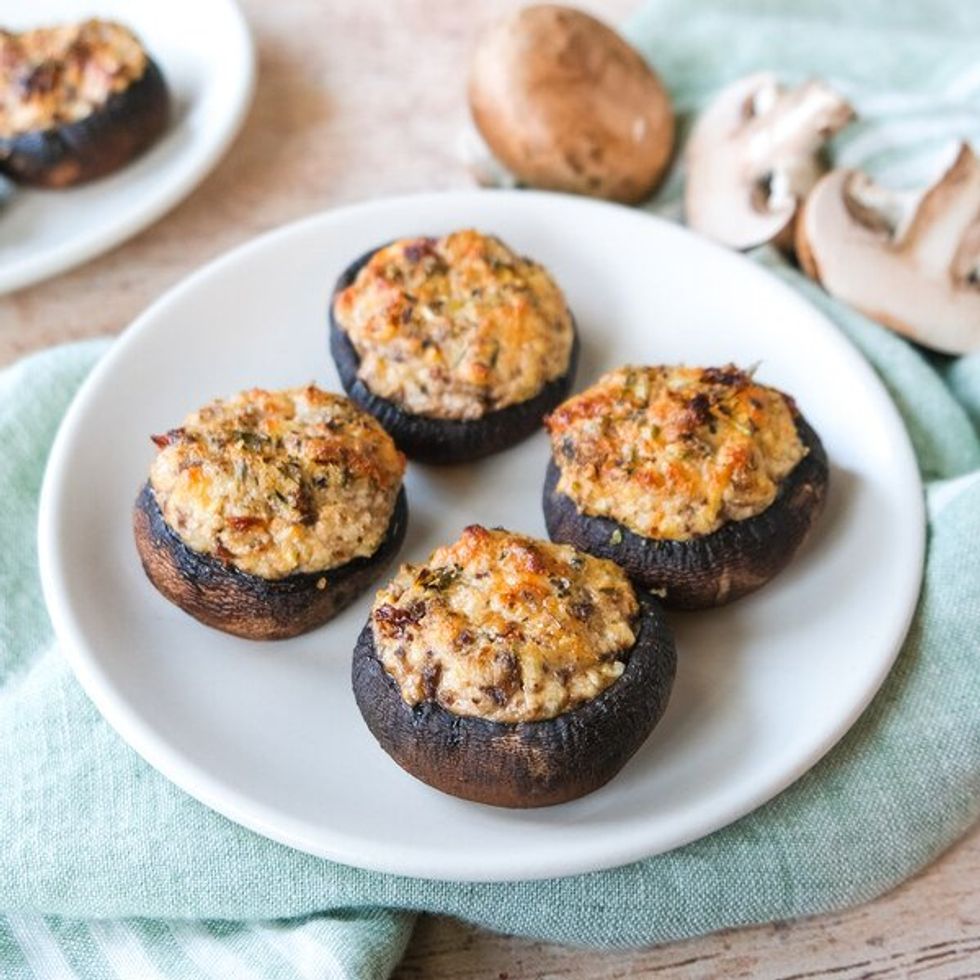 These mushrooms look positively poppable.Albertsons
Warm Goat Cheese, Parmesan & Sun-Dried Tomato Stuffed Mushrooms
187 calories | 35 minutes
1/2 lb cremini mushrooms
1 clove garlic
1/2 (4 oz) log goat cheese
1/4 cup Parmesan cheese, shredded
2 sundried tomatoes, oil-packed
1 1/4 pinches crushed red pepper
1 tsp extra virgin olive oil
1/4 tsp Italian seasoning
2 pinches salt
Find full instructions and shopping list here.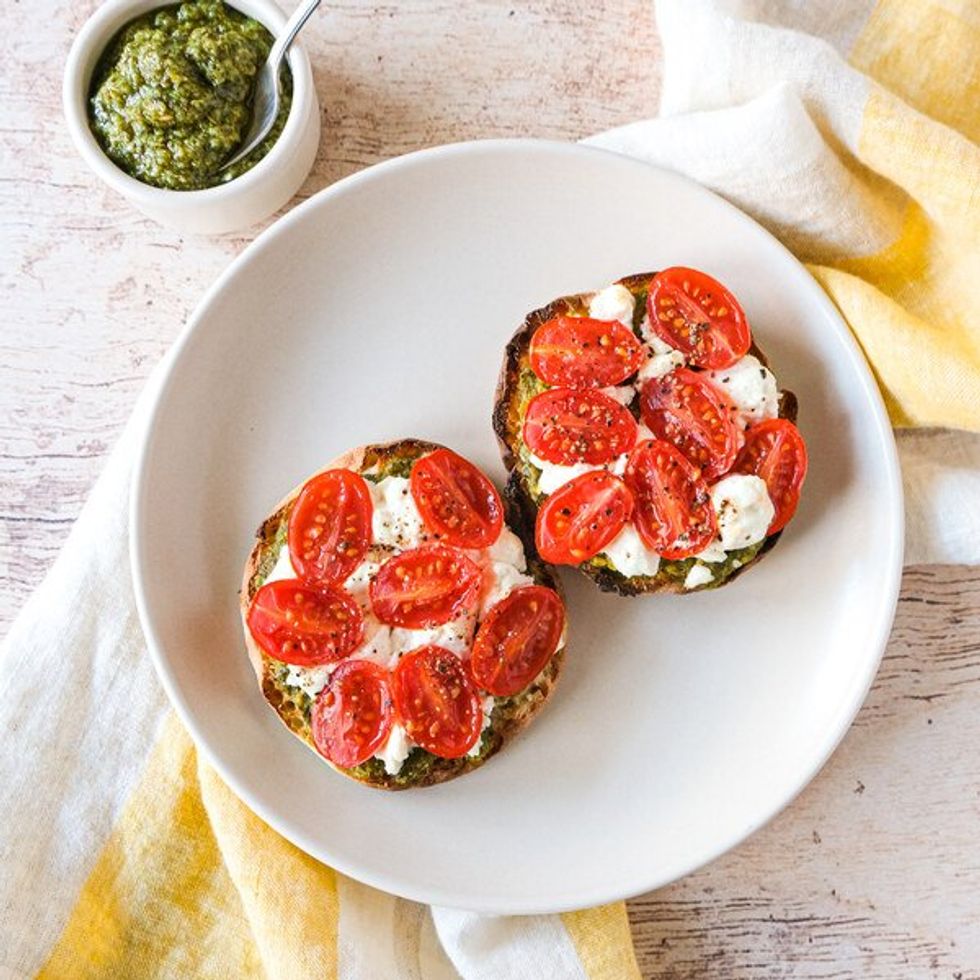 Move over, avocado toast. English muffin pizzas have arrived.Albertsons
English Muffin Pizzas with Basil Pesto, Goat Cheese & Tomatoes
327 calories | 10 minutes
3 Tbsp (45 ml) basil pesto
2 English muffins
1/2 (4 oz) log goat cheese
1/2 pint grape tomatoes
3/4 pinch black pepper
2 pinches salt
Find full instructions and shopping list here.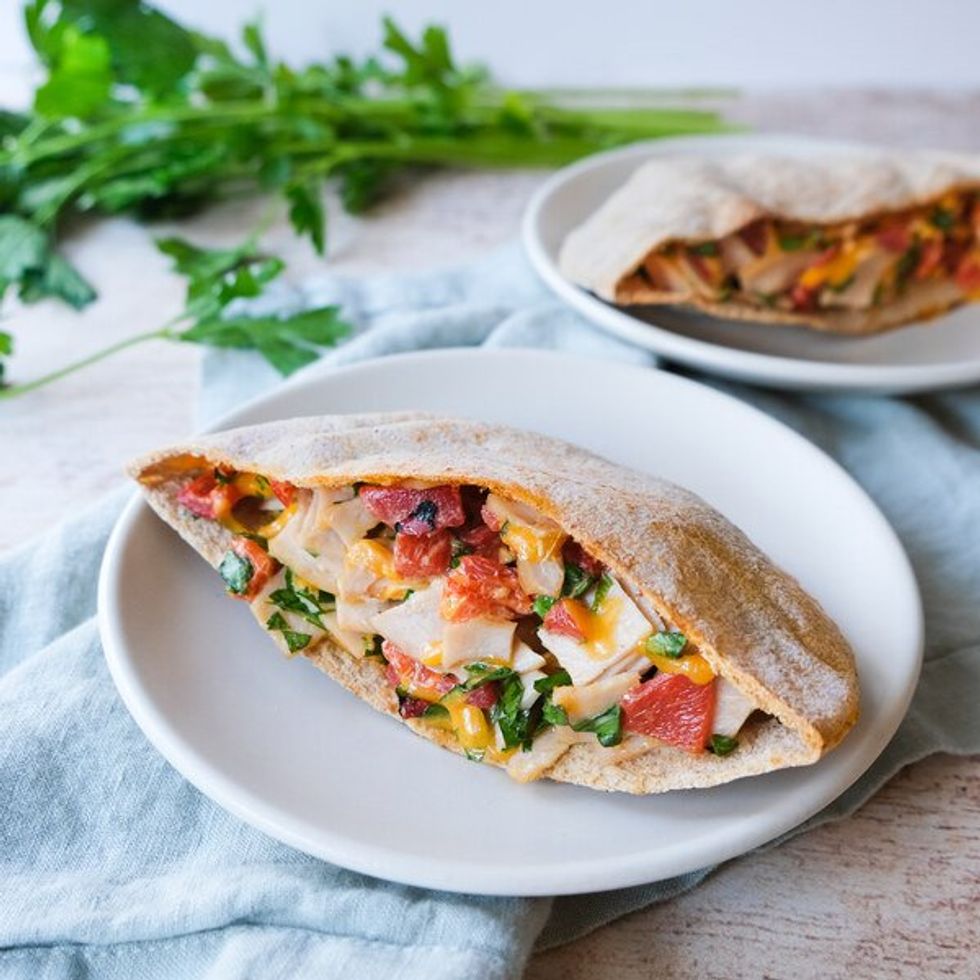 This pita pocket packs a colorful punch.Albertsons
Warm Pita Pocket with Turkey, Cheddar, Roasted Red Peppers & Parsley
313 calories | 20 minutes
1/4 (8 oz) block cheddar cheese
1/2 bunch Italian (flat-leaf) parsley
4 oz oven roasted turkey breast, sliced
1/2 (12 oz) jar roasted red bell peppers
1 whole grain pita
3/4 pinch black pepper
1/2 tsp Dijon mustard
2 tsp mayonnaise
Find full instructions and shopping list here.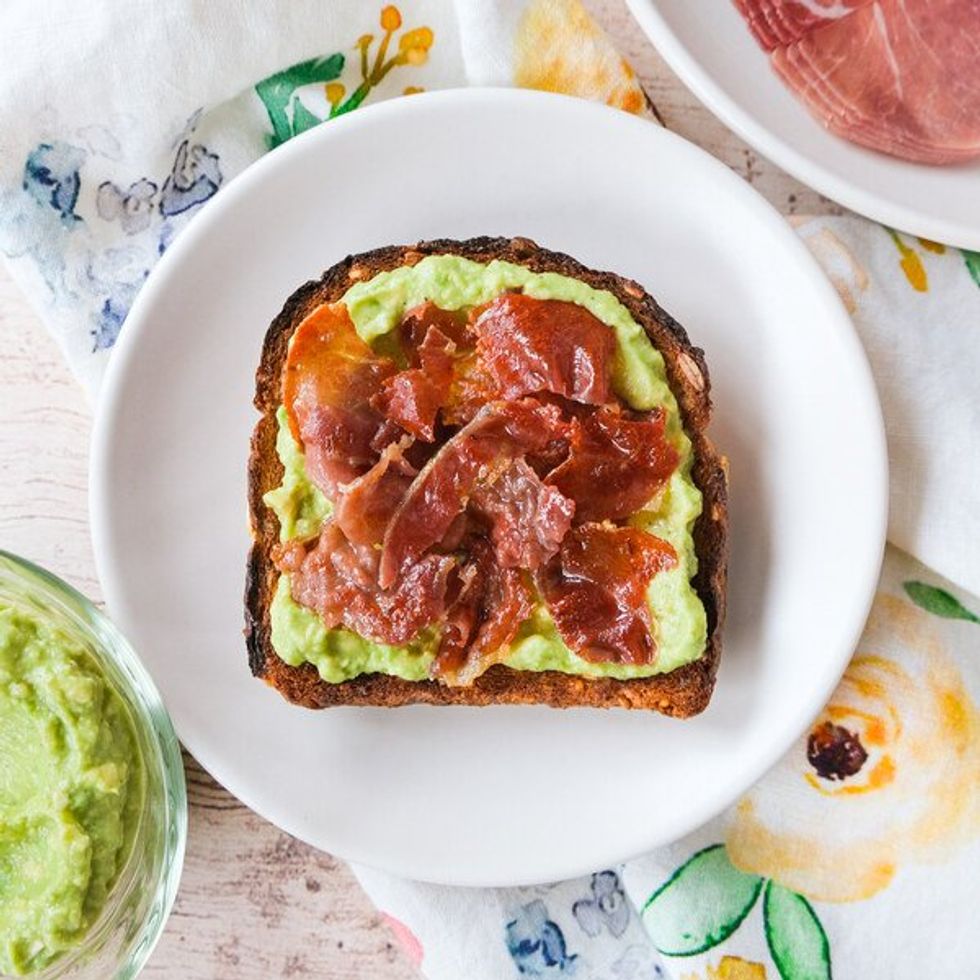 Did we say, "Move over, avocado toast?" What we meant was "Throw some prosciutto on it!" Albertsons
Avocado Toast with Crispy Prosciutto
283 calories | 10 minutes
1 avocado
2 slices prosciutto
2 slices whole grain bread
1 5/8 tsp black pepper
1/2 tsp extra virgin olive oil
1/8 tsp garlic powder
1/8 tsp onion powder
Find full instructions and shopping list here.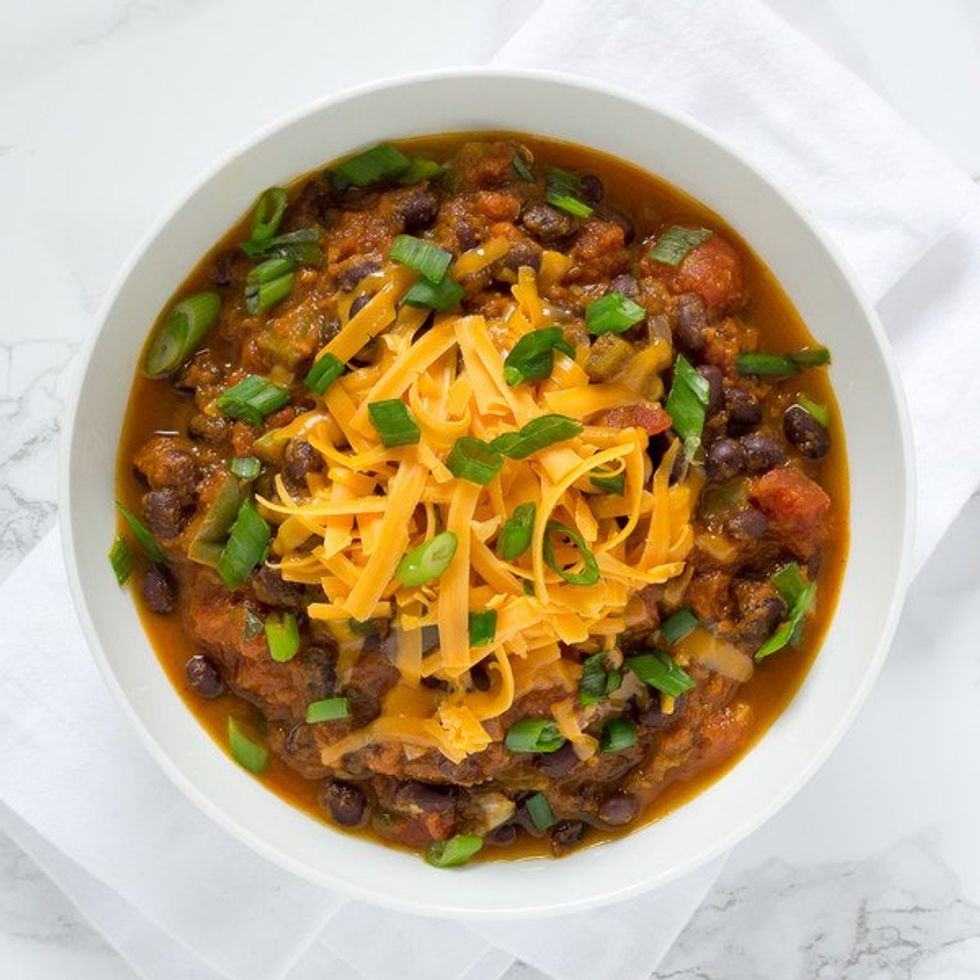 Vegetarian chili with a fall twistAlbertsons
Black Bean & Pumpkin Chili with Cheddar
444 calories | 30 minutes
2 (15 oz can) black beans
1/2 (8 oz ) block cheddar cheese
2 (14.5 oz) cans diced tomatoes
2 cloves garlic
2 green bell peppers
1 small bunch green onions (scallions)
1 (15 oz) can pure pumpkin purée
1 medium yellow onion
1/2 tsp black pepper
5 7/8 tsp chili powder
1/2 tsp cinnamon
2 tsp cumin, ground
1 tsp salt
1 Tbsp virgin coconut oil
Find full instructions and shopping list here.
For more delicious and nutritious recipes, visit albertsons.com/recipes.
Health
This is what leadership should look like. 💯
Image shared by Madalyn Parker
Madalyn Parker wanted to take a couple days off work. She didn't have the flu, nor did she have plans to be on a beach somewhere, sipping mojitos under a palm tree.
Parker, a web developer from Michigan, wanted a few days away from work to focus on her mental health.
Parker lives with depression. And, she says, staying on top of her mental health is absolutely crucial.
"The bottom line is that mental health is health," she says over email. "My depression stops me from being productive at my job the same way a broken hand would slow me down since I wouldn't be able to type very well."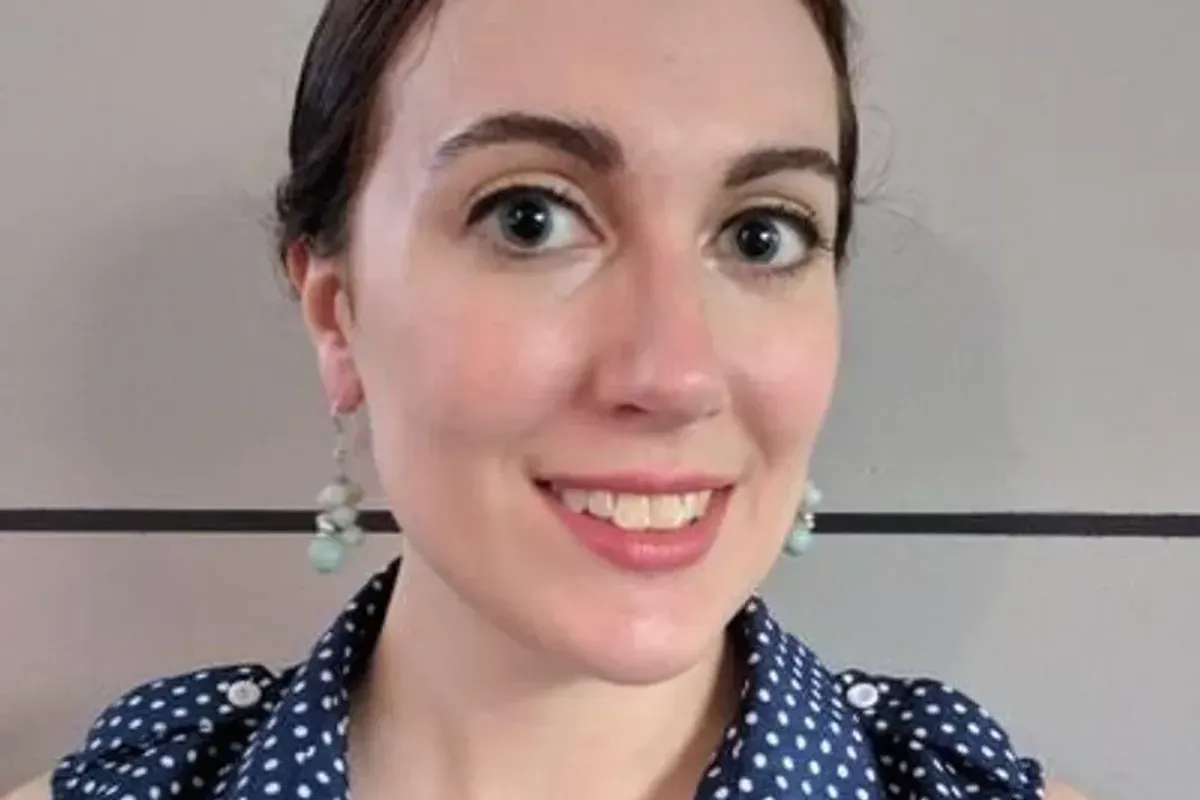 Madalyn Parker was honest with her colleagues about her situation.
Photo courtesy Madalyn Parker.
She sent an email to her colleagues, telling them the honest reason why she was taking the time off.
"Hopefully," she wrote to them, "I'll be back next week refreshed and back to 100%."
Soon after the message was sent, the CEO of Parker's company wrote back:
"Hey Madalyn,

I just wanted to personally thank you for sending emails like this. Every time you do, I use it as a reminder of the importance of using sick days for mental health — I can't believe this is not standard practice at all organizations. You are an example to us all, and help cut through the stigma so we can all bring our whole selves to work."
\u201cWhen the CEO responds to your out of the office email about taking sick leave for mental health and reaffirms your decision. \ud83d\udcaf\u201d

— madalyn (@madalyn) 1498854569
Moved by her CEO's response, Parker posted the email exchange to Twitter.
The tweet, published on June 30, 2017, has since gone viral, amassing 45,000 likes and 16,000 retweets.
"It's nice to see some warm, fuzzy feelings pass around the internet for once," Parker says of the response to her tweet. "I've been absolutely blown away by the magnitude though. I didn't expect so much attention!"
Even more impressive than the tweet's reach, however, were the heartfelt responses it got.
"Thanks for giving me hope that I can find a job as I am," wrote one person, who opened up about living with panic attacks. "That is bloody incredible," chimed in another. "What a fantastic CEO you have."
Some users, however, questioned why there needs to be a difference between vacation time and sick days; after all, one asked, aren't vacations intended to improve our mental well-being?
That ignores an important distinction, Parker said — both in how we perceive sick days and vacation days and in how that time away from work is actually being spent.
"I took an entire month off to do partial hospitalization last summer and that was sick leave," she wrote back. "I still felt like I could use vacation time because I didn't use it and it's a separate concept."
Many users were astounded that a CEO would be that understanding of an employee's mental health needs.
They were even more surprised that the CEO thanked her for sharing her personal experience with caring for her mental health.
After all, there's still a great amount of stigma associated with mental illness in the workplace, which keeps many of us from speaking up to our colleagues when we need help or need a break to focus on ourselves. We fear being seen as "weak" or less committed to our work. We might even fear losing our job.
Ben Congleton, the CEO of Parker's company, Olark, even joined the conversation himself.

In a blog post on Medium, Congleton wrote about the need for more business leaders to prioritize paid sick leave, fight to curb the stigma surrounding mental illness in the workplace, and see their employees as people first.
"It's 2017. We are in a knowledge economy. Our jobs require us to execute at peak mental performance," Congleton wrote. "When an athlete is injured, they sit on the bench and recover. Let's get rid of the idea that somehow the brain is different."
This article originally appeared on 07.11.17
Family
Some of what we used to think about gifted kids turned out to be wrong.
What can we learn from letting seventh graders take the SAT?
In the 1960s, psychologist Julian Stanley realized that if you took the best-testing seventh graders from around the country and gave them standard college entry exams, those kids would score, on average, about as well as the typical college-bound high school senior.
However, the seventh graders who scored as well or better than high schoolers, Stanley found, had off-the-charts aptitude in quantitative, logical, and spatial reasoning.
In other words, they were gifted.
In the 1970s, Stanley and his team launched a full-scale study, identifying many of America's gifted kids and tracking them throughout their lives.
The study, called the Study of Mathematically Precocious Youth never ended and is now nearly 45 years in the making. It has followed countless kids from middle school into their careers as some of America's top politicians, scientists, CEOs, engineers, and military leaders.
Stanley passed away in the mid-2000s, but psychologist David Lubinski helped bring the study to Vanderbilt University in the 1990s, where he now co-directs it with Camilla P. Benhow.
It's not a stretch to call this the biggest and most in-depth study on intellectual "precociousness." The results of the study thus far are equal parts fascinating and genuinely surprising — a deeply insightful look into the minds and lives of brilliant children.
1. Some of what we used to think about gifted kids turned out to be wrong.
Ever heard the saying "early to ripe, early to rot"? It basically means doing "too much" to foster a kid's special talents and abilities at too young an age could actually cause harm in the long term.
That's not even remotely true, at least not according to Lubinski.
That might be an outdated example. But Lubinksi says there are plenty of other misconceptions still alive today, like the idea that gifted kids are so smart that they'll "find a way" to excel even if those smarts aren't nurtured and developed.
Not so fast. "They're kids," he explains. "They need guidance. We all need guidance."
2. Intelligence is not the same as passion.
Quick, what's the "smartest" career you can think of. Doctor? Scientist?
While you do have to be pretty brilliant to work in medicine or science, those are far from the only career paths gifted kids choose later in life.
"Quantitatively, gifted people vary widely in their passions," Lubinski says. Many of the students in the study did end up pursuing medicine, but others went into fields like economics or engineering. Others still were more gifted in areas like logical or verbal reasoning, making them excellent lawyers and writers.
"There are all kinds of ways to express intellectual talent," Lubinski explains.
When it comes to doing what's best for a gifted student, it's just as important for parents and educators to know what the student is passionate about rather than pigeonholing them in traditionally "smart" fields and registering them in a bunch of STEM courses.
3. Hard work definitely still matters.
Measuring a student's aptitude, their natural abilities, is only one part of the equation when it comes to determining how successful they'll be in life. Aptitude scores can identify a particularly strong natural skill set but tell us very little about how hard that person might work to excel in that field.
Effort, Lubinski says, is a critical factor in determining how far someone's going to go in life. "If you look at exceptional performers in politics, science, music, and literature, they're working many, many hours," he says.
(And for the record, there are a lot more important things in life than just career achievement, like family, friends, and overall happiness.)
4. Regardless of aptitude, every kid deserves to be treated as though they were gifted.
The study's focus is specifically on kids within a certain range of intellectual ability, but Lubinski is careful to note that many of its findings can and should be applied to all students.
For example, the kids in the study who were given an opportunity to take more challenging courses that aligned with their skills and interests ultimately went on to accomplish more than the students who were not afforded the same opportunity.
"You have to find out where your child's development is, how fast they learn, what are their strengths and relative weaknesses and tailor the curriculum accordingly," Lubinski says. "It's what you would want for all kids."
It may sound a bit like a pipe dream, but it's a great starting point for how we should be thinking about the future of education in America.
If you'd like to learn more about the Study of Mathematically Precocious Youth, check out this short film on the project created by Vanderbilt University:
Quick Learners; High Achievers: Study of Mathematically Precocious Youth
This article originally appeared on 09.22.17
Education
In many ways, the future turned out much brighter than these youngsters expected it to.
Get stories worth sharing delivered to your inbox
Democracy
Major General Paul Eaton was the commander in charge of training Iraqi troops during Operation Iraqi Freedom. He knows his weapons.
A common criticism gun rights activists levy toward gun legislation advocates is that many people who push for stricter gun laws don't know a lot about guns themselves. That's not wholly accurate—there are plenty of gun enthusiasts who support reasonable gun laws—but it's true that many people who are horrified by our nation's gun culture are not well-versed on the specifications of our nation's 393 million guns.

Not every American is an active part of American "gun culture." Some of us have never shot a firearm, for fun or otherwise. Some of us really are ignorant about guns themselves.
That can't be said for anyone in the military, however. And it definitely can't be said for a former Major General of the U.S. Army.
That's why an explanation of the difference between an AR-15 and military-style firearms from retired Major General Paul Eaton has gone viral. Major General Eaton was the commander in charge of training Iraqi soldiers during Operation Iraqi Freedom, so he definitely knows what he's talking about when it comes to weaponry.
He wrote:
"As the former Commanding General of the Infantry Center at Fort Benning and Chief of Infantry, I know a bit about weapons. Let me state unequivocally — For all intents and purposes, the AR-15 and rifles like it are weapons of war. A thread:
\u201cThose opposed to assault weapon bans continue to play games with AR-15 semantics, pretending there\u2019s some meaningful differences between it and the M4 carbine that the military carries. There really aren\u2019t. 2/\u201d

— Major General (ret) Paul Eaton (@Major General (ret) Paul Eaton) 1654209731
Those opposed to assault weapon bans continue to play games with AR-15 semantics, pretending there's some meaningful differences between it and the M4 carbine that the military carries. There really aren't.
The military began a transition from the M16 to the M4, an improved M16, some years ago. The AR-15 is essentially the civilian version of the M16. The M4 is really close to the M16, and the AR-15.
So what's the difference between the military's M4 and the original AR-15? Barrel length and the ability to shoot three round bursts. M4s can shoot in three round bursts. AR-15s can only shoot a single shot.
But even now, you can buy AR-15s in variable barrel lengths with Weaver or Picatinny rails for better sights and aiming assists like lasers. Like the military, but w/o the bayonet.
But our troops usually use single shot, not burst fire. You're able to fire a much more accurate (deadly) shot, that way. Note: you can buy our Advanced Combat Optical Gunsight on Amazon. So troops usually select the same fire option available on AR-15.
That is why the AR-15 is ACCURATELY CALLED a 'weapon of war.' It is a very deadly weapon with the same basic functionality that our troops use to kill the enemy. Don't take the bait when anti-gun-safety folks argue about it. They know it's true. Now you do too."
Eaton is not the only former military leader who has spoken out in support of gun legislation. In 2019, a group of 13 influential retired military leaders wrote a letter to Congress, pushing it to pass the Bipartisan Background Check Act.
"Each of us has, at some point in our lives, made the choice to risk our lives for our fellow citizens and place ourselves in harm's way," they wrote. "We were trained, we were coached, and we were prepared for the dangers that we chose to face. This is not the case for most Americans, yet they continue to face danger on the sidewalk, in their homes, at school, and at work. It is in the same spirit that led us to serve in the armed forces that we ask you, our elected leaders, to help protect the American people from gun violence here at home. We urge you to support this legislation."
Police leaders have also voiced strong support for gun legislation, which makes sense considering how much harder and more dangerous our free-for-all gun culture makes their jobs. The International Association of Chiefs of Police, the largest professional association of police leaders in the world, has a position paper that outlines the gun safety laws it supports, including firearm offender registration, waiting periods, closing the gun show loophole, banning semiautomatic assault weapons, armor-piercing ammunition, bulletproof body armor and more. The IACP states that these are "common sense policies that would assist in reducing gun violence, while upholding the second amendment."
Yep, the largest police leader association supports banning semiautomatic assault weapons like the AR-15. Here's what it has to say about that:
"First passed in 1994, the assault weapons ban required domestic gun manufacturers to stop production of semi-automatic assault weapons and ammunition magazines holding more than ten rounds except for military or police use. While the ban was in place, it was remarkably effective in reducing the number of crimes involving assault weapons. In the period of the ban, (1994-2004) the proportion of assault weapons traced to crimes fell by a dramatic 66 percent."
If those who oppose gun legislation don't want to listen to people who don't know enough about guns to speak authoritatively on them, that's fine. Perhaps they should listen to these military and police leaders who not only know guns inside and out, but who also have the firsthand experience on both sides of the barrel to speak authoritatively on what can help minimize America's gun violence.
This article originally appeared on 06.04.22
Pop Culture
She captivated millions with nothing but her guitar and an iconic voice.
Get stories worth sharing delivered to your inbox