Heroes
Boy reveals how Joe Biden helped him overcome his stutter in inspiring 90 second speech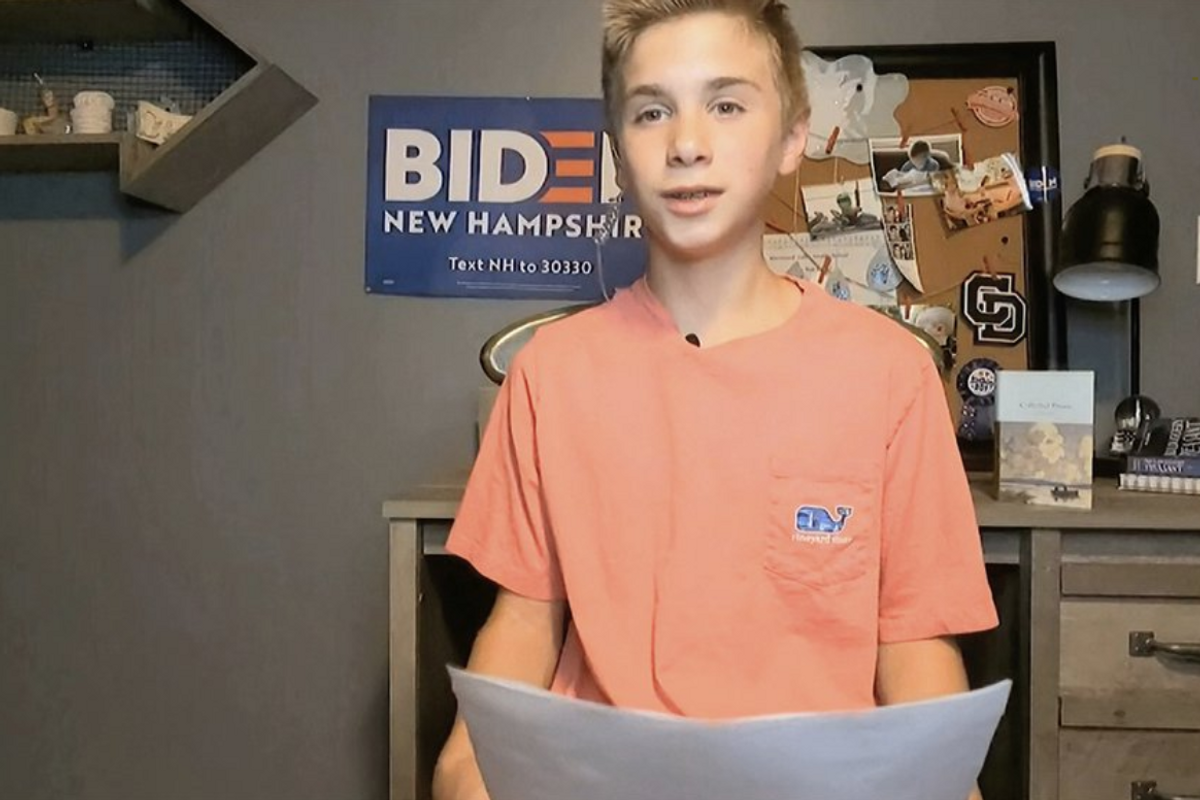 Throughout the 2020 election season, you've probably heard just about every insult and insinuation thrown Joe Biden's way when it comes to the former vice president's speaking style. Everything from implications that he's "lost a step" to open and unfounded claims that he is suffering from dementia. The truth is, Joe Biden has always struggled with public speaking and for very good reason: He was born was a severe stutter that he spent years working on.
Putting politics aside, it's an amazing trajectory that someone who struggled to form basic words and sentences as a child is now giving a 20-minute acceptance speech as the presidential nominee for a major political party. And all while, countless armchair quarterbacks analyze every imperfect syllable or offbeat cadence as evidence of "decline."
But then there are others who have experienced firsthand what Biden went through as a child and likely still navigates on a daily basis. This was perfectly illustrated during Thursday night's Democratic National Convention when 13-year-old Brayden Harrington explained in an incredibly moving video how a personal meeting with Biden helped him to overcome his own struggles with his stutter.
Honestly, if you haven't seen this, it was easily the most powerful moment during the convention and it had nothing to do with the coronavirus, taxes, immigration or anything remotely political. It was the measurement of a man and his profound impact on a young stranger.
---
"We stutter," Harrington says simply near the top of the 1 minute and 40-second video, creating an instant and powerful bit of connective tissue between himself and Biden. "It's really amazing to hear that someone became vice president," Harrington says.
The video itself is instructional for anyone unfamiliar with just how tricky a stutter can be, obviously for the person speaking, but also for their audience. As Harrington works through his short speech, he is incredibly articulate and measured, then suddenly hanging on a seemingly simple "s" for moments that can feel like an eternity.
It's not simply the act of physically articulating but simultaneously grappling with the anxiety and stress of knowing you are being watched, analyzed and judged. And yet, Harrington powers through it with a clear sense of bravery most of us could only imagine demonstrating.
Boy says Biden helped him with stutterwww.youtube.com
Harrington goes on to explain how Biden gave him a personal tip for how he learned to work through his stutter. "He told me about a book of poems by Yeats that he would read out loud to practice," Harrington said, recounting how they met during a CNN town hall back in February while Biden was still competing in the Democratic primary.
During their one-on-one meeting, Biden went into further detail about his strategies for coping with his stutter, even showing him the speech he gave at the CNN town hall, which included special markings throughout the speech where Biden anticipated needing to pause or stop in order to mitigate likely challenging passages. "It has nothing to do with your intelligence quotient. It has nothing to do with your intellectual makeup," Biden told him.
"I'm just trying to be a kid," Brayden says near the end of the video. "And in a short amount of time, Joe Biden made me feel more confident about something that's bothered me my whole life. Joe Biden cared. Imagine what he could do for all of us."
Needless to say, it's impossible to not instantly compare the anecdote to President Trump, who infamously mocked a disabled man while campaigning for president in 2016. Does anyone honestly expect to see a video like this during the Republican convention next week?
Is there anyone in this world with a story of how Trump personally helped them that doesn't involved a business deal or a beauty pageant? It's a stark contrast that tells us everything about today's political debate, even if the video itself was on the surface about everything but politics.
But more than that, it's a simple story about bravery and how one person used their position of immense power and privilege to connect with a child in a way that has clearly changed this young man's life in a very meaningful, and positive, way. When we talk about "public service" there might not be a better example than this during the entire 2020 election.