Inclusivity
Beverly Hills police frisked Versace executive Salehe Bembury for holding one of his company's own bags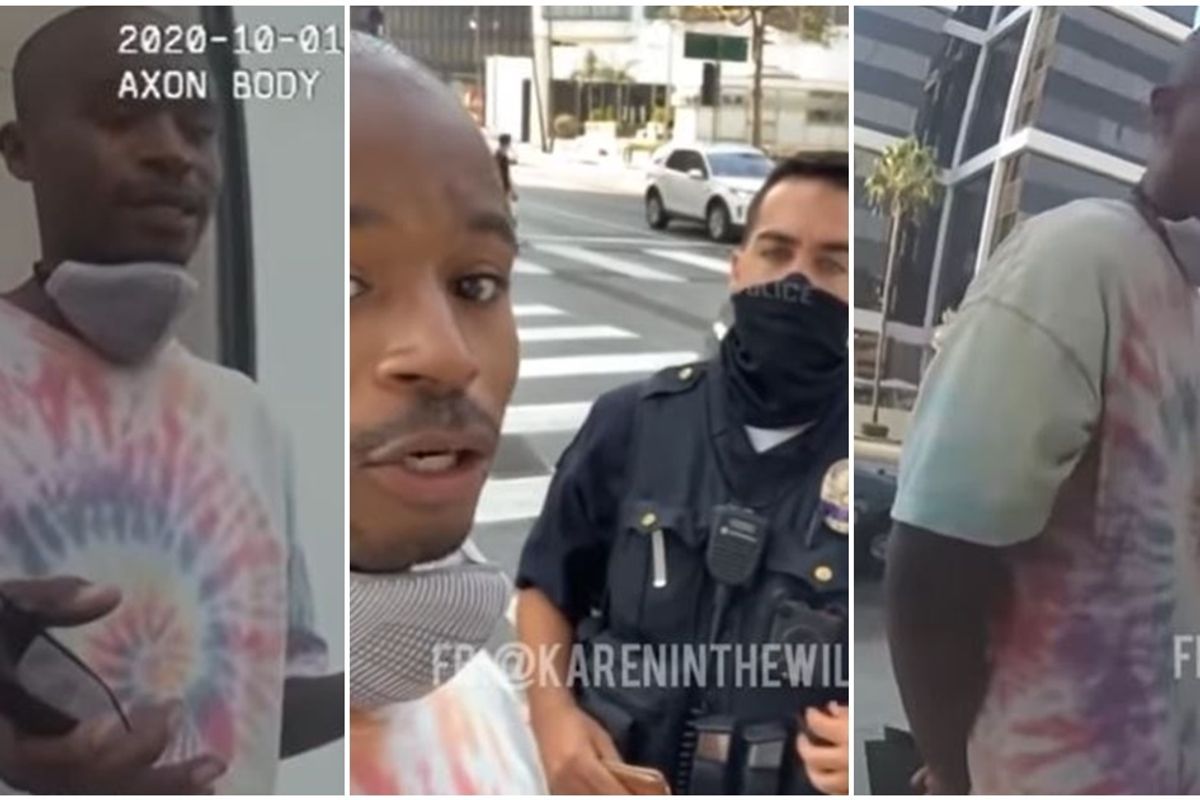 via Beverly Hills PD and Salehe Bembury / Instagram
Salehe Bembury was understandably outraged after being stopped and frisked by a Beverly Hills police officer on Thursday. He was apprehended by officers for jaywalking after shopping at the Versace store.

"I was in Beverly Hills. I went to go visit my buddy Amiri's store. And I was like, you know what, I'm never in Beverly Hills, let me stop by the Versace store. I grab a few things, and I'm walking back to my car," he said in a video he recorded after the incident.
"All of a sudden, this cop car pulls up on me on the corner, like with the quickness," he said.
Now, jaywalking is illegal in Beverly Hills, so the police weren't wrong to stop him. But the way they treat him during the interaction is why Bembury, and many others, believe he was the victim of racial profiling.
---
The incident was recorded on the police officer's bodycam and later released to the public.
The story is even more infuriating because Bembury is the Vice President of Sneakers and Men's Footwear at Versace.
In 2015, Kanye West came across Bembury's designs and hired him at Yeezy to handle Men's Footwear. In 2017, he was hired by Donatella Versace as the Head Designer of Sneakers for Versace and Versus.

"What did I do? I'm like a little startled right now," Bembury said at the beginning of the encounter. "Oh, I jaywalked I guess," he responded. Bembury told the police that he was staring at the GPS on his phone when he crossed a solid red-hand sign.
The officer then asked if he could search Bembury for any weapons and for his identification. Bembury agreed to the search and handed his over his wallet.
"What's unfortunate is I literally designed the shoes that are in this bag, and I'm getting fucking searched for it," Bembury was heard saying.
"I'm just walking down the street, this is a little ridiculous," Bembury said. "You hear it in my voice, I'm uncomfortable and nervous?"
VERSACE FOOTWEAR VP ACCUSES BEV HILLS COPS OF PROFILING For Shopping While Blackwww.youtube.com
The police officers frisked Bembury to see if he had any weapons, but they had little reason to be suspicious. According to LegalZoom, you can only be frisked under certain circumstances, which include:

Potential for an officer or bystanders to be injured
Officer is alone, without backup
Officers are outnumbered by a group that has been stopped
People in the group appear agitated or are behaving strangely
You provide evasive answers to questions
Suspicion that you are armed
Suspicion that you may be about to commit a crime using a weapon
Time of day or geographic area in conjunction with other factors
Considering LegalZoom's criteria, there doesn't appear to be any good reason for Bembury to be searched. So, he assumed it must be because he's a Black man walking through one of the richest neighborhoods on the planet.
Bembury asked for permission to film the police officers and they agreed. "So, I'm in fucking Beverly Hills and being searched for shopping at the store I work for and, uh, just being black," he says to the camera.
Then, then the officer says he's making things, "completely different."
The officers eventually let Bembury go and left him with a warning: "Next time, don't change the narrative like that."
But did he change the narrative? In a world where Black people are treated with greater suspicion by law enforcement, isn't it safe to assume that racial profiling could be why they're performing an unnecessary stop and frisk?

Would a white man in a tie-dyed shirt and a Versace bag suffer the same humiliation?
The Beverly Hills PD released bodycam footage of the incident, citing heavy traffic in the area for the officer's actions, adding that "Beverly Hills, unfortunately, has a lot of pedestrian accidents and traffic violations."
However, that doesn't explain why Bembury was frisked. Protecting someone from being the victim of a traffic accident has nothing to do with assuming they are holding a weapon.