Sustainability
Shared values of sustainability and adventure come together in a beautiful way
Images provided by Pacifico
True
At last, summer is here. And for many people, that means it's time for heading to the beach and maybe even catching some waves. Surfing is a quintessential summertime activity for those who live in coastal communities—it's not only really fun and challenging, it's also a great way to celebrate Mother Nature's beauty. Even after a wipeout, the cool water mixed with warm sunshine offers a certain kind of euphoria. Or, you know, just hanging back on the sand is plenty fun too. Simply being outdoors near the ocean is its own reward.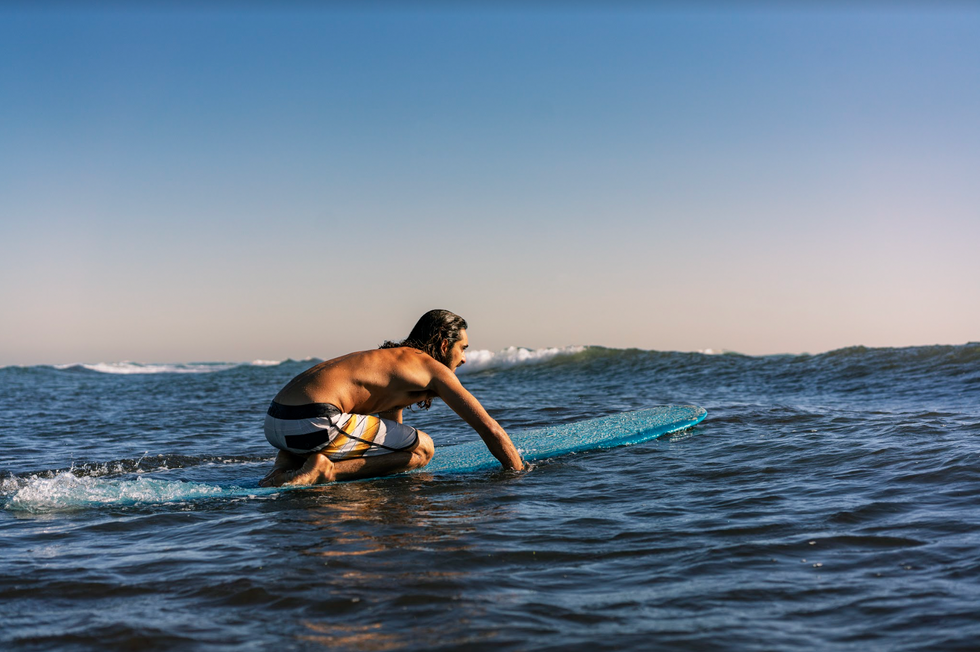 Let's protect the places where outdoor adventure happensAll photos provided by Pacifico
However, it's well known that our beautiful beaches are suffering the consequences of overcrowding, pollution and littering. What was once a way of playing in nature is now slowly destroying it. And of course, this affects beachgoers everywhere. The sad truth is—without taking action to preserve all the natural joys the earth provides, we will eventually lose them.
But there is hope. Two popular brands that both have roots in surf culture have teamed up to help make trips to the beach a more sustainable pastime. The best part? You don't have to know how to hang ten in order to participate.
Pacifico®, a pilsner-style lager originally brought to the U.S. by surfers, and Quiksilver, an iconic apparel company loved by both surfers and beach goers alike, have created a brand-new range of clothing and accessories with sustainability in mind.
Take a look below. These threads are great for all kinds of fun in the sun, without compromising the environment.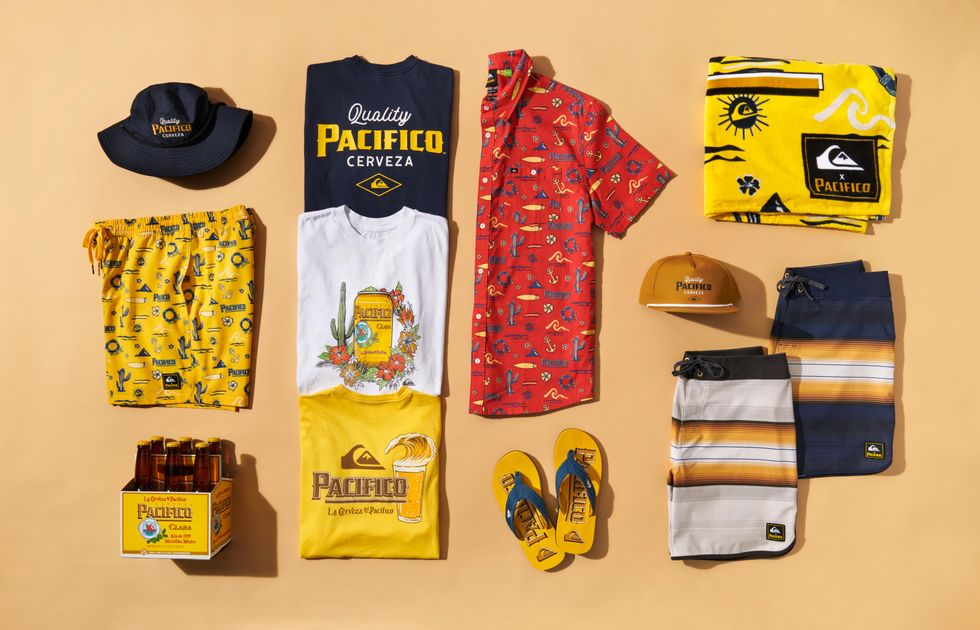 Ready to make some waves
The collection launches on July 5 and includes tees and woven shirts, boardshorts, hats, flip-flops and a special beach towel and tote bag. The unique collaboration features the vibrant, colorful designs that are the hallmark of Quiksilver combined with Pacifico elements, created to make a positive impact.
Each item has been thoughtfully curated to minimize an environmental footprint and protect the outdoors. The hats, for example, are made from NetPlus® by Bureo®, a raw material created from South American recycled fishing nets. Additionally, the board shorts are made from recycled plastic bottles, and tees are made with 100% organic cotton. Pretty rad stuff, to put it in surfer lingo.
The prices on these pieces are equally rad, ranging from $28 flip-flops to $60 boardshorts.
In keeping with the sustainable ethos and protecting the places we play, Pacifico and Quiksilver will celebrate the products' launch by hosting two beach cleanups. The first is on July 5 at Sunset Point in Malibu, California, from 4-5:30pm, and the second is on July 9th at Deerfield Beach in Florida from 8:30 – 10:30am.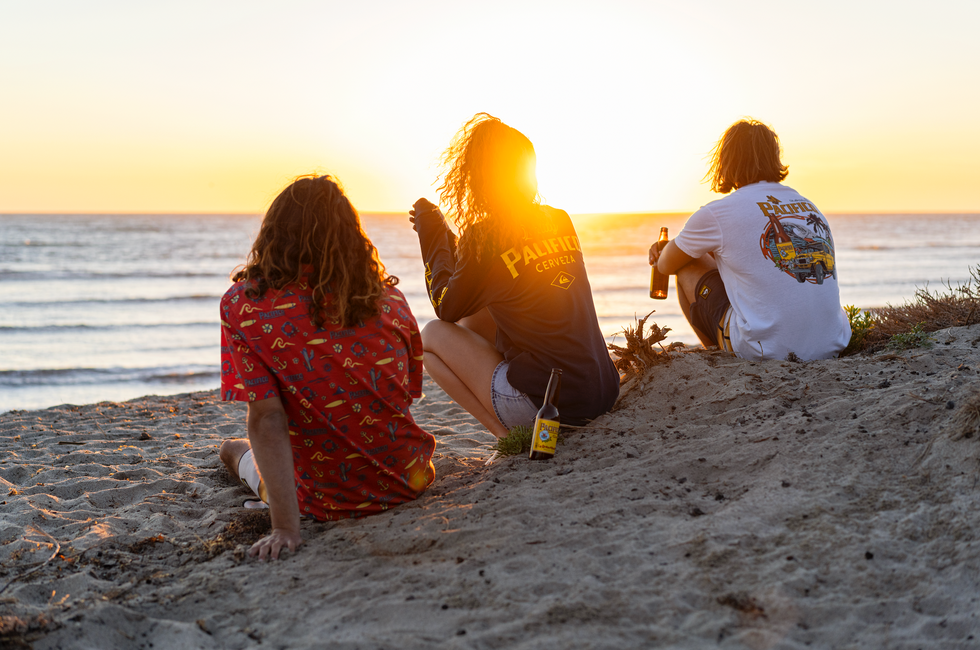 Cleaning up and looking good while doing it
Theses beach cleanups are open to anyone over the age of 21 who's ready to have some fun while taking care of nature's playground.
Those who can't make it to the beach (bummer, dude) don't have to miss out on all the fun. The new collection will be available on July 5th at www.quiksilver.com/mens-collab-pacifico. And even if you don't surf, never plan to surf, have no desire to even be near a surfboard, rest assured, the apparel is still cool. Plus sustainable choices are always good fashion.
Our planet provides us with an endless supply of beauty and adventure. But without more mindful actions from humanity, its natural wonders will eventually diminish. Fortunately Pacifico and Quiksilver are making it easier than ever for people to enjoy the great outdoors without jeopardizing it. That's a wave worth riding.
This article originally appeared on 09.06.17
Being married is like being half of a two-headed monster. It's impossible to avoid regular disagreements when you're bound to another person for the rest of your life. Even the perfect marriage (if there was such a thing) would have its daily frustrations. Funnily enough, most fights aren't caused by big decisions but the simple, day-to-day questions, such as "What do you want for dinner?"; "Are we free Friday night?"; and "What movie do you want to see?"
Here are some hilarious tweets that just about every married couple will understand.
Health
"I see the world that it could be rather than what it is."
Image courtesy of Meta's Community Voices film series
True
Nenad Bach, a Croatian American recording artist, and peace activist has led an impressive life propelled by his inspiring optimism. As a musician, he's performed alongside Bono and Luciano Pavarotti and took the stage at Woodstock '94. He's recorded with legendary artists such as Garth Hudson and Rick Danko from The Band and The Grateful Dead's Vince Welnick.
As an activist, he was highlighted by the United Nations for his World Peace in One Hour campaign.
But in 2010 his life came to a temporary halt after being diagnosed with Parkinson's, a nervous system disorder affecting movement. According to the Michael J. Fox Foundation, it's a progressive disease that slowly worsens over time.
Over a million people in the U.S. and 6 million worldwide are affected by the disease.
After being diagnosed with Parkinson's, Bach was invited by a friend to play ping pong. The next day he couldn't believe how much better he felt. His cognitive abilities improved, his tremors were less intense, it was easier for him to walk and talk and he felt a greater "desire to live," he told Upworthy.
Bach immediately made ping pong part of his wellness routine. When he can't get to a physical ping pong table. No problem. Quest by Meta allows Bach to play ping pong with players around the world through a virtual reality headset and touch controller.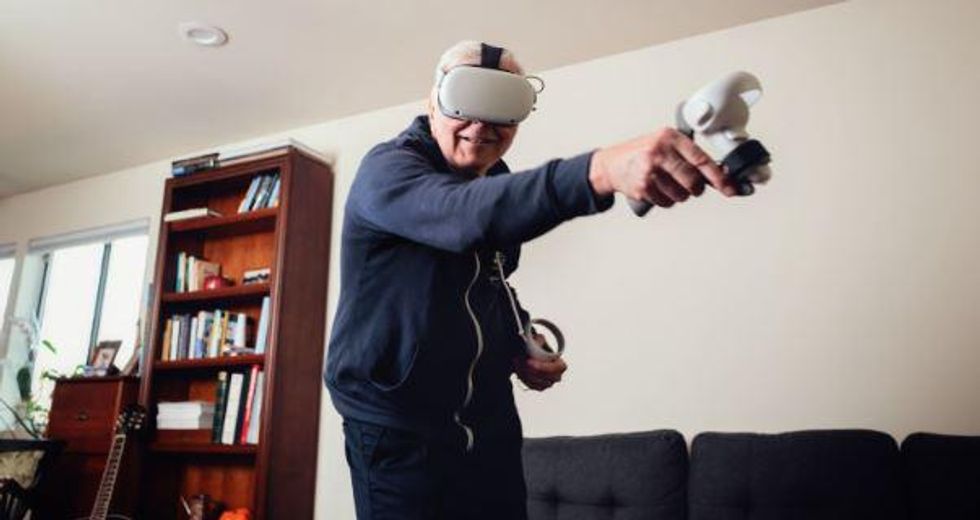 Image courtesy of Meta's Community Voices film series
"Playing ping pong to me means freedom. Free of past. Free of future. Once you observe the rotating, spinning ball in there, you don't think about anything else," he said in the short film, "Nenad, Who Plays Ping Pong."
Even Bach's doctors noted the reversal in his Parkinson's symptoms. "They told me to 'continue doing what you are doing because it is obvious that you are improving,'" he told Upworthy.
Bach was excited to spread the word about his amazing transformation but he had a hard time convincing people. But, ever the eternal optimist, he kept pushing forward and on March 1, 2017, he held his first Ping Pong Parkinson's sessions and "never looked back."
This led him to create Ping Pong Parkinson (PPP) a non-profit organization based at the Westchester Table Tennis Center in Pleasantville, New York.
The organization believes that playing ping pong increases neuroplasticity in the brain which fosters the creation of neurons and connections through physical exercise. Around 25 to 30 "Pongers," as they call themselves, show up at the table tennis center in Pleasantville each session and Bach believes there are over 1,000 Pongers across the world.
Over the past seven years, Bach has seen people transform through ping pong. Their "facial expression changes from when they arrive 'til they leave," he told Upworthy. "Plus some people start walking again," he says.
Bach plays ping pong two to three times a week, either at the center or on Quest.
Quest is a great way for Bach to keep his ping pong skills sharp without having to leave the house which was invaluable during the height of the COVID-19 pandemic. He also finds that playing with people from other countries helps him learn new techniques and strategies. "I learned a lot from others. Like my friend Lamine from Africa. He taught me how to play with different hands on a regular basis and challenge my brain," Bach told Upworthy.

Bach doesn't tell other Quest players that he has Parkinson's unless they ask about the PPP at the end of his username. The virtual reality technology has caught on with his fellow Pongers, who've already had a PPP World Championship played virtually over the system.
The musician is now back to playing guitar again, thanks in part to his love of ping pong. Recently, he recorded a song about his unique obsession.
Nenad Bach I Love Ping Pong Official Music VIdeowww.youtube.com
PPP's goal is to help people with Parkinson's improve their health and find greater joy in life. But Bach also hopes the organization will also promote the inclusion of people with neurodegenerative disorders in the Paralympic Games.
Every facet of Bach's life has been defined by optimism. As a musician, Bach has written uplifting songs with a wry sense of humor. As a peace activist, he has been recognized by one of the most influential institutions in the world. As a humanitarian athlete, he has worked to help himself and others slow the process of a debilitating neurological disease.
"I see the world that it could be rather than what it is," he told Upworthy.
To keep up with Bach and his fellow Pongers, follow the Ping Pong Parkinson page on Facebook.
Joy
The nicest guy in Hollywood strikes again.
Get stories worth sharing delivered to your inbox
Get stories worth sharing delivered to your inbox