Family
"I told him that we have the opportunity to make things right."
Pop Culture
Most people don't know he studied dance as a child.
via YouTube
These days, we could all use something to smile about, and few things do a better job at it than watching actor Christopher Walken dance.

A few years back, some genius at HuffPo Entertainment put together a clip featuring Walken dancing in 50 of his films, and it was taken down. But it re-emerged in 2014 and the world has been a better place for it.
Walken became famous as a serious actor after his breakout roles in "Annie Hall" (1977) and "The Deer Hunter" (1978) so people were pretty shocked in 1981 when he tap-danced in Steve Martin's "Pennies from Heaven."
But Walken actually started his career in entertainment as a dancer. He took his first dance lessons at the age of three. "It was very typical for people—and I mean working-class people—to send their kids to dancing school," he told Interview Magazine. "You'd learn ballet, tap, acrobatics, usually you'd even learn to sing a song," he later explained to Interview magazine.
As a child, he also studied tap dance and toured in musicals. He even danced with a young Liza Minelli. "I'd been around dancers my whole life, having watched my parents make musicals at MGM, and Chris reminded me of so many of the dancers I knew growing up," Minelli said according to Entertainment Weekly. "He's talented in every way."
Craig Zadan, Executive Producer of "Peter Pan Live!," agrees with Minelli. "I think that if he had been around in the heyday of MGM, he would have been a big star of musicals on film," he told Entertainment Weekly.

His dance moves were put center stage in 2001 in Spike Jonze's video for Fatboy Slim's song "Weapon of Choice." Walken says he did it because one day he'll be too old to cut a rug. "You think, 'Well, do it now!' You know, you get too decrepit to dance," he told Entertainment Weekly.
This article originally appeared on 02.15.22
Get stories worth sharing delivered to your inbox
Rick Astley has to be the luckiest '80s musician on the planet. The whole "Rickrolling" phenomenon has given his hit song "Never Gonna Give You Up" a reach far beyond its natural life span, and kept the guy a household name far longer than he probably would have been.

(For those who are unfamiliar, Rickrolling is when you make someone think they're being sent to a website, but the link goes to Rick Astley's "Never Gonna Give You Up" video instead as a joke. It's a silly viral bait-and-switch gag that's been going since 2006.)
But what people may not realize, because his most famous song has become an internet joke, is that Rick Astley is actually a really freaking great musician. The man can saaaang and it seems he's only gotten better with age.
If you were to choose the most unlikely combo of musical mashups, it might just be Rick Astley and Foo Fighters. Right? Like who would put them together?
Oddly enough, they put themselves together in 2017, when Foo Fighters brought Astley on stage during a concert to sing "Never Gonna Give You Up." Foo Fighters frontman Dave Grohl even created his own Rickroll-inspired meme, the Dave G'Roll, with the band's song "Best of You." So there's a history there.
But nothing has been more surprising than hearing Rick Astley do an acoustic cover of Foo Fighters' "Everlong." It's so good. Like, so good.
Not to knock Rick Astley of the 1980s, but that strangely deep voice on a young man was sort of his signature thing. Ergo, you'd think it would be easy to recognize Astley's voice no matter what he was singing. But you'd be wrong. If you close your eyes and listen to this, you'd likely never guess it was Rick Astley.
Maybe it's because the song itself isn't something you expect from the "Never Gonna Give You Up" guy. Maybe it's because you had no idea that Rick Astley was still making music. Who knows. All I know is that my jaw dropped watching him knock out an awesome version of a grungey rock song with just his voice and acoustic guitar.
Seriously, that was amazing, right? Even hardcore Foo Fighters fans gave Astley props in the comments:
"As a huge Foo Fighters fan, all I can say is this cover didn't let me down."
"Tbh I could listen to a whole album of Rick Astley doing grunge covers."
"Are you kidding me?????? That voice from the 80's... And one of the greatest numbers of all times.... Didn't think you could pull that of.... But you did..... Respect to you Rick."
And, of course, some had to make jokes:
"I love this cover. It feels like the singer is never going to give you up or never gonna let you down. He doesn't run around and desert you. He will never make you cry and never say goodbye. He doesn't tell a lie and hurt you. I think that is special."
"This guy should stop making memes and stick to music! He's got talent!"
"I'm glad he's never given up. This did not let me down."
But this comment perhaps best summed up what most of us walked away thinking:
"God now I feel bad that we've ridden on Rick Rolling for so long that we missed the part where Rick Astley is actually a badass musician..."
This article first appeared on 4.4.22.
Education
This viral tool could be a game-changer for some.
Reading is a fundamental tool of learning for most people, which is why it's one of the first things kids learn in school and why nations set literacy goals.

But even those of us who are able to read fluently might sometimes struggle with the act of reading itself. Perhaps we don't read as quickly as we wish we could or maybe our minds wander as our eyes move across the words. Sometimes we get to the end of a paragraph and realize we didn't retain anything we just read.
People with focus or attention issues can struggle with reading, despite having no actual reading disabilities. It can be extremely frustrating to want to read something and have no issues with understanding the material, yet be unable to keep your mind engaged with the text long enough to get "into" what you're reading.
But what if there were a font that could help you stay focused? That could help you not only read faster but better retain what you've just read?
That's what the creators of Bionic Reading claim is possible with their font tool."Bionic Reading revises texts so that the most concise parts of words are highlighted," the Swiss company's website reads. "This guides the eye over the text and the brain remembers previously learned words more quickly."
Give it a try: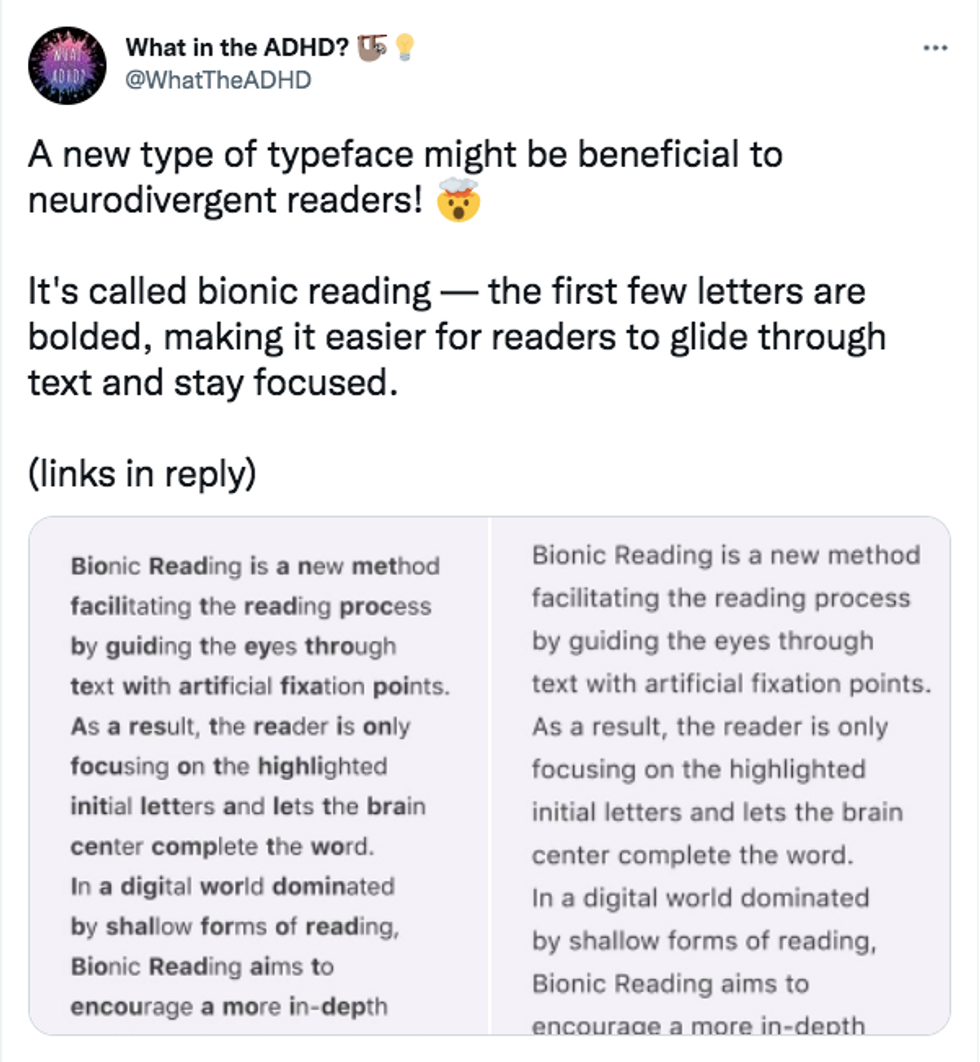 The gist is that our eyes don't need to focus on the entire word because our brains can fill in the rest for us. By bolding the first part of the word, we're more quickly able to move from word to word.
"Bionic Reading aims to play a supporting role in the absorption of volume text," states the website. "We see technological progress as an opportunity for all those who want to increase the pleasure of reading in a noisy and hectic world in a focused way and without distraction."
While there are no studies cited on this method of reading, there are plenty of anecdotes about it being helpful. The example shared by @WhattheADHD on Twitter got people's attention and many people responded with enthusiasm at how much easier the bionic reading text was for them to read.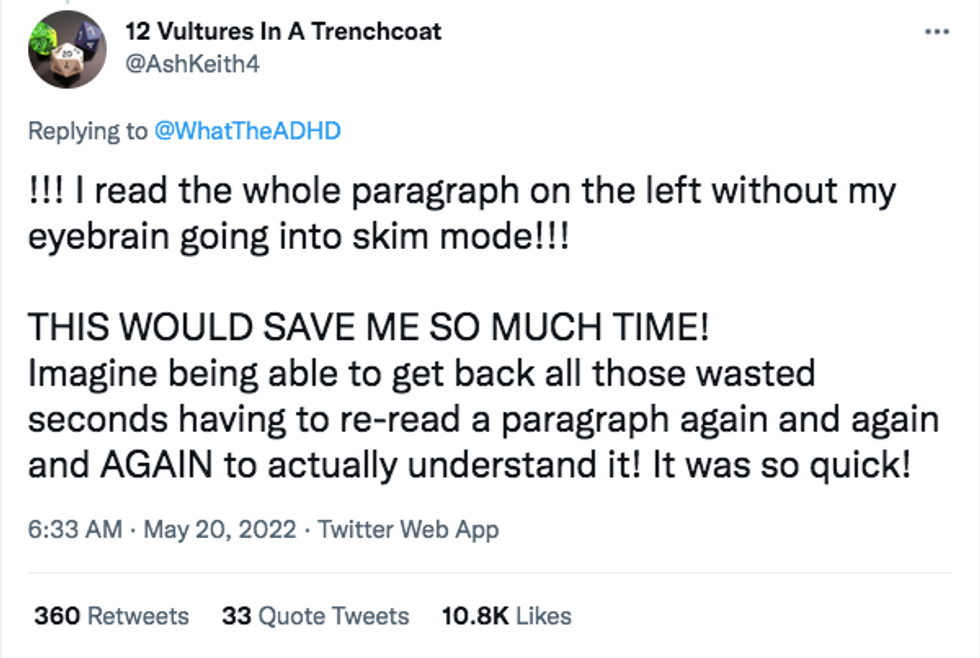 "This is amazing! I have ADHD and I didn't even realize that I was having trouble fixating when I read," wrote one person. "My eye latches right on to the bold face. Can't wait to try reading a book again. It's been all audiobooks for a while."
"It's incredible how reading this feels like finally unlocking 100% of your brain," wrote another.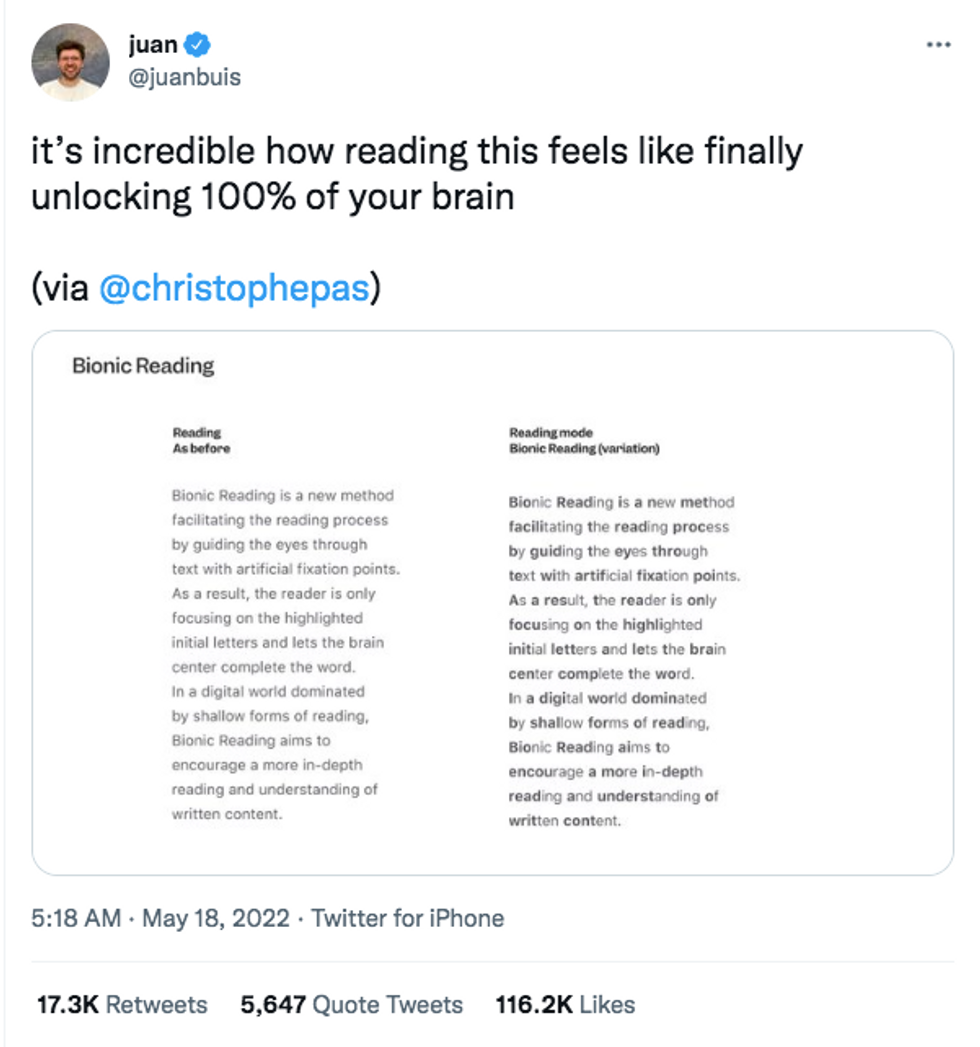 However, not everyone was impressed or thrilled with the sample. Some people said that they had a harder time reading the bionic text or that it distracted or slowed them down. Both positive and negative responses came from a diverse pool of people. Some who described themselves as neurodivergent said that they loved it and some said it was harder. The same went for people who said they were neurotypical, so it's hard to say who this tool may specifically help the most. Everyone's brains work differently, and different people will find different things helpful.
Bionic reading might be a game-changer for some, but it's not the only tool of its kind. There are speed-reading programs that train you to stop reading each word and allow your brain to read visually instead of auditorily. There are also various methods of making reading easier by adjusting how your eyes move across the text.
For instance, check out this "space reading" technique: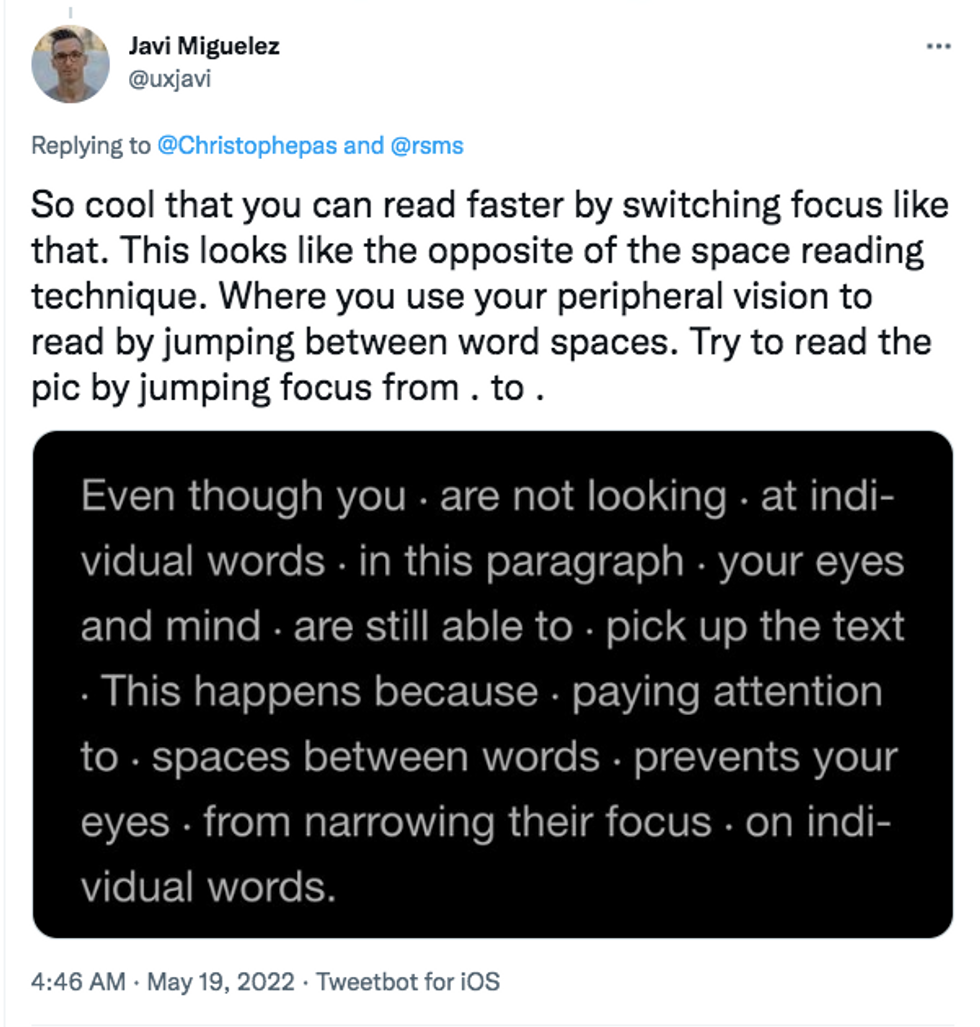 Bionic Reading has a free text converter on its website that you can use to try out its font changes. A YouTube clip from the company also shows possibilities for how the font can be adjusted to individual preferences, making more or less of the initial letters bolded.
And again, if this doesn't work for you, then it's probably not made for you. For people who struggle with reading, something like Bionic Reading could make a huge difference.
Three cheers for technology being used to help people overcome difficulties and make learning easier and more efficient.
This article originally appeared on 5.30.22.
Get stories worth sharing delivered to your inbox