Community
Here's what people facing food insecurity want you to know about solving the hunger problem in America
True
Even though America is the world's wealthiest nation, about 1 in 6 of our neighbors turned to food banks and community programs in order to feed themselves and their families last year. Think about it: More than 9 million children faced hunger in 2021 (1 in 8 children).

In order to solve a problem, we must first understand it. Feeding America, the nation's largest domestic hunger-relief organization, released its second annual Elevating Voices: Insights Report and turned to the experts—people experiencing hunger—to find out how this issue can be solved once and for all.
Here are the four most important things people facing hunger want you to know.
Hunger is still an urgent crisis despite signs of economic recovery. In the months following the peak of the COVID-19 pandemic, headlines report that the nation's economic health is bouncing back after years of hardship. However, a big chunk of our population is experiencing a different reality. Recovery has been uneven nationwide, and grocery prices are still higher than normal despite easing supply chain issues. With the end of the federal support offered throughout the pandemic, child poverty rates have shot up, and families like Donnette McManus' are feeling the squeeze.
"Even though you have your list, you have your budget, things are changing so quickly. Your salary can't keep up. So, you get to the store with the same exact list, the same 10 items can cost you 50% more," said McManus, who lives in Massachusetts.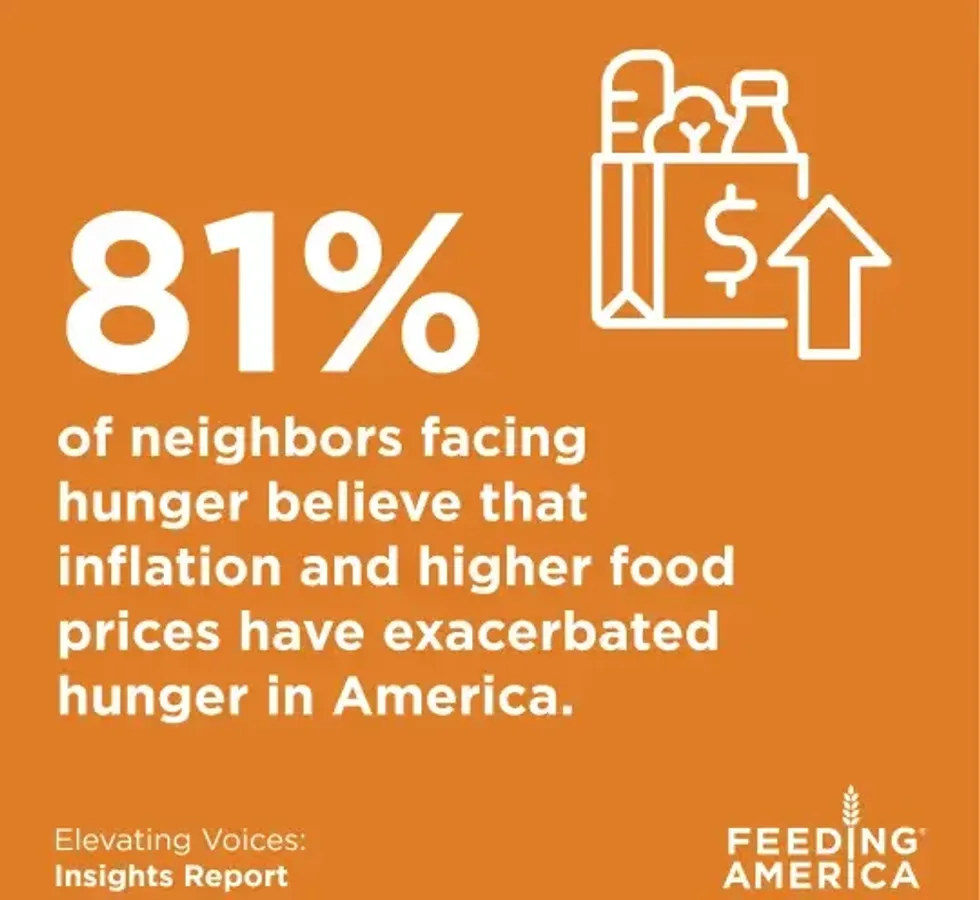 Feeding America Insights Report
People facing hunger say that ending food insecurity is about more than just food. Ending hunger may sound like a simple task: make sure everyone, regardless of who they are and where they live, has access to the food they need. However, as neighbor-advocate Jennifer Estrada of Wisconsin pointed out, the reality is a bit more complex, especially considering that hunger is only a symptom of bigger economic challenges.
"As much as you work, the system is set up for you to continue in a cycle of food insecurity," said Estrada. "Your whole check goes to a rent payment if you're not fortunate enough to own a house, with nothing leftover. But you get kicked off if you make $2 more. There needs to be some security, there needs to be a revamping of the whole system ... It seems like instead of creating less barriers to help the families in our community, it seems like policies and procedures continue to make more barriers."
One of the biggest takeaways from the 2023Insights Report is that housing is unaffordable. Working 40+ hours a week still isn't enough to get by for many folks. Stopping hunger in its tracks is as much about strengthening economic well-being as it is about providing equitable access to enough nourishing food.
Hunger is an issue that intersects with more than what we put on our plates. Hunger strikes without discrimination, affecting anyone, anywhere, at any time. Millions of people in the U.S. are just one job loss, missed paycheck, or medical emergency away from experiencing food insecurity. Due to a long history of racism, discrimination, and oppression in our country, hunger impacts some communities more than others, including communities of color and communities in rural areas.
While the impact of hunger is widespread, people facing it note that the stigma associated with it can strip people of their dignity or deter them from accessing the food assistance programs they're eligible for and need. There are also inequitable systems in place that do not work for everyone.
"Your basic clerk at your local DHS [Department of Human Services] office is only employed to input information and output information back to you. A lot of times, you feel like you're not even a human. You're just a number to them. And if I'm just going to be a number to you, I have a mental meltdown," said Kimberly Harris, a resident of Washington, D.C.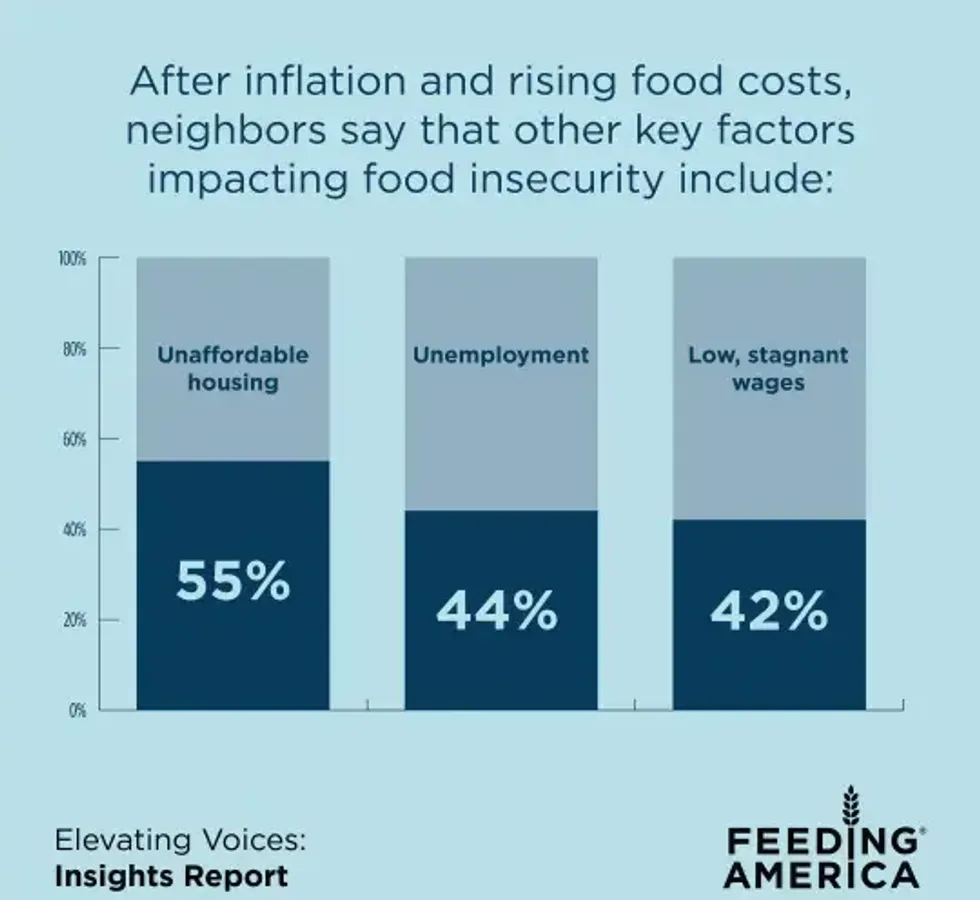 Feeding America Insights Report
Ending food insecurity requires a catalyzing movement. While hunger remains a widespread and persistent problem, our country already has the tools to eradicate it forever—they just need to be utilized. Most people facing hunger said that federal and local governments should treat hunger as an urgent crisis—signaling that it will take all of us to bring hunger to a halt.
So how can you take action right now? Do your part and visit FeedingAmerica.org/ElevatingVoices to read the 2023 Elevating Voices: Insights Report and sign a petition to encourage Congress to pass legislation that will help ensure no one in America goes hungry. Let's all pitch in to make the wealthiest nation become the happiest and most prosperous—for all.
Pets
A quick trip to the vet confirmed the cats' and family's suspicions.
Family
Lunarbaboon comics tackle huge, important subjects with an effective, lighthearted touch that you can't help but smile at.
All images by Christopher Grady/Lunarbaboon, used with permission
Christopher Grady, a father and teacher from Toronto, was struggling with anxiety and depression. That's when he started drawing.

He describes his early cartoons and illustrations as a journal where he'd chronicle everyday moments from his life as a husband, elementary school teacher, and father to two kids.
"I needed a positive place to focus all my thoughts and found that when I was making comics I felt a little bit better," he says.
He began putting a few of his comics online, not expecting much of a response. But he quickly learned that people were connecting with his work in a deep way.
The comics series called Lunarbaboon was born, and the response to the first few was so powerful that Grady was inspired do more with his comics than just document his own experience.
"I began getting messages from many people about how they connected to the comics and it gave them hope and strength as they went through their own dark times," he says.
"When they look back…they probably won't remember what was said…or where you were when you said it. They may not remember any details of your time together. But they will remember that you were there…and that's what matters most."
"Usually the circle of people we can support, help, influence is limited to our families, friends, coworkers, random stranger at the bus stop, but with my comic I suddenly found my circle of power was much much larger," Grady explains. "I guess I decided to use this power for good."
Grady continued to draw, making a point to infuse the panels with his own special brand of positivity.
"Kids are always watching adults and they look to the adults as role models," he says. "I try to show (my kids and students) that even with all my flaws and weaknesses I am still a good person and I can still make a positive change in the world."
Lunarbaboon comics tackle huge, important subjects with an effective, lighthearted touch that you can't help but smile at.
Check out Grady's take on teaching his son about consent. (All images by Christopher Grady/Lunarbaboon, used with permission.)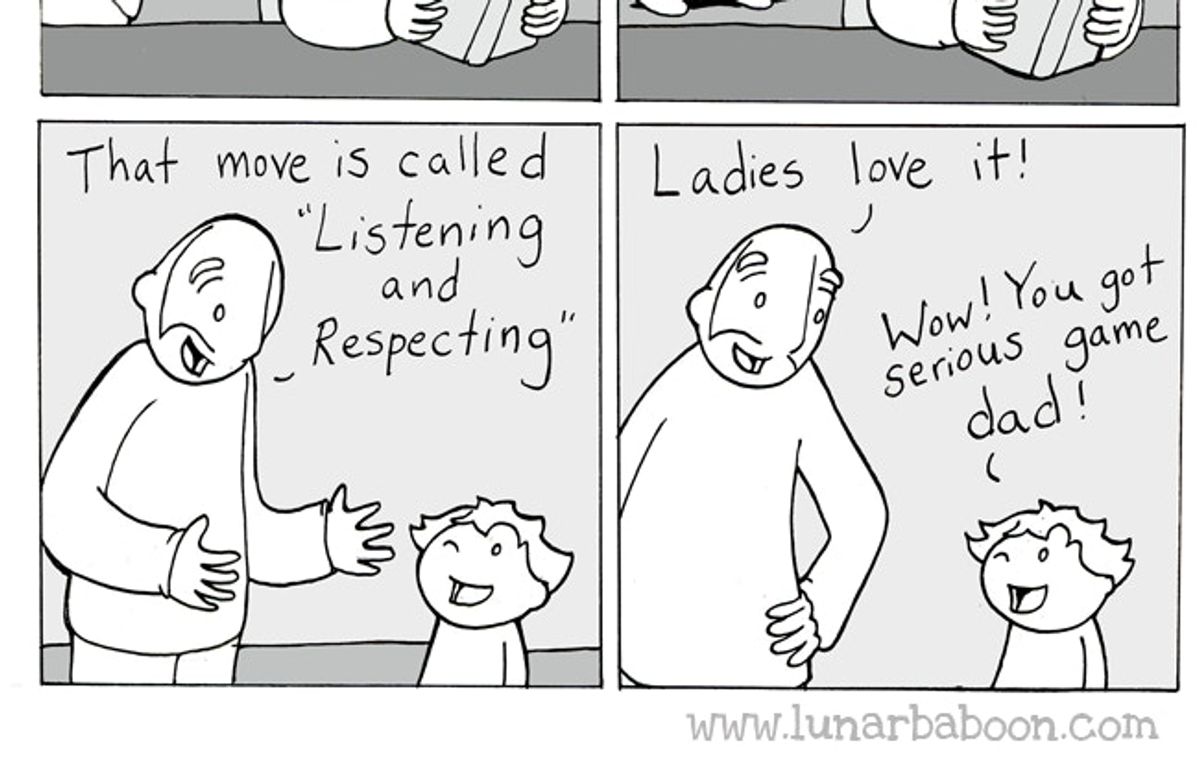 A comic about listening and respecting your partner.
All images by Christopher Grady/Lunarbaboon, used with permission
Here's one about parents being supportive of a gay son or daughter.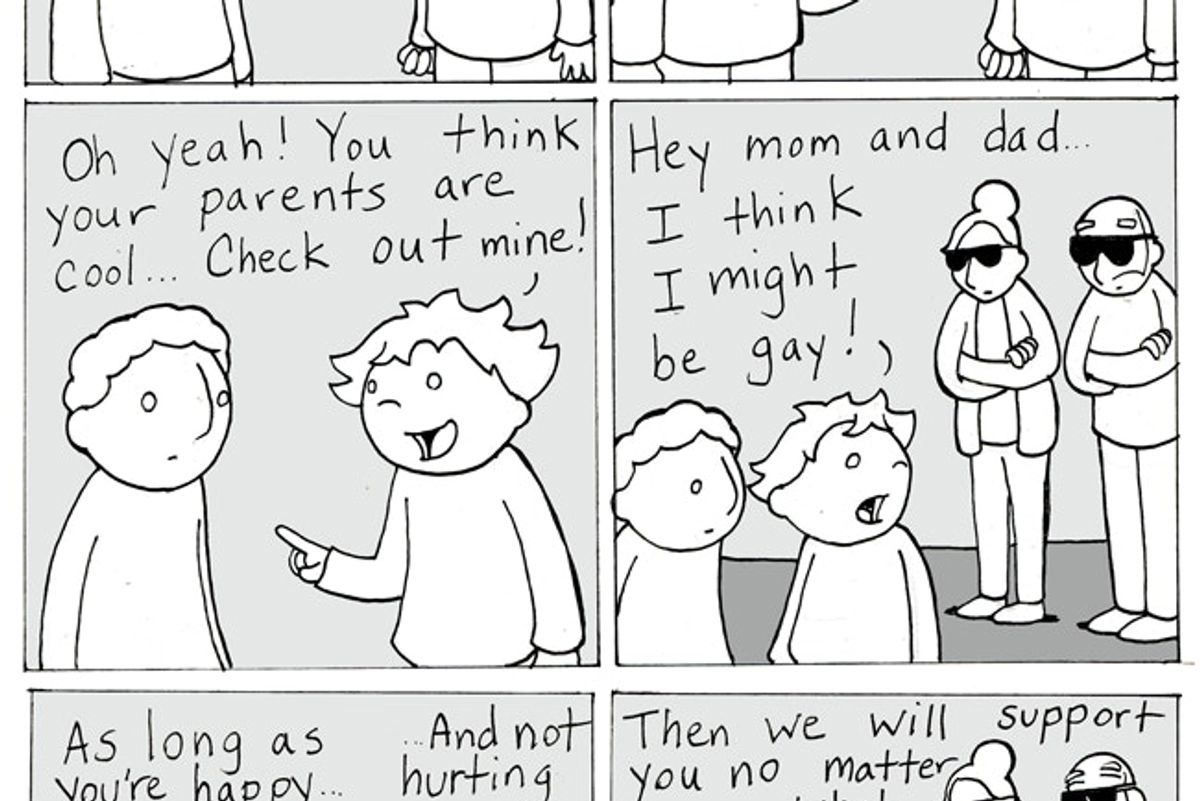 Parents being supportive of their gay son.
All images by Christopher Grady/Lunarbaboon, used with permission
On raising girls in a patriarchal world.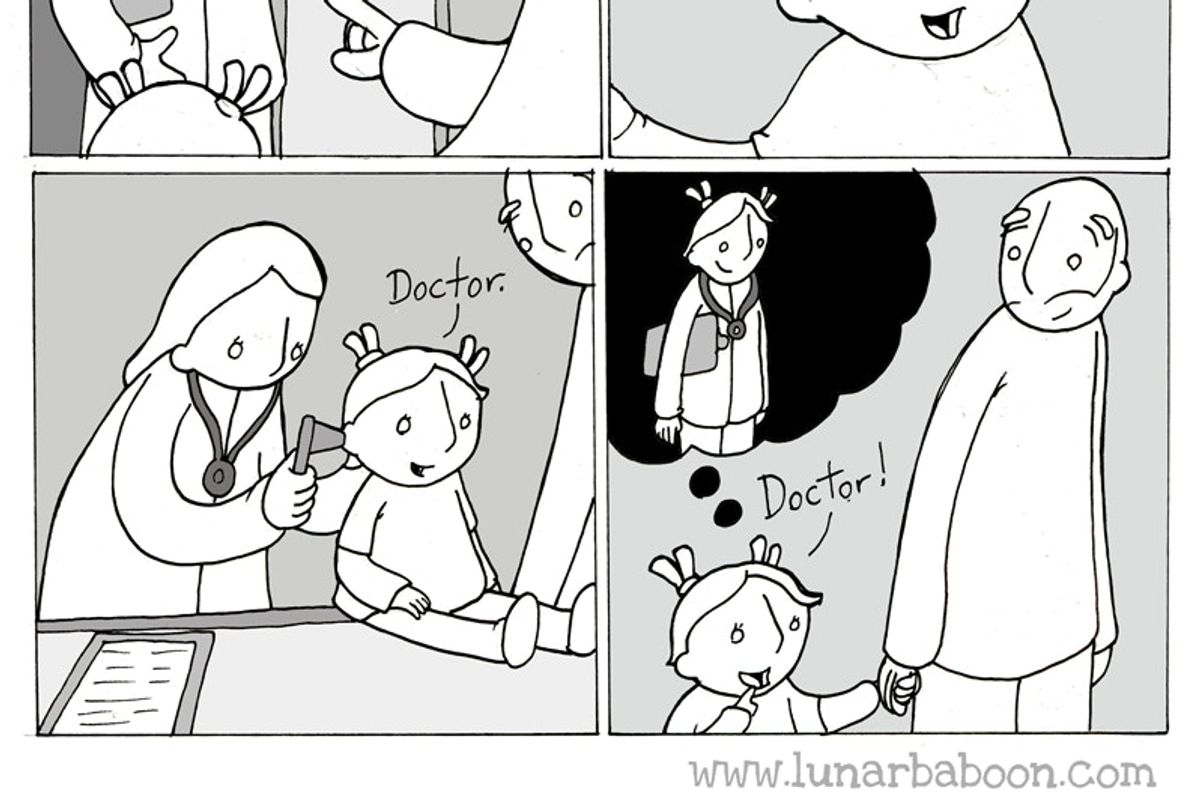 Comic encourages girls to chase all their dreams.
All images by Christopher Grady/Lunarbaboon, used with permission
And here's a sweet one about appreciating the heck out of his wife.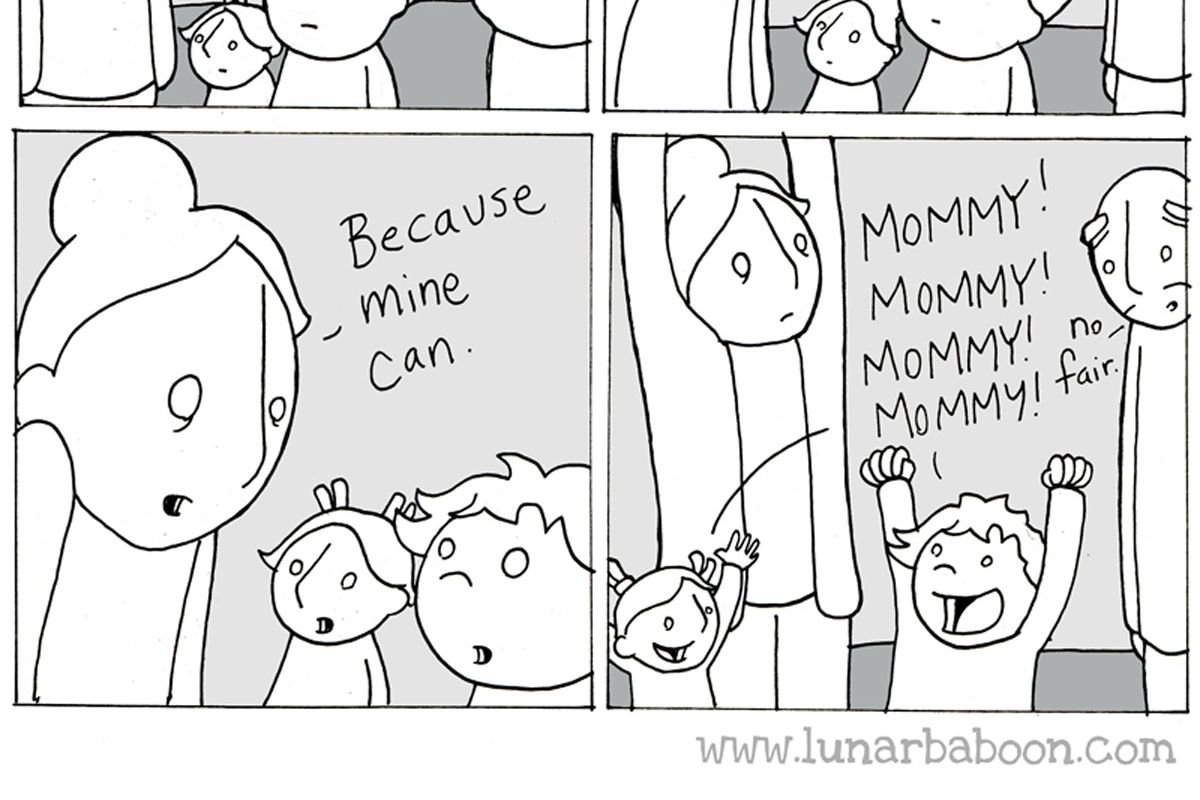 Mom one ups dad easily.
All images by Christopher Grady/Lunarbaboon, used with permission
Big topics. Important issues. Grady tackles them with humility and ease.
As Lunarbaboon has continued to grow, Grady says the messages of support he gets have become increasingly powerful.
He certainly doesn't claim to have all the answers to all the complexities of parenting, but he does say that "people like knowing they aren't alone in life's daily struggles. Most people who contact me just want to say thank you for putting something positive into the world."
Grady doesn't expect his Lunarbaboon comics to fix rape culture or end bigotry. He just hopes his message of love, inclusion, and positivity continues to spread.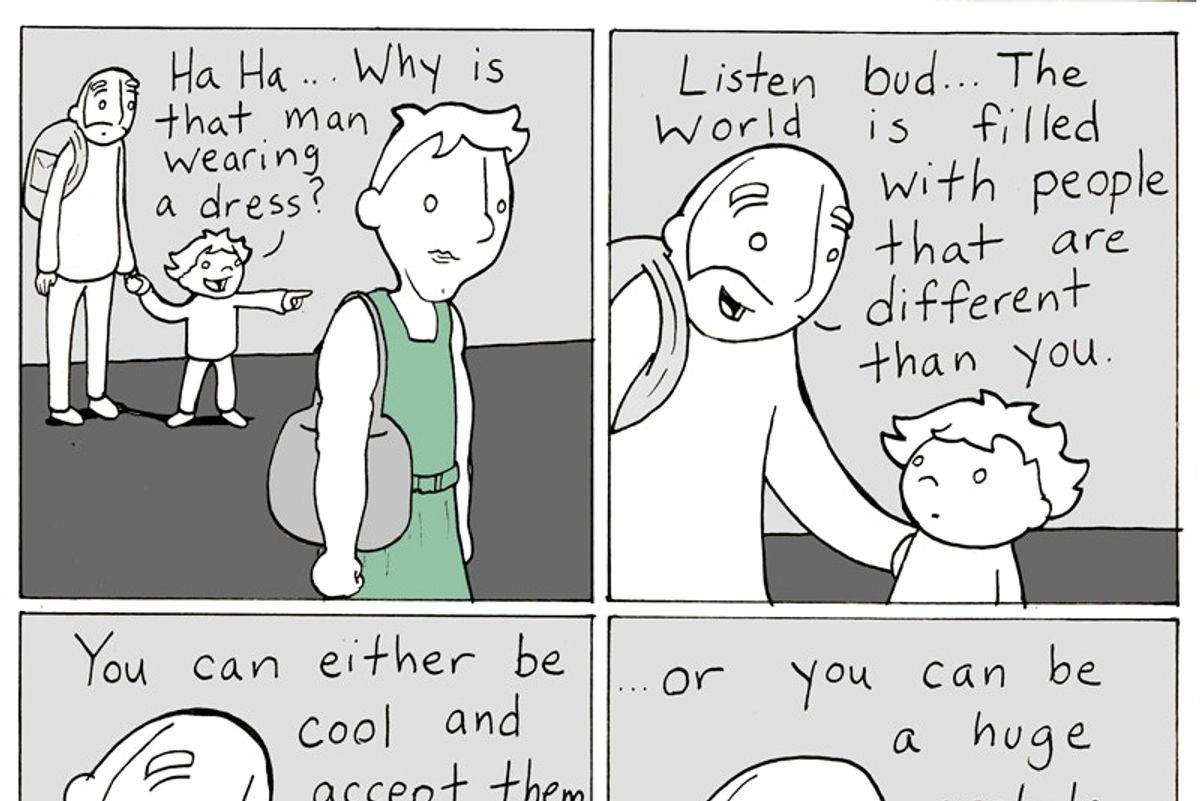 Teaching children to accept what might be different.
All images by Christopher Grady/Lunarbaboon, used with permission
"My hope is that for the short time people read it they smile and feel good," he says. "Then I hope they take that good feeling and smile into the world and make it slightly brighter."
You can check out even more of Grady's awesome work over on his website or in his newly published book.
This article was originally published on November 30, 2017.
Get stories worth sharing delivered to your inbox
Democracy
"Australia has no tolerance for perpetrators of violence against women and children." 👏👏👏
Australia is sending a strong message to domestic abusers worldwide: You're not welcome here.
Australia has recently broadened a migration law to bar any person who has been convicted of domestic violence anywhere in the world from getting a visa to enter the country. American R&B singer Chris Brown and boxing star Floyd Mayweather had been banned from the country in the past, following their domestic violence convictions. Now the ban applies to all foreign visitors or residents who have been found guilty of violence against women or children.
Even convicted domestic abusers who already have visas and are living in Australia can be kicked out under the new rule. The government is using the rule, which took effect on February 28, 2019 to send a message to domestic violence perpetrators.
"Australia has no tolerance for perpetrators of violence against women and children," Federal Minister for Immigration, Citizenship and Multicultural Affairs David Coleman said in a public statement. "The message is clear: if you've been convicted of a violent crime against women or children, you are not welcome in this country, wherever the offence occurred, whatever the sentence."
The ban is supposed to make Australia safer, but not everyone is happy about it.
"By cancelling the visas of criminals we have made Australia a safer place," Coleman said. "These crimes inflict long lasting trauma on the victims and their friends and family, and foreign criminals who commit them are not welcome in our country."
However, Australia's neighboring country of New Zealand has long taken issue with Australia's policy of exporting convicts, and this new policy highlights why. Under the new rule, New Zealanders who have already served their sentences for domestic violence and lived in Australia most of their lives could be kicked out and sent to live in New Zealand. Such circumstances raise questions about when justice has been served and the role of rehabilitation in domestic violence convictions.
Australia, like many other countries, is trying to come to terms with its domestic violence problem.
Barring domestic violence perpetrators from other countries sends a strong message, but it's only meaningful if the country also tackles the problem among its own citizens. According to a Personal Safety Study conducted by the Australian Bureau of Statistics, about 17% of Australian women and 6% of Australian men have experienced partner violence since the age of 15. And the numbers have remained relatively stable since 2005.
That may seem to indicate that little progress has been made; however, as Australian law professor Heather Douglass points out, the numbers only tell part of the story. Since most people in abusive relationships don't report the abuse until after they've left, it could simply be that more are leaving, which is a good thing. There has also been a marked increase in people seeking domestic violence services in some areas, which, again, is a good thing. For far too long, domestic violence was swept under the rug while victims were often too afraid or embarrassed to seek help. More calls for help could mean that the stigma associated with domestic violence is starting to fade.
This story originally appeared on 04.01.19
Joy
Stop what you're doing and let this awesomeness wash over you.
Get stories worth sharing delivered to your inbox