More
A group of high school girls put a stop to the boys who made a list ranking their appearance.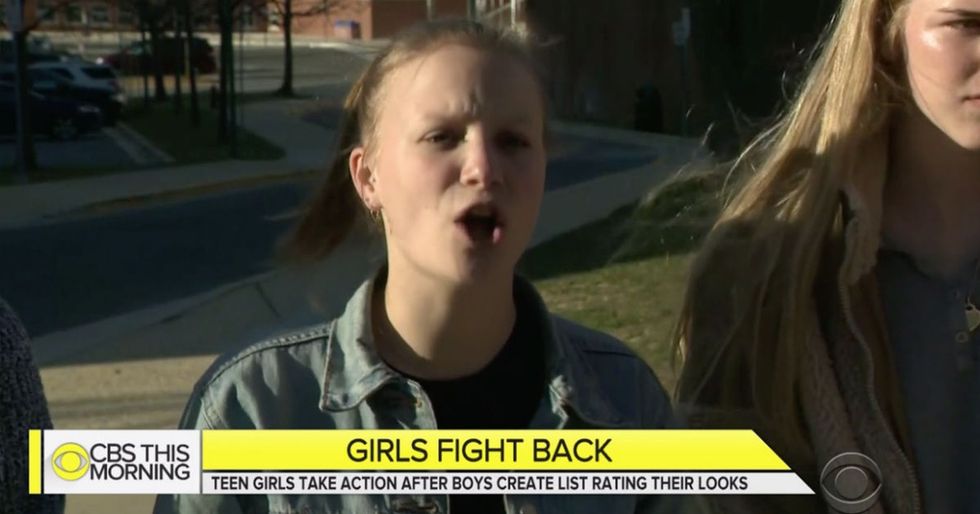 What do you do when you're reduced to your looks? If you're one of the students at Bethesda-Chevy ChaseHigh School in Maryland, you take a damn stand and show the people who objectified you that you are, in fact, a person who has very real feelings.
Male students created and distributed a list ranking 18 of their female peers based on their looks. The list rated the girls from a scale of 5.5 to 9.4, but when the girls found out about it, they refused to be reduced to a number.
The list was created last year, but was recently recirculated. When some of the girls found out that they had been ranked, their first impulse was to feel badly about themselves. "It was hurtful to me because I kind of was thinking, 'Why am I not worthy enough to be a higher number?'''said senior Yasmin Behbehani. "But at the end of the day, I realized that I define who I am."
---
Ultimately, the girls on the list were able to understand that it's not their fault they were objectified.
"I think that the female generation is always thinking what did I do to deserve this? And the answer is we did not do anything," said student Jane Corcoran. "In my head, you know, I tried to push away the thoughts that, you know, a number does not define me and I put out a confident front but it's really hard to think about 'Why is this girl a point better than me?'"
Only one boy was punished for the list, receiving a one day in-school detention, so the girls decided to take a stand. "It was the last straw, for us girls, of this 'boys will be boys' culture," said Behbehani. "We're the generation that is going to make a change."
Around 40 girls walked into the assistant principal's office demanding to learn in an environment free of "objectification and misogyny."
They organized a meeting, which took place onMarch 8th, International Women's Day. The meeting was attended by school administrators and nearly 80 students, both boys and girls. The girls were able to confront the boys about the list. "A lot of girls shared their personal experiences with the list and how it made them feel and also experiences with misogyny and degradation and objectification and sexual harassment," said Paloma Delgado.
Listening to the girls' stories had more of an impact than the detention. "It was quite intense, being so directly confronted in front of so many people for so long,"
The boy who made the list toldthe Washington Post. "When you have a culture where it's just normal to talk about that, I guess making a list about it doesn't seem like such a terrible thing to do, because you're just used to discussing it... This memory is not going to leave me anytime soon."
By sharing their stories, the girls were no longer their numbers, but instead became humans with experiences and feelings. Education can go a long way in preventing harassment, and these girls took major steps in making sure they – and other women – will not get harassed in the future. Can we say this this is girls being girls?