Education
"I'm leaving in hopes that I can regain the ability to do the job that I love."
For all of our disagreements in modern American life, there are at least a few things most of us can agree on. One of those is the need for reform in public education. We don't all agree on the solutions but many of the challenges are undeniable: retaining great teachers, reducing classroom size and updating the focus of student curriculums to reflect the ever-changing needs of a globalized workforce.
And while parents, politicians and activists debate those remedies, one voice is all-too-often ignored: that of teachers themselves.
This is why a short video testimony from a teacher in the Atlanta suburb of Gwinnett County went viral recently. After all, it's hard to deny the points made by someone who was just named teacher of the year and used the occasion to announce why he will be leaving the very school district that just honored him with that distinction.
In a video carried by Fox5 Atlanta, 2022 Gwinnett County Public Schools Teacher of the Year Lee Allen breaks down what he sees as the overriding problems in the county's school system. While his comments are specific to that of Gwinnett County, it's virtually impossible to not see the overlap across all of America and how the problems have become exponentially more challenging as students have migrated back to in-person learning.
"At the end of this year, I will be leaving Gwinnett County Schools, leaving behind the opportunity to submit for state teacher of the year, roughly $10,000 in salary, and most importantly, the students and colleagues I've built strong relationships with," Allen, a math teacher at Lawrenceville's Archer High School, says at the beginning of his remarks. "I'm leaving in hopes that I can regain the ability to do the job that I love."
Normally, one might assume teacher pay is the overriding issue for educators like Allen. But he makes it clear that he is, in fact, leaving money on the table to avoid what he deems as unacceptable changes to the student body and how the district manages its teachers and the learning environment. Here are his main grievances, in order:
"First issue at hand is student apathy and disrespect for school rules and norms. … We have an alarming number of students that simply do not care about learning and refuse to even try."
"We are also experiencing incredible disrespect and refusal to follow basic school rules. There is little to no accountability or expectation for grades or behavior placed on students or parents. Rather than being asked what the student can do to improve their understanding, teachers are expected to somehow do more with less student effort."
Cell phone use. Teachers simply cannot compete with the billions of dollars tech companies pour into addicting people to their devices. Phones allow constant communication, often being the spark that fuels fights, drug use and other inappropriate meetups throughout the day. We need a comprehensive district plan with support behind it in order to combat this epidemic and protect the learning environment."
"Lastly, there is a huge disconnect between administrators and teachers. The classroom in 2022 is drastically different from just three years ago. Most administrators have not been in a classroom full-time in years or even decades. Many teachers do not feel understood, valued or trusted as professionals from administrators and the decisions that they make."
While Allen points fingers at administrators and student behavior, he also says that the pressures put on both students and teachers alike by COVID-19 had a catastrophic impact on learning. "The pandemic has acted as a catalyst and turned a slow negative trend into an exponential crisis," he says.
But he also offers some solutions, stating, "I won't list complaints without offering ideas for improvement."
All administrators should spend at least one week in a high needs classroom, "without a suit, without people knowing your title and in the same room, all day, for an entire week."
Prioritizing smaller class sizes.
Greater transparency from the district in terms of needs and expectations and goals.
"We all want the same thing and we cannot accomplish this without supporting one another," he says near the end of his remarks.
With more than 400,000 views already, it's clear his remarks resonated with people not just inside his school district.
There's almost nothing more important than how we educate our children. And while the national political debate centers on areas of far less importance generated to gin up controversy and campaign fundraising, it's families and local leaders who will need to do the heavy lifting of reprioritizing the fundamental principles of learning and leadership if we want an American educational system that can compete on the global stage in 2022 and beyond. After all, when literal award-winning educators like Allen are walking away, it's clear something more needs to be done.
Joy
Ethically sourced, modern clothes for kids that embrace adventure, inspire connections and global thinking.
The Tea Collection combines philanthropic efforts with a deep rooted sense of multiculturalism into each of their designs so that kids can grow up with global sensibilities. They make clothes built to last with practicality and adventure in mind. But why "Tea"?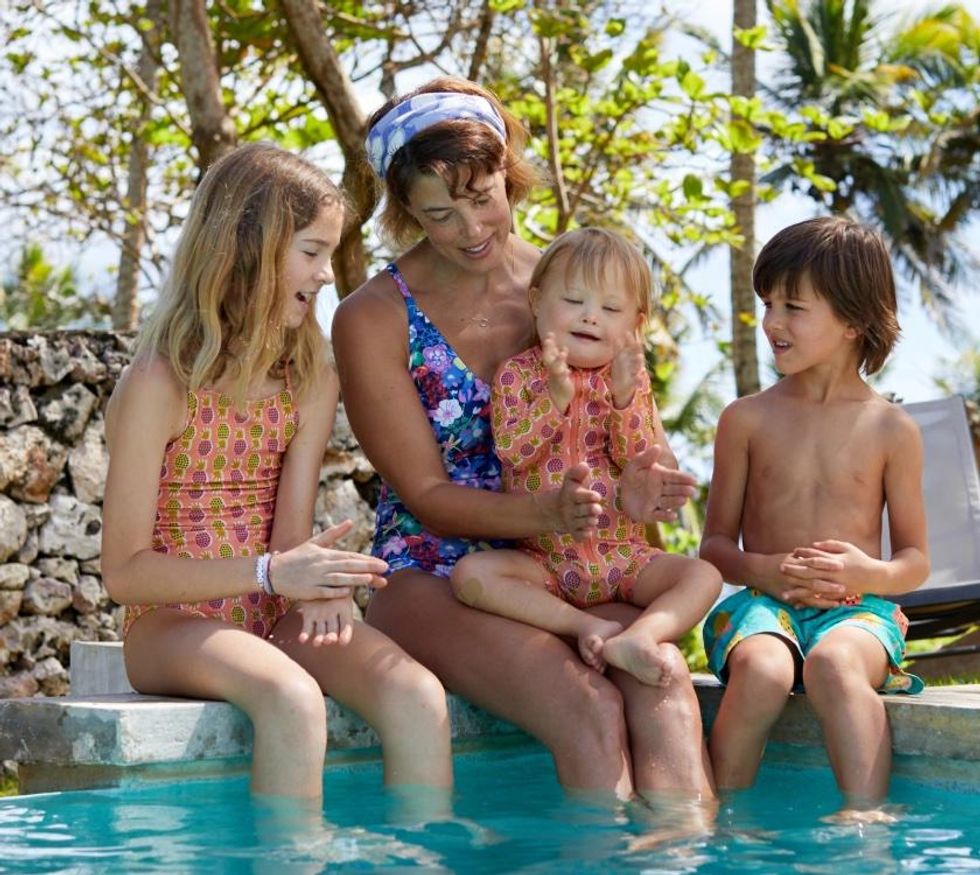 Let's spill it. Tea is a drink shared around the world with people from all different cultures. It is a common thread that weaves the world together. The Tea Collection was born from a love of travel and a love of sharing tea with different people in different places. Inspired by patterns from around the world, these clothes help children develop a familiarity with global communities.
Tea sources their materials ethically and ensures that each of their partners abide to strict codes of conduct. They have a zero-tolerance policy for anything "even slightly questionable" and make sure that they regularly visit their manufacturing partners to ensure that they're supporting positive working conditions.
Since 2003, The Tea Collection has partnered with the Global Fund for Children and has invested in different grassroots organizations that create community empowered programs to uplift kids in need. They donate 10% of their proceeds and have already contributed over $500,000 to different organizations such as: The Homeless Prenatal Program (San Francisco, CA, USA), Door of Faith Orphanage (Baja California, Mexico), Little Sisters Fund (Nepal) and others in Peru, Sri Lanka, India, Italy and Haiti.
But the best part about the Tea Collection? They're also an official member of the Kidizen Rewear Collective, which believes that clothes should stretch far beyond one child's use. They have their own external site for their preloved clothes that makes rewearing affordable. Families can trade in gently used Tea clothes and receive discounts for future products. Shopping the site helps keep clothes out of land fills and reduces the environmental impact of the fashion industry.
By creating heirloom style clothing made to last families can buy, sell, and trade clothes that can be reworn again and again. Because "new to you" doesn't always have to mean never been worn. And let's be honest, we all know how fast kids grow! Shopping preloved clothes is a great way to keep styles fresh without harming the environment or feeling guilty about not getting the most out of certain styles.
But don't just take our word for it! Head over to the Tea Collection and see for yourself!
Upworthy has earned revenue through a partnership and/or may earn a portion of sales revenue from purchases made through links on our site.
Joy
Finally, they get to play!
Here at Upworthy we look for stories that will make you smile and warm your heart and, let's face it, we could all use a little help in the smile department these days. When we ran across this ridiculously sweet story on The Dodo about a golden retriever and his little human sister, we simply had to share it with you. Taco is a 3-year-old golden retriever who has been lovingly waiting for his new baby sister, Vanora, to be able to play with him, and the day has finally come.
Claudia Hughes is the proud mom of the furry pup and his squishy human sibling. She told The Dodo that Taco has been smitten with Vanora since she came home from the hospital. "When we would lay her down on the floor or our bed, Taco would just lay down next to her," Hughes said. That's one attentive pup. Pet parents know there's nothing more comforting than your fur baby looking out for your human baby.
Hughes told The Dodo that the pooch would even get up for late-night feedings. Now that's just beyond sweet. It's no wonder the pup was itching for his playmate to get big enough to actually play with, and his reaction to his doggy dreams coming true is pure joy. The video of Taco seeing his toddler sibling taking some of her first steps has amassed more than 2 million likes on TikTok. Finally his sister can run around with him! Finally he can teach her the fun of having a dog for a big brother. Finally he gets to play! At least, that's what I think he was thinking from his excited reaction.
And how do we know dogs are excited? Well, they get the zoomies, and if you've never been able to witness the absolute unadulterated joy of the zoomies, just check out his reaction in the video. If he could talk he would have probably screamed "I'm so excited!!!" with more explanation points than allowed by my editor.
@mostlyadorable

It's fun having each other 🐾👶🏻. #dogsandbabies #goldensandbabies #babiesoftiktok #dogsoftiktokviral #SmoothLikeNitroPepsi
According to Hughes, Taco first started getting excited when he saw Vanora take steps in her walker, and more so when he saw her pushing the walker. But his excitement went off the charts when she could actually take steps unassisted. Don't worry though, he was sure to keep his distance so as not to knock her down. He's such a good doggy brother. Hughes told The Dodo, "We have shown Vanora that we hug Taco, we pet him gently and we give him kisses on his head." She went on to say, "But if we get mad at him, we don't hit him."
It looks like both Taco and Vanora have learned important lessons in kindness. Soon Vanora will be the one cheering and praising Taco when he's a good boy, but until then, we here at Upworthy want to tell Taco that he's the goodest boy and he deserves all of the head pats. Good boy, Taco!
Get stories worth sharing delivered to your inbox
Get stories worth sharing delivered to your inbox