Health
A body temperature expert explains why some people are always freezing
And there's a scientific reason that it's more common for women.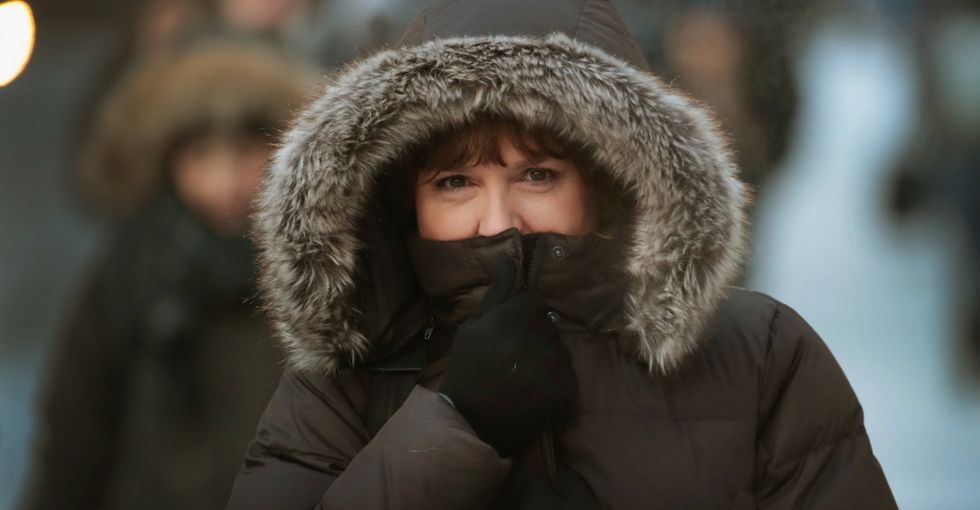 You wear extra chunky sweaters. You've never met a mitten you didn't like. You may even keep a lap blanket at work.
You're one of those people who is always cold. And you are not alone.
Inside or outside, you just can't seem to get warm. This characteristic of yours manifests itself in extra blankets, wild heating bills, and enough complaints that you start going hoarse.
---
But surely there's a scientific reason as to why some people are always cold, right?
It can't just be random chance that has doomed you to a life of perpetual shivers. I reached out to an expert to learn more.
Dr. Christopher Minson is a professor in the department of human physiology at the University of Oregon. One of his primary research interests is thermoregulation, that's how the brain and body interact and adapt as we heat and cool. Plainly put, he is the perfect guy to answer a few questions from #TeamCold.
(This interview has been condensed and edited for clarity.)
Upworthy (UP): So what is actually happening in the body when a person gets chilly?
Dr. Chris Minson (CM): In the simplest of terms, feeling either cold or warm means that the temperature "set point" of the body is being challenged by thermal inputs throughout the body, including in the brain, the blood, the spinal cord, our organs, our muscles, and our skin. Part of our brain collects all of those thermal inputs and essentially compares them to what body temperature it wants to hold. So if your skin temperature is lowered, even though the rest of your body is still at a comfortable set-point, you will feel cold — in some cases, cold enough to make behavioral changes like putting on a sweater.
UP: Is there a reason this seems to largely impact women?
CM: The people who feel "always cold" will typically have lower muscle mass relative to body surface area (typically, women and older people). Their actual body core temperature may not really be below normal, but they feel cold because their body is telling them to conserve heat.
There have also been limited reports that women have a higher density of blood vessels at the skin surface, which would make them more sensitive to cold. However, there hasn't been enough good data collected on this theory to confirm or disprove it.
This also explains a frequent frustrations about women and men in relationships...
CM: A common complaint by women and men in relationships is that women's feet are often very cold, especially in bed. That goes along with the lower body mass to surface area relationship in women. As their body works to conserve heat, it vasoconstricts blood vessels in the extremities (hands and feet) to keep the core warm. This reduced blood flow results in cold hands and feet in women more than men.
So there you have it: Your brain is simply an overworked project manager trying to keep you alive. But there are a few things you can do about it.
UP: If you are a person who is always cold, is there anything you can do to "retrain" your body, so to speak?
CM: One of the best things someone can do is to increase their fat-free mass (muscle). This will increase overall metabolic rate (although it's not easy to do.)
Another thing a person could do is undergo cold-stresses, such as allowing themselves to be exposed to very cold temperatures for short periods of time. It sounds counter-intuitive, but it's been suggested that this could decrease the sensation of feeling cold. An example is putting the shower on 'cold' for a short period of time in the shower. Not easy to do, and you would want to build up to a full minute each day, but in some people it can help them to decrease the feeling of being cold.
UP: There are a lot of jokes at the expense of people who are always cold, but at what point does it go from "I'm always cold, and it's a quirky thing about me" to "I'm always cold and I should probably see my doctor"?
CM: There is the possibility that someone's perpetual coldness could be caused by abnormally low thyroid hormone levels, and that can be verified with a blood test. That is by far the rarer condition, but taking hormone supplements if medically needed can help. If a person is quite lethargic, has low motivation, and is always cold, it might be worth having thyroid hormones evaluated.
So if you are a lap-blanket wearing member of #TeamCold, don't fret.
You are strong. You are capable. And unless you have pain or some of the symptoms Minson mentioned, there is likely nothing wrong with you. Our bodies just require different things of us, and yours requires that you have to deal with an overly-air conditioned-society. My sincerest apologies. On behalf of #TeamHot, your next cocoa is on me.
This article originally appeared on 02.13.18