True
This story was originally shared on Capital One.
Inside the walls of her kitchen at her childhood home in Guatemala, Evelyn Klohr, the founder of a Washington, D.C.-area bakery called Kakeshionista, was taught a lesson that remains central to her business operations today.

"Baking cakes gave me the confidence to believe in my own brand and now I put my heart into giving my customers something they'll enjoy eating," Klohr said.
While driven to launch her own baking business, pursuing a dream in the culinary arts was economically challenging for Klohr. In the United States, culinary schools can open doors to future careers, but the cost of entry can be upwards of $36,000 a year.
Through a friend, Klohr learned about La Cocina VA, a nonprofit dedicated to providing job training and entrepreneurship development services at a training facility in the Washington, D.C-area.
La Cocina VA's, which translates to "the kitchen" in Spanish, offers its Bilingual Culinary Training program to prepare low-and moderate-income individuals from diverse backgrounds to launch careers in the food industry.
That program gave Klohr the ability to fully immerse herself in the baking industry within a professional kitchen facility and receive training in an array of subjects including culinary skills, food safety, career development and English language classes.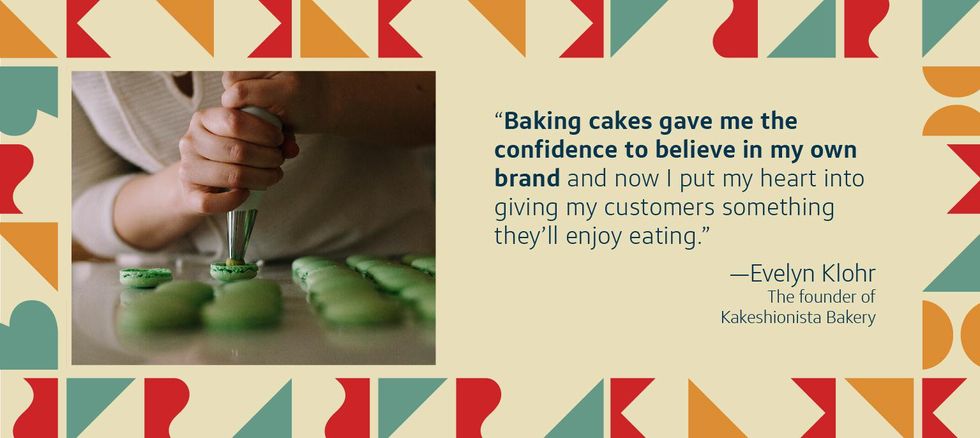 Photo courtesy of Capital One
The organization also offers participants the opportunity to enroll in its Culinary Small Business Incubator, a 9-week training course that teaches participants to create and scale their own food-based startups.
During that program, LA Cocina VA provides participants with support for developing the internal operations of their businesses and provides a shared kitchen for community members to rent space at affordable rates.
Patricia Funegra, who founded La Cocina VA in 2014, said that helping people like Klohr is exactly why she wanted to create the incubator.
"I have firsthand experience of the difficulties of being an immigrant and person of color in America," said Funegra. "At the same time, I also know the enormous opportunities that exist here to improve people's lives."
With the help of funding from Capital One, the center has been able to support 160 participants since opening with roughly 85% of graduates being hired for jobs in the food industry upon completion.
La Cocina VA also received support from Capital One's Community Finance team as it provided financing for the construction of Gilliam Place, an affordable housing unit in which La Cocina VA moved its operations into in 2020.
After moving into Gilliam Place, Funegra launched the Zero Barriers Training and Entrepreneurship Center, a hub for startup founders that includes a kitchen incubator and a community cafe to provide workforce development opportunities for residents.
That support comes as part of the Capital One Impact Initiative, a multi-million dollar commitment to support growth in underserved communities and advance socioeconomic mobility by closing gaps in equity and opportunity.
La Cocina VA students also worked alongside Capital One Cafe ambassadors to learn skills in management and personal finance.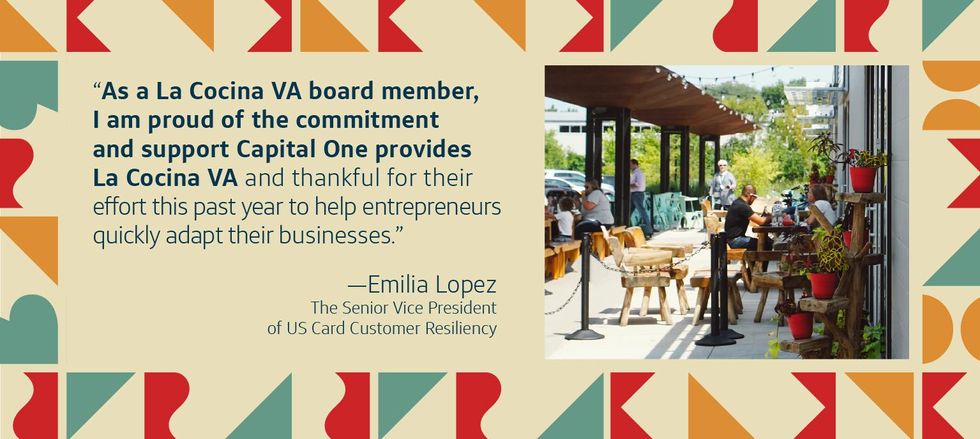 Photo courtesy of Capital One
"The COVID-19 pandemic forced entrepreneurs, especially people of color and immigrants, to shift their entire business models just to survive," said Emilia Lopez, the Senior Vice President of US Card Customer Resiliency, who serves on La Cocina VA's Board of Directors. "As a La Cocina VA board member, I am proud of the commitment and support Capital One provides La Cocina VA and thankful for their effort this past year to help entrepreneurs quickly adapt their businesses to support alternative dining options."
La Cocina VA is also in constant communication with employers, partners, hotels and restaurants to make them aware of their pipeline of graduates.
"La Cocina VA taught me not just the physical work that goes into baking and cooking but also how to have a good understanding to mentally and financially launch my business," said Klohr. "They're helping me make those connections and I know they'll always have my back."
This article originally appeared on 04.13.18



Teens have a knack for coming up with clever ways to rage against the system.
When I was in high school, the most notorious urban legend whispered about in hallways and at parties went like this: A teacher told his class that they were allowed to put "anything" on a notecard to assist them during a science test. Supposedly, one of his students arrived on test day with a grown adult at his side — a college chemistry major, who proceeded to stand on the notecard and give him answers. The teacher was apparently so impressed by the student's cunning that he gave him a high score, then canceled class for the rest of the week because he was in such a good mood.
Of course, I didn't know anyone who'd ever actually try such a thing. Why ruin a good story with reality — that pulling this kind of trick would probably earn you detention?
Yet something even better just happened in real life when Eric Saueracker, an instructor in Washington, told his students they couldn't bring cellphones to their physics test, not even to listen to music.
One teen took advantage of a loophole: He brought in a record player. And Saueracker pulled out his own smartphone so he could document the unusual circumstances for his Twitter followers.
Students are taking their Physics Midterm exam today. I said no cell phones, not even for music since they could be… https://t.co/OVvCnMOYNQ

— Eric Saueracker (@Eric Saueracker)1523467367.0
Yo, that takes a special kind of chutzpah. Most of us, I'm assuming, would have simply taken the test music-free. But the kid who listened to vinyl not only managed to follow the letter of the law, he aced the test — and his musical accompaniment was Kanye's ironically titled "College Dropout."
As a follow up: @TheItalianPacca did ace the test whilst listening to college dropout...

— Eric Saueracker (@Eric Saueracker)1523499327.0
Yet teens these days aren't simply acting out timeless rituals of smartassery. They're also surprisingly healthy, well-behaved, and civic-minded.
The New York Times reports that teen smoking rates have never been lower, studies have found that alcohol use among teens is down by 50% since the '90s, and despite every sitcom warning us otherwise, on average, teens are safer drivers than ever (or at least they have been since 1975).
Plus, many of them are at the vanguard of the gun control movement, taking on politicians and the NRA, not allowing anyone to disrupt their momentum under the guise of free speech (sorry, Laura Ingraham), and one is even getting a full ride into every Ivy League school he applied to.
Still, questioning authority is an important rite of passage on the way to becoming a healthy adult with critical thinking skills. So, sure, it's perfectly admirable that Parkland survivor and activist David Hogg, who just turned 18, has a rather evolved birthday wish: That everyone get out there and vote.
Now that I'm 18 I can vote will you?

— David Hogg (@David Hogg)1523505624.0
But it's also wonderful that his classmate Cameron Kasky wanted to poke a little fun at his solemn attitude, suggesting that he'll also go ahead and give his friend an actual present (a gift certificate).
Today is David's birthday and I'm gonna ask him what he wants and he's gonna say "I want you to vote" or "Justice"… https://t.co/dMzFcXaN4e

— Cam (@Cam)1523530104.0
I think we can safely assume that today's teens are doing just fine.
Get stories worth sharing delivered to your inbox