All images provided by Prudential Emerging Visionaries
True
A changemaker is anyone who takes creative action to solve an ongoing problem—be it in one's own community or throughout the world.
And when it comes to creating positive change, enthusiasm and a fresh perspective can hold just as much power as years of experience. That's why, every year, Prudential Emerging Visionaries celebrates young people for their innovative solutions to financial and societal challenges in their communities.
This national program awards 25 young leaders (ages 14-18) up to $15,000 to devote to their passion projects. Additionally, winners receive a trip to Prudential's headquarters in Newark, New Jersey, where they receive coaching, skills development, and networking opportunities with mentors to help take their innovative solutions to the next level.
For 18-year-old Sydnie Collins, one of the 2023 winners, this meant being able to take her podcast, "Perfect Timing," to the next level.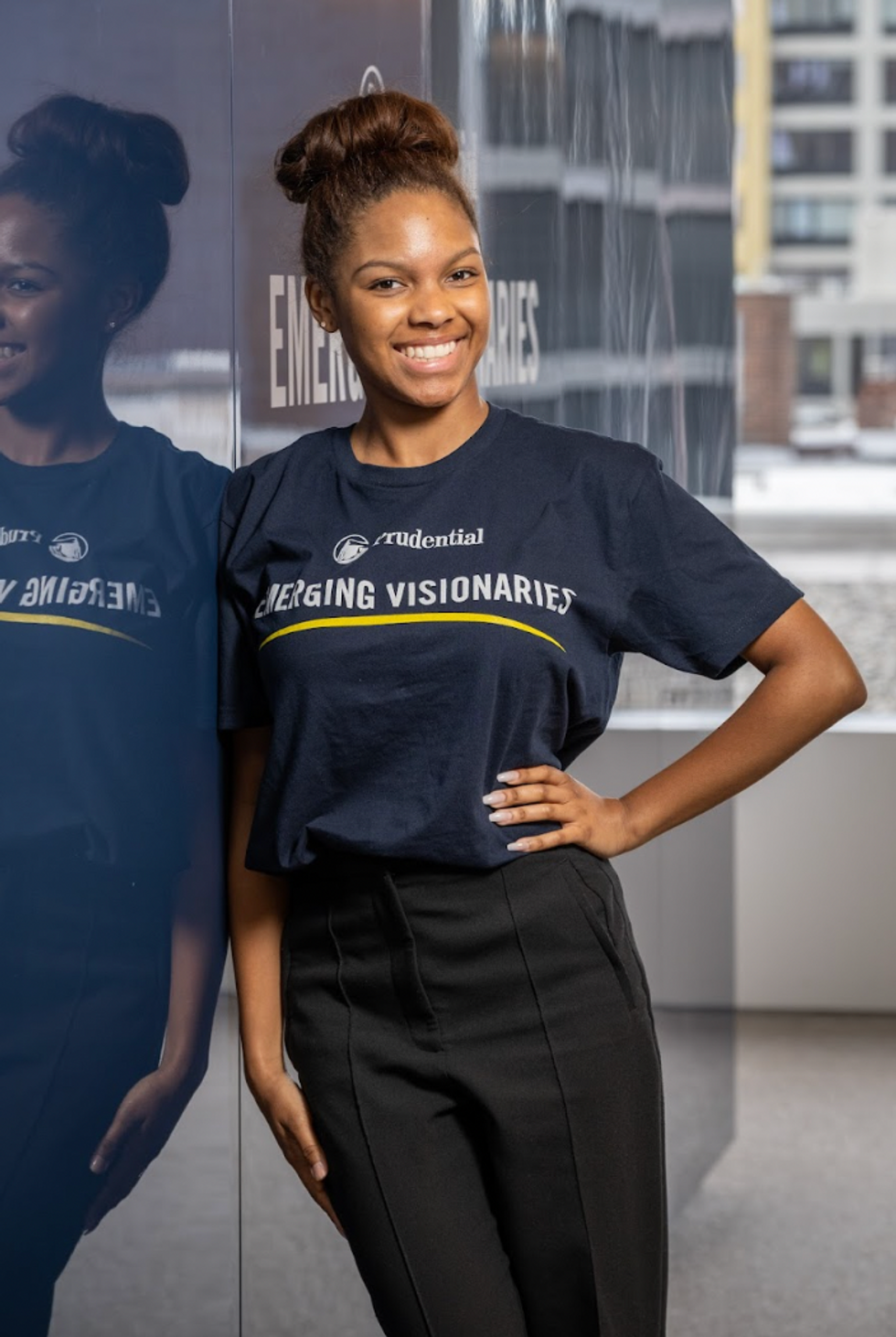 Since 2020, the Maryland-based teen has provided a safe platform that promotes youth positivity by giving young people the space to celebrate their achievements and combat mental health stigmas. The idea came during the height of Covid-19, when Collins recalled social media "becoming a dark space flooded with news," which greatly affected her own anxiety and depression.
Knowing that she couldn't be the only one feeling this way, "Perfect Timing" seemed like a valuable way to give back to her community. Over the course of 109 episodes, Collins has interviewed a wide range of guests—from other young influencers to celebrities, from innovators to nonprofit leaders—all to remind Gen Z that "their dreams are tangible."
That mission statement has since evolved beyond creating inspiring content and has expanded to hosting events and speaking publicly at summits and workshops. One of Collins' favorite moments so far has been raising $7,000 to take 200 underserved girls to see "The Little Mermaid" on its opening weekend, to "let them know they are enough" and that there's an "older sister" in their corner.
Of course, as with most new projects, funding for "Perfect Timing" has come entirely out of Collins' pocket. Thankfully, the funding she earned from being selected as a Prudential Emerging Visionary is going toward upgraded recording equipment, the support of expert producers, and skill-building classes to help her become a better host and public speaker. She'll even be able to lease an office space that allows for a live audience.
Plus, after meeting with the 24 other Prudential Emerging Visionaries and her Prudential employee coach, who is helping her develop specific action steps to connect with her target audience, Collins has more confidence in a "grander path" for her work.
"I learned that my network could extend to multiple spaces beyond my realm of podcasting and journalism when industry leaders are willing to share their expertise, time, and financial support," she told Upworthy. "It only takes one person to change, and two people to expand that change."
Prudential Emerging Visionaries is currently seeking applicants for 2024. Winners may receive up to $15,000 in awards and an all-expenses-paid trip to Prudential's headquarters with a parent or guardian, as well as ongoing coaching and skills development to grow their projects.
If you or someone you know between the ages of 14 -18 not only displays a bold vision for the future but is taking action to bring that vision to life, click
here
to learn more. Applications are due by Nov. 2, 2023.
Joy
Dillon Helbig's 81-page graphic novel— written by "Dillon His Self"—captured the hearts of his local librarians and their patrons.
Pop Culture
"For almost 6 minutes, the equivalent of a small city sang, with one voice, the beautiful song of a man who has been dead for decades. If you can do this, you're not just a famous person, you're a legend."
Family
She didn't want the girl to "ruin" her photos of the trip.
Get stories worth sharing delivered to your inbox
Pop Culture
The actor called it "the best thing I have ever done in my life."
When people become famous, they know fans are going to want things from them all the time—autographs, selfies, shoutouts, handshakes and hugs. But what about when a fan reaches out in distress?
Canadian actor James Doohan, who played the lovably surly ship mechanic Scotty on the original "Star Trek" television show and films, received a harrowing note from a fan once. It's hard to know when to take a letter from a stranger seriously, especially when you're a famous actor, but he did.
"I got a fan letter from a young lady—it was a suicide note," he shared in an interview. "So I called her. I said, 'Hey, this is Jimmy Doohan—Scotty from Star Trek,' I said, 'I'm doing a convention in Indianapolis. I want to see you there.'"
The woman came to the convention, and Doohan said he couldn't believe what he saw. "Definitely suicidal," he said. "Somebody had to help her somehow, you know. Obviously, she wasn't going to the right people."
Doohan told the young woman that he was going to be at another convention in two weeks, and then another two weeks after that, and that he wanted to see her at each one of them. And sure enough, she showed up at all of them, despite them being held all over the country.
"That went on for two or three years, maybe 18 times. And all I did was talk positive things to her," he said. "And then all of a sudden, nothing. I didn't hear anything. I had no idea what was happening because I really never saved her address, right?"
Miraculously, eight years later, Doohan got a letter from the woman.
"I do want to thank you so much for what you did for me," it read, "because I just got my master's degree in electronic engineering."
Doohan said the story brought tears to his eyes every time he talked about it. "You know, to me, it's the best thing I've ever done in my life," he said.
Though Doohan passed away in 2005, his legacy as the OG Scotty—and as a caring public figure who went the extra mile for a struggling stranger—lives on.
Watch him tell the story:
Education
There's something loveable about every clique.
Health
This makes ketchup look like candy.
Get stories worth sharing delivered to your inbox