Family
The amazing bond between dads and daughters.
All illustrations are provided by Soosh and used with permission.
This article originally appeared on 04.09.16


It's hard to truly describe the amazing bond between dads and their daughters.
Being a dad is an amazing job no matter the gender of the tiny humans we're raising. But there's something unique about the bond between fathers and daughters.
Most dads know what it's like to struggle with braiding hair, but we also know that bonding time provides immense value to our daughters. In fact, studies have shown that women with actively involved fathers are more confident and more successful in school and business.
You know how a picture is worth a thousand words? I'll just let these images sum up the daddy-daughter bond.
A 37-year-old Ukrainian artist affectionately known as Soosh, recently created some ridiculously heartwarming illustrations of the bond between a dad and his daughter, and put them on her Instagram feed. Sadly, her father wasn't involved in her life when she was a kid. But she wants to be sure her 9-year-old son doesn't follow in those footsteps.
"Part of the education for my kiddo who I want to grow up to be a good man is to understand what it's like to be one," Soosh told Upworthy.
There are so many different ways that fathers demonstrate their love for their little girls, and Soosh pretty much nails all of them.
Get ready to run the full gamut of the feels.
1. Dads can do it all. Including hair.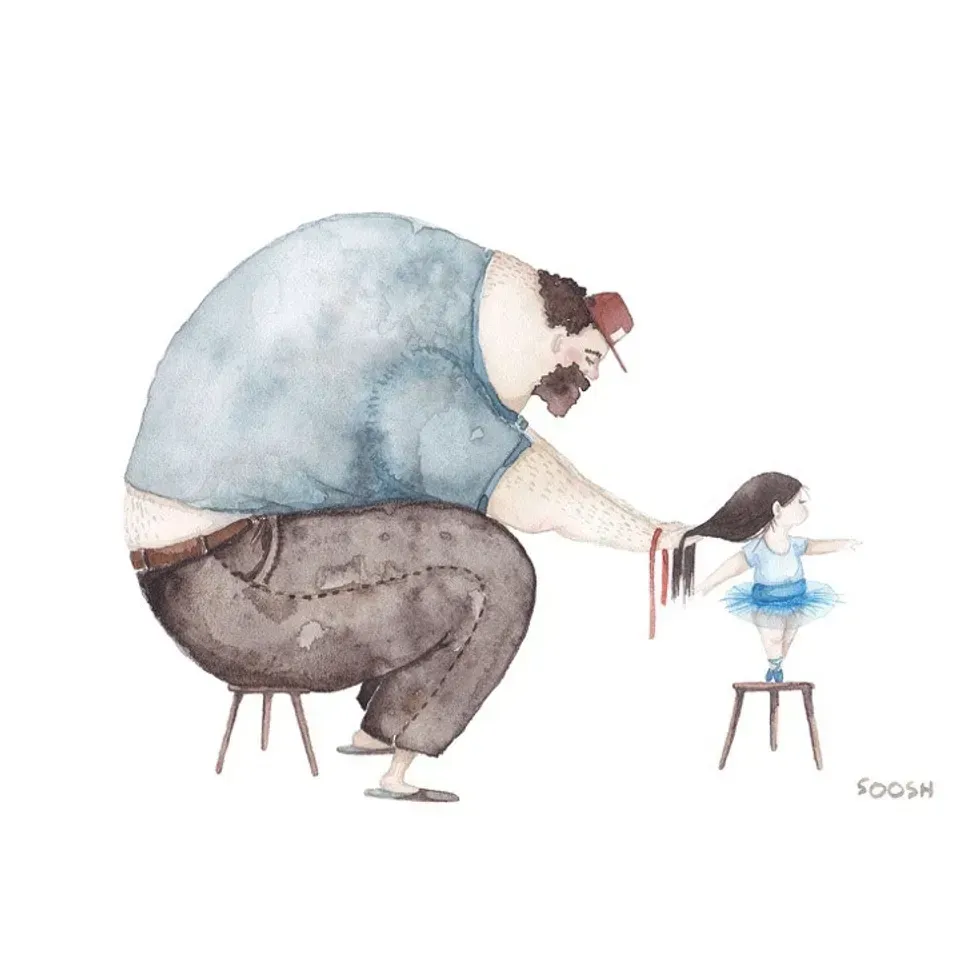 I've got this.
All illustrations are provided by Soosh and used with permission.
2. They also make pretty great game opponents.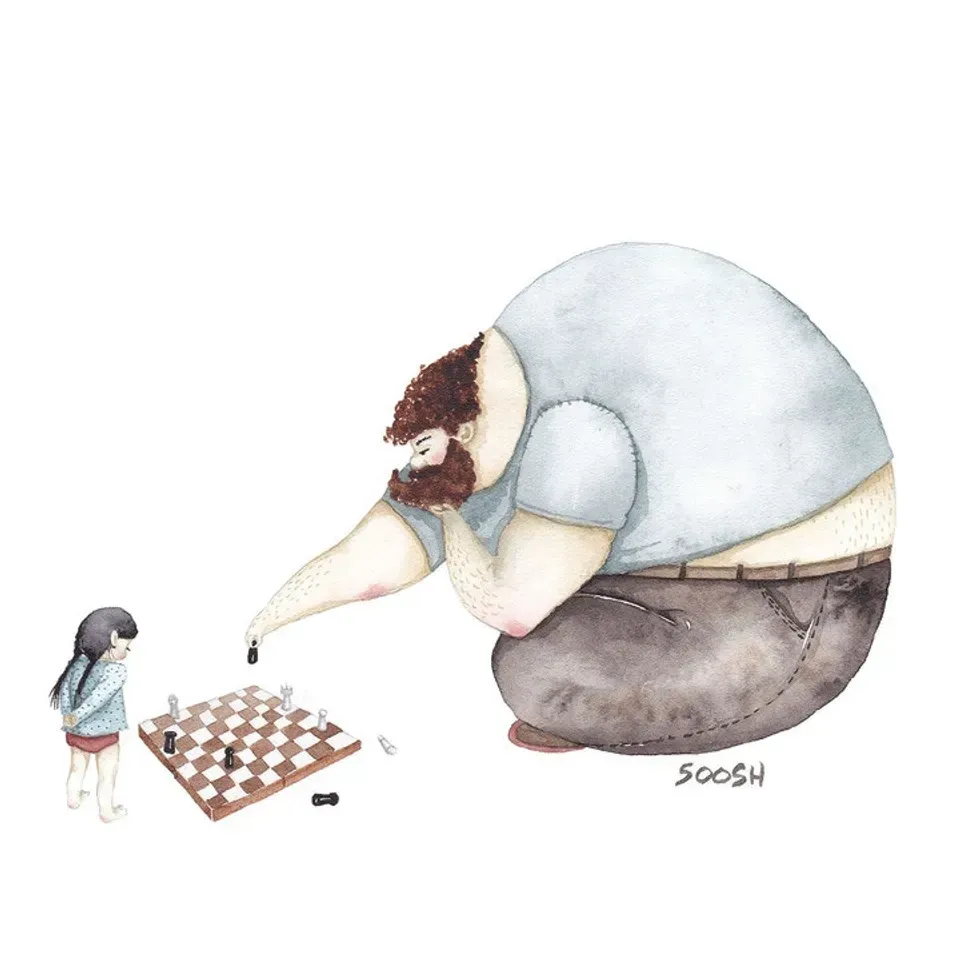 Sharing life strategy.
All illustrations are provided by Soosh and used with permission.
3. And the Hula-Hoop skills? Legendary.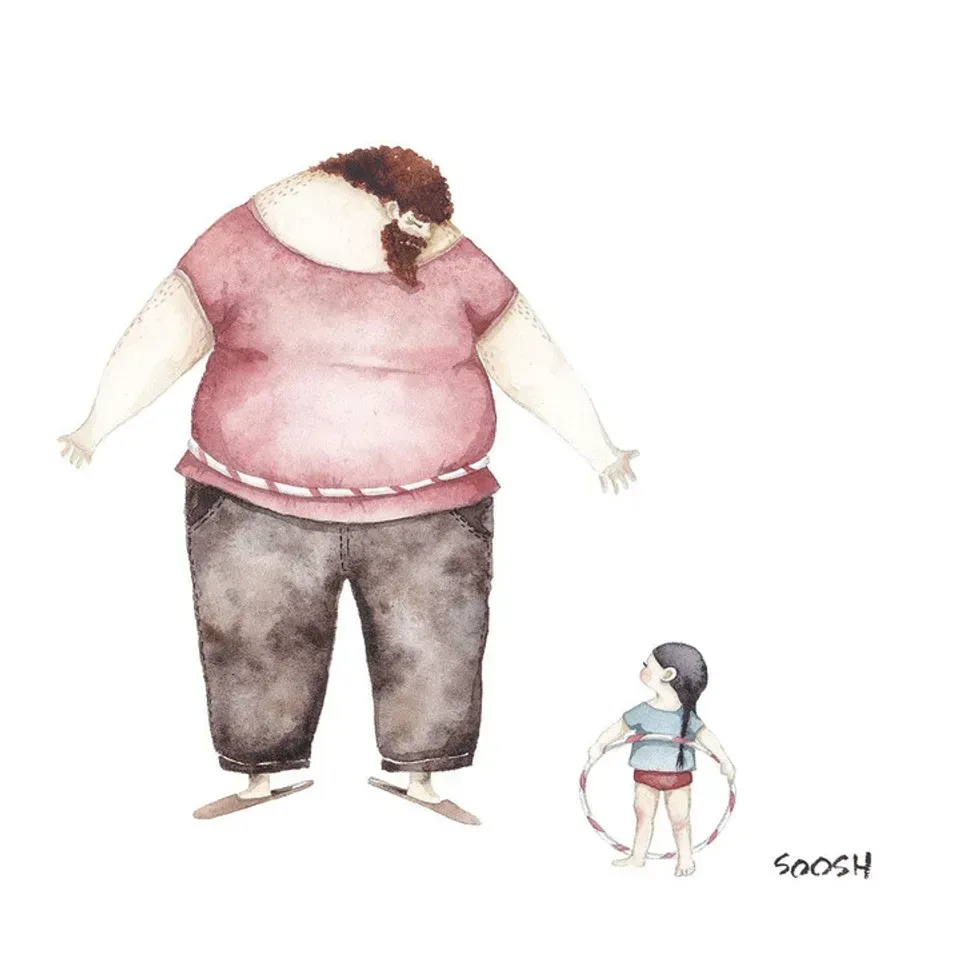 Tight fitting hula-hoop.
All illustrations are provided by Soosh and used with permission.
4. Dads know there's always time for a tea party regardless of the mountain of work in front of them.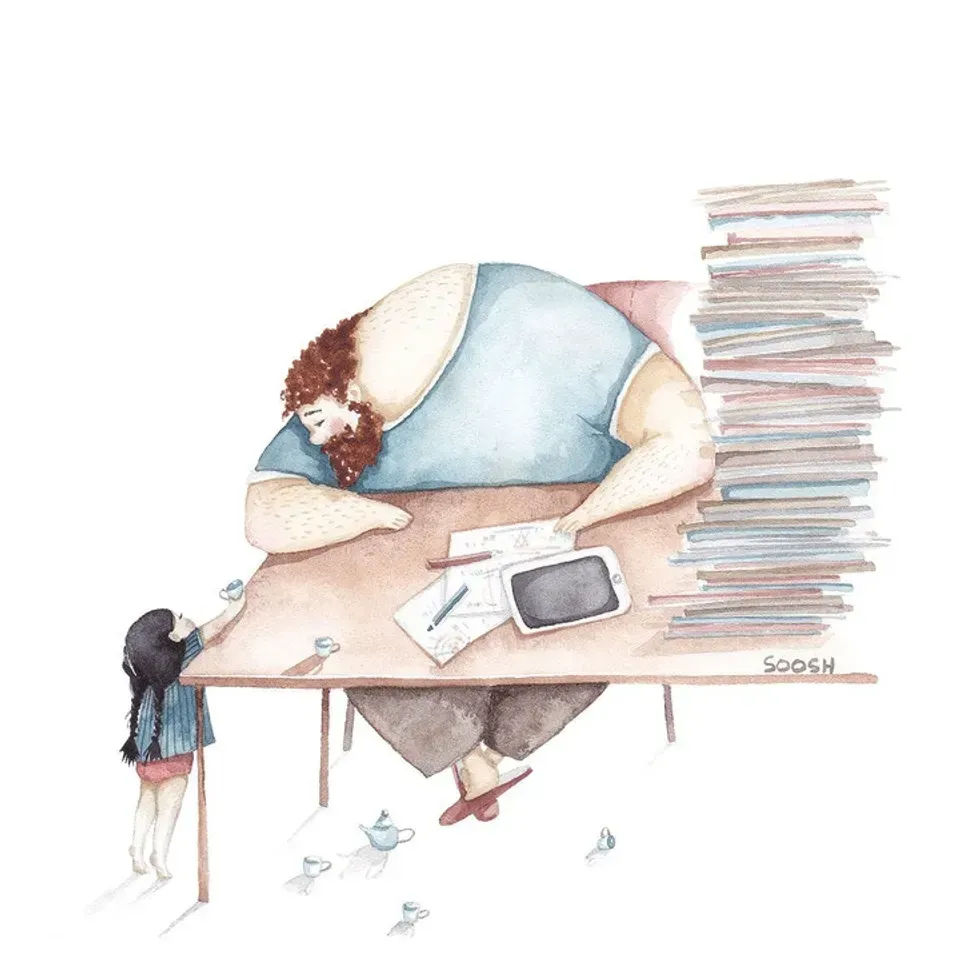 Dad makes time.
All illustrations are provided by Soosh and used with permission.
5. And their puppeteer skills totally belong on Broadway.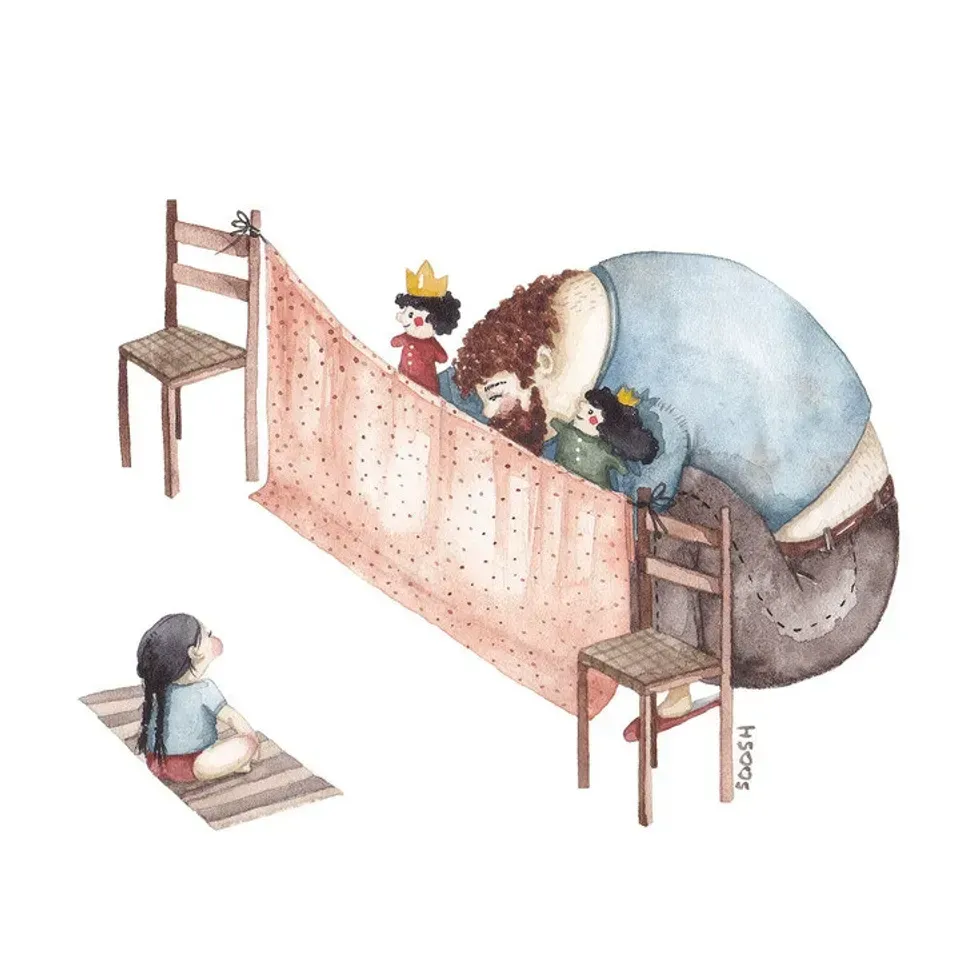 Let's play.
All illustrations are provided by Soosh and used with permission.
6. Dads help us see the world from different views.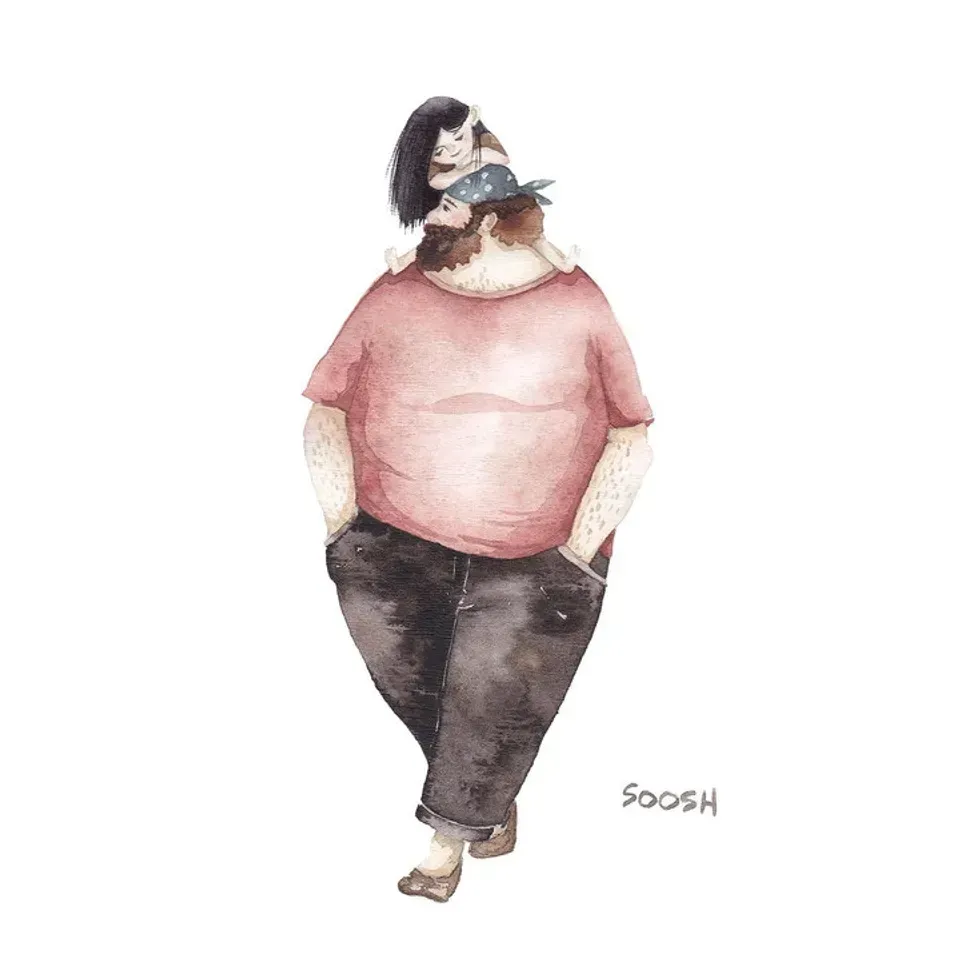 Good shoulders.
All illustrations are provided by Soosh and used with permission.
7. So much so that we never want them to leave.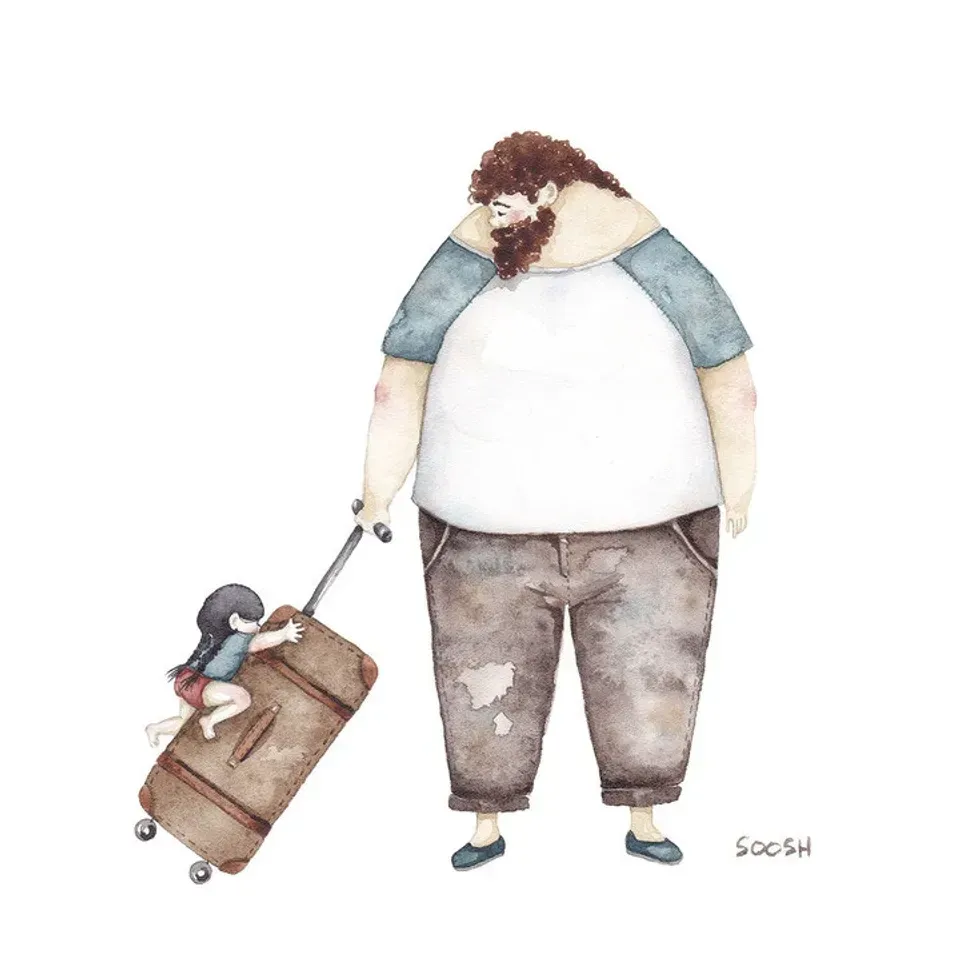 More dad time please.
All illustrations are provided by Soosh and used with permission.
8. They can make us feel protected, valued, and loved.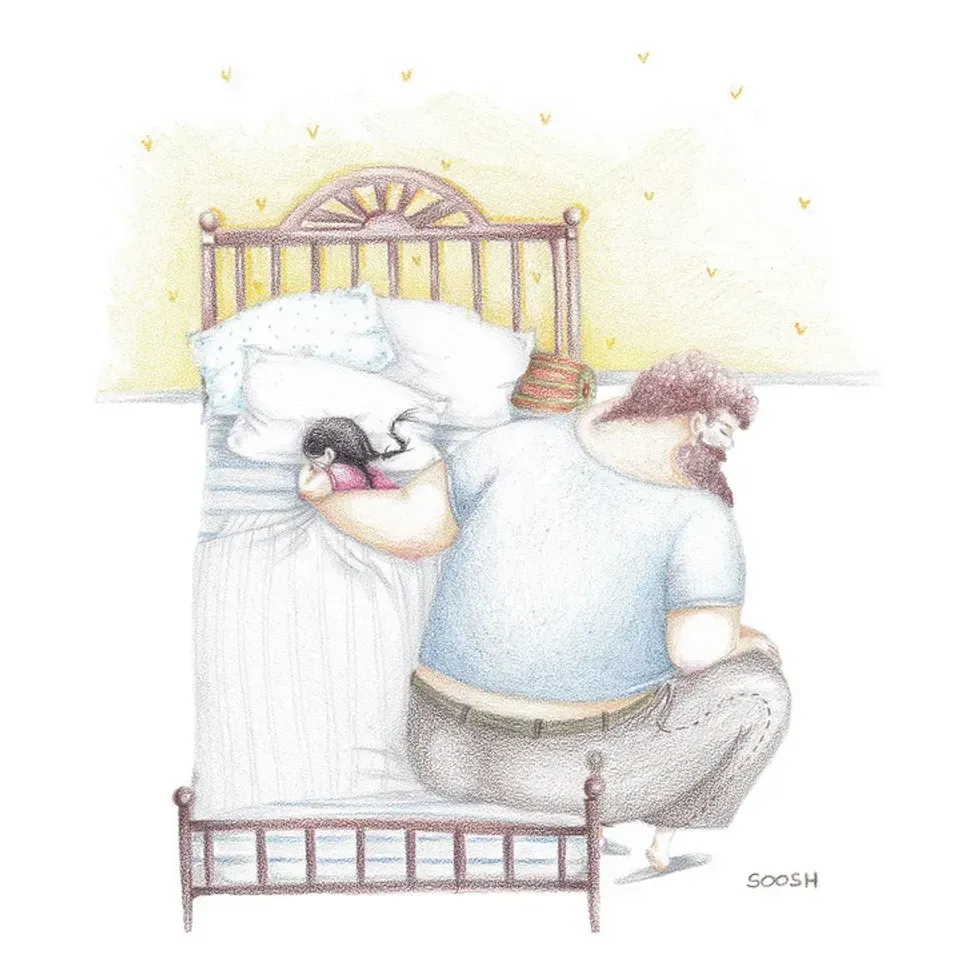 Always the protector.
All illustrations are provided by Soosh and used with permission.
9. Especially when there are monsters hiding in places they shouldn't.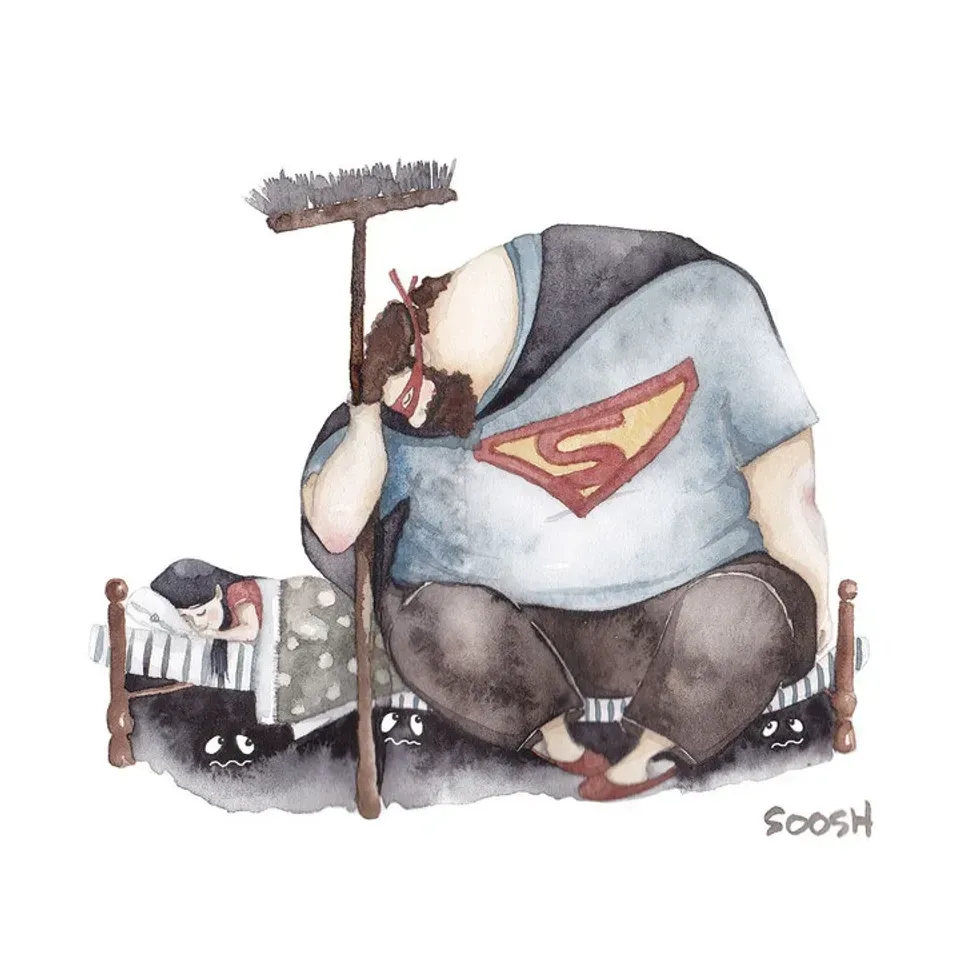 Dad is superman.
All illustrations are provided by Soosh and used with permission.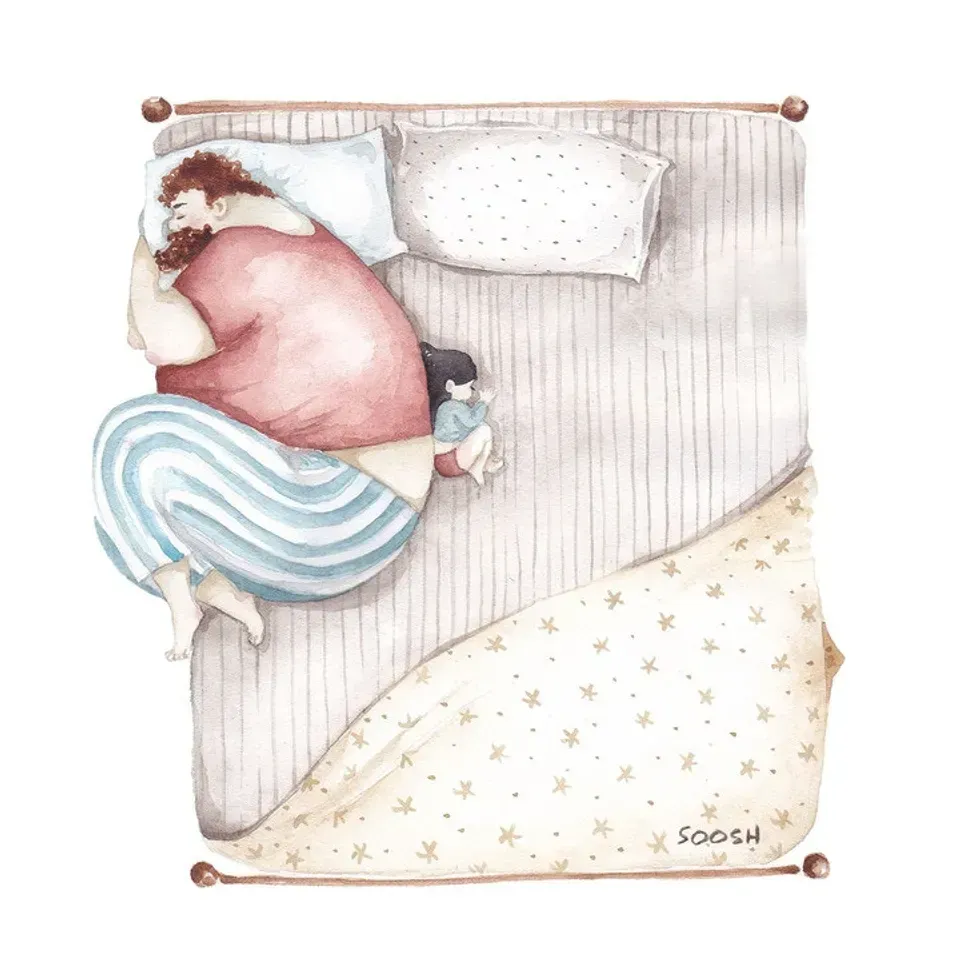 Never a big enough bed.
All illustrations are provided by Soosh and used with permission.
Seeing the daddy-daughter bond as art perfectly shows how beautiful fatherhood can be.
Identity
How do blind people cook? This "Masterchef" winner leans into her senses.
Image pulled from YouTube video.
This article originally appeared on 05.26.17

There is one question chef Christine Ha fields more than any other.
But it's got nothing to do with being a "Masterchef" champion, New York Times bestselling author, and acclaimed TV host and cooking instructor.
The question: "How do you cook while blind?"
Ha has a rare autoimmune disease that attacked her spinal cord and optic nerve. She started losing her vision in 2004 while she was in her 20s.
Ha compares her vision loss to "looking at a very foggy mirror after a hot shower." After her diagnosis, she worried she'd have to give up cooking. It was an interest she was just beginning to explore and one she had a serious talent and passion for. Instead of shying away from the kitchen, Ha decided to learn to navigate her new reality.
"It's like any other challenge in life; you just face it head on and hope for the best," she said in one of her recent videos.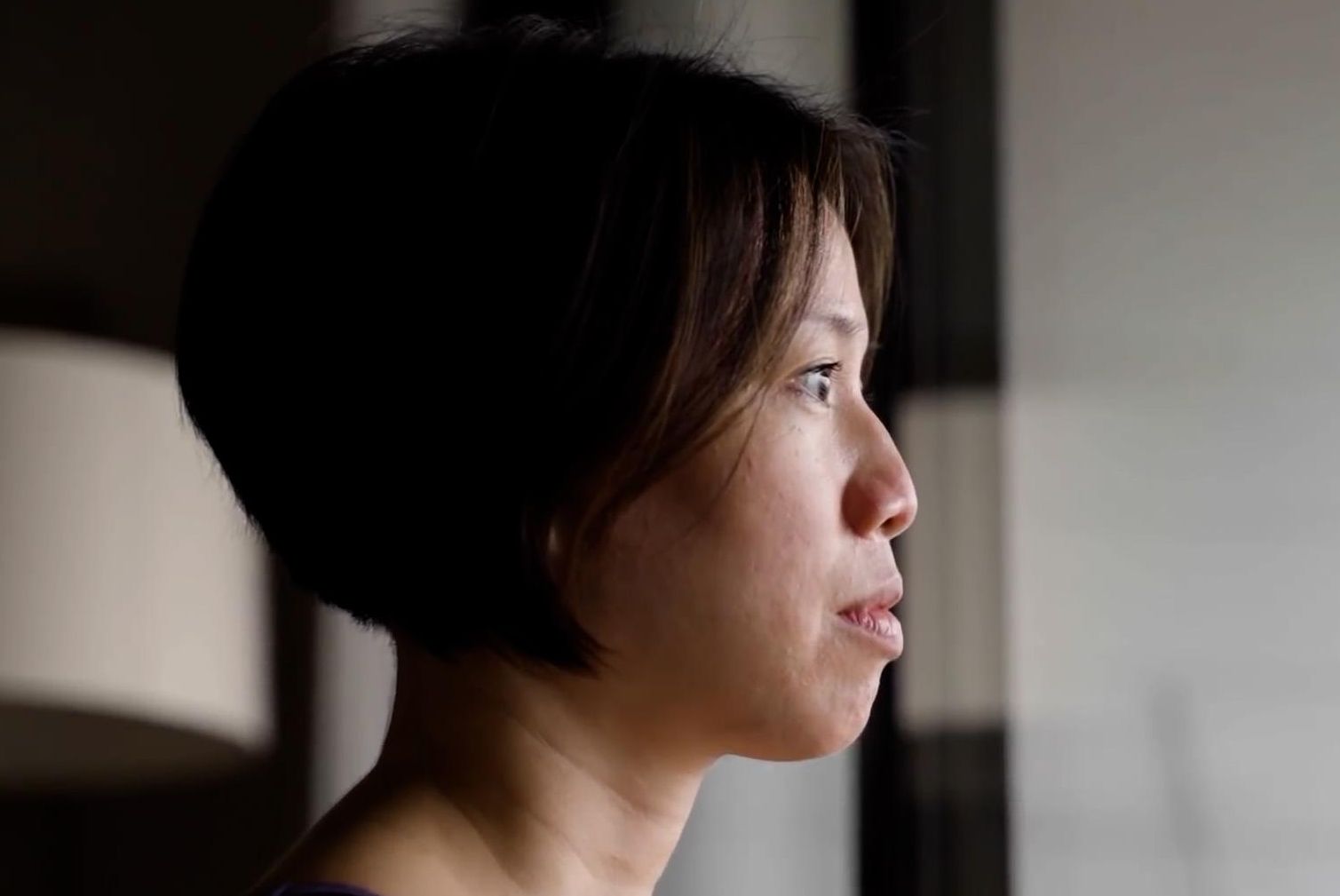 Ha started losing her vision in 2004.
Image pulled from YouTube video.
A seasoned chef, Ha leans into her other senses to bring her culinary creations to life.
In a video for her YouTube channel, Ha wears a GoPro camera while expertly preparing a mouthwatering meal of steamed whole snapper with black bean sauce and blistered green beans. She describes it as a "typical weeknight meal," the very thought of which separates home cooks from Masterchefs.
Watch Christine Ha make a delicious dinner ... just maybe not while you're hungry.
Ha is patient, taking her time to feel, smell, prep, and cut ingredients.
She sometimes uses adaptive tools, but much of her cooking is done by touch. She deftly guides her knife to accomplish intricate cuts.
Just like a sous chef in a professional kitchen, sometimes Ha's partner lends a quick hand.
Ha uses cooking, food, and telling her story to connect and communicate with people around her.
Preparing and sharing meals is a great way to unite people and celebrate what makes each of us unique. Plus, you get to eat tasty food with your favorite people. And if it's Gordon Ramsay approved, it's that much sweeter.
Watch and learn a little more about Christine Ha in the video below:
✪ In this exclusive Goalcast Original, the first blind contestant and winner of MasterChef, Christine Ha, opens up about how she lost her sight and her mothe...
Family
They are using their unique family arrangement to help people better understand polyamory.
Get stories worth sharing delivered to your inbox
This article originally appeared on 04.22.15


Gordon Ramsay is not exactly known for being nice.
Or patient.
Or nurturing.
On his competition show "Hell's Kitchen," he belittles cooks who can't keep up. If people come to him with their problems, he berates them. If someone is struggling to get something right in the kitchen, he curses them out.
His whole TV persona is based on being the world's worst boss.
Ramsay went on Reddit and allowed users to ask him any question they wanted.
So when a fellow cook asked him a sincere, deeply personal question about what to do when you've hit a roadblock in your career, you could probably guess what was coming.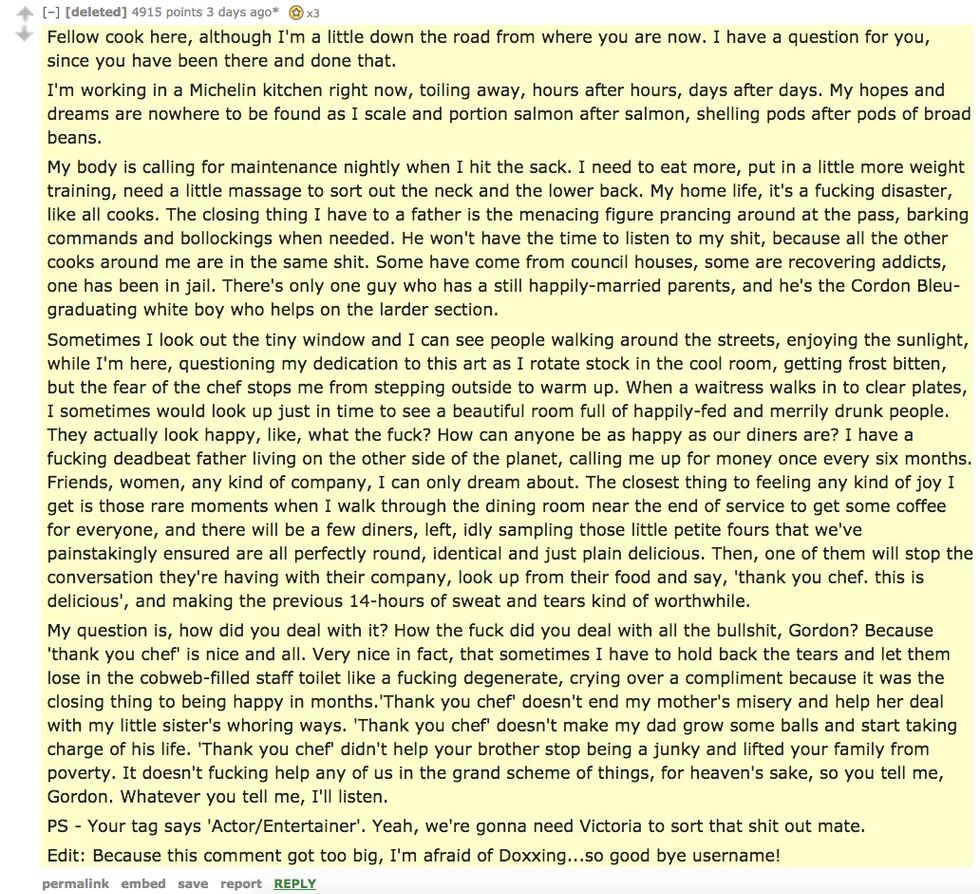 How do you deal with it Ramsay?
Indeed, I thought the guy was making a terrible mistake pouring his heart out to a chef as notoriously tough as Ramsay:
"My hopes and dreams are nowhere to be found as I scale and portion salmon after salmon, shelling pods after pods of broad beans.
...
Sometimes I look out the tiny window and I can see people walking around the streets, enjoying the sunlight, while I'm here, questioning my dedication to this art as I rotate stock in the cool room, getting frost bitten, but the fear of the chef stops me from stepping outside to warm up.
...
The closest thing to feeling any kind of joy I get is those rare moments when I walk through the dining room near the end of service to get some coffee for everyone, and there will be a few diners left, idly sampling those little petite fours that we've painstakingly ensured are all perfectly round, identical, and just plain delicious. Then, one of them will stop the conversation they're having with their company, look up from their food and say, 'Thank you, chef. This is delicious,' and making the previous 14-hours of sweat and tears kind of worthwhile.

My question is, how did you deal with it? How the fuck did you deal with all the bullshit, Gordon?"
But the way Ramsay responded? Totally amazing. And completely unexpected.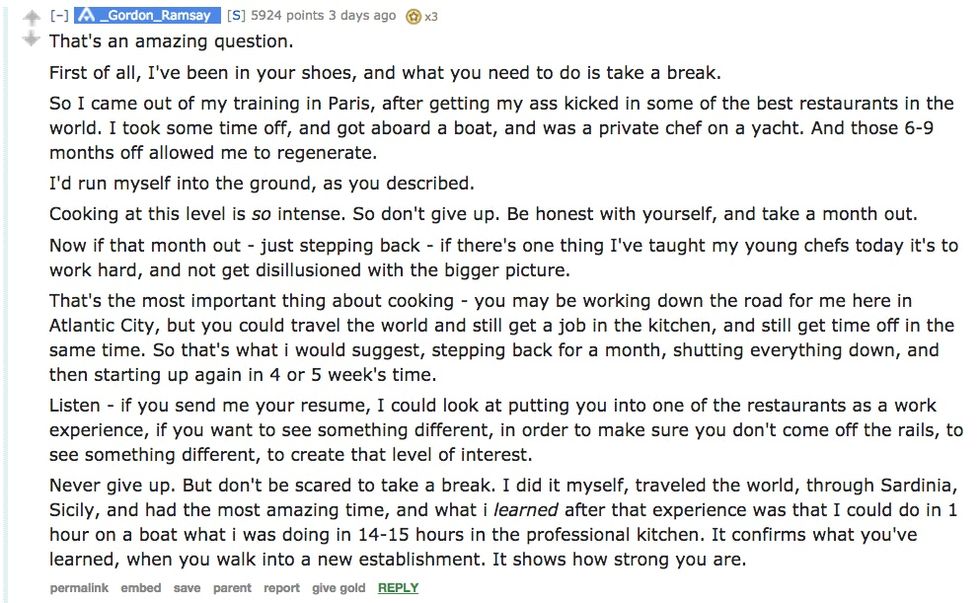 That's an amazing question.
Turns out, real-life Gordon Ramsay? He actually can be a really kind, big-hearted dude.

He's sympathetic to the guy. Not just because he's a good person. But because he's been there.

Working in restaurants is a tough, tough business. As of 2012, the average salary for cooks was less than $23,000/year. And those who are just starting out often have to work unglamorous, tedious jobs that no one else wants to do. Ramsay didn't have fancy culinary school training. He rose up through the ranks putting in long hours for low pay in kitchens all over the world. That's why he gets it.
Which brings up another point.
Diet Dieting GIF by Bobbi DeCarlo - Find & Share on GIPHY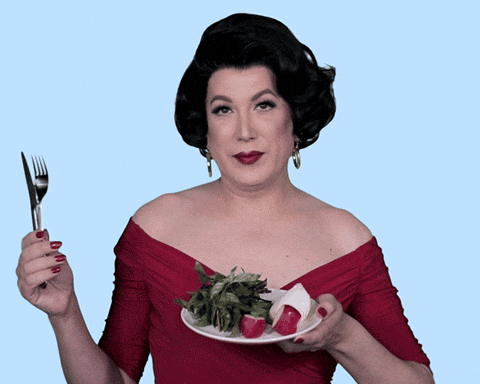 (Does this salad dressing have black pepper in it?? No tip for you!)
Diet Dieting GIF by Bobbi DeCarlo - from GIPHY.

When we go out to eat, we, as a culture, tend to behave ... how should I put this?
Let's go with "not like perfect angels."
Of course, no one likes getting the wrong order. Or waiting a really long time for a meal. Or eating something that doesn't taste the way you expect it to.
But it's important to remember that the people behind the food, like Ramsay's anonymous letter-writer, might be working 14-hour days. Or might be a recent immigrant who speaks limited English, trying to support a family thousands of miles away. And possibly making very little money. And sure, they screw up sometimes. But we all screw up at our jobs sometimes.
Because they, like the rest of us, are human beings.
Which is why saying...
"Thank you, chef. This is delicious."
Could mean everything to someone.
This article originally appeared on 01.27.20

From 1940 to 1945, an estimated 1.3 million people were deported to Auschwitz, the largest complex of Nazi concentration camps. More than four out of five of those people—at least 1.1 million people—were murdered there.
On January 27, 1945, Soviet forces liberated the final prisoners from these camps—7,000 people, most of whom were sick or dying. Those of us with a decent public education are familiar with at least a few names of Nazi extermination facilities—Auschwitz, Dachau, Bergen-Belsen—but these are merely a few of the thousands (yes, thousands) of concentration camps, sub camps, and ghettos spread across Europe where Jews and other targets of Hitler's regime were persecuted, tortured, and killed by the millions.
The scale of the atrocity is unfathomable. Like slavery, the Holocaust is a piece of history where the more you learn the more horrifying it becomes. The inhumane depravity of the perpetrators and the gut-wrenching suffering of the victims defies description. It almost becomes too much for the mind and heart to take in, but it's vital that we push through that resistance.
The liberation of the Nazi camps marked the end of Hitler's attempt at ethnic cleansing, and the beginning of humanity's awareness about how such a heinous chapter in human history took place. The farther we get from that chapter, the more important it is to focus on the lessons it taught us, lest we ignore the signs of history repeating itself.
Lesson 1: Unspeakable evil can be institutionalized on a massive scale
Perhaps the most jarring thing about the Holocaust is how systematized it was. We're not talking about humans slaying other humans in a fit of rage or a small number of twisted individuals torturing people in a basement someplace—this was a structured, calculated, disciplined, and meticulously planned and carried out effort to exterminate masses of people. The Nazi regime built a well-oiled killing machine the size of half a continent, and it worked exactly as intended. We often cite the number of people killed, but the number of people who partook in the systematic torture and destruction of millions of people is just as harrowing.
It has now come out that Allied forces knew about the mass killing of Jews as early as 1942—three years before the end of the war. And obviously, there were reports from individuals of what was happening from the very beginning. People often ask why more wasn't done earlier on if people knew, and there are undoubtedly political reasons for that. But we also have the benefit of hindsight in asking that question. I can imagine most people simply disbelieving what was actually taking place because it sounds so utterly unbelievable.
The lesson here is that we have to question our tendency to disbelieve things that sound too horrible to be true. We have evidence that the worst things imaginable on a scale that seems unfathomable are totally plausible.
Lesson 2: Atrocity can happen right under our noses as we go about our daily lives
One thing that struck me as I was reading about the liberation of Auschwitz is that it was a mere 37 miles from Krakow, one of the largest cities in Poland. This camp where an average of 500 people a day were killed, where bodies were piled up like corded wood, where men, women, and children were herded into gas chambers—and it was not that far from a major population center.
And that was just one set of camps. We now know that there were thousands of locations where the Nazis carried out their "final solution," and it's not like they always did it way out in the middle of nowhere. A New York Times report on how many more camps there were than scholars originally thought describes what was happening to Jews and marginalized people as the average person went about their daily lives:
"The documented camps include not only 'killing centers' but also thousands of forced labor camps, where prisoners manufactured war supplies; prisoner-of-war camps; sites euphemistically named 'care' centers, where pregnant women were forced to have abortions or their babies were killed after birth; and brothels, where women were coerced into having sex with German military personnel."
Whether or not the average person knew the full extent of what was happening is unclear. But surely there were reports. And we know how the average person responds to reports, even today in our own country.
How many news stories have we seen of abuses and inhumane conditions inside U.S. immigrant detention camps? What is our reaction when the United Nations human rights chief visits our detention facilities and comes away "appalled"? It's a natural tendency to assume things simply can't be that bad—that's undoubtedly what millions of Germans thought as well when stories leaked through the propaganda.
Lesson 3: Propaganda works incredibly well
Propaganda has always been a part of governance, as leaders try to sway the general populace to support whatever they are doing. But the Nazis perfected the art and science of propaganda, shamelessly playing on people's prejudices and fears and flooding the public with mountains of it.
Hermann Goering, one of Hitler's top political and military figures, explained in an interview late in his life that such manipulation of the masses isn't even that hard.
"The people can always be brought to the bidding of the leaders," he said. "That is easy. All you have to do is tell them they are being attacked and denounce the pacifists for lack of patriotism and exposing the country to danger. It works the same way in any country."
Terrifyingly true, isn't it? This is why we have to stay vigilant in the face of fear-mongering rhetoric coming from our leaders. When an entire religion or nationality or ethnic group is painted as "dangerous" or "criminal" or "terrorists," we have to recognize that we are being exposed to the same propaganda used to convince Germans that the Nazis were just trying to protect them. Safety and security are powerful human desires that make it easy to justify horrible acts.
Hitler was also great at playing the victim. While marching through Europe, conquering countries and rounding up millions of innocent people to exterminate, he claimed that Germany was the one under attack. Blatant anti-Semitic rhetoric surely fired up Hitler's core supporters, but the message to the average German was that this was all being done in the name of protecting the homeland, rather than a quest for a world-dominating master race.
Lesson 4: Most of us are in greater danger of committing a holocaust than being a victim of one
I had to pause when this realization hit me one day. As fairly average white American, I am in the majority in my country. And as strange as it is to say, that means I have more in common with the Germans who either committed heinous acts or capitulated to the Nazis than I do with the Jews and other targets of the Nazi party. That isn't to say that I would easily go along with mass genocide, but who's to say that I could fully resist the combination of systematic dehumanization, propaganda, and terrorism that led to the Holocaust? We all like to think we'd be the brave heroes hiding the Anne Franks of the world in our secret cupboards, but the truth is we don't really know what we would have done.
Check out what this Army Captain who helped liberate a Nazi camp said about his bafflement at what the Germans, "a cultured people" allowed to happen:
"I had studied German literature while an undergraduate at Harvard College. I knew about the culture of the German people and I could not, could not really believe that this was happening in this day and age; that in the twentieth century a cultured people like the Germans would undertake something like this. It was just beyond our imagination... – Captain (Dr.) Philip Leif - 3rd Auxiliary Surgical Group, First Army
Some say that we can gauge what we would have done by examining what we're doing right now, and perhaps they are right. Are we speaking out against our government's cruel family separations that traumatize innocent children? Do we justify travel bans from entire countries because we trust that it's simply our leadership trying to keep us safe? Do we buy into the "Muslims are terrorists" and "undocumented immigrants are criminals" rhetoric?
While it's wise to be wary of comparing current events to the Holocaust, it's also wise to recognize that the Holocaust didn't start with gas chambers. It started with "othering," scapegoating, and fear-mongering. We have to be watchful not only for signs of atrocity, but for the signs leading up to it.
Lesson 5: Teaching full and accurate history matters
There are people who deny that the Holocaust even happened, which is mind-boggling. But there are far more people who are ignorant to the true horrors of it. Reading first-hand accounts of both the people who survived the camps and those who liberated them is perhaps the best way to begin to grasp the scope of what happened.
One small example is Supreme Allied Commander Dwight D. Eisenhower's attempt to describe what he saw when he visited Ohrdruf, a sub-camp of Buchenwald:
"The things I saw beggar description. While I was touring the camp I encountered three men who had been inmates and by one ruse or another had made their escape. I interviewed them through an interpreter. The visual evidence and the verbal testimony of starvation, cruelty and bestiality were so overpowering as to leave me a bit sick. In one room, where they were piled up twenty or thirty naked men, killed by starvation, George Patton would not even enter. He said that he would get sick if he did so. I made the visit deliberately, in order to be in a position to give first-hand evidence of these things if ever, in the future, there develops a tendency to charge these allegations merely to 'propaganda.'"
And of course, the most important narratives to read and try to digest are the accounts of those who survived the camps. Today, 200 survivors of Auschwitz gathered to commemorate the 75th anniversary of its liberation. They warned about the rise in anti-Semitism in the world and how we must not let prejudice and hatred fester. Imagine having to make such a warning seven decades after watching family and friends being slaughtered in front of you.
Let's use this anniversary as an opportunity to dive deeper into what circumstances and environment enabled millions of people to be killed by one country's leadership. Let's learn the lessons the Holocaust has to teach us about human nature and our place in the creation of history. And let's make darn sure we do everything in our power to fend off the forces that threaten to lead us down a similarly perilous path.
Health
"After all these years, my friend has probably forgotten, but I never have."
This article originally appeared on 08.12.16


Years ago, a friend went to a party, and something bothered him enough to rant to me about it later.
And it bothered me that he was so incensed about it, but I couldn't put my finger on why. It seemed so petty for him to be upset, and even more so for me to be annoyed with him.
Recently, something reminded me of that scenario, and it made more sense. I'll explain.
The party was a house party.
One of those parties people throw if they're renting a good-sized house in college. You know the type — loud music, Solo cups of beer, and somebody doing something drunk and stupid before the end of the night.

At some point, my friend had occasion to use the bathroom. When he went into the bathroom, he was disgusted to see that the hostess had left a basket of menstrual hygiene products on the counter for guests to use if needed.
Later, when my friend told me about it, he wrinkled his nose and said, "Why would she do that? Guys don't want to see that!"
When I suggested that she was just making them available in case someone needed them, he insisted they could be left in the cabinet or under the counter. Out of sight, anyway.
I wish I'd had, at the time, the ability to articulate what I can now.
To me, this situation is, while relatively benign, a perfect example of male privilege.
A man walks into the bathroom and sees a reminder that people have periods. And he's disgusted. He wants that evidence hidden away because it offends his senses. How dare the hostess so blatantly present tampons and pads where a man might see them? There's no reason for that!
Someone who gets a period walks into the bathroom and sees that the hostess is being extra considerate. They get it. They know what it's like to have a period start unexpectedly. The feeling of horror because they're probably wearing something they don't want ruined — it is a party after all. The sick embarrassment because someone might notice, especially if they're wearing light-colored clothes, or worse, they sat on the hostess' white couch.
The self-conscious, semi-nauseated feeling of trying to get through a social event after you've exhausted every avenue to get your hands on an emergency pad or tampon, and you're just hoping to God that if you tie your jacket around your waist (you brought one, right?), keep your back to a wall, clench your butt cheeks, squeeze your thighs tightly together, and don't ... move ... at ... all — you might get through the evening, bow out gracefully, and find an all-night convenience store with a public restroom.
Or maybe they came to the party during their period, but didn't bargain for the flow to suddenly get that heavy. Or they desperately need a tampon, but their purse or bag is in a room where a couple is not to be disturbed. Maybe they don't know the hostess well enough to ask if they can use one. Or they don't know anyone at the party well enough to ask. Or they figure they can make do with some wadded up toilet paper or something.
Whatever the case, they walk into the bathroom and hear the hostess saying, "Hey, I know what it's like, and just in case, I've got your back." They see someone saving them from what could be a minor annoyance or a major embarrassment.
The hostess gets it.
The person who just walked into the bathroom? They're either going to see that the person throwing the party is super considerate or they're going to be whispering "thanks to Jesus, Krishna, and whoever else is listening" because that is a basket full of social saviors.
But to the guy who wrinkled his nose, it's still offensive that those terrible little things are on the counter, reminding his delicate sensibilities that the playground part of a person is occasionally unavailable due to a "gross" bodily function that he should never have to think about.
In the grand scheme of things, it's a tiny thing. It's a tiny annoyance for the man and a more significant, but relatively tiny, courtesy for the person with their period. After all these years, my friend has probably forgotten, but I never have. As a person whose life is partially governed by a fickle uterus that can ruin an evening faster than a submerged iPhone, his story has stuck with me.
How can you be so offended by a small gesture that has zero effect on you, but could make such an enormous difference to the person who needs it?
It occurs to me now that this is a small but effective illustration of how different people can see the world.
It's part of the same thought process that measures a woman's value through her bra size and her willingness to have sex with him — that everything about us is displayed or hidden based on how men perceive them or what he wants to get from us. Unattractive women should be as covered as possible, while attractive ones shouldn't be hiding their assets from male eyes (or hands, or anything else he wishes to use).
A woman who isn't smiling is an affront to him because it detracts from her prettiness, despite the fact that there might be a legitimate reason for her not to smile (or more to the point, there isn't a legitimate reason for her to smile). Her emotional state is irrelevant because she's not being pretty. It's the line of thinking where a man blames anything other than cheerful sexual consent on the woman being a bitch, being a lesbian, or — naturally — being on her period. Everything we do, from our facial expressions to our use of hygiene products, is filtered through the lens of "how it looks to a man."
It's the line of thinking where a small gesture from one person to another, an assurance that someone else understands and will help without question or judgment, a gesture that could save a person's evening from being ruined is trumped by a man's desire to see an untainted landscape of pretty, smiling women with visible cleavage and bodies that never bleed.
And people wonder why we still need feminism.