popular
A Chick-fil-A manager revolutionized his town's COVID vaccination waiting times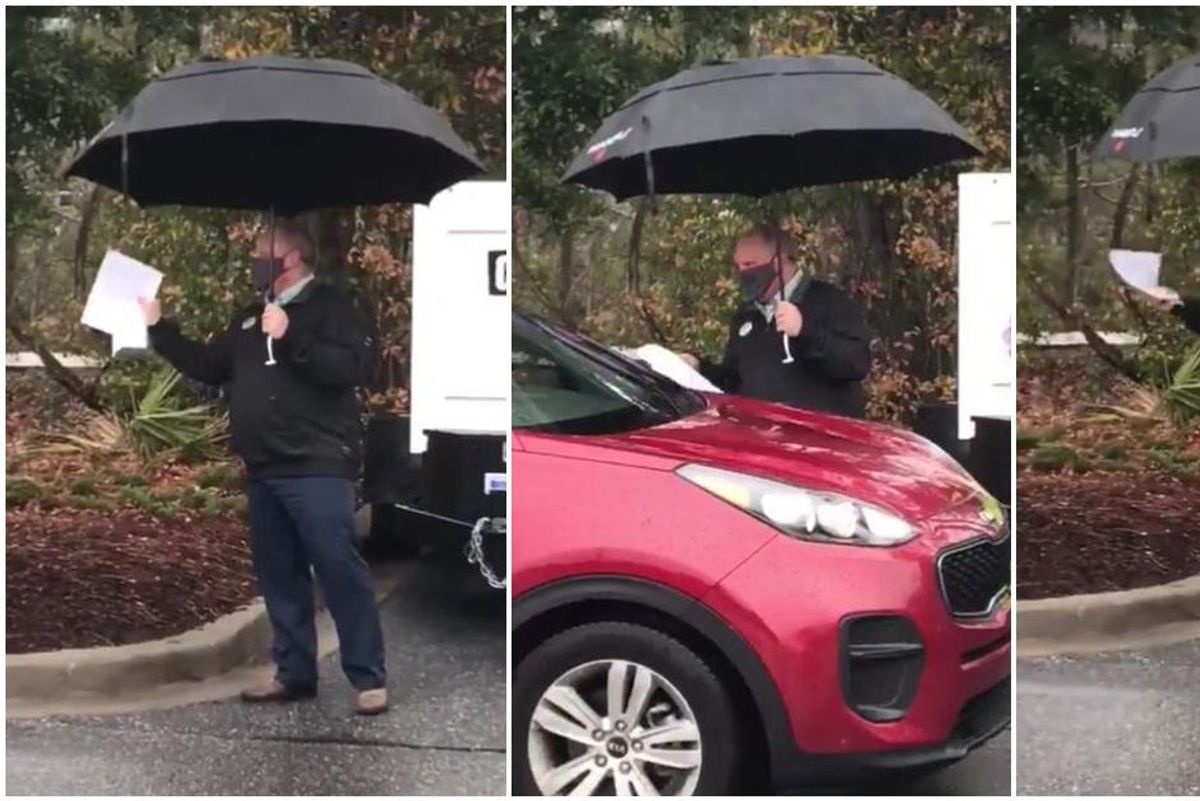 The Recount / Twitter
It's no surprise there have been some hiccups in distributing the COVID-19 vaccine across America. The Pfizer and Moderna vaccines were developed in just ten months' time. Then, supply chains were hastily put together to get the vaccine across the third-largest country on Earth.

Add to that, medical professionals need a massive amount of supplies such as needles and vials to administer the shots, and vaccine centers made to accommodate thousands were put together overnight.
In most cases, these sites were created by local governments with little experience in mass vaccinations. So when a South Carolina drive-thru coronavirus vaccination site got backed up, the town's quick-thinking mayor called in someone he knew he could help, a local Chick-fil-A manager.
---
Nobody knows how to get cars moving through a drive-through like folks in the fast-food business. The entire business model is getting people in and out as fast as possible.

On January 22, patients lined up at the Seacoast Church in Mount Pleasant were waiting over an hour to get their shots. So the town's mayor, Will Haynie, called Jerry Walkowiak, the manager of a nearby Chick-fil-A.
"When I heard about it, I called Jerry and asked if he would come help us out," Haynie said according to WPBF. "After he looked it over, he said, 'There's your problem right there. It's backed up because you have one person checking people in.' Then he showed us how to do it right."
Walkowiak brought over a few volunteers, made some tweaks to the process, and then started waving people through.
Chick-fil-A has been the focus of boycotts for the better part of a decade after it was revealed in 2012 that its chairman, president, and CEO Dan T. Cathy donated millions of dollars to organizations seen as hostile to LGBT rights. In November 2019, the company announced it would not give any money to two groups that have been criticized as being anti-LGBT, the Salvation Army and the Fellowship of Christian Athletes, in 2020. Although the company has never said whether this change in charitable donations will be permanent.
But when it comes to this particular brand manager, his approach has been nothing short of a breakthrough for people trying to get vaccinated.
"We saw a little hiccup in their drive-thru system, and we needed some more people, so we gathered some of the wonderful Rotary volunteers and went down there and just was able to expedite the registration part," Walkowiak said.
Once the new system was put in place, the wait time was drastically reduced from an hour-plus to just 15 minutes.
Haynie and Walkowiak's partnership is a great example of communities coming together to do whatever they can to get people vaccinated so we can all move on from the pandemic.
"Jerry got a phone call and dropped everything because he knows getting this vaccine out is a game-changer," Haynie said. "This is what the light at the end of the long Covid tunnel looks like."