Most Shared
With snacks, peanut butter, and silly faces, this photographer brings a lighthearted look to dogs facing a heartbreaking issue.
What comes to mind when you think of a pit bull?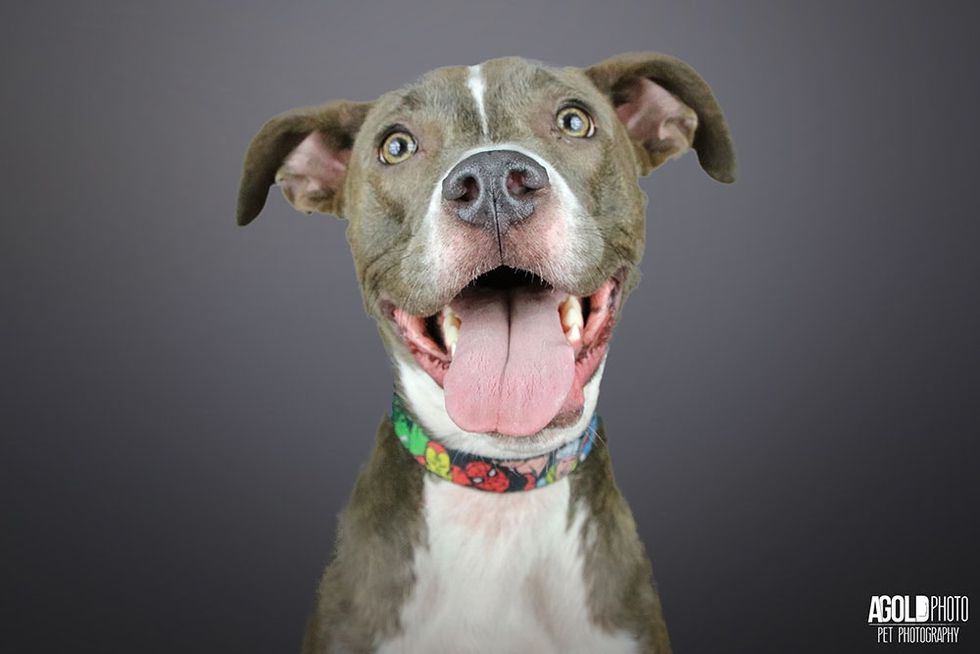 If you're friends with photographer Adam Goldberg, it's probably a nose covered in peanut butter, a tongue sticking out, or a head cocked to one side with a big smile.
<h2>With every picture, Goldberg hopes to rewrite a damaging narrative about these sweet doggos — and help a few find good homes too.</h2><div><div class="push-wrapper--mobile" data-card="image" data-reactroot=""><img type="lazy-image" data-runner-src="https://assets.rebelmouse.io/eyJhbGciOiJIUzI1NiIsInR5cCI6IkpXVCJ9.eyJpbWFnZSI6Imh0dHBzOi8vYXNzZXRzLnJibC5tcy8xOTUyNzQwOS9vcmlnaW4uanBnIiwiZXhwaXJlc19hdCI6MTY0NjU5NDIwNH0.jNH7Lc5LdxdCXUorQACieqWx7360_U76nIvJmJcqJog/img.jpg?width=980" id="6e6fd" class="rm-shortcode" data-rm-shortcode-id="3771842b7489fc2733c1b6f59e246fab" data-rm-shortcode-name="rebelmouse-image"><div class="image-caption"><p>Ginger, who definitely loves peanut butter.</p></div></div></div><p>While managing the Humane Society of Broward County's website and social media accounts, Goldberg was asked to photograph some of the animals. Having only ever used the camera on his phone, he spent eight months teaching himself portrait photography and treating every animal at the shelter to a photo shoot.</p><p>Part of Goldberg's job was to increase public awareness of dogs that had been in the shelter for a while, and he quickly noticed a pattern in the types of dogs he was photographing and posting about on Facebook. </p><p>"Nine times out of ten, they were pit bulls," he says.</p><div><div class="push-wrapper--mobile" data-card="image" data-reactroot=""><img type="lazy-image" data-runner-src="https://assets.rebelmouse.io/eyJhbGciOiJIUzI1NiIsInR5cCI6IkpXVCJ9.eyJpbWFnZSI6Imh0dHBzOi8vYXNzZXRzLnJibC5tcy8xOTUyNzQxMC9vcmlnaW4uanBnIiwiZXhwaXJlc19hdCI6MTY0NTIxNTg4MH0.uP0ZHrOXfFJfOobmZPqrUdVk7czFFhyKT_qFHu_LkXo/img.jpg?width=980" id="ecf16" class="rm-shortcode" data-rm-shortcode-id="507b0af34adfd0cfc82314b41a5389e3" data-rm-shortcode-name="rebelmouse-image"><div class="image-caption"><p>Ned, a bull terrier with one heck of a smile.</p></div></div></div><div><div class="push-wrapper--mobile" data-card="image" data-reactroot=""><img type="lazy-image" data-runner-src="https://assets.rebelmouse.io/eyJhbGciOiJIUzI1NiIsInR5cCI6IkpXVCJ9.eyJpbWFnZSI6Imh0dHBzOi8vYXNzZXRzLnJibC5tcy8xOTUyNzQxMS9vcmlnaW4uanBnIiwiZXhwaXJlc19hdCI6MTY1Mzk4MDEzNX0.ZfMgbZ3qtQCXSRs-GyZtGCDyy1kSeuk1o0sG7ieI0VM/img.jpg?width=980" id="b8f17" class="rm-shortcode" data-rm-shortcode-id="ce7883bdbd0f0153b38419415fd9937b" data-rm-shortcode-name="rebelmouse-image"><div class="image-caption"><p>Leia's attitude lives up to her namesake.</p></div></div></div><h2>Just 20 miles south of the Humane Society of Broward County, a breed-specific legislative line is drawn. </h2><p>In Miami-Dade, <a href="http://www.miamidade.gov/animals/pitbull-law.asp" target="_blank">it is illegal to own any breed classified as a pit bull</a> if you reside within the county.</p><div><div class="push-wrapper--mobile" data-card="image" data-reactroot=""><img type="lazy-image" data-runner-src="https://assets.rebelmouse.io/eyJhbGciOiJIUzI1NiIsInR5cCI6IkpXVCJ9.eyJpbWFnZSI6Imh0dHBzOi8vYXNzZXRzLnJibC5tcy8xOTUyNzQxMi9vcmlnaW4uanBnIiwiZXhwaXJlc19hdCI6MTYwODQ2MDgyM30.xqmqeXpz_Ec1Ipr07HdYHCUt1ObY7g9IR2rEcBnc1Ns/img.jpg?width=980" id="c1ef0" class="rm-shortcode" data-rm-shortcode-id="e6dddbf775b6c45ec4592fb5f5433acd" data-rm-shortcode-name="rebelmouse-image"><div class="image-caption"><p>Rousey, who doesn't quite live up to the ferocity of her collar.</p></div></div></div><p>American pit bull terriers, American Staffordshire terriers, and Staffordshire bull terriers are all banned under the "Pit Bull Law" as well as "any other dog that substantially conforms to any of these breeds' characteristics." </p><p>Breed-specific legislation like Miami-Dade's can cause problems for dog owners. For a lot of people, relocating for a job or family can mean the difference between finding a home or keeping your pet. </p><div><div class="push-wrapper--mobile" data-card="image" data-reactroot=""><img type="lazy-image" data-runner-src="https://assets.rebelmouse.io/eyJhbGciOiJIUzI1NiIsInR5cCI6IkpXVCJ9.eyJpbWFnZSI6Imh0dHBzOi8vYXNzZXRzLnJibC5tcy8xOTUyNzQxMy9vcmlnaW4uanBnIiwiZXhwaXJlc19hdCI6MTY0Mzc3MTI1Nn0.29kRtCe5K-IYajZIy8GNxh2e3prqv6GiG7lUu_AFbNQ/img.jpg?width=980" id="75320" class="rm-shortcode" data-rm-shortcode-id="105fc505ee20fe89e831f30300f02ac1" data-rm-shortcode-name="rebelmouse-image"><div class="image-caption"><p>Stella is still working on her catch skills.</p></div></div></div><p>Miami-Dade is far from the only place that restricts people from owning the breed — Sir Patrick Stewart was recently unable to <a href="https://www.facebook.com/Upworthy/videos/1733862446654606/" target="_blank">adopt his foster pit bull</a> Ginger because of legislation in Britain. </p><h2>All of this legislation helps contribute to stigma against pit bulls.</h2><p>As Nash McCutchen, marketing coordinator at the Humane Society of Tampa Bay, has seen firsthand that stigma means pit bulls wind up waiting longer to find a home, if they find one at all.</p><p>"Large adult dogs in general sit longer than the small breeds or a puppy. You add the pit bull stigma to that and it's going to be even longer," she explains.</p><p>To many, pit bulls represent dog fighting and attacks, <a href="https://web.archive.org/web/20160628203906/http://www.nationalcanineresearchcouncil.com/uploaded_files/publications/230603563_Pit%20Bull%20Placebo.pdf" target="_blank">a narrative created at least in part by American media in the 1970s</a>. But to owners, they're as sweet as can be. </p><p>"I got to know them," Goldberg says. "And [I] realized that these were the sweetest dogs ever, they just wanted to lick me all day. And that's where I just fell in love [with them]." </p><div><div class="push-wrapper--mobile" data-card="image" data-reactroot=""><img type="lazy-image" data-runner-src="https://assets.rebelmouse.io/eyJhbGciOiJIUzI1NiIsInR5cCI6IkpXVCJ9.eyJpbWFnZSI6Imh0dHBzOi8vYXNzZXRzLnJibC5tcy8xOTUyNzQxNC9vcmlnaW4uanBnIiwiZXhwaXJlc19hdCI6MTYyODg0MTk3NX0.rMWyLfSGCwUmGfdd3lmGyDzaneq_80KqsBjjKSi6s-g/img.jpg?width=980" id="d64e7" class="rm-shortcode" data-rm-shortcode-id="dedfc51b50413df3fca6c72ca578d07f" data-rm-shortcode-name="rebelmouse-image"><div class="image-caption"><p>Ajax knows the power of a bow tie in bringing a look together.</p></div></div></div><p>McCutchen — who hadn't been around pit bulls a lot before working at the shelter — had a similar experience when she started working with them. Since then, "I've just fallen in love with the breed," she says. "They're such human-oriented dogs. They're very dynamic personalities, very loyal and playful."</p><p>When Goldberg moved across the state in 2015, he connected with McCutchen and began volunteering as a photographer at the Humane Society of Tampa Bay. </p><h2>In July 2016, Goldberg held his first photo shoot fundraiser for the Tampa shelters, and in August, he launched the <a href="https://agoldphoto.com/pit-bull-picture-project/" target="_blank">Pit Bull Picture Project</a>. </h2><div><div class="push-wrapper--mobile" data-card="image" data-reactroot=""><img type="lazy-image" data-runner-src="https://assets.rebelmouse.io/eyJhbGciOiJIUzI1NiIsInR5cCI6IkpXVCJ9.eyJpbWFnZSI6Imh0dHBzOi8vYXNzZXRzLnJibC5tcy8xOTUyNzQxNS9vcmlnaW4uanBnIiwiZXhwaXJlc19hdCI6MTYwNzU2ODI4MH0.9XgvRDHSAsfxzRTNwPNsI6LvkE3QPC4pSb8QgqwhZng/img.jpg?width=980" id="75abc" class="rm-shortcode" data-rm-shortcode-id="31079bb6ad38fce344a6b2291a9ada7e" data-rm-shortcode-name="rebelmouse-image"><div class="image-caption"><p>Pocket, who is ready for some more peanut butter.</p></div></div></div><p>The project features pit bulls he's photographed and dogs that are up for adoption, all in the hopes of changing the breed's image and helping a few find their forever homes.</p><div><div class="push-wrapper--mobile" data-card="image" data-reactroot=""><img type="lazy-image" data-runner-src="https://assets.rebelmouse.io/eyJhbGciOiJIUzI1NiIsInR5cCI6IkpXVCJ9.eyJpbWFnZSI6Imh0dHBzOi8vYXNzZXRzLnJibC5tcy8xOTUyNzQxNi9vcmlnaW4uanBnIiwiZXhwaXJlc19hdCI6MTY1NDg5MzY3Mn0.MtUjArM9kJMGts2E02kyfOBXA7IyD6e4oGmadnTBiq8/img.jpg?width=980" id="87805" class="rm-shortcode" data-rm-shortcode-id="f359e5d2457a0e7a4ac4105128278541" data-rm-shortcode-name="rebelmouse-image"><div class="image-caption"><p>Ellie, who found her forever home.</p></div></div></div><p>His photo shoots have helped raise nearly $18,000 for shelters around Florida and have become so popular that he's recently launched AGoldPhoto Pet Photography as his full-time endeavor. He's already branching out of Florida — Colorado and Washington, D.C., are next — and he hopes to bring his unique style of photography to pets and shelters across the country.</p><p><em>You can follow Adam Goldberg's work on </em><a href="https://www.instagram.com/agoldphoto/" target="_blank"><em>Instagram</em></a><em> and </em><a href="https://www.facebook.com/agoldphotos/" target="_blank"><em>Facebook</em></a><em> or check out </em><a href="https://agoldphoto.com/" target="_blank"><em>his website</em></a><em> to learn more about the Pit Bull Picture Project and upcoming fundraisers near you.</em></p>