Community
Here's what people facing food insecurity want you to know about solving the hunger problem in America
True
Even though America is the world's wealthiest nation, about 1 in 6 of our neighbors turned to food banks and community programs in order to feed themselves and their families last year. Think about it: More than 9 million children faced hunger in 2021 (1 in 8 children).

In order to solve a problem, we must first understand it. Feeding America, the nation's largest domestic hunger-relief organization, released its second annual Elevating Voices: Insights Report and turned to the experts—people experiencing hunger—to find out how this issue can be solved once and for all.
Here are the four most important things people facing hunger want you to know.
Hunger is still an urgent crisis despite signs of economic recovery. In the months following the peak of the COVID-19 pandemic, headlines report that the nation's economic health is bouncing back after years of hardship. However, a big chunk of our population is experiencing a different reality. Recovery has been uneven nationwide, and grocery prices are still higher than normal despite easing supply chain issues. With the end of the federal support offered throughout the pandemic, child poverty rates have shot up, and families like Donnette McManus' are feeling the squeeze.
"Even though you have your list, you have your budget, things are changing so quickly. Your salary can't keep up. So, you get to the store with the same exact list, the same 10 items can cost you 50% more," said McManus, who lives in Massachusetts.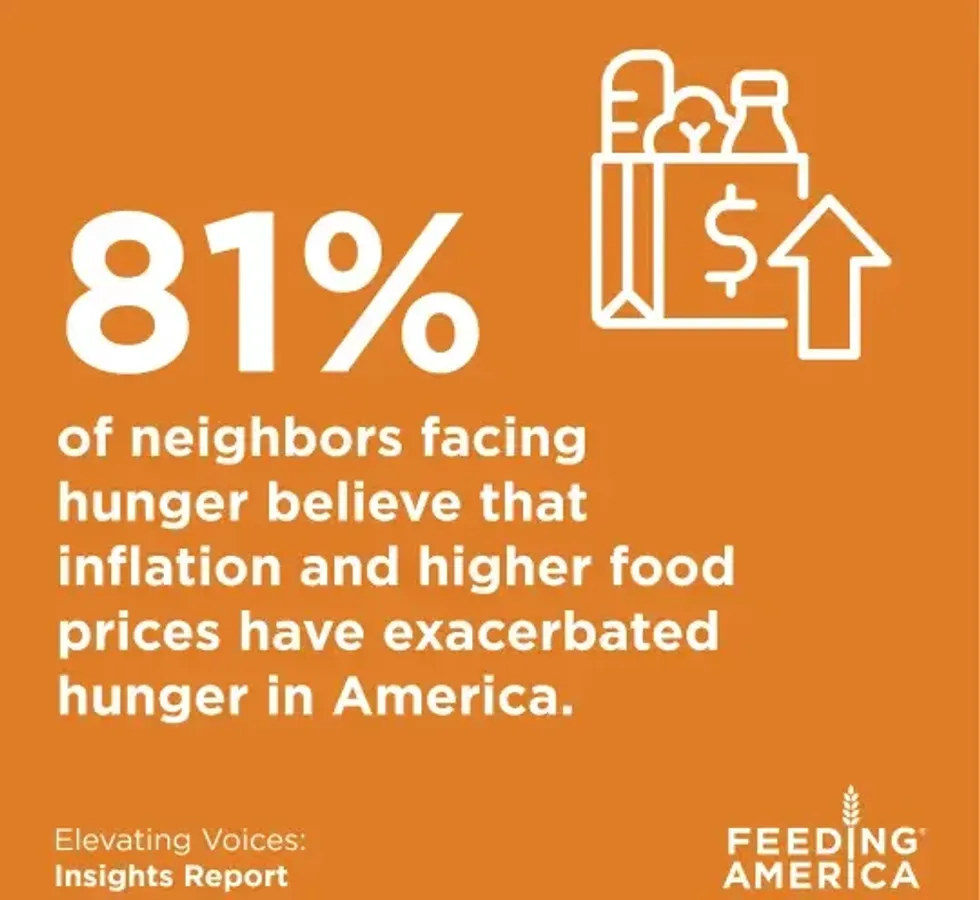 Feeding America Insights Report
People facing hunger say that ending food insecurity is about more than just food. Ending hunger may sound like a simple task: make sure everyone, regardless of who they are and where they live, has access to the food they need. However, as neighbor-advocate Jennifer Estrada of Wisconsin pointed out, the reality is a bit more complex, especially considering that hunger is only a symptom of bigger economic challenges.
"As much as you work, the system is set up for you to continue in a cycle of food insecurity," said Estrada. "Your whole check goes to a rent payment if you're not fortunate enough to own a house, with nothing leftover. But you get kicked off if you make $2 more. There needs to be some security, there needs to be a revamping of the whole system ... It seems like instead of creating less barriers to help the families in our community, it seems like policies and procedures continue to make more barriers."
One of the biggest takeaways from the 2023Insights Report is that housing is unaffordable. Working 40+ hours a week still isn't enough to get by for many folks. Stopping hunger in its tracks is as much about strengthening economic well-being as it is about providing equitable access to enough nourishing food.
Hunger is an issue that intersects with more than what we put on our plates. Hunger strikes without discrimination, affecting anyone, anywhere, at any time. Millions of people in the U.S. are just one job loss, missed paycheck, or medical emergency away from experiencing food insecurity. Due to a long history of racism, discrimination, and oppression in our country, hunger impacts some communities more than others, including communities of color and communities in rural areas.
While the impact of hunger is widespread, people facing it note that the stigma associated with it can strip people of their dignity or deter them from accessing the food assistance programs they're eligible for and need. There are also inequitable systems in place that do not work for everyone.
"Your basic clerk at your local DHS [Department of Human Services] office is only employed to input information and output information back to you. A lot of times, you feel like you're not even a human. You're just a number to them. And if I'm just going to be a number to you, I have a mental meltdown," said Kimberly Harris, a resident of Washington, D.C.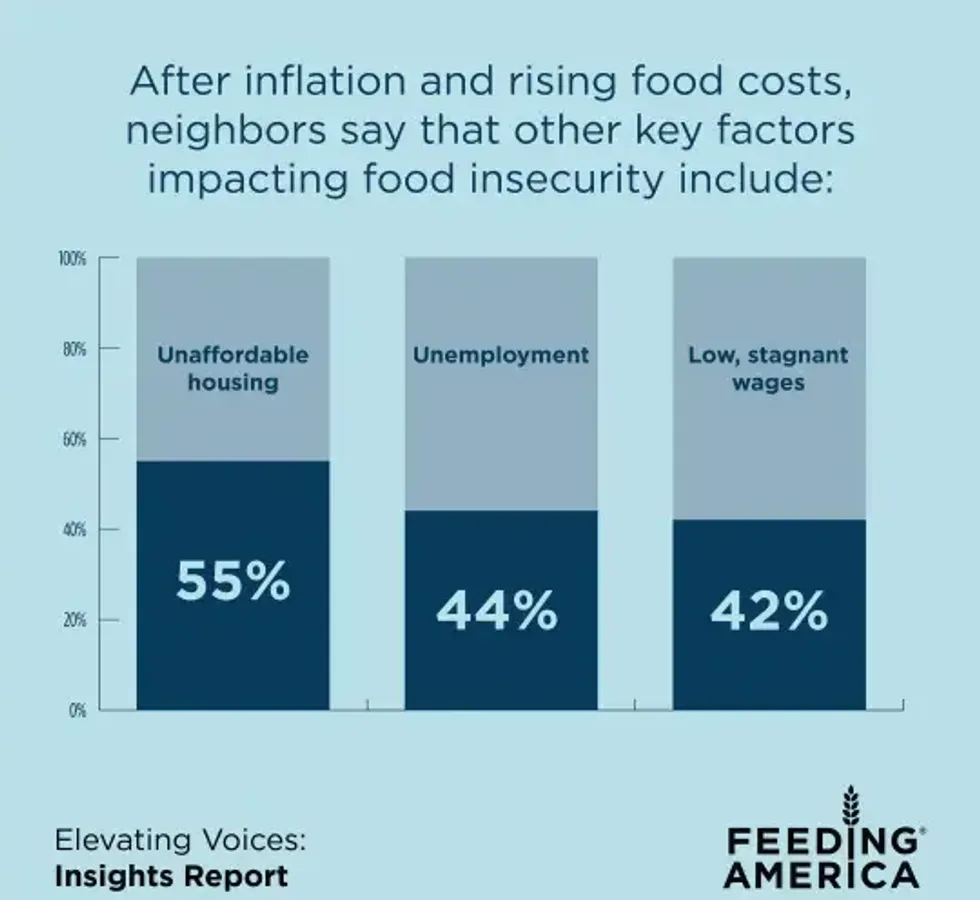 Feeding America Insights Report
Ending food insecurity requires a catalyzing movement. While hunger remains a widespread and persistent problem, our country already has the tools to eradicate it forever—they just need to be utilized. Most people facing hunger said that federal and local governments should treat hunger as an urgent crisis—signaling that it will take all of us to bring hunger to a halt.
So how can you take action right now? Do your part and visit FeedingAmerica.org/ElevatingVoices to read the 2023 Elevating Voices: Insights Report and sign a petition to encourage Congress to pass legislation that will help ensure no one in America goes hungry. Let's all pitch in to make the wealthiest nation become the happiest and most prosperous—for all.
Pets
A quick trip to the vet confirmed the cats' and family's suspicions.
Family
Invigorate your journey to optimal health with these wellness-enhancing colostrum supplements.
Editor's Note: Upworthy earns a percentage of revenue from items purchased on this list.

Embarking on a journey toward enhanced well-being is a rewarding endeavor, and when it comes to unlocking nature's potential, colostrum supplements stand as remarkable allies. Did you know that the global colostrum market is projected to experience a growth of over 3.5% in the coming years, a testament to the increasing recognition of its incredible benefits? Moreover, scientific interest in colostrum's immune-boosting properties has led to a surge in research publications, with a remarkable 37% rise observed in the last five years alone. As we delve into the realm of wellness-enhancing supplements, this article unveils an illuminating guide to the 15 best colostrum supplements, offering a chance to embrace vitality and invigorate the journey to optimal health.
15 best colostrum supplements
In the tapestry of holistic well-being, the transformative potential of colostrum supplements shines ever brighter, illuminating a path toward vitality and resilience. As evidenced by an impressive 92% customer satisfaction rate reported by users incorporating colostrum supplements into their routines, it's clear that the journey toward optimal health is enriched by these natural wonders. Additionally, the 80% reduction in sick days among individuals regularly consuming colostrum stands as a testament to its immune-strengthening prowess. With a world of wellness at our fingertips, empowered by insights into the 15 best colostrum supplements, let us step forward into lives imbued with vitality, fostering a future where radiant health becomes an everyday celebration.
Get stories worth sharing delivered to your inbox
Family
The Harvard report has 3 major takeaways.
"It may be the most important thing we do in life; learn how to love and be loved."
At least, that's according to Harvard psychologist and researcher Rick Weissbourd.
He's been collecting data on the sex and love habits of young people for years through surveys, interviews, and even informal conversation — with teens and the important people in their lives.
Through it all, one thing has been abundantly clear:
"We spend enormous amount of attention helping parents prepare their kids for work and school," Weissbourd says. "We do almost nothing to prepare them for the tender, tough, subtle, generous, focused work of developing mature healthy relationships. I'm troubled by that."
Now he and his team have finally compiled five years of intense research that asks the question, "What do young people really think about sex and love?"
And maybe just as important: "How should we be preparing them?"
Here are three major takeaways from the groundbreaking new report:
1. Hookup culture might just be a big ol' myth.
Everybody's hooking up with everybody these days, right? Not so fast.
The Harvard report presents a startling statistic from a related study in 2008. A group of college students in the U.S. were asked what percentage of guys on campus they thought had sex on any given weekend. They guessed about 80%. The reality? As low as 5%.
Weissbourd notes that because hookups are so culturally visible (especially in college) and gossiped about, it creates a perception that they're a lot more common than they actually are.
The Harvard study itself found, in fact, that most young people are a lot more interested in sex within a committed relationship or, shockingly(!), things that don't involve sex at all.
What it means for parents: We as adults, unfortunately, play a big role in this pervasive and harmful myth. "In every era there've been complaints about how sexually out of control kids are," Weissbourd says. "It's a story adults really love to tell."
When we play up this stereotype, the study finds it can actually make young people less likely to seek advice or to talk about sex and relationships because they may feel inadequate or embarrassed about their lack of experience.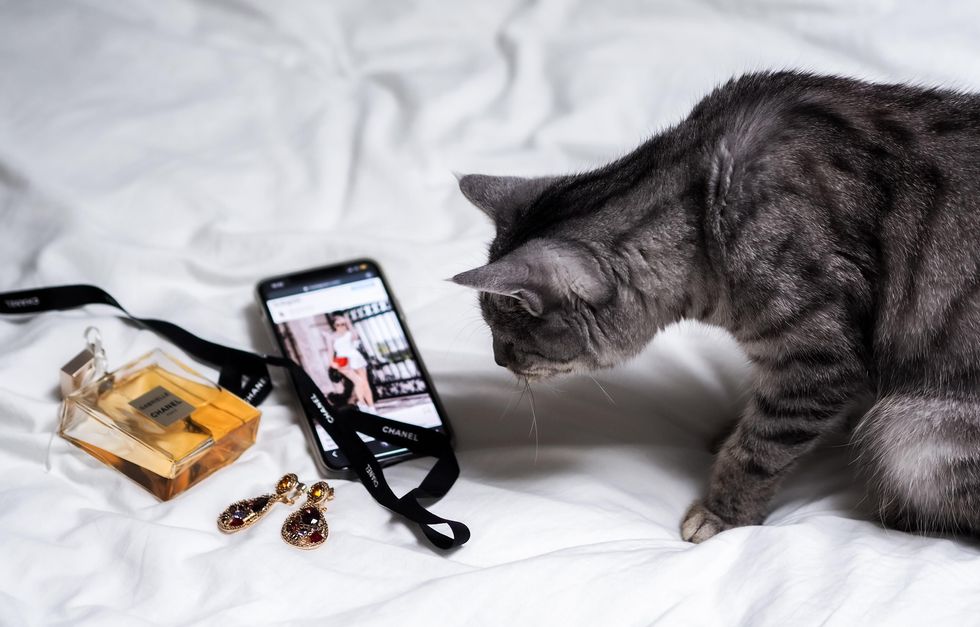 silver tabby cat lying on white textilePhoto by
Laura Chouette
on
Unsplash
2. Sexual harassment and assault, however, remain huge, unaddressed problems.
"There are a significant number of young men out there who think that all they can't do is rape someone," Weissbourd says. "They can't drag someone in an alley to rape them."
What many of them have very little concept of, he says, is how harmful and dangerous behaviors like catcalling, pressuring, and coercion can be.
The study cites endless instances of girls being harassed at school, complaining to administration, staging walkouts; anything to get the problem addressed. But the "boys will be boys" attitude persists, and problems are often swept under the rug rather than tackled head-on.
A culture of sexual violence is harmful for obvious reasons, but the report also found these kinds of attitudes can bleed over into relationships that can "disproportionately involve females servicing males."
What it means for parents: Talk. to. your. kids. about. consent.
"I was really surprised how many parents had not had basic conversations with their kids about things like consent, or how to avoid sexually harassing a person," Weissbourd says.
We have to make it crystal clear to young people what kinds of behavior are and aren't acceptable, and follow up those lines with real consequences. It's the only way things are ever going to change.
3. Teens and young adults want more guidance than we're giving them.
Most parents aren't thrilled about having "the talk," and admittedly, bringing up the topic of sex with a teen is no easy task.
But with all this dread and hand-wringing over how to talk about the birds and the bees, the Harvard report notes that many parents are overlooking a much bigger topic: love and relationships.
Roughly 70% of surveyed young adults reported wishing they had received more or better guidance on the emotional aspects of relationships, both from parents or from health class. But it's not just a hindsight thing.
Many parents are overlooking a much bigger topic: love and relationships.
"The percentage of young people who want guidance on romantic relationships was encouraging," Weissbourd says. "Kids light up when they are talking about love and what love is and what does it mean. That was surprising and really encouraging."
What it means for parents: When you're done teaching your teenager how to put a condom on a banana, make sure to spend some time talking about the day-to-day work that goes into building a healthy relationship.
That means going beyond platitudes. The Harvard team suggests diving into more complex questions like, What's the difference between attraction, infatuation, and love? How can we be more attracted to people the less interested they are in us? Why can we be attracted to people who are unhealthy for us?
Those are questions some of us might not even have the answer to, but having the honest conversation with our kids is a major step in helping them learn how to love and be loved.
As Weissbourd says, it's one of the most important things we'll ever do.
The full report tackles even more and is jam-packed with must-know findings and statistics. It's definitely worth a read.
This article originally appeared on 05.18.17
Get stories worth sharing delivered to your inbox