Most Shared
This 'feel-good' story about helping out a cash strapped teacher sends the wrong message about how our system is failing teachers.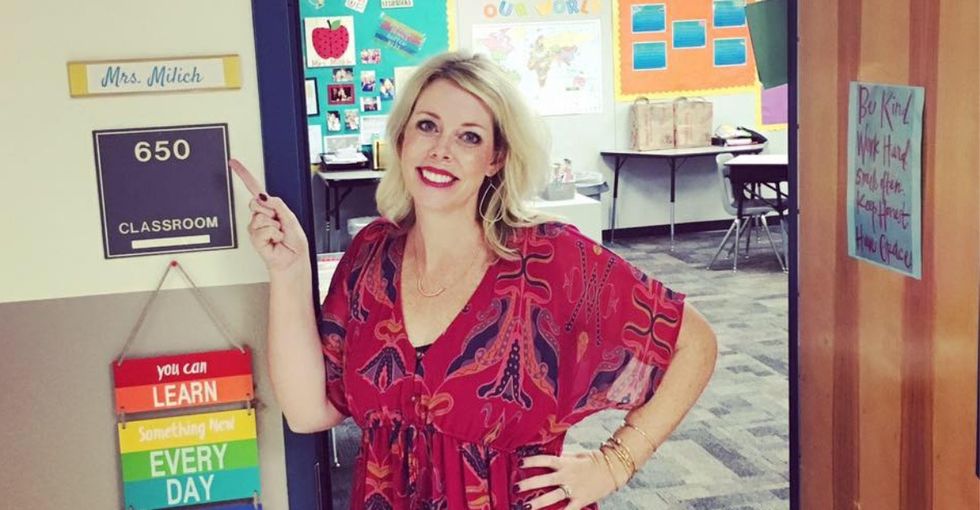 Elisabeth Milich, like so many other teachers in the country, is paid much less than her worth.
She's a second grade teacher at Whispering Wind Academy in Phoenix, Arizona, a Title 1 school that serves low-income students and receives federal funding. In 2018, Milich's salary was $35,621.25, and since the funding her school receives is hardly ever enough to cover costs of the classroom supplies she needed to do her job, she'd often dip into her own pockets to make up the difference.
---
So, around the same time that #RedforEd — a teacher-driven movement calling for a 20% pay increase and better education funding — swept across Arizona state, Milich decided to take a bold stand: She shared her salary publicly on Facebook.
"I buy every roll of tape, every paper clip I use, every Sharpie I grade with, every snack I feed kids who don't have them, every decorated bulletin board, the list could go on. I love teaching! BUT...the reality is without my husband's income I could NEVER be an educator in this state!" her post read.
The post, which has since been taken down, quickly went viral, catching the attention of many a journalist. It also touched Ben Adam, a man from New York City who decided to reach out to Milich with a generous offer — he wanted to pay for her classroom supplies and snacks for the kids.
"I'm sensitive to the people that get the short end of the stick and without complaining," Adam told Good Morning America. "Teachers work very hard and don't get much in return."
Milich thought it was a wonderful, one-time gift, but Adam had other, loftier plans.
Not only has he fully supplied her classroom for the last two semesters, he's done the same for five other teachers in Phoenix. He even bought a butterfly farm for one of the classrooms.
And, in order to keep the giving going, he started a website last month called Classroom Giving, which opened up his teacher give-back mission to anyone who wants to contribute.
Unlike your average crowdfunding campaign, this website allows you to buy an item off an educator's wish list, just like a wedding or baby registry. It's then sent directly to them.
So far, about 12 teachers have received supplies, and Adam says he's since received requests from teachers in Colorado, Washington, Alaska and California.
Underpaid teachers and underfunded schools aren't only in Arizona, and give-back initiatives like this, while incredible, will not solve the systemic problem alone.
In 2018, hundreds of schools in both Arizona and Colorado had to close because so many teachers walked out in protest over their abysmal salaries and funding. According to Time Magazine, the 3.2 million full-time public school teachers in America today are experiencing the worst wage stagnation of any profession. As Milich succinctly put it to the New York Times, the education system in this country is "broken," and it's going to take more than a few generous individuals to fix it.
"I know educators in this state who are leaving the profession every day because they can't afford to live or because they're sick of the environment they're working in," she told the Times reporter.
If you believe education plays a crucial role in the future of this country, it's time to reach out to your government officials and fight for the people who are desperately trying to keep it afloat.