Joy
It's a problem a lot of couples face.
Joy
Trusted Housesitters: Vacation pet sitting with love.
Take some time away, meet new furry friends, and experience a place different from your home. Trusted Housesitters is on a mission to help connect animal-lovers who love to travel with other animal-lovers who love to travel. It seems like a match made in heaven, doesn't it? Well, if you're looking to visit some place new and need a pet-sitter or want to visit some place new and pet-sit, then Trusted Housesitters is the site for you. Here's how it works: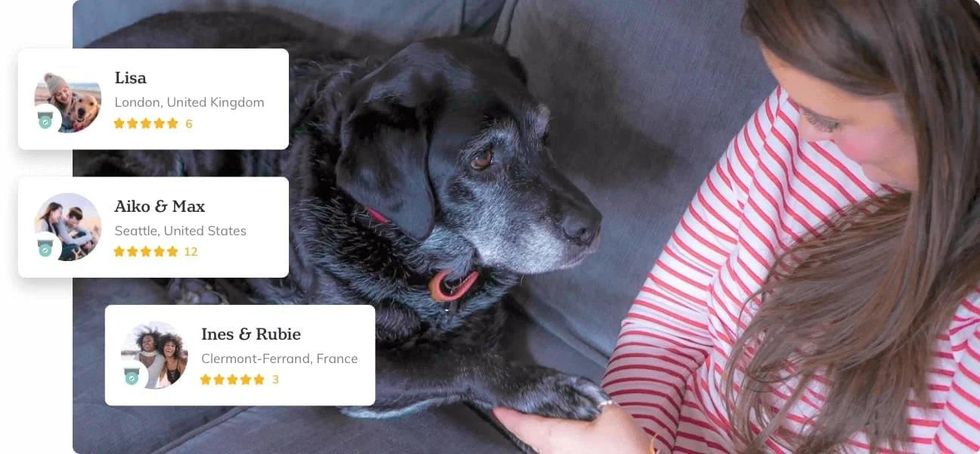 Let's first say that you're someone looking to travel someplace different and stay for FREE (which let's be honest, who isn't looking for this?). Visit the Trusted Housesitters site and create a profile. Upload tons of pictures, sitter qualifications and little insights into your personality. Then, start applying for sits! It's that easy! People from around the world looking to leave their furry companions for a few days or weeks will browse your application and if they think you're a fit they'll reach out and set up a video call.
Next you travel, arrive at your new home, hang with furry friends and spend some time in a new place! Stays range from homes with a pool in Scottsdale, Arizona, to farmhouses in Austin, Texas and even cabins in Big Sky, Montana. It's a great way to get in touch with local life and perhaps even find that pet-shaped hole in your heart.
But what if you're a paw-rent who's looking to get away for a few days? Well, the process is the same, but reversed. After you create your account you list your home along with your tentative travel dates. Sitters from around the world then apply to watch your fur-babies. After reviewing their accounts and qualifications, you set up a video call to make sure you're a good fit. And the best part is you know your leaving your home and your fur-baby in good-hands while you're away.
Each of the sitters is vetted through the site and undergoes background checks, ID verification and a call to ensure that they meet the guidelines set by the site. Owners and sitters are both reviewed at the end of each vacation so the community of Trusted Housesitters maintains transparency and quality standards. It's a safe, modern, cool way to travel and takes the anxiety out of leaving your fur-babies behind.
So what are you waiting for? Your next vacation could be right around the corner! Sign up today and start looking.
Upworthy has earned revenue through a partnership and/or may earn a portion of sales revenue from purchases made through links on our site.
Joy
Finally, they get to play!
Here at Upworthy we look for stories that will make you smile and warm your heart and, let's face it, we could all use a little help in the smile department these days. When we ran across this ridiculously sweet story on The Dodo about a golden retriever and his little human sister, we simply had to share it with you. Taco is a 3-year-old golden retriever who has been lovingly waiting for his new baby sister, Vanora, to be able to play with him, and the day has finally come.
Claudia Hughes is the proud mom of the furry pup and his squishy human sibling. She told The Dodo that Taco has been smitten with Vanora since she came home from the hospital. "When we would lay her down on the floor or our bed, Taco would just lay down next to her," Hughes said. That's one attentive pup. Pet parents know there's nothing more comforting than your fur baby looking out for your human baby.
Hughes told The Dodo that the pooch would even get up for late-night feedings. Now that's just beyond sweet. It's no wonder the pup was itching for his playmate to get big enough to actually play with, and his reaction to his doggy dreams coming true is pure joy. The video of Taco seeing his toddler sibling taking some of her first steps has amassed more than 2 million likes on TikTok. Finally his sister can run around with him! Finally he can teach her the fun of having a dog for a big brother. Finally he gets to play! At least, that's what I think he was thinking from his excited reaction.
And how do we know dogs are excited? Well, they get the zoomies, and if you've never been able to witness the absolute unadulterated joy of the zoomies, just check out his reaction in the video. If he could talk he would have probably screamed "I'm so excited!!!" with more explanation points than allowed by my editor.
@mostlyadorable

It's fun having each other 🐾👶🏻. #dogsandbabies #goldensandbabies #babiesoftiktok #dogsoftiktokviral #SmoothLikeNitroPepsi
According to Hughes, Taco first started getting excited when he saw Vanora take steps in her walker, and more so when he saw her pushing the walker. But his excitement went off the charts when she could actually take steps unassisted. Don't worry though, he was sure to keep his distance so as not to knock her down. He's such a good doggy brother. Hughes told The Dodo, "We have shown Vanora that we hug Taco, we pet him gently and we give him kisses on his head." She went on to say, "But if we get mad at him, we don't hit him."
It looks like both Taco and Vanora have learned important lessons in kindness. Soon Vanora will be the one cheering and praising Taco when he's a good boy, but until then, we here at Upworthy want to tell Taco that he's the goodest boy and he deserves all of the head pats. Good boy, Taco!
Get stories worth sharing delivered to your inbox
Get stories worth sharing delivered to your inbox