More
70 years after taking a defiant stance, Desmond's getting the recognition she deserves.
Nearly a decade before Rosa Parks refused to give up her seat on a Montgomery bus, there was Canadian civil rights pioneer Viola Desmond.
In 1946, Desmond, a Canadian businesswoman, was arrested and fined after she refused to leave the whites-only section of a Nova Scotia movie theater. Her arrest and the legal battle that followed played a key role in Canada's civil rights movement.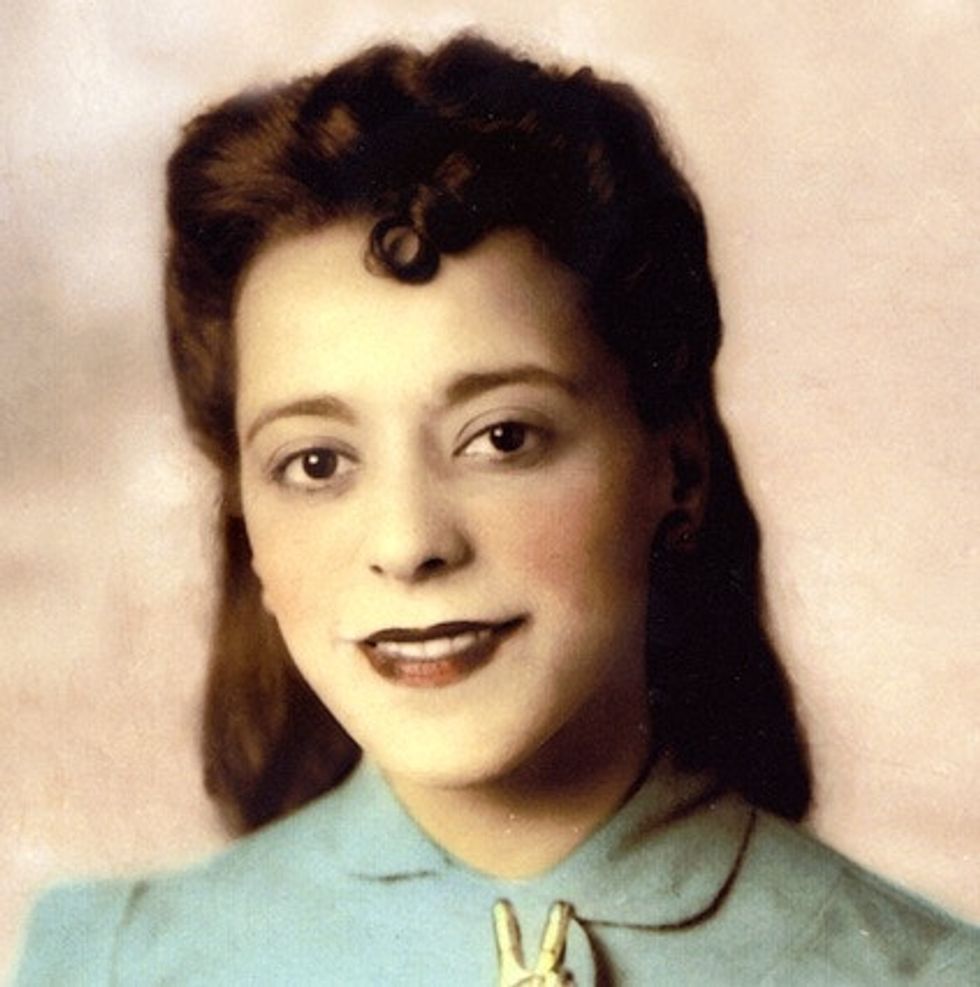 </div></div></div><h2>70 years after taking a stand against segregation, Desmond is making history once again as the first woman — who isn't a queen or princess — to appear on Canadian money.</h2><p>On Thursday, Bank of Canada Governor Stephen Poloz announced that Desmond will be featured on the $10 bill beginning in 2018.</p><p>"As governor of the bank, I have long believed that it was time for a woman, in addition to Her Majesty, to be on one of Canada's bank notes," <a href="http://business.financialpost.com/news/economy/viola-desmond-will-be-first-woman-other-than-the-queen-featured-on-canadian-currency" target="_blank">he said during a ceremony</a>. "And we also heard from Canadians who told us that it was long overdue."</p><div><div class="push-wrapper--mobile" data-card="image" data-reactroot=""><img type="lazy-image" data-runner-src="https://assets.rebelmouse.io/eyJhbGciOiJIUzI1NiIsInR5cCI6IkpXVCJ9.eyJpbWFnZSI6Imh0dHBzOi8vYXNzZXRzLnJibC5tcy8xOTUyNDEzMS9vcmlnaW4uanBnIiwiZXhwaXJlc19hdCI6MTYzOTcyODU2OH0.Z_sktzyJtSwMS4QHTJ8HUXpB16t7OL3H1KOwp40O5qU/img.jpg?width=980" id="5da11" class="rm-shortcode" data-rm-shortcode-id="fc6fd5a7b348638186f00a66da806012" data-rm-shortcode-name="rebelmouse-image"><div class="image-caption"><p>(From left) Bank of Canada Governor Stephen Poloz, Minister of Status of Women Patricia Hajdu, Wanda Robson (Desmond's sister), and Minister of Finance Bill Morneau unveil an image of Viola Desmond on Dec. 8, 2016. Photo by Adrian Wyld/The Canadian Press via AP.</p></div></div></div><h2>Earlier this year, the U.S. Treasury announced some changes of its own, with plans to put Harriet Tubman on the $20.</h2><p>In April, Treasury Secretary Jacob Lew <a href="https://medium.com/@USTreasury/an-open-letter-from-secretary-lew-672cfd591d02#.ug0uosgv2" target="_blank">announced changes to the $5, $10, and $20 bills</a>. The most notable change had Andrew Jackson getting bumped from the front of the $20 to make room for Tubman, abolitionist and "conductor" of the Underground Railroad. Jackson would still appear on the bill, albeit on the back. But for the first time in U.S. history, a black woman would appear on paper currency.</p><p>While women <em>have</em> been featured on U.S. money in the past — <a href="http://www.theatlantic.com/politics/archive/2015/06/an-extremely-brief-history-of-women-on-us-paper-currency/454458/" target="_blank">Martha Washington</a> briefly appeared on the $1 silver certificate in the late 19th century, <a href="https://assets.rbl.ms/19524133/origin.jpg" target="_blank">Pocahontas</a> appeared as part of a group on the back of the $20 bill in 1865, and <a href="http://susanbanthonyhouse.org/her-story/dollarcoin.php" target="_blank">Susan B. Anthony</a> and <a href="https://www.usmint.gov/mint_programs/circulatingCoins/indexf002.html?action=CircNativeDollar" target="_blank">Sacagawea</a> have appeared on $1 coins — Tubman's spot on the $20 adds some much-needed diversity to the currency.</p><div><div class="push-wrapper--mobile" data-card="image" data-reactroot=""><img type="lazy-image" data-runner-src="https://assets.rebelmouse.io/eyJhbGciOiJIUzI1NiIsInR5cCI6IkpXVCJ9.eyJpbWFnZSI6Imh0dHBzOi8vYXNzZXRzLnJibC5tcy8xOTUyNDEzMi9vcmlnaW4uanBnIiwiZXhwaXJlc19hdCI6MTYyODgwMDU4NH0.VbJdBa0WBA9FKXwbv7lLKs4Krk4Fehs-TMIQm8bKW04/img.jpg?width=980" id="ffe7d" class="rm-shortcode" data-rm-shortcode-id="1f28c0ce1caec9b54fc605aae968adc5" data-rm-shortcode-name="rebelmouse-image"><div class="image-caption"><p>Treasury Secretary Jacob Lew visits the Bureau of Engraving and Printing. Photo by Chris Taylor, Department of Treasury.</p></div></div></div><h2>Frustratingly, it's possible that the Tubman $20 bill won't actually happen because of President-elect Donald Trump's resistance to anything he sees as "politically correct."</h2><p>During an April interview, Trump voiced opposition to inclusion of Tubman on the $20 bill, calling it "pure political correctness," a theme he railed against during his campaign for president.</p><p>"Andrew Jackson had a great history, and I think it's very rough when you take somebody off the bill," <a href="http://www.cnn.com/2016/04/21/politics/donald-trump-tubman-bill-political-correctness/" target="_blank">Trump said on the "Today" show</a>. "I think Harriet Tubman is fantastic, but I would love to leave Andrew Jackson or see if we can maybe come up with another denomination."</p><div id="0e13c" class="rm-shortcode" data-rm-shortcode-id="W2WJEX1580857512"><blockquote class="twitter-tweet twitter-custom-tweet" data-twitter-tweet-id="797865068381802497" data-partner="rebelmouse"><div style="margin:1em 0">DT on record calling for AJ to stay on $20 and Harriet to get the $2. Symbols matter, Mr. Trump. #RespectWomen https://t.co/yQooq5RCyl</div> — Women On 20s (@Women On 20s)<a href="https://twitter.com/WomenOn20s/statuses/797865068381802497">1479060830.0</a></blockquote></div><p>Advocates for the Tubman $20 bills are <a href="http://www.marketwatch.com/story/advocates-worry-trump-may-reverse-obama-plan-to-put-harriet-tubman-on-the-20-bill-2016-12-05" target="_blank">concerned that Trump's Treasury Department may try to change course</a> ahead of plans to unveil the new design in 2020. For now, though, she's still slated to make her monetary debut.</p><h2>The important thing to remember is the role that women like Desmond, Parks, and Tubman have played in making the world a better, more just place.</h2><p>Whether it's Tubman's fight against slavery or Parks' and Desmond's battles against segregation, these women are beacons of progress in a world that wanted nothing more than to see them fail. It's important that we continue to recognize them for the work they did and the sacrifices they made. </p><p>Whether that recognition takes the form of a spot on a $10 or $20 bill, a stamp, or simply prominent positions in history books and lectures, these women remind us that a better world is worth fighting for, even if that fight is not immediately vindicated.</p>