On Wednesday, Dec. 6, Time magazine revealed its Person of the Year.
Toward the end of each year, the distinction draws curiosity and intrigue for weeks, but 2017 maybe brought on more speculation than usual. On Nov. 24, Trump falsely claimed he turned down the possibility of becoming the Person of the Year on Twitter, fueling speculation about who'd receive the honor.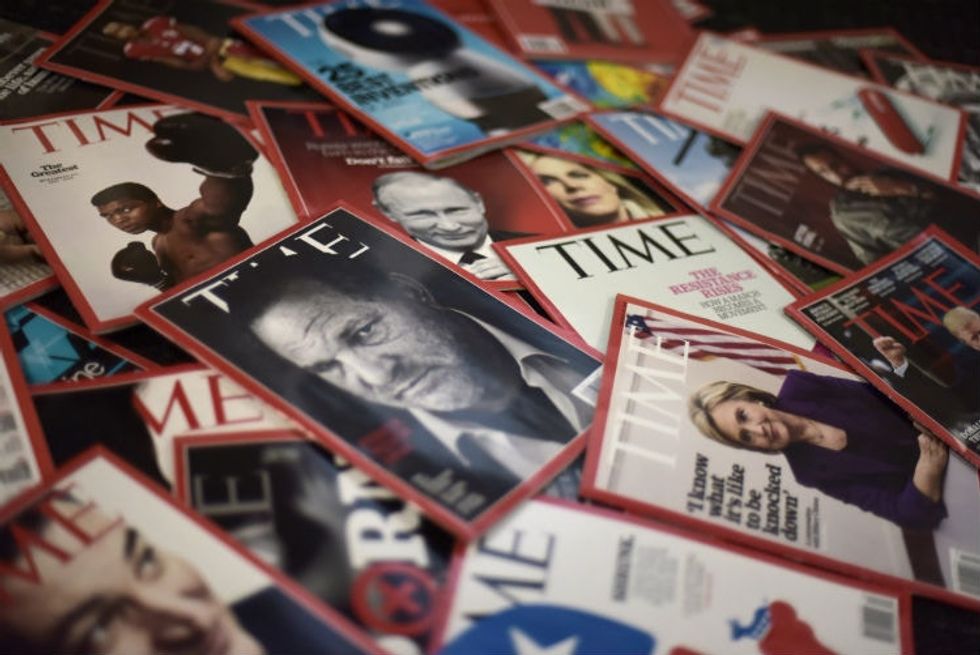 Photo by Eric Baradat/AFP/Getty Images.
<p>This year, like in other years before, the "person" of the year was actually a whole group of people.</p><h2>Time's Person of the Year went to "The Silence Breakers: The Voices that Launched a Movement."</h2><p><a href="https://abcnews.go.com/Entertainment/ashley-judd-opens-diane-sawyer-harvey-weinstein-allegations/story?id=50717934" target="_blank">Ashley Judd</a>, <a href="https://www.independent.co.uk/news/long_reads/uber-sexual-harassment-silicon-valley-susan-fowler-whistleblower-experiences-taxi-app-us-a8018016.html" target="_blank">Susan Fowler</a>, <a href="https://www.cnn.com/2017/10/19/us/california-legislature-sexual-harassment-allegations/index.html" target="_blank">Adama Iwu</a>, <a href="http://www.bbc.com/news/entertainment-arts-40937429" target="_blank">Taylor Swift</a>, and <a href="http://time.com/time-person-of-the-year-2017-silence-breakers/" target="_blank">Isabel Pascual</a> — all survivors who bravely came forward about their experiences with sexual harassment or assault, often at the hands of powerful abusers — grace the cover.</p><div id="58214" class="rm-shortcode" data-rm-shortcode-id="462LPS1559350390"><blockquote class="twitter-tweet twitter-custom-tweet" data-twitter-tweet-id="938386081795502080" data-partner="rebelmouse"><div style="margin:1em 0">The Silence Breakers are TIME's Person of the Year 2017 #TIMEPOY https://t.co/mLgNTveY9z https://t.co/GBo9z57RVG</div> — TIME (@TIME)<a href="https://twitter.com/TIME/statuses/938386081795502080">1512563650.0</a></blockquote></div><h2>But Time isn't solely acknowledging its cover models; a long list of other notable names has been included in the magazine's <a href="http://time.com/time-person-of-the-year-2017-silence-breakers/" target="_blank">Person of the Year feature</a>.</h2><p>Names like <a href="https://www.huffingtonpost.com/entry/rose-mcgowan-claims-harvey-weinstein-raped-her_us_59e0e06fe4b0a52aca178883" target="_blank">Rose McGowan</a>, <a href="https://www.nytimes.com/2017/06/30/technology/women-entrepreneurs-speak-out-sexual-harassment.html?_r=0" target="_blank">Lindsey Meyer</a>, <a href="http://www.nola.com/business/index.ssf/2017/10/john_besh_restaurants_fostered.html" target="_blank">Lindsey Reynolds</a>...</p><p class="shortcode-media shortcode-media-rebelmouse-image"><img type="lazy-image" data-runner-src="https://assets.rebelmouse.io/eyJhbGciOiJIUzI1NiIsInR5cCI6IkpXVCJ9.eyJpbWFnZSI6Imh0dHBzOi8vYXNzZXRzLnJibC5tcy8xOTUzMTU2My9vcmlnaW4uZ2lmIiwiZXhwaXJlc19hdCI6MTYyOTQyMzg0OH0.vaSbZDR93X9tdI2aH979hIisRPkFH_lkQAJorm9G6iA/img.gif?width=980" id="6020d" class="rm-shortcode" data-rm-shortcode-id="165b1eca607996402c0347859687b7a2" data-rm-shortcode-name="rebelmouse-image"><small class="image-media media-caption" placeholder="add caption...">GIF via Time magazine/Twitter.</small></p><p><a href="https://www.nytimes.com/2017/10/17/world/europe/france-harassment-twitter-weinstein.html" target="_blank">Sandra Muller</a>, <a href="http://time.com/time-person-of-the-year-2017-silence-breakers/" target="_blank">Sandra Pezqueda</a>, and <a href="https://deadline.com/2017/11/megyn-kelly-sexual-harassment-interview-harvey-weinstein-fox-news-roger-ailes-experiences-1202203810/" target="_blank">Megyn Kelly</a>... </p><p class="shortcode-media shortcode-media-rebelmouse-image"><img type="lazy-image" data-runner-src="https://assets.rebelmouse.io/eyJhbGciOiJIUzI1NiIsInR5cCI6IkpXVCJ9.eyJpbWFnZSI6Imh0dHBzOi8vYXNzZXRzLnJibC5tcy8xOTUzMTU2NC9vcmlnaW4uZ2lmIiwiZXhwaXJlc19hdCI6MTYxNjY0NTIyM30.YKlbN4JRVF9E4qxEWsSWr0B1xyTi0HtyYsCgn_SkZLk/img.gif?width=980" id="b0846" class="rm-shortcode" data-rm-shortcode-id="1a1f52dc3949bd761d610df52969b50a" data-rm-shortcode-name="rebelmouse-image"><small class="image-media media-caption" placeholder="add caption...">GIF via Time magazine/Twitter.</small></p><p>And many others, including noteworthy men who've come forward, actor <a href="http://www.etonline.com/terry-crews-sues-agent-adam-venit-alleged-assault-and-sexual-harassment-92188" target="_blank">Terry Crews</a> and <a href="http://www.vulture.com/2017/10/former-actor-accuses-hollywood-agent-of-sexual-assault.html" target="_blank">Blaise Godbe Lipman</a>. </p><h2>2017 marked a watershed year for survivors of sexual abuse.</h2><p>"All social movements have highly visible precipitating factors," Aldon Morris, a professor of sociology at Northwestern University, told <a href="http://time.com/time-person-of-the-year-2017-silence-breakers/" target="_blank">Time</a>. "In this case, you had Harvey Weinstein, and before that you had Trump."</p><p>In the past year and a half, <a href="https://www.washingtonpost.com/news/fact-checker/wp/2017/11/22/president-trump-and-accusations-of-sexual-misconduct-the-complete-list/?utm_term=.bd30917e5a66" target="_blank">13 women</a> have come forward alleging Trump sexually harassed or assaulted them following the infamous 2005 "Access Hollywood" tape, in which the former reality TV star admitted to groping women. Movie mogul Harvey Weinstein — an abuser identified by multiple Person of the Year recipients — used a media network of enablers and case settlements to silence <a href="https://jezebel.com/a-running-list-of-the-women-who-have-accused-harvey-wei-1819320068" target="_blank">dozens of victims</a> for decades. </p><p>Out of the rubble of so many disgraced, powerful men burst the <a href="https://twitter.com/search?q=%23metoo&amp;src=typd" target="_blank">#MeToo movement</a> — an online wave of survivors speaking out in solidarity. First coined by activist Tarana Burke years ago but given new life on Twitter by actor Alyssa Milano, #MeToo has been used online millions of times in at least 85 countries.</p><p>It's a rallying cry that's not going away.</p><p>"There's something really empowering about standing up for what's right," said Fowler, who took on sexual harassment in tech. "It's a badge of honor."</p><p><em>Read more on <a href="http://time.com/time-person-of-the-year-2017-silence-breakers/" target="_blank">Time's 2017 Person of the Year feature</a>.</em></p>