More
Chechnya wants to 'eliminate' its gay population by the end of May. We can't sit back and watch.
If you've found it difficult to engage with the horrifying news coming out of Chechnya regarding the arrests and abuses of queer men there, you're not alone.
When the reports first began surfacing, it seemed too awful to be true — we're in the era of "fake news," after all. Was this actually happening?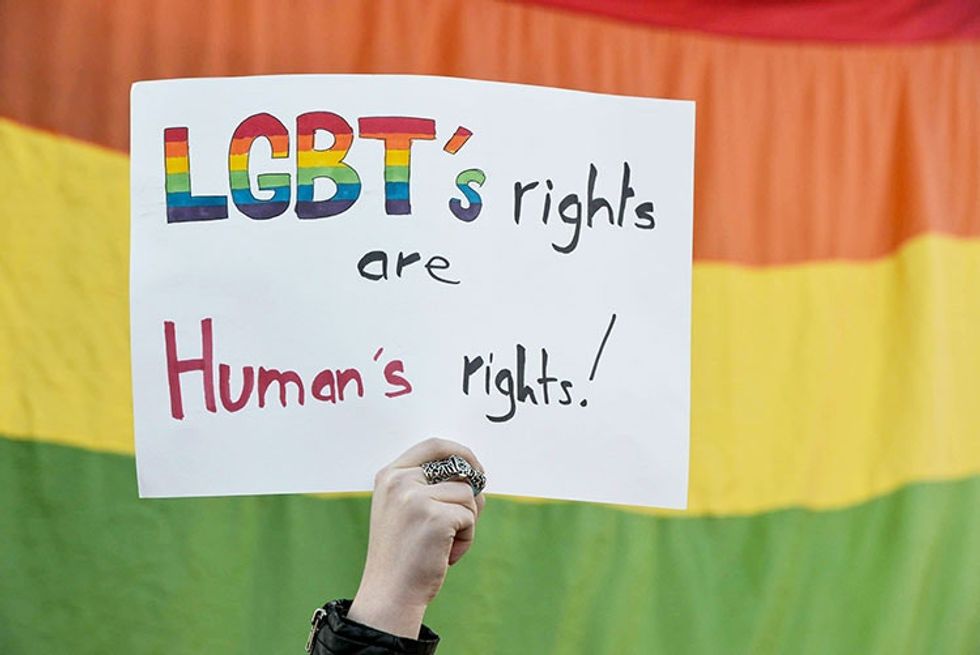 </div></div></div><p>Some of us found ourselves hoping the reports were false or greatly exaggerated, designed to press our outrage buttons. But these were stories coming out of outlets like <a href="https://www.nytimes.com/2017/04/01/world/europe/chechen-authorities-arresting-and-killing-gay-men-russian-paper-says.html" target="_blank">The New York Times</a>, <a href="http://www.cnn.com/2017/04/18/europe/russia-chechnya-gays/" target="_blank">CNN</a>, and <a href="https://www.washingtonpost.com/news/worldviews/wp/2017/04/14/reports-of-anti-gay-purges-in-chechnya-lead-to-international-outrage/?utm_term=.eeeef0a57899" target="_blank">The Washington Post</a> — all reporting that <strong>men in Chechnya are quietly being round up like cattle and starved, beaten, and tortured in facilities <a href="http://www.newnownext.com/cnn-chechnya-gay-concentration-camps/04/2017/" target="_blank">comparable to Nazi concentration camps</a>.</strong> It quickly became clear that these ongoing atrocities were not fake. </p><p>Feelings of helplessness started creeping in. This wasn't a story propped up by <a href="https://www.pinknews.co.uk/2017/04/10/chechnya-has-opened-concentration-camps-for-gay-men/" target="_blank">bombastic headlines</a> begging for sympathetic clicks from bleeding heart liberals.</p><p>This news was — and <i>is</i> — terrifyingly real. </p><div><div class="push-wrapper--mobile" data-card="image" data-reactroot=""><img type="lazy-image" data-runner-src="https://assets.rebelmouse.io/eyJhbGciOiJIUzI1NiIsInR5cCI6IkpXVCJ9.eyJpbWFnZSI6Imh0dHBzOi8vYXNzZXRzLnJibC5tcy8xOTUzMTI3Mi9vcmlnaW4uanBnIiwiZXhwaXJlc19hdCI6MTY0NTgzMzc1OX0.vJpSVd1HziIUVIh728KIiiSzvGkGRGKeaNG97x_fNQY/img.jpg?width=980" id="1e7f0" class="rm-shortcode" data-rm-shortcode-id="f34bc8d66d15267c53a8d55bb83df46a" data-rm-shortcode-name="rebelmouse-image"><div class="image-caption"><p>Head of the Chechen Republic Ramzan Kadyrov. Photo by Said Tzarnaev/Sputnik/AP.</p></div></div></div><h2>Feeling outraged comes easily. Feeling helpless, however, makes it hard to know the best way to channel that energy.</h2><p>We know there have been <a href="http://www.newsweek.com/russian-newspaper-reports-chechnya-runs-six-gay-prisons-589383" target="_blank">at least six prisons</a> created in Chechnya, which is a republic of Russia, to secretly detain men with "nontraditional" sexual practices. We also know that Chechnya allegedly plans to "<a href="https://www.independent.co.uk/news/world/europe/chechnya-ramzan-kadyrov-gay-men-eliminate-chechen-leader-detain-torture-end-may-2017-camps-russia-a7700711.html" target="_blank">eliminate</a>" its gay community by the start of Ramadan on May 26 — just one month away. </p><p><strong>This isn't normal. It's terrifying. And unfortunately, it seems like it's become more difficult to rely on world leaders to step up to the plate on their own volition.</strong> Rather than speak out against what's happening in Chechnya, President Donald Trump <a href="https://twitter.com/realDonaldTrump/status/856233279841849344" target="_blank">tweeted</a> about Hillary Clinton's hypothetical polling numbers. Russia's President Vladimir Putin <a href="https://www.washingtonpost.com/opinions/as-chechnya-tortures-and-kills-gay-men-putin-shrugs/2017/04/24/12f6a9b0-2697-11e7-b503-9d616bd5a305_story.html?utm_term=.75b7ab0c2b94" target="_blank">shrugged off the allegations</a> of mass arrests and abuse while he <a href="https://www.washingtonpost.com/opinions/as-chechnya-tortures-and-kills-gay-men-putin-shrugs/2017/04/24/12f6a9b0-2697-11e7-b503-9d616bd5a305_story.html?utm_term=.75b7ab0c2b94" target="_blank">posed for a photo</a> with Chechnya's President Ramzan Kadyrov on April 19. </p><div><div class="push-wrapper--mobile" data-card="image" data-reactroot=""><img type="lazy-image" data-runner-src="https://assets.rebelmouse.io/eyJhbGciOiJIUzI1NiIsInR5cCI6IkpXVCJ9.eyJpbWFnZSI6Imh0dHBzOi8vYXNzZXRzLnJibC5tcy8xOTUzMTI3My9vcmlnaW4uanBnIiwiZXhwaXJlc19hdCI6MTY1NjE5MDU3Nn0.Idht5VmChqj10KttOlC755xPiD-nijYf43CgBYBbHyo/img.jpg?width=980" id="acb85" class="rm-shortcode" data-rm-shortcode-id="4c1090ee5e77b97202d035e6d208b511" data-rm-shortcode-name="rebelmouse-image"><div class="image-caption"><p>Russian President Vladimir Putin (right) shakes hands with Chechnya's Ramzan Kadyrov in Moscow on April 19, 2017. Photo by Alexei Druzhinin/Sputnik/Kremlin Pool/AP.</p></div></div></div><p>With so many people in power ignoring these blatant crimes against humanity, the feelings of helplessness are hard to shake.</p><p>But if Kadyrov <i>seriously</i> believes that <a href="https://news.vice.com/story/chechen-spokesman-dismisses-arrests-of-gay-men-because-gay-men-do-not-exist" target="_blank">simply denying that gay and bisexual men exist</a> in Chechnya means he can carry out these sorts of atrocities without the outside world noticing — with our free press, internet access, and determination to mobilize — he's got another thing coming.</p><div><div class="push-wrapper--mobile" data-card="image" data-reactroot=""><img type="lazy-image" data-runner-src="https://assets.rebelmouse.io/eyJhbGciOiJIUzI1NiIsInR5cCI6IkpXVCJ9.eyJpbWFnZSI6Imh0dHBzOi8vYXNzZXRzLnJibC5tcy8xOTUzMTI3NC9vcmlnaW4uanBnIiwiZXhwaXJlc19hdCI6MTYwNTQ5MzUwM30.0P2h1KSqpuzHQQQ-u13-yHNZNC8JV4WR1c0tY1L6NVE/img.jpg?width=980" id="8a648" class="rm-shortcode" data-rm-shortcode-id="449e954b5c97e552459bef6732a22024" data-rm-shortcode-name="rebelmouse-image"><div class="image-caption"><p>Photo by Patrizia Cortellessa/Pacific Press/Sipa/AP.</p></div></div></div><h2>This is what you can do this very moment to help gay and bi men in Chechnya at risk of arrest and abuse.</h2><p>1. You can <strong><a href="http://iglhrc.nonprofitsoapbox.com/demand-stop-to-detentions-in-chechnya" target="_blank">sign this petition</a></strong> by advocacy group OutRight calling on energy companies Exxon, BP, and Shell — all of which have huge sway in Russian politics — to speak up about the injustices being committed in Chechnya.</p><p>2. You can<strong> <a href="https://www.lgbtnet.org/en/endonate" target="_blank">donate to the Russian LGBT Network</a></strong>, an equality group that's <a href="https://meduza.io/en/feature/2017/04/17/they-are-used-to-being-last-grade-people-this-thought-was-inculcated-in-them?utm_source=facebook.com&amp;utm_medium=share_fb&amp;utm_campaign=share" target="_blank">opened a refuge center in Moscow</a> for queer Chechens escaping persecution. While Russia, in general, may be an unwelcoming place for LGBTQ people, Moscow is a much safer place than Chechnya for gay and bi men in the short term.</p><p>3. As OutRight's <a href="http://www.slate.com/blogs/outward/2017/04/20/gay_and_bi_men_in_chechnya_need_your_help_here_are_some_options.html" target="_blank">calling on us to do</a>, you can <strong>share photos and messages demanding an end to these atrocities</strong> on Instagram — and troll Kadyrov by tagging his account (@<a href="https://www.instagram.com/kadyrov_95/?hl=en" target="_blank">kadyrov_95</a>) in the captions, further drawing attention to his actions.</p><p>4. You can <strong><a href="https://www.house.gov/representatives/find/" target="_blank">call your representatives in Congress</a></strong> and demand they speak up (as <a href="https://www.upworthy.com/marco-rubio-comes-to-the-defense-of-gay-men-in-chechnya-in-a-fiery-speech?c=apstream">Marco Rubio</a> recently did).</p><p>5. Most importantly: <em>You can refuse to stay silent.</em></p>