Most Shared
"When you cut down a tree, it's like putting down a man."
When Philippe Echaroux, a French street artist, heard about how deforestation is affecting the Surui tribe in the Brazilian Amazon, he decided to throw a massive spotlight on it — literally.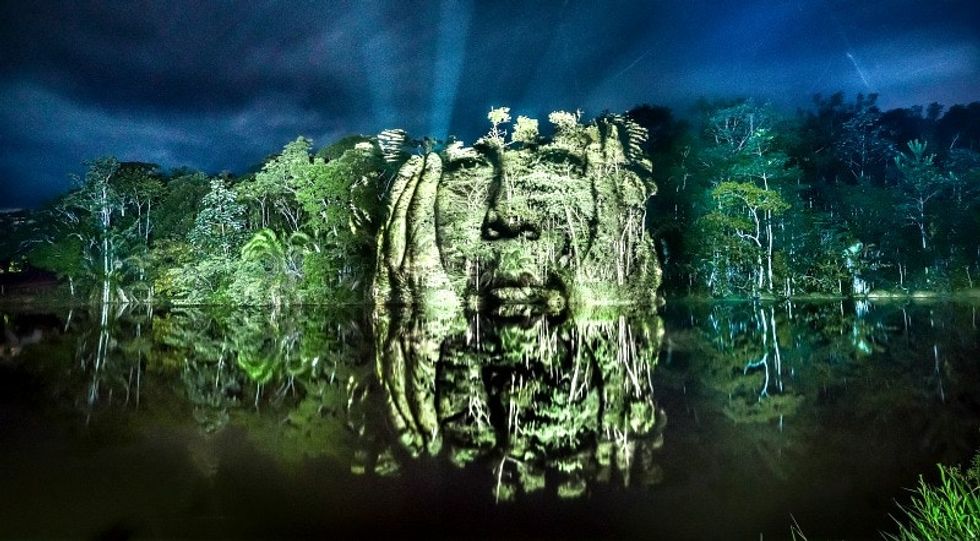 He did this by creating portraits of Surui tribe members, then projecting them in light, using the Amazon as his canvas. He calls this method of painting trees with light Street Art 2.0 because it goes beyond spray-painting a wall; it allows him to put a powerful message anywhere without doing any damage and take it down as quickly as he put it up.
<h2><strong>In this case, the project's message is as simple and powerful as the portraits themselves. As </strong>Echaroux explains: <strong>"When you cut down a tree, it's like putting down a man."</strong></h2><p>He chose members of the Surui tribe as the focus of the project because the tribe is <a href="https://www.google.com/nonprofits/stories/surui-tribe.html" target="_blank">being directly affected by deforestation</a><strong><a href="http://www.smithsonianmag.com/ist/?next=/people-places/the-devastating-costs-of-the-amazon-gold-rush-19365506/" target="_blank">.</a></strong></p><div><div class="push-wrapper--mobile" data-card="image" data-reactroot=""><img type="lazy-image" data-runner-src="https://assets.rebelmouse.io/eyJhbGciOiJIUzI1NiIsInR5cCI6IkpXVCJ9.eyJpbWFnZSI6Imh0dHBzOi8vYXNzZXRzLnJibC5tcy8xOTQ2OTc5MC9vcmlnaW4uanBnIiwiZXhwaXJlc19hdCI6MTYwOTk4NjQ0N30.G2lsEg0mPbnZlAbQjXK2XJ_kfY5Xcdidq_OPR2vRCPE/img.jpg?width=980" id="89a1f" class="rm-shortcode" data-rm-shortcode-id="85d60adc0192b14c1406f4e43dae978f" data-rm-shortcode-name="rebelmouse-image"><div class="image-caption"><p>Photo by <a href="http://www.krop.com/paintingwithligths/#/172139/">Philippe Echaroux</a>, used with permission.</p></div></div></div><h2>How bad is deforestation in Brazil? Here's what parts of the Brazilian Amazon look like today:</h2><div><div class="push-wrapper--mobile" data-card="image" data-reactroot=""><img type="lazy-image" data-runner-src="https://assets.rebelmouse.io/eyJhbGciOiJIUzI1NiIsInR5cCI6IkpXVCJ9.eyJpbWFnZSI6Imh0dHBzOi8vYXNzZXRzLnJibC5tcy8xOTQ2OTc5Mi9vcmlnaW4uanBnIiwiZXhwaXJlc19hdCI6MTY1ODI2NDA4MH0.U40RMwJw2jDb7A-6dGL78BeeTanDR_rkacean6j2hs0/img.jpg?width=980" id="0de98" class="rm-shortcode" data-rm-shortcode-id="54b8e9ee3604427bb1887d44de4dc2bc" data-rm-shortcode-name="rebelmouse-image"><div class="image-caption"><p>Northern Brazil. Photo by Yasuyoshi Chiba/AFP/Getty Images.</p></div></div></div><p>For the Surui tribe, whose reserve is about the size of Rhode Island, the fight for land is often unfair — going back to 1969, when the Brazilian government lured them out of their rainforest home, <a href="https://www.washingtonpost.com/world/the_americas/brazilian-chief-uses-technology-to-help-save-his-tribe-and-curb-deforestation/2013/03/26/097b9338-84e7-11e2-a80b-3edc779b676f_story.html" target="_blank">according to the Washington Post</a>. That infringement on the Surui's land caused disease to spread, food supplies to dwindle, and homes to be destroyed, all of which resulted in a population drop from 5,000 to just above 250.</p><p>The tribe has been fighting to preserve what little of their rainforest habitat it has left ever since. Today, that means trying to stop illegal logging — one of the main causes of deforestation in Brazil, according to <a href="https://www.scientificamerican.com/article/earth-talks-daily-destruction/" target="_blank">Scientific American</a>.</p><h2>In 2007, the current Surui chief, Almir Narayamoga Surui, launched an innovative and high-tech plan to curtail illegal logging. </h2><div><div class="push-wrapper--mobile" data-card="image" data-reactroot=""><img type="lazy-image" data-runner-src="https://assets.rebelmouse.io/eyJhbGciOiJIUzI1NiIsInR5cCI6IkpXVCJ9.eyJpbWFnZSI6Imh0dHBzOi8vYXNzZXRzLnJibC5tcy8xOTQ2OTc5My9vcmlnaW4uanBnIiwiZXhwaXJlc19hdCI6MTY1Njc5NDc1MX0.Bl-47M3C1sFWTCcMcsWPet2emFOdWZQR8BJwMaTu7f0/img.jpg?width=980" id="ac332" class="rm-shortcode" data-rm-shortcode-id="ebc6a55bb5f6b70f49edd28884f3e52a" data-rm-shortcode-name="rebelmouse-image"><div class="image-caption"><p>Photo by <a href="http://www.krop.com/paintingwithligths/#/172139/">Philippe Echaroux</a>, used with permission.</p></div></div></div><p>The tribe, whose population has <a href="http://www.paiter.org/parlamento_surui/" target="_blank">rebounded to 1,350</a>, uses Google Earth to monitor such illegal activity and report it to the authorities, <a href="http://abcnews.go.com/International/brazilian-surui-tribe-reverses-deforestation-internet/story?id=10853480" target="_blank">ABC News reported</a>. But 1,500 square miles of rainforest is rather expansive for one small tribe to keep tabs on, so, despite their best efforts, <a href="https://www.theguardian.com/world/2015/nov/27/amazon-deforestation-report-brazil-paris-climate-talks" target="_blank">deforestation continues</a> to eat away at their land.</p><h2>That's why, Echaroux says, Chief Almir called on him to bring Street Art 2.0 to the Amazon, where his art "could help them be known, and make their difficulties known too." </h2><p>The message Echaroux is illuminating on the Amazon is meant to make the world realize <a href="https://www.scientificamerican.com/article/earth-talks-daily-destruction/" target="_blank">deforestation is an epidemic</a>, and that the Surui are some of its human victims. </p><div><div class="push-wrapper--mobile" data-card="image" data-reactroot=""><img type="lazy-image" data-runner-src="https://assets.rebelmouse.io/eyJhbGciOiJIUzI1NiIsInR5cCI6IkpXVCJ9.eyJpbWFnZSI6Imh0dHBzOi8vYXNzZXRzLnJibC5tcy8xOTQ2OTc5NC9vcmlnaW4ucG5nIiwiZXhwaXJlc19hdCI6MTY1OTIyNjc2MX0.VOXkxCU-NnLeymH9-iPG3ZHXvWNHy9ZBciOklbE2NB8/img.png?width=980" id="c773c" class="rm-shortcode" data-rm-shortcode-id="e710fd38c0ecdb3e6d299ea2d4a3b7cc" data-rm-shortcode-name="rebelmouse-image"><div class="image-caption"><p>Photo by <a href="http://www.krop.com/paintingwithligths/#/172139/">Philippe Echaroux</a>, used with permission.</p></div></div></div><h2>We lose 46,000-58,000 square miles of forest each year.</h2><p>That's about 48 football fields every minute, according to the <a href="https://www.worldwildlife.org/threats/deforestation" target="_blank">World Wildlife Fund</a>. In that way, there couldn't be a more perfect medium for this artistic call to action.</p><div><div class="push-wrapper--mobile" data-card="image" data-reactroot=""><img type="lazy-image" data-runner-src="https://assets.rebelmouse.io/eyJhbGciOiJIUzI1NiIsInR5cCI6IkpXVCJ9.eyJpbWFnZSI6Imh0dHBzOi8vYXNzZXRzLnJibC5tcy8xOTQ2OTc5NS9vcmlnaW4uanBnIiwiZXhwaXJlc19hdCI6MTY0MzMxNzkxOX0.gqFfYXKOi7FsuoFhcu2NcgUoDQLIkWZlVVySGmyV86Q/img.jpg?width=980" id="0d9ab" class="rm-shortcode" data-rm-shortcode-id="5482a1e04a0f5541d92d80e18a5c04a2" data-rm-shortcode-name="rebelmouse-image"><div class="image-caption"><p>Photo by <a href="http://www.krop.com/paintingwithligths/#/172139/">Philippe Echaroux</a>, used with permission.</p></div></div></div><h2>This is the first time Echaroux has used his work to elevate an environmental issue, and he hopes the message inspires people to constructively help curtail deforestation efforts.</h2><div><div class="push-wrapper--mobile" data-card="image" data-reactroot=""><img type="lazy-image" data-runner-src="https://assets.rebelmouse.io/eyJhbGciOiJIUzI1NiIsInR5cCI6IkpXVCJ9.eyJpbWFnZSI6Imh0dHBzOi8vYXNzZXRzLnJibC5tcy8xOTQ2OTc5Ni9vcmlnaW4uanBnIiwiZXhwaXJlc19hdCI6MTY0MTM0MTgwN30.Notm6SMqkHFGwv5jyfF0xT4RdLcT5Oh9cviXWzkXdcg/img.jpg?width=980" id="2ca2e" class="rm-shortcode" data-rm-shortcode-id="171f989d1fc8022f3a560d090b28a1f9" data-rm-shortcode-name="rebelmouse-image"><div class="image-caption"><p>Photo by <a href="http://www.krop.com/paintingwithligths/#/172139/">Philippe Echaroux</a>, used with permission.</p></div></div></div><p>There are a lot of ways you can do this in your daily life, whether it's making a concerted effort to eat and use more local and sustainable foods (here's a <a href="http://www.rainforest-alliance.org/find-certified" target="_blank">handy guide</a> for how to find them) or reducing your wood consumption as much as possible (and when you do have to buy paper, buying the kind with the <a href="http://www.adventure-life.com/amazon/articles/what-can-i-do" target="_blank">highest recyclable content</a>). </p><p>If you want to help the Surui directly, you can go to their website and <a href="http://www.paiter.org/" target="_blank">sign a petition</a> to stop illegal logging in the Brazilian Amazon. Or if you want to learn how to help the other indigenous tribes affected by deforestation in the Amazon, <a href="http://www.survivalinternational.org/" target="_blank">Survival International</a> is a great resource. The fight to preserve the rainforests is an ongoing battle for many indigenous tribes, and it's one that shows no signs of slowing. They need all the help they can get to protect their resources and homes. </p><p>The Surui may be one small tribe, but their conservation struggle is emblematic of cultures the world over. Hopefully these brightly lit creations will help make that abundantly clear. </p>