More
The underrepresentation of minorities on television is still a big problem, but there's hope.
Tracee Ellis Ross was nominated for a 2016 Emmy for Outstanding Actress in a Comedy Series.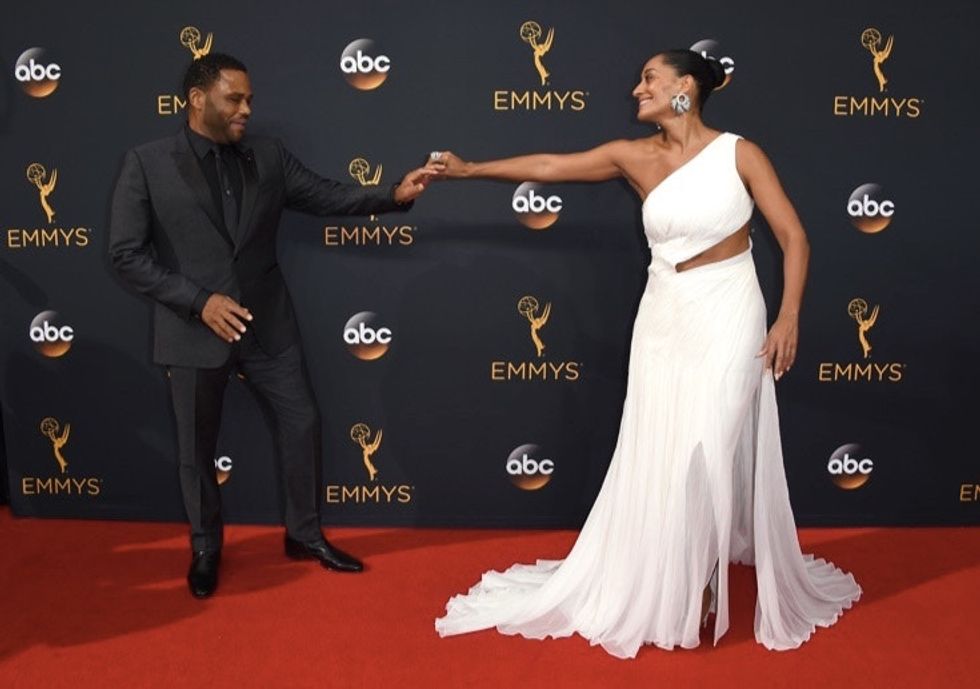 Ross was nominated for her role as Rainbow Johnson in "Black-ish," an ABC sitcom about a self-aware and non-stereotypical black family. Ross' character — the matriarch of the family — is half white.
<p>This nomination for Ross marks her first Emmy nod. But most importantly,<strong> this is the first time a black actress has been nominated in this category in 30 years.</strong> The last black actress to be recognized and nominated for her work in a comedy series was Phylicia Rashad in 1986 for playing Clair Huxtable on "The Cosby Show." But she didn't win; Betty White took home the prize that year. </p><p>2016 seemed poised to be Ross' year. </p><h2>Which is why it was a surprise when Ross lost to Julia Louis-Dreyfus, who accepted her fifth consecutive Emmy in that category for her role on "Veep." </h2><div><div class="push-wrapper--mobile" data-card="image" data-reactroot=""><img type="lazy-image" data-runner-src="https://assets.rebelmouse.io/eyJhbGciOiJIUzI1NiIsInR5cCI6IkpXVCJ9.eyJpbWFnZSI6Imh0dHBzOi8vYXNzZXRzLnJibC5tcy8xOTUyMTA2Ny9vcmlnaW4uanBnIiwiZXhwaXJlc19hdCI6MTYxOTEzODc0Mn0.SbEgWkRE0KvPY9psRud3IJhnJrU9OevZO0DCM-evZfo/img.jpg?width=980" id="2feb0" class="rm-shortcode" data-rm-shortcode-id="72433bc4037144da9a87d789a2eef9da" data-rm-shortcode-name="rebelmouse-image"><div class="image-caption"><p>Photo by Robyn Beck/AFP/Getty Images.</p></div></div></div><p>It's not that Dreyfus doesn't deserve it — "Veep" is an incredible piece of media. But why not spread the love? It would've been an amazing moment of recognition for black actresses all over America.</p><p>And it also would have helped us talk about the larger problem at hand: a lack of diversity in Hollywood.</p><h2>The underrepresentation of minorities on television is still a big problem.</h2><p>A <a href="http://www.bunchecenter.ucla.edu/wp-content/uploads/2016/02/2016-Hollywood-Diversity-Report-2-25-16.pdf" target="_blank">UCLA study on diversity in Hollywood</a> found that out of 825 roles in broadcast scripted programming, only 9% of them went to black actors during the 2013-14 season. All minorities combined accounted for only 20% of those 825 roles. </p><h2>Ross' nomination was not only symbolic, it was also <em>necessary</em>.</h2><p>In the late 1980s, the Huxtables on "The Cosby Show" were seen as a "new" type of black family (especially following portrayals on shows like "Good Times" or "Sanford and Son"). The Huxtables were an upper-middle-class family, which is something that was rarely shown on television at the time. The dad (played by Bill Cosby) was a doctor, and the mom was a lawyer. </p><p><strong>But that was 30 years ago, and things have changed quite a bit since then. </strong>Now "Black-ish" seems to be carrying on the "Cosby Show" torch but in a more realistic, relatable, and modern way. During this season alone, the show has tackled police brutality and a number of other serious issues. They use comedy to start important conversations in people's living rooms, and that's incredibly important.</p><div><div class="push-wrapper--mobile" data-card="image" data-reactroot=""><img type="lazy-image" data-runner-src="https://assets.rebelmouse.io/eyJhbGciOiJIUzI1NiIsInR5cCI6IkpXVCJ9.eyJpbWFnZSI6Imh0dHBzOi8vYXNzZXRzLnJibC5tcy8xOTUyMTA2OC9vcmlnaW4uanBnIiwiZXhwaXJlc19hdCI6MTY0NTEwMTI1NX0.ZbjfxiCUM-RR3prMYiMsXZgWNP0HLMkIlI5f2qlpHSM/img.jpg?width=980" id="541c7" class="rm-shortcode" data-rm-shortcode-id="4f756210cf09e03dcb6c05a630105a41" data-rm-shortcode-name="rebelmouse-image"><div class="image-caption"><p>The cast of "Black-ish." Photo by Mike Windle/Getty Images.</p></div></div></div><h2>Progress is happening: This year's Emmy nominees are the most racially diverse ever.</h2><p>It means the landscape for non-white actors is widening, and more people are being given opportunities to show what they can do, like Ross. Plus, Ross' family was so proud, her mom, Diana Ross, even took out a full-page ad in The Hollywood Reporter congratulating the star. </p><div id="6804a" class="rm-shortcode" data-rm-shortcode-id="504M4P1559349550"><blockquote class="twitter-tweet twitter-custom-tweet" data-twitter-tweet-id="765708111327866880" data-partner="rebelmouse"><div style="margin:1em 0">OMG how cute r my mom @DianaRoss &amp; family 4 taking an ad in @THR ☺️☺️ I ❤️U!! #blackish #Emmys #RossFamilyRocks https://t.co/4Ihbvk8o1B</div> — Tracee Ellis Ross (@Tracee Ellis Ross)<a href="https://twitter.com/TraceeEllisRoss/statuses/765708111327866880">1471394014.0</a></blockquote></div><p>"Women playing a nuanced role in life has been happening for eons, but on TV it's been few and far between," <a href="http://www.nytimes.com/2016/09/18/arts/television/emmy-awards-2016-past-coverage.html?_r=0" target="_blank">Ross has said</a> about her role on "Black-ish." </p><p><strong>"In 2016, we're still trying to get the wife role to match who we are in life, which is people who are many things, not just wives."</strong></p><p>So while I wish Ross had taken home the Emmy this year, I can't wait to see what else she has in store. Congrats, Tracee!</p>