More
From stray to the sheriff's office, this pup's had quite the journey.
This dog's name is Bosco, and he's going to help solve crimes, in part thanks to a 5-year-old boy in Iowa.
In January 2016, Bosco will be joining the police department in Ankeny, Iowa, as part of its brand new K-9 unit. He comes by way of an animal shelter in Syracuse, Indiana, where he was taken in as a stray puppy. There, a shelter trainer noticed Bosco had potential to work as a police tracking dog and brought him to the attention of a police trainer in Omaha, Nebraska.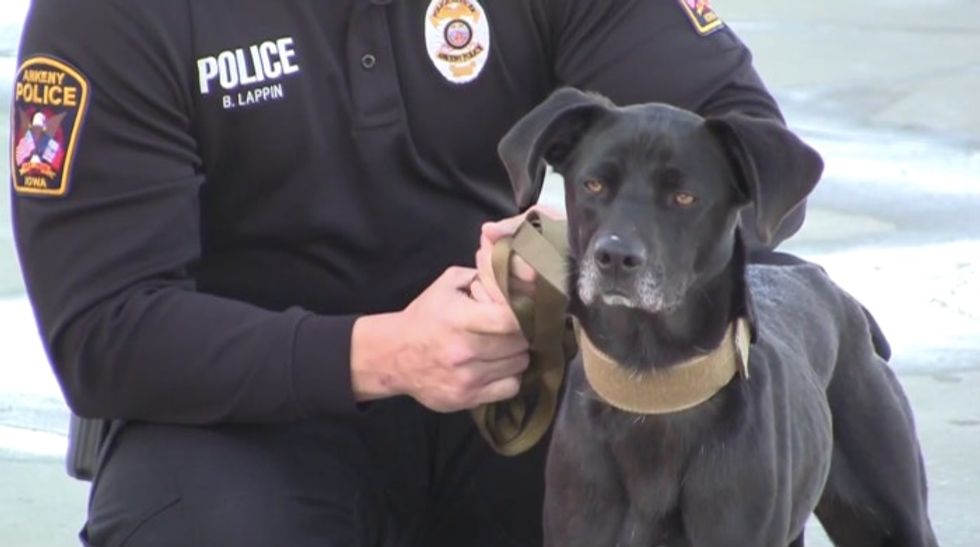 <p class="image-caption">Bosco and his handler Officer Bret Lappin. All images via City of Ankeny/YouTube.</p><h2>Local businesses and town residents donated toward the campaign to bring Bosco to Ankeny.</h2><p>The Ankeny City Council set a fundraising goal of $20,000 to help pay some of the initial costs of getting the K-9 unit up and running. Thanks to all the donations pouring in, the Ankeny Police Department exceeded that goal and successfully raised nearly $30,000 toward Bosco's training and other K-9 unit start-up costs.</p><p><img type="lazy-image" data-runner-src="https://assets.rebelmouse.io/eyJhbGciOiJIUzI1NiIsInR5cCI6IkpXVCJ9.eyJpbWFnZSI6Imh0dHBzOi8vYXNzZXRzLnJibC5tcy8xOTUxMjI1OC9vcmlnaW4uanBnIiwiZXhwaXJlc19hdCI6MTYxNzk3MTI0N30.KPGVqn55tWnw7A7vQJcaH5n6sIbORuOMdz4QjjZNk4Y/img.jpg?width=980" id="02cb5" class="rm-shortcode" data-rm-shortcode-id="db23b81f65a3b6107ae8f5fe1c353b0d" data-rm-shortcode-name="rebelmouse-image"></p><p class="image-caption">Bosco attends a press conference announcing his addition to Ankeny's force.</p><h2>But it was a donation from 5-year-old Tristan Sommerfeld that helped put the campaign over the top.</h2><p>When he grows up, Tristan wants to be a police officer. After learning his hometown police department was trying to raise money to give Ankeny its first K-9 unit in 20 years, Tristan decided to help make it happen.</p><p>"My birthday, a lot of people gave me some money," <a href="http://whotv.com/2015/11/25/ankeny-welcomes-new-k-9-to-the-force/" target="_blank">said Tristan to WHO-TV in Des Moines</a>. "Rather than asking for gifts from friends and family, we asked for donations for the K-9 fund," added his mom, Amber Sommerfeld.</p><p>Tristan raised a total of $1,500 and donated all of it to make sure his local police department could get the K-9 fund off the ground by the time he's old enough to join the force. </p><p><img type="lazy-image" data-runner-src="https://assets.rebelmouse.io/eyJhbGciOiJIUzI1NiIsInR5cCI6IkpXVCJ9.eyJpbWFnZSI6Imh0dHBzOi8vYXNzZXRzLnJibC5tcy8xOTUxMjI1OS9vcmlnaW4uanBnIiwiZXhwaXJlc19hdCI6MTYzMDg5OTAwOH0.61WdaNHnK8FnvgVgZ3Sm5Efyb2i2ObQU-pYNSXiYL6Q/img.jpg?width=980" id="4f421" class="rm-shortcode" data-rm-shortcode-id="13bd4b880175c52b7b972edf70732c4a" data-rm-shortcode-name="rebelmouse-image"><br></p><p class="image-caption">5-year-old Tristan Sommerfeld joins Ankeny Police Chief Gary Mikulec at a press conference.</p><p><strong>Police dogs can play an important role in helping to find missing people or detect drugs.</strong></p><p>"We've had some cases in the past where people have gone missing and having a dog that can track is going to be very helpful," <a href="http://whotv.com/2015/11/25/ankeny-welcomes-new-k-9-to-the-force/" target="_blank">said Bosco's handler Officer Bret Lappin</a>.</p><p>And while the effectiveness of a dog's ability to help <a href="http://www.ncbi.nlm.nih.gov/pubmed/7813994" target="_blank">find people or drugs</a> <a href="http://www.ncbi.nlm.nih.gov/pubmed/24631776" target="_blank">varies based on factors like breed, environment, and training</a>, K-9 units are a <a href="http://www.ncbi.nlm.nih.gov/pubmed/10778270" target="_blank">valuable addition to any town's police force</a>.</p><p><img type="lazy-image" data-runner-src="https://assets.rebelmouse.io/eyJhbGciOiJIUzI1NiIsInR5cCI6IkpXVCJ9.eyJpbWFnZSI6Imh0dHBzOi8vYXNzZXRzLnJibC5tcy8xOTUxMjI2MC9vcmlnaW4uanBnIiwiZXhwaXJlc19hdCI6MTYwMDkxMDYyM30.UH7ZLdr6g28SisDzpEsvbtXeWmu8yTNjWhvWHGklWeI/img.jpg?width=980" id="2f928" class="rm-shortcode" data-rm-shortcode-id="994f131aa79590eb077ec03079553318" data-rm-shortcode-name="rebelmouse-image"></p><p class="image-caption">Tristan, Bosco, and Officer Lappin chat outside the press conference.</p><h2>Check out Bosco's introduction below, and follow his journey on <a href="https://www.instagram.com/Bosco_K9/" target="_blank">Instagram</a>.</h2><span style="display:block;position:relative;padding-top:56.25%;" class="rm-shortcode" data-rm-shortcode-id="dee36f05287561ac643f445af139bf73"><iframe type="lazy-iframe" data-runner-src="https://www.youtube.com/embed/ueDxei5UOt8?rel=0" width="100%" height="auto" frameborder="0" scrolling="no" style="position:absolute;top:0;left:0;width:100%;height:100%;"></iframe></span>