Heroes
It's a 600-fold increase in the historical rate of quakes. And it's not natural.
When I think of a disaster in Oklahoma, I usually assume it's a tornado.
That's because Oklahoma sits right in Tornado Alley. And it's true, some really terrible storms have come through the state in the last few years, such as the one that hit the town of Moore in 2013.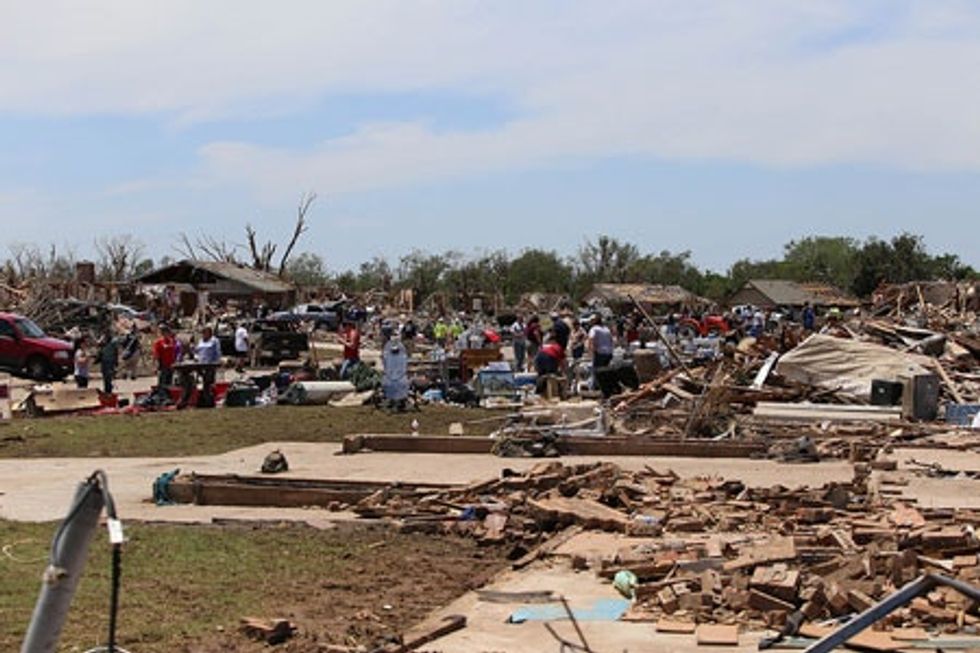 <p class="image-caption"> Image from <a href="https://www.flickr.com/photos/statefarm/8795235268/in/photolist-epcT2o-rMzbxy-qT655i-rMACJE-rxjMyo-rxqNaR-qSTkKS-rvyqMV-qSTjkY-rxrd6X-rMACfd-rxqJgD-rPLSXy-rPNHYB-rPLT4f-rxqMhZ-rPNJUV-emZ4Sd-rvynHt-eoEuEG-eogNge-eoDw2j-89Cg2G-eo5KeZ-epwiCn-2yshML-epZCJW-eoDvMN-enYK5D-epqgMX-rxia51-rMA8GG-rxrdHt-qT6zii-eCpUCE-eDkpE2-eYpjFN-eorm9b-s4WjHE-s4WjEd-eHxp2a-eq7qC6-ekZFr4-eoEv9J-epjFn6-eFMsvb-euNcgS-eE3zRH-emXmPq-5SRs8t" target="_blank">State Farm/Flickr</a>.</p><h2>But something else has been hitting the state lately — earthquakes.</h2><p> A <em>lot</em> of earthquakes. This is a record from <a href="http://quakes.globalincidentmap.com/">Global Incident Map</a> last Friday.</p><p> <img type="lazy-image" data-runner-src="https://assets.rebelmouse.io/eyJhbGciOiJIUzI1NiIsInR5cCI6IkpXVCJ9.eyJpbWFnZSI6Imh0dHBzOi8vYXNzZXRzLnJibC5tcy8xOTQ4OTQ0Ny9vcmlnaW4ucG5nIiwiZXhwaXJlc19hdCI6MTYyNTY1MjA4N30.RAXB6D6uSW1BAdGPDt2oOfa_ONaF2046MphvKmeVLPw/img.png?width=980" id="a8c83" class="rm-shortcode" data-rm-shortcode-id="550989baa4e09993f08e66b5beef429e" data-rm-shortcode-name="rebelmouse-image"></p><p> Four earthquakes, fairly strong ones, hit within a short period. And every time I've checked back on the site, there's been at least one dot right smack dab in the middle of Oklahoma.</p><h2>Oklahoma has become one of the newest and most earthquake-prone places on Earth.</h2><p> That's what spokesman for the Oklahoma Cooperation Commission — which looks after Oklahoma's oil and gas — told a local rotary club on Nov. 9, 2015.</p><p> "We have had 15 [earthquakes] in Medford since 5 o'clock Saturday morning," <a href="http://www.enidnews.com/news/local_news/oklahoma-world-s-no-earthquake-area/article_69b145b8-c180-5065-8f99-b2a7ec7ce913.html">spokesman Matt Spencer said</a>. "We've got an earthquake issue."</p><h2>What the heck is going on here? </h2><p> Earthquakes normally happen along geologically active fault lines: places like California or Washington. Oklahoma is <em>not </em>supposed to be an earthquake state. It does have some ancient fault lines, yes, but they're mostly dormant. There were only <a href="http://earthquakes.ok.gov/what-we-know/earthquake-map/">seven magnitude 3 or greater earthquakes in the 1980s</a>, for example.</p><p> But compare that to <em>over 500</em> in 2014!</p><p> <img type="lazy-image" data-runner-src="https://assets.rebelmouse.io/eyJhbGciOiJIUzI1NiIsInR5cCI6IkpXVCJ9.eyJpbWFnZSI6Imh0dHBzOi8vYXNzZXRzLnJibC5tcy8xOTQ4OTQ0OC9vcmlnaW4uanBnIiwiZXhwaXJlc19hdCI6MTYwNDM1MzQwN30.eMHEIrZ15LDV371Fhovzr1Jd1dVFbAXtx6A7AZOgNwc/img.jpg?width=980" id="37293" class="rm-shortcode" data-rm-shortcode-id="e855b99236b846a0d3d9c0d33c9d7411" data-rm-shortcode-name="rebelmouse-image"></p><p class="image-caption"> On the left is Oklahoma from 1980 to 1989. On the right is Oklahoma in 2014. Images from <a href="http://earthquakes.ok.gov/what-we-know/earthquake-map/" target="_blank">Earthquakes in Oklahoma/Oklahoma Secretary of Energy and Environment</a>.</p><p>"The current average rate of earthquakes is approximately 600 times historical averages," the <a href="http://earthquakes.ok.gov/what-we-know/">Oklahoma Office of the Secretary of Energy and Environment's website</a> said. "While we understand that Oklahoma has historically experienced some level of seismicity, <strong>we know that the recent rise in earthquakes cannot be entirely attributed to natural causes</strong>."</p><h2>Fracking.</h2><p> Fracking is a way to extract oil and natural gas from the ground. It uses a high-pressure mix of water and chemicals to crack open underground rocks. This releases the oil and gas trapped inside, which is sucked up by the drillers. The contaminated wastewater is then usually disposed of by pumping it into deeper disposal wells and sealing the well.</p><p> It's actually this disposal fluid, not the fracking itself, that causes the problem, <a href="http://news.stanford.edu/news/2015/june/okla-quake-drilling-061815.html" target="_blank">say two scientists from Stanford University</a>. Professor <a href="https://earth.stanford.edu/mark-zoback">Mark Zoback</a> and doctoral student Rall Walsh published a paper in June blaming wastewater wells for the earthquakes.</p><p> <strong>"What we've learned in this study is that the fluid injection responsible for most of the recent quakes in Oklahoma is due to production and subsequent injection of massive amounts of wastewater,"</strong> Zoback told Stanford News.</p><h2>When the high-pressure wastewater hits one of those deep fault lines, it's like putting too much air into a weak tire. It's going to pop.</h2><p> <img type="lazy-image" data-runner-src="https://assets.rebelmouse.io/eyJhbGciOiJIUzI1NiIsInR5cCI6IkpXVCJ9.eyJpbWFnZSI6Imh0dHBzOi8vYXNzZXRzLnJibC5tcy8xOTQ4OTQ0OS9vcmlnaW4uZ2lmIiwiZXhwaXJlc19hdCI6MTYxODA3NTU5N30.XEuaJCa0E4RdLBfCFyxXBF46SJAEYoYGRMZ5Hcn9ats/img.gif?width=980" id="2bb5b" class="rm-shortcode" data-rm-shortcode-id="2d315a43be8529e50cb2c8a97a4ebe08" data-rm-shortcode-name="rebelmouse-image"></p><p class="image-caption"> <a href="http://giphy.com/gifs/earthquakes-fracking-world-science-festival-iLPyTVk5jnL7W" target="_blank">GIF</a> from <a href="https://www.youtube.com/watch?v=RVp3z7itKKo" target="_blank">World Science Festival/YouTube</a>.</p><p> The faults, which are already under extreme stress from the movements of the earth, would likely pop one day anyways, but by injecting wastewater, humans are ramping up the schedule.</p><p> "The earthquakes in Oklahoma would have happened eventually," Walsh told Stanford News. <strong>"But by injecting water into the faults and pressurizing them, we've advanced the clock and made them occur today."</strong></p><p> While most of the quakes have been around magnitude 3 — enough to be felt, but not enough to do lasting damage — there have been larger quakes too, such as the <a href="http://www.usgs.gov/newsroom/article.asp?ID=3819#.VlNiC3arTDc">magnitude 5.6 earthquake</a> that hit Prague, Oklahoma, in 2011. And unlike places like Los Angeles, where earthquakes are routine, buildings in Oklahoma usually aren't designed with quakes in mind.</p><p><img type="lazy-image" data-runner-src="https://assets.rebelmouse.io/eyJhbGciOiJIUzI1NiIsInR5cCI6IkpXVCJ9.eyJpbWFnZSI6Imh0dHBzOi8vYXNzZXRzLnJibC5tcy8xOTQ4OTQ1MC9vcmlnaW4uanBnIiwiZXhwaXJlc19hdCI6MTY1Mzc3MzA2MH0.WkruR06CyKZYxLk-heQ28XSlBqoK024b3lUx6zFxlqk/img.jpg?width=980" id="d6df8" class="rm-shortcode" data-rm-shortcode-id="74330d7476e6c223e24e93c63b2be38f" data-rm-shortcode-name="rebelmouse-image"></p><p class="image-caption">A house damaged by the 2011 earthquake in Prague, Oklahoma. Image from <a href="https://www.flickr.com/photos/usgeologicalsurvey/16476128909/in/photolist-aJP6Cp-augVcE-89Cg2G-nYzkVh-89z2oi-r6Wt76-aCr5Ro-nN63jd-aQ5avD-oUPZxZ-o3u2Zo-o5e7bx-o5tdiL-o3BMp3-o3AU4q-nN2XUi-o1FfRq-nN2R1j-o5tcdE-o3HRc2-o5wpQa-nN2X4a-o5q6Wo-r2PUF9-rjj44d-nN335m-o3u1qm-nN3RoP-o5zrYH-nN3Q6P-nLfkwn-nN31DW-nN3Prn-nN3QL6-nLeC3U-o5e8k6-o5uZdp-o5pQey-nN32YF-o6GywG-o5q7JL-o7iA1H-o7itVg-nPk49A-o5vfvZ-o5q9Gy-nN3M2c-o5qbQw" target="_blank">U.S. Geological Survey/Flickr</a>.</p><p> Oklahoma's government has started taking steps to try to stop these quakes, including ordering certain wells to stop or reduce their injection. But this isn't going to go away any time soon, they cautioned.</p><h2>This is street-side video of a magnitude 4.7 quake that hit Tulsa, Oklahoma.</h2><span style="display:block;position:relative;padding-top:56.25%;" class="rm-shortcode" data-rm-shortcode-id="324dd48307fe36e752fa3d6edf48158d"><iframe type="lazy-iframe" data-runner-src="https://www.youtube.com/embed/yKXDB3te1s0?rel=0" width="100%" height="auto" frameborder="0" scrolling="no" style="position:absolute;top:0;left:0;width:100%;height:100%;"></iframe></span><p> If you're as shaken up by this trend as I am, sign this petition from the League of Conservation Voters celebrating the <a href="https://secure3.convio.net/lcv/site/Advocacy?cmd=display&amp;page=UserAction&amp;id=2731">Clean Power Plan</a>, which promotes alternative, non-earthquake inducing energy sources such as wind and solar.</p>