More
'A Wrinkle in Time' made representation central to its plot.
"A Wrinkle in Time" was released in theaters on March 9, and it's continuing the movement toward diversifying representation in film.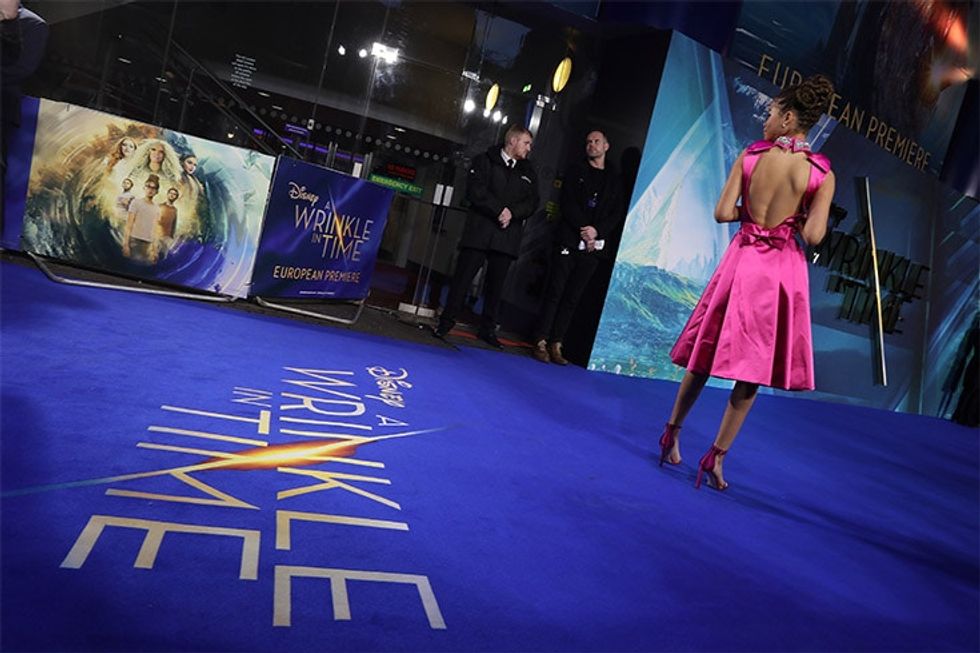 Photo by Chris Jackson/Getty Images for Disney.
As the first African-American woman to helm a big budget blockbuster, DuVernay took an opportunity to try a film genre that was new to her. It's safe to say, her entrance into the world of children's movies was a success: "A Wrinkle in Time" came in at #2 in its opening weekend, second only to "Black Panther," also helmed by a black filmmaker.
<p>The majestic, whimsical film captured the hearts of many for a number of reasons: the remarkable costumes, <a href="https://www.billboard.com/articles/columns/hip-hop/8232271/sade-new-song-wrinkle-in-time-fan-reactions-twitter" target="_blank">awe-inspiring soundtrack</a>, and a <a href="https://mashable.com/2018/03/09/a-wrinkle-in-time-film-cast/#1VgcSKppTkqs" target="_blank">star-studded cast</a>.   </p><p>But there's one aspect of the movie that particularly caught the eyes of many, including actress Tessa Thompson.</p><p class="shortcode-media shortcode-media-rebelmouse-image"><img type="lazy-image" data-runner-src="https://assets.rebelmouse.io/eyJhbGciOiJIUzI1NiIsInR5cCI6IkpXVCJ9.eyJpbWFnZSI6Imh0dHBzOi8vYXNzZXRzLnJibC5tcy8xOTM0NjMwOC9vcmlnaW4uanBnIiwiZXhwaXJlc19hdCI6MTY0MzUyNzIyM30.9Qt29ZLsv4A-Do98PI_JrnjOT2N2S-yVWtMufA_pfc4/img.jpg?width=980" id="fef0e" class="rm-shortcode" data-rm-shortcode-id="2ed5cb85df1eeeb1941f192dc1c672b6" data-rm-shortcode-name="rebelmouse-image"><small class="image-media media-caption" placeholder="add caption...">Photo by Lily Lawrence/Getty Images for The Blackhouse Foundation at Sundance 2018.</small></p><h2>As a biracial woman, Tessa Thompson says she felt <em>seen</em> when watching Meg, a biracial young girl and her family.   </h2><div id="438f7" class="rm-shortcode" data-rm-shortcode-id="ZSVLHO1559350507"><blockquote class="twitter-tweet twitter-custom-tweet" data-twitter-tweet-id="972101684410376192" data-partner="rebelmouse"><div style="margin:1em 0">Also. For days after seeing #AWrinkleInTime I thought about how powerful it was to see a biracial character in a bi… https://t.co/OPsPicSHN0</div> — Tessa Thompson (@Tessa Thompson)<a href="https://twitter.com/TessaThompson_x/statuses/972101684410376192">1520602076.0</a></blockquote></div><p>Thompson pointed out that she wished she'd seen that kind of on-screen representation as a child, and many of her followers agreed.  </p><div id="10d50" class="rm-shortcode" data-rm-shortcode-id="A41TLC1559350507"><blockquote class="twitter-tweet twitter-custom-tweet" data-twitter-tweet-id="972298149938245633" data-partner="rebelmouse"><div style="margin:1em 0">@InsomniasBitch @TessaThompson_x @ava Ditto. I'm 52 &amp; #MultiRacial Trying to live in all the cultures &amp; figure out… https://t.co/s1YpJS3rrt</div> — Larrianne Moore (@Larrianne Moore)<a href="https://twitter.com/LarrianneMoore/statuses/972298149938245633">1520648918.0</a></blockquote></div><div id="1773c" class="rm-shortcode" data-rm-shortcode-id="5ZJNPA1559350507"><blockquote class="twitter-tweet twitter-custom-tweet" data-twitter-tweet-id="972114139316285441" data-partner="rebelmouse"><div style="margin:1em 0">@TessaThompson_x @ava I'm biracial too (Chinese/white) and literally the only story like that I had when I was grow… https://t.co/D1mWSXbbsy</div> — Mad Max Fury Poe (@Mad Max Fury Poe)<a href="https://twitter.com/IncompLentils/statuses/972114139316285441">1520605046.0</a></blockquote></div><p>Meg, who is played by Storm Reid, is the brainy, curious daughter of a white man (Chris Pine) and a black, biracial woman (Gugu Mbatha-Raw). Throughout the film, Meg works to navigate the complex experiences that many biracial children face, such as learning how to love herself, growing to value and adore her hair, and reckoning with feelings of belonging in a world that sometimes doesn't recognize you.  </p><p class="shortcode-media shortcode-media-rebelmouse-image"><img type="lazy-image" data-runner-src="https://assets.rebelmouse.io/eyJhbGciOiJIUzI1NiIsInR5cCI6IkpXVCJ9.eyJpbWFnZSI6Imh0dHBzOi8vYXNzZXRzLnJibC5tcy8xOTM0NjMwOS9vcmlnaW4uanBnIiwiZXhwaXJlc19hdCI6MTU5ODE5OTEyOH0.AWm94aCGdUxOfW8o1lYWa9JJ56grpCPwQxmlrnQVm98/img.jpg?width=980" id="639b0" class="rm-shortcode" data-rm-shortcode-id="1cb4a756c05eec68eecc1299aecc4a5a" data-rm-shortcode-name="rebelmouse-image"><small class="image-media media-caption" placeholder="add caption...">Image via "A Wrinkle in Time"/Disney/YouTube</small></p><h2><strong>When a film showcases these experiences, viewers see a family unit that isn't typically given screen time. </strong></h2><p><strong>It's an added source of representation for biracial kids looking for characters to identify with.   </strong></p><p>Thompson has <a href="http://www.etonline.com/tessa-thompson-revolutionizing-marvel-universe-and-her-dream-thor-ragnarok-spinoff-exclusive-89997" target="_blank">long advocated for films</a> that tell the stories of women, people of color, LGBTQ people, and other underrepresented groups. Most recently, <a href="https://twitter.com/TessaThompson_x/status/971535686900834304" target="_blank">she praised actor Michael B. Jordan for adopting inclusion riders</a> — <a href="https://www.vanityfair.com/hollywood/2018/03/michael-b-jordan-inclusion-rider" target="_blank">clauses in contracts</a> that requires a certain level of diversity among a project's cast and crew — into all of his production company's projects. She has continued to push for movies and television shows that feature different experiences and identities. </p><p class="shortcode-media shortcode-media-rebelmouse-image"><img type="lazy-image" data-runner-src="https://assets.rebelmouse.io/eyJhbGciOiJIUzI1NiIsInR5cCI6IkpXVCJ9.eyJpbWFnZSI6Imh0dHBzOi8vYXNzZXRzLnJibC5tcy8xOTM0NjMxMC9vcmlnaW4uanBnIiwiZXhwaXJlc19hdCI6MTU5OTEzMDQ0NH0.N6dC3MF3hUMvTTc2CoBcyetid-VeG3hkRaZvoSElFbU/img.jpg?width=980" id="31f69" class="rm-shortcode" data-rm-shortcode-id="8e400c0656f755aa9fc094c29b4461e0" data-rm-shortcode-name="rebelmouse-image"><small class="image-media media-caption" placeholder="add caption...">Photo by Joe Scarnici/Getty Images for AT&amp;T and DIRECTV.</small></p><h2>Films that reflect the different experiences in our world don't only normalize underrepresented groups of people, they empower them.  </h2><p>Empowering underrepresented groups on the big screen is close to DuVernay's heart. The director has made it clear that representation will continue to be a key element in her films.   </p><p>"When we're talking about diversity, it's not a box to check," <a href="https://www.fastcompany.com/3053516/selma-director-ava-duvernay-raises-her-hand-for-diversity-in-hollywood-in" target="_blank">DuVernay told Fast Company</a>. "It is a reality that should be deeply felt and held and valued by all of us."     </p><p class="shortcode-media shortcode-media-rebelmouse-image"><img type="lazy-image" data-runner-src="https://assets.rebelmouse.io/eyJhbGciOiJIUzI1NiIsInR5cCI6IkpXVCJ9.eyJpbWFnZSI6Imh0dHBzOi8vYXNzZXRzLnJibC5tcy8xOTM0NjMxMS9vcmlnaW4uanBnIiwiZXhwaXJlc19hdCI6MTY0MDk1MjM1NX0.5hEkAmMg__wQS8u1dnIhCejCnDI8Qcc2SpH8_5LxWsQ/img.jpg?width=980" id="889cc" class="rm-shortcode" data-rm-shortcode-id="9b1ac53b20a0b43ff0afd933cdbbdd77" data-rm-shortcode-name="rebelmouse-image"><small class="image-media media-caption" placeholder="add caption...">Photo by Bard Barket/Getty Images for The Academy of Motion Picture Arts &amp; Sciences.</small></p><p>Thompson's tweet, the responses of agreement, and DuVernay's explicit calls to continue telling diverse stories, amplifies an important reality that filmmakers should take note of:<strong> Children deserve to see themselves represented, whether that be through the lens of race, gender, or sexuality.  </strong> </p><p>Let's hope "A Wrinkle in Time" is just the beginning. </p>