Most Shared
The creative arts in this town just got a major upgrade.
True
XQ
Detroit is known for its cars, Motown music, and 8 Mile (the district and the movie). But now, it wants to be known for its dance.
And Joori Jung is the woman for the job. When she moved to New York from South Korea to dance, she realized the city wasn't for her. In a city so large, it felt to her like there was little community. So instead, she followed her now-husband to Detroit, where she settled down and founded ArtLab J.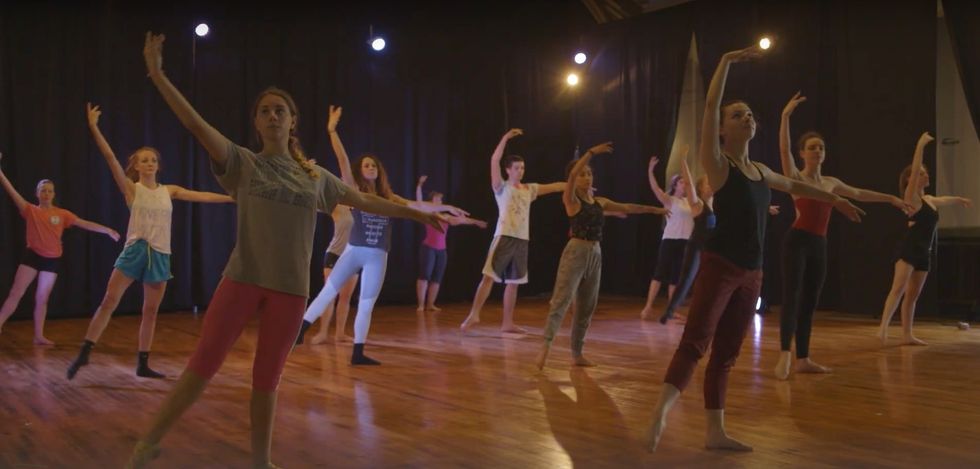 All photos by ArtLab J, used with permission.
<p>The lab is a dance company, but it's also more than that. </p><p>According to the ArtLab J mission statement, the organization strives to "create unity between the city's dance companies, educational institutions, individual artists, and beyond."<strong> It's long been said that dance brings more than just performance to a community, but now, ArtLab J is out to prove it.</strong></p><p>Watch below:</p><div><div data-card="facebook" data-reactroot=""><div class="fb-video" data-href="https://www.facebook.com/Upworthy/videos/2051545411552973/"><blockquote cite="https://www.facebook.com/Upworthy/videos/2051545411552973/" class="fb-xfbml-parse-ignore"><a href="https://www.facebook.com/Upworthy/videos/2051545411552973/">XQ Rethink High School: Detroit</a><p>These girls are learning to trust others through dance.</p>Posted by <a href="https://www.facebook.com/Upworthy/">Upworthy</a> on Monday, November 13, 2017</blockquote></div></div></div><h2>When we talk about supporting the arts, there's no denying the positive ripple effect that activities like dance can have.</h2><p>On an individual level, <strong>dance provides people with an outlet to express themselves</strong>, <strong>which promotes spiritual and emotional health. That can translate to less violence, stronger community ties, and better interpersonal relationships. </strong></p><p class="shortcode-media shortcode-media-rebelmouse-image"><img type="lazy-image" data-runner-src="https://assets.rebelmouse.io/eyJhbGciOiJIUzI1NiIsInR5cCI6IkpXVCJ9.eyJpbWFnZSI6Imh0dHBzOi8vYXNzZXRzLnJibC5tcy8xOTUyODMwMy9vcmlnaW4uanBnIiwiZXhwaXJlc19hdCI6MTYwNjEyMTEyMH0.-pdZhKxR2B4Fq_sxh4RoJ1hY1Q-z-bAm0VO8hAcj2rw/img.jpg?width=980" id="dd0aa" class="rm-shortcode" data-rm-shortcode-id="d5a3fc93fa9d38fc012ef194e1527251" data-rm-shortcode-name="rebelmouse-image"><small class="image-media media-caption" placeholder="add caption..."></small></p><p>For kids, that can also mean a better school experience, higher academic performance, and a better shot at finding success as adults.</p><h2><strong>But reading about performance arts and seeing them in action are two different things. ArtLab J is hard evidence of the real benefits of dance in Detroit.</strong></h2><p>By setting up a dance company within the city, ArtLab J has provided not just a hub for entertainment, but also a lab for others to dabble in the arts in a welcoming space. </p><p>Jung's company of six primary dancers performs her original choreography throughout the regular season, but<strong> the lab also runs workshops, classes, and other programs to help foster a connection between the organization and the community that surrounds it.</strong></p><p class="shortcode-media shortcode-media-rebelmouse-image"><img type="lazy-image" data-runner-src="https://assets.rebelmouse.io/eyJhbGciOiJIUzI1NiIsInR5cCI6IkpXVCJ9.eyJpbWFnZSI6Imh0dHBzOi8vYXNzZXRzLnJibC5tcy8xOTUyODMwNC9vcmlnaW4uanBnIiwiZXhwaXJlc19hdCI6MTY1MjI2MDM5OX0.D0QxdiveVj3G4aQARx0pO365nW6P6VJvR4O1YapYHCc/img.jpg?width=980" id="d3068" class="rm-shortcode" data-rm-shortcode-id="2383f2da894ec97ef3a3f0e9edd88b6f" data-rm-shortcode-name="rebelmouse-image"><small class="image-media media-caption" placeholder="add caption..."></small></p><h2>Perhaps most impressive is what the lab has done to expand Detroit's reach by bringing its global neighbors into the city.</h2><p>While ArtLab J's presence in Detroit builds strong bonds and helps foster community within the city, there's also much that can be learned by going beyond city limits and collaborating with artists outside Detroit.</p><p>The Detroit Dance City Festival is a showcase that brings choreographers from all over the world to Detroit, putting their work in front of new and diverse audiences. And in doing so, it brings the world to the people of Detroit, building connections and building a global network for its residents.</p><p class="shortcode-media shortcode-media-rebelmouse-image"><img type="lazy-image" data-runner-src="https://assets.rebelmouse.io/eyJhbGciOiJIUzI1NiIsInR5cCI6IkpXVCJ9.eyJpbWFnZSI6Imh0dHBzOi8vYXNzZXRzLnJibC5tcy8xOTUyODMwNS9vcmlnaW4uanBnIiwiZXhwaXJlc19hdCI6MTYwNzA0MTg1Nn0.sKN_f6IrtI_qn97AN8ZVQc1jsBBNDosmcPOTrPkTZII/img.jpg?width=980" id="4fd71" class="rm-shortcode" data-rm-shortcode-id="35daf1f1f593e5048df4bbeb161176dd" data-rm-shortcode-name="rebelmouse-image"><small class="image-media media-caption" placeholder="add caption..."></small></p><h2>ArtLab J is just one example of how dance has a positive effect far beyond the performances themselves.</h2><p>Though Jung's initiative is one of the more visible dance community programs we have, cities and towns across the country and around the world fight every day for the budget and support they need to maintain an artistic presence in their communities. </p><p>And as Detroit's dancers have shown, those efforts can only lead to good things.</p><p><em>Learn more at <a href="http://XQSuperSchool.org" target="_blank">XQSuperSchool.org</a>.</em></p>