More
More young people than ever are living with their families. But does that make them less independent?
For about four months last year, I needed to live with my family.
A month after I turned 26, my housing plans fell apart. Suddenly, I found myself living in Seattle with few resources and nowhere to go.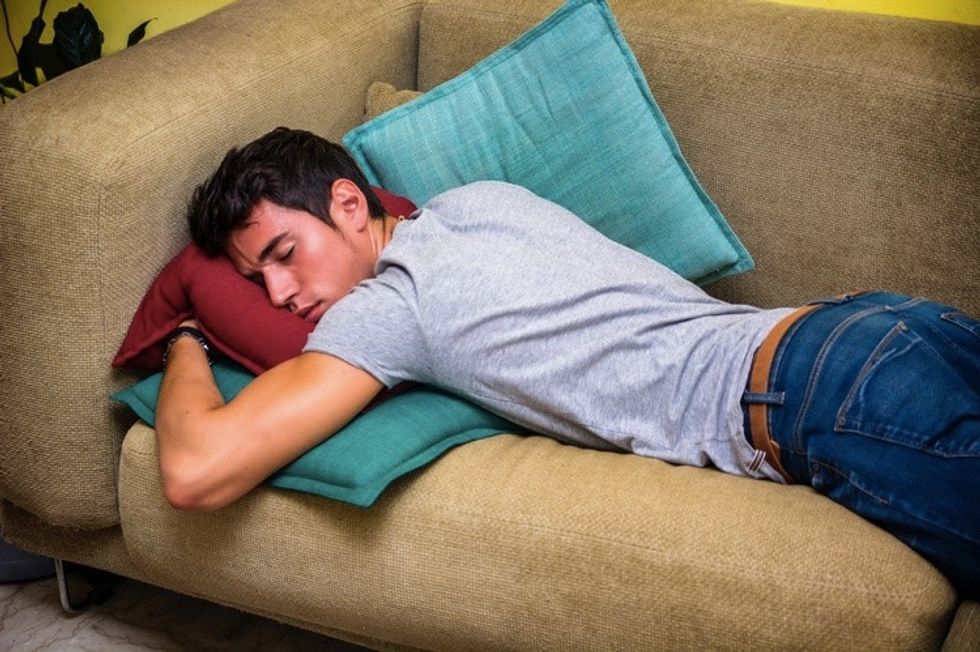 <p class="image-caption">Couch-surfing might not seem so bad at first, but talk to me again after a week, mister. Photo from iStock.</p><p>I tried couch-surfing for about a month. I'd stay for a week at one friend's house, then for a few days at another.</p><p>But it soon became apparent that I needed a long-term solution. So I asked a nearby family member, my aunt, if I could stay with her.</p><h2>Don't get me wrong — I love my family. But the whole experience kind of messed with my head.</h2><p>What did living with my family say about me? I had recently earned a master's degree, and people kept calling me successful — but I didn't feel successful. <strong>Could I call myself an independent adult if I wasn't living on my own?</strong></p><p><img type="lazy-image" data-runner-src="https://assets.rebelmouse.io/eyJhbGciOiJIUzI1NiIsInR5cCI6IkpXVCJ9.eyJpbWFnZSI6Imh0dHBzOi8vYXNzZXRzLnJibC5tcy8xOTQ5MzE2My9vcmlnaW4uanBnIiwiZXhwaXJlc19hdCI6MTY0MTMxMTQ0MH0.KthwHmmKzleq9YLdldCTtObzcA3zqaSrR3iNbQ3XTsY/img.jpg?width=980" id="1dd0b" class="rm-shortcode" data-rm-shortcode-id="733dc8f60e53b4c95222e95b80d3c951" data-rm-shortcode-name="rebelmouse-image"></p><p class="image-caption">Also, where did this beanie and scarf come from? Photo from iStock.</p><p>That's how I fell into a rut of looking at independence as a "yes" or "no" thing.</p><h2>I felt like living on my own was independent, and living with my family was not. But the truth is that it's not a yes or no thing at all.</h2><p>In fact, <a href="https://news.ncsu.edu/2016/07/independence-young-adults-2016/" target="_blank">a recent study</a> showed that for most young people today, <strong>independence has become a lot more nuanced than it was in the past.</strong></p><p>North Carolina State University sociology professor Anna Manzoni analyzed data about the lives of more than 14,000 Americans age 18-25. </p><p><span></span>She measured the idea of independence in a few different ways: by whether the subject had their own living space, by asking them to record their earnings and whether they got financial support from their parents, and by considering their own perceptions of independence and adulthood.</p><h2>Most young people can be roughly split into four different, nearly evenly split groups of independence.</h2><p>Only about 28% of the people she surveyed were classified as <strong>fully independent</strong> — people who lived by themselves, didn't receive support from their families, and personally felt independent.</p><p>On the other extreme, only 23% were <strong>more or less dependent.</strong> They lived with their parents, received financial support, and thought of themselves as dependent.</p><p>In between those two, however, were two more groups, making up about half of the population:</p><p>About 24% were a category I'll call <strong>free range</strong>. They live apart from family and have their own finances but still feel connected in an emotional way to their parent's home.</p><p>And another 25% were what I'd call <strong>housemates</strong>. They're financially independent, and thought of themselves as mostly independent, but lived with their parents.</p><h2>What does this tell us? In real life, people's relationships with their families are a lot more nuanced than just "independent" or "dependent."</h2><p>Everyone's situation is different, and independence today is definitely on a spectrum.</p><p><img type="lazy-image" data-runner-src="https://assets.rebelmouse.io/eyJhbGciOiJIUzI1NiIsInR5cCI6IkpXVCJ9.eyJpbWFnZSI6Imh0dHBzOi8vYXNzZXRzLnJibC5tcy8xOTQ5MzE2NC9vcmlnaW4uanBnIiwiZXhwaXJlc19hdCI6MTYyMTM3OTQyM30.J_0kIAJYFimz9O4eM_GxCUpS7uiBCHBAo9XlEG-uAg0/img.jpg?width=980" id="83b9d" class="rm-shortcode" data-rm-shortcode-id="b1daf70b19b0dee36371bc32fd226527" data-rm-shortcode-name="rebelmouse-image"></p><p class="image-caption">In many families, older siblings help raise younger ones. Photo from iStock.</p><p>Maybe a young person is staying at home while going to school so they can save money while living under <a href="http://www.slate.com/blogs/moneybox/2015/02/10/millennials_living_with_parents_it_s_harder_to_explain_why_young_adults.html" target="_blank">mountains of student debt</a>.</p><p>Or maybe that young person is one of the many folks who stay with their family in order to take care of an ailing loved one, to help raise younger siblings, or to help provide financially.</p><p>Or maybe they come from one of the many cultures around the world that encourage kids to stay with their families for years.<br></p><h2>As today's millennials come into adulthood, their independence is likely to fall onto more of a spectrum than in years past.</h2><p>This research could hopefully help inform future research and policies for the public, too.</p><p>"The fact that we have this diverse range of groups across the spectrum of independence, and that each of these groups is so well-represented in the population, means <strong>we need to stop thinking of independence as a binary concept: either dependent or independent,"</strong> Manzoni said <a href="https://news.ncsu.edu/2016/07/independence-young-adults-2016/" target="_blank">in a press release</a>.<br></p><p>"It's more complicated than that. Our research and policies — on everything from education to housing — need to reflect these nuances, because they are important."</p><h2>Today, I have my own place again. But now I'll think differently about what it means to be independent.</h2><p>Like so many things in life, it comes down to what's best for each of us.</p><p><span></span></p>