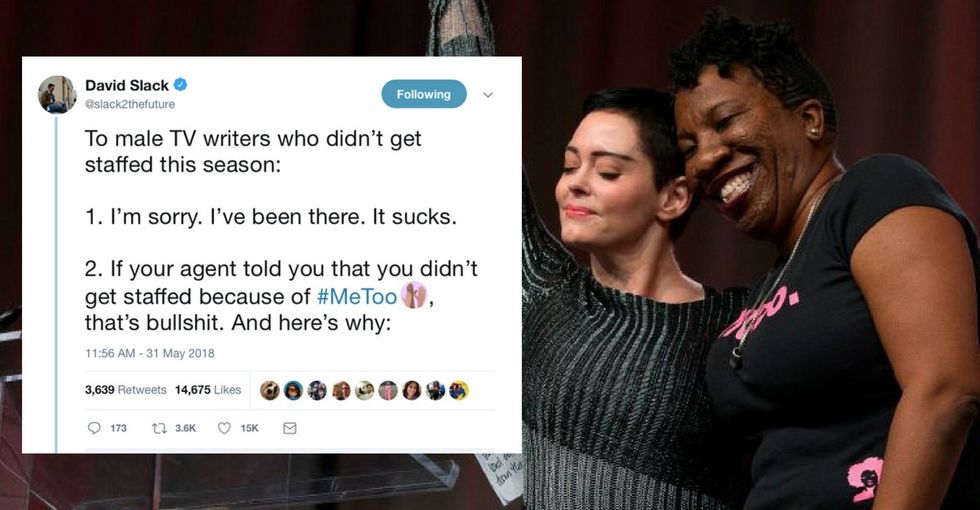 Are men really not being hired because of the #MeToo movement?
Here's how the tale goes: Now that women have started publicly outing men who have sexually harassed them in the workplace and are drawing attention to unequal representation in their fields, companies feel pressured to hire women. So women are now taking mens' jobs and it's not fair. Or something like that.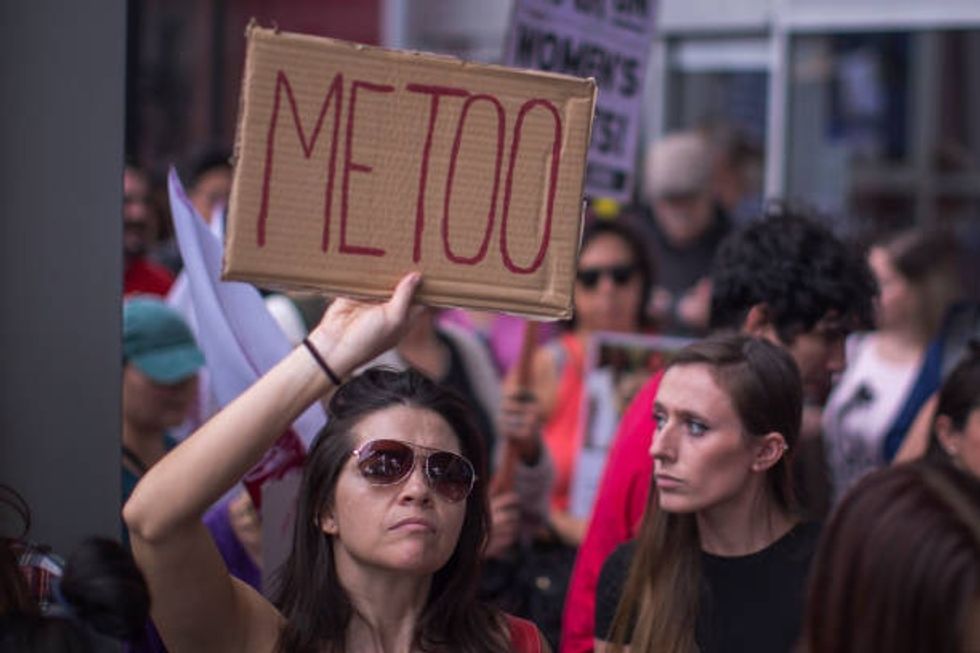 The #MeToo movement has shed light on how frequent sexual harassment happens. Photo via David McNew/Getty.
---
Apparently, some agents in the entertainment industry are telling this tale to their male clients. Rather than men having to face the fact that maybe their work wasn't good enough — and rather than agents taking heat for not being able to get their client hired — women are being scapegoated and #MeToo is being blamed for crushing mens' professional dreams.
Hollywood writer and producer David Slack explained why that's bullshit.
Slack has helped write and produce numerous shows, such as "Law & Order, "Person of Interest," "Lie to Me," and the "MacGyver" reboot. He's smack-dab in the middle of the television world and knows it well — and he had some words for men in Hollywood who are being fed this tale.
Addressing male TV writers, he sympathized with how much it sucks to not get hired for a job. Second, he called out their agents' BS.

Screenshot via David Slack/Twitter.
"The fact that I'm getting credit for saying things plenty of women have been saying for years is only further evidence of the problem," he wrote. "Listen to women when they say things the first time."
It bears repeating: Listen to women when they say things the first time.
Good for David Slack for using his position of privilege to draw attention to an issue that affects women and then directing the attention back to the women who've been unheard. This is how it's done.