Democracy
After she was fired by the sheriff for being a lesbian she ran for his office and won in a landslide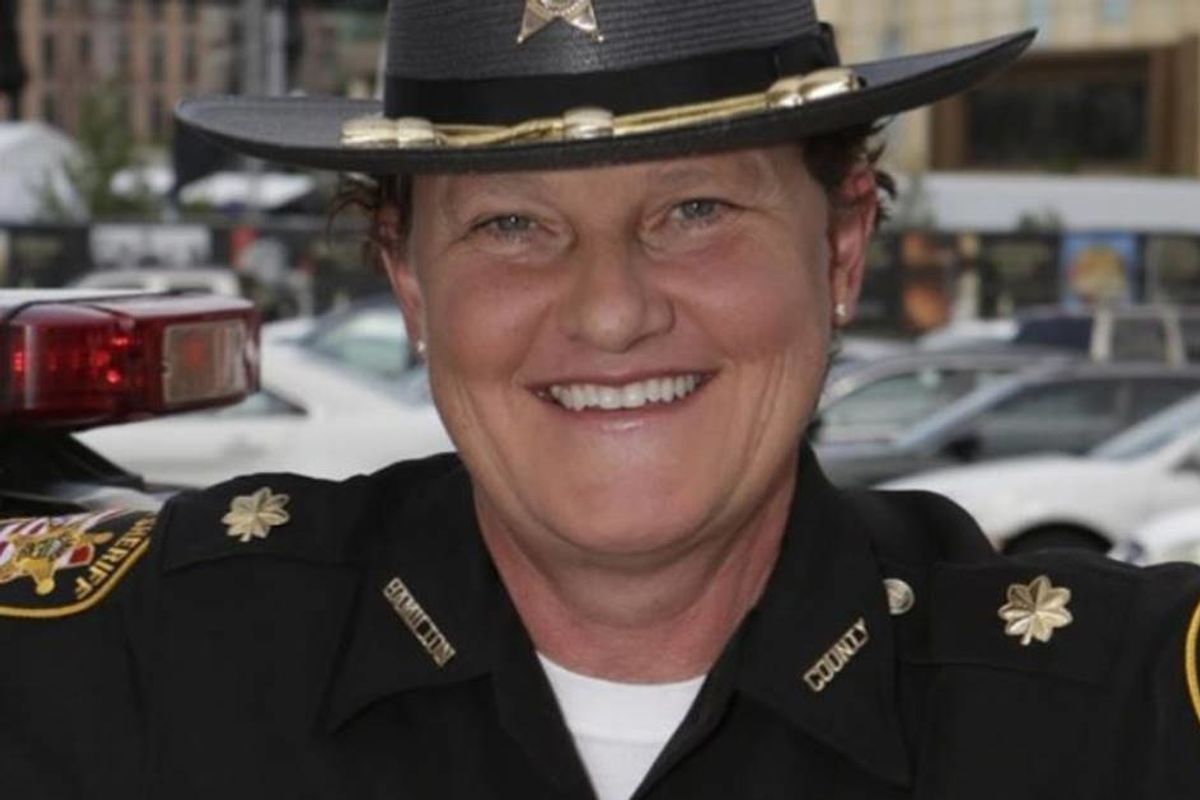 Sheriff Jim Neil, 61, and officer Charmaine McGuffey, 62, have known each other for a long time. They both attended the same high school in Cincinnati. They went to the same criminal justice program at University of Cincinnati, and both work at the Hamilton County Sheriff's Office.

Neil was eventually elected sheriff and McGuffey was promoted to Major in Command of jail and court services.
In 2017, Neil fired McGuffey although their reasons for the termination differ. McGuffey claims it happened because she raised concerns over abuse of force by fellow officers and the fact she's an openly gay woman.
---
Neil claims he fired McGuffey for creating a hostile work environment. The lawsuit is still pending in federal court.
"The current sheriff and I got into a pretty serious disagreement about the practice of him not holding officers accountable for use of force and harassment of women, female officers, and female inmates," McGuffey told LGBTQ Nation.
"He fired me. So after about a year or so of contemplating, I decided I can do a better job than him," she continued. So she ran against him to be the Democratic nominee for Hamilton County Sheriff.
Jim Neil and Charmaine McGuffey have known each other for decades. Now, they're facing off in the Democratic primar… https://t.co/JjCXpkgXV2

— Local 12/WKRC-TV (@Local 12/WKRC-TV) 1584155700
Both candidates are Democrats, however, Neil upset many in his party for appearing on stage with Donald Trump at a 2016 campaign rally. He later provided a sorry-not-sorry for his actions.

"It was selfish on my part because I didn't take into consideration the other candidates on the Democratic ballot that are going to be running with me because this could not just impact my votes, but it could impact the votes on anyone on the Democratic ballot. I want to apologize for my actions," Neil said according to Cincinnati.com.
"I've been a police officer since 1981," he added. "I was elected as sheriff in 2012. I'm still performing as a peace officer. I'm not comfortable in the skin of a politician. What you get with Jim Neil is what you get. I'm a public servant… public safety is my priority."
During the election, Neil was asked whether he acknowledged the disparities in how people of different races were treated in the criminal justice system.
"Sheriff Neil would only respond that he is color blind," Britt Born, a Democratic Party leader said.
"Quite frankly, my opponent has pretended to be a Democrat for many years now, when he's actually much more aligned with the Tea Party Republicans. He tells people what they want to hear and then doesn't follow through," McGuffey said.
In the Democratic primary held Tuesday, McGuffey beat Neil in a landslide. With about three-fourths of the final vote in, she has a 70% lead over Neil.
Hamilton County Sheriff Jim Neil lost his Democratic primary 40 points to Charmaine McGuffey, a progressive challenger. Neil drew Dem ire for appearing with Trump and for cooperating with ICE. If McGuffey wins in Nov, she will be Hamilton's first openly gay sheriff #ohpolpic.twitter.com/pw2tauFA4q
— Matthew Isbell🦠🌡 (@mcimaps) April 30, 2020
"[My election] would mean that our country is moving forward," she said before election day, "that we really have moved away from the 1950s model of law enforcement, where not just women are embraced in the law enforcement world, but also LGBTQ members of the community can wear a uniform and be quite successful."

McGuffey will face Republican nominee Bruce Hoffbauer in November and is expected to win.